Home Online Casino Real Money
2010 WSOP Event Schedule WSOP TV Schedule Free Slot Games Site Map 3 Webmasters

Click on Event Schedule link to view available reports!


All linked player names have free bios, courtesy of FullTiltPoker
Event #30 No-Limit Hold'em
Day 1
Buy-in: $1,500
Players: 2,394
Prize pool: $3,231,900 for the top 243

Event #30 No-Limit Hold'em simply exploded with players, having a huge number of top names intermixed in the field. Seen so far are Neil Channing, John Juanda, Hasan Habib, Can Kim Hua, Kathy Liebert, Steve Brecher, Antonio Esfandiari, Lee Watkinson, Champie Douglas, Gavin Griffin, J.C. Tran, Markus Lehmann, Tom Franklin, Jean Gaspard, Gioi Luong, Tom Dwan, Greg Mueller, Cliff Josephy, Nenad Medic, Jon Friedberg, Matt Hawrilenko, Jared Hamby, Jennifer Tilly, Jon Turner, Amanda Baker, Jonathan Aguiar, Cory Carroll, WeiKai Chang, Paul Wasicka, Chad Batista and Nick Binger. All players will receive 4,500 chips and will go at it for 10 one hour levels.

With so many players coming to the tables, some were being busted and leaving while more were still being seated. And the pace picked up and the day wore on. Gone from the tables are Kara Scott, Joe Sebok, Raymond Davis, Nikolay Evdakov, John Phan, Alex Bolotin, Jennifer Tilly and Phil Hellmuth. Jared Hamby busted Andy Black out of the competition when he made a set of 9's which beat Black's paired Aces. Jon Turner went to the rail after his paired Jacks met the paired Kings of his opponent. And Amnon Filippi was railbound after seeing the two pair (A's and K's) of Dave Sands.

Making the cut for day 2 was Carlos Mortensen who made lots of good plays, raising his stack to over 100K. He will be joined by Feming Chan (21500 chips), Matt Stout (74800), Manelic Minaya (25900), Bahador Ahmadi (94100), Jean Gaspard (63300) and Nam Le (16900). The number of players in the field at days end was around 290, just a few away from the money. They will reconvene at 2:30 PM tomorrow.
Markus Lehmann -- 135,200
Thupten Thondup -- 123,000
William Kakon -- 117,500
Carlos Mortensen -- 108,500
Neil Channing -- 107,700
Steve Gross -- 103,800
Christian Jeppsson -- 103,600
Dmitry Stelmak -- 95,200
Bahador Ahmadi -- 94,100
Day 2

Today was a good day as the money was reached 1 hour and 15 minutes after the start. Within minutes the line to the cashier's cage grew to a constant length and seemed to stay that way for hours with the fallen lining up for cash to sooth their wounds.

Manelic Manaya had his quest for the bracelet ended due to the 10 kicker of Steve Burkholder on his all-in move. Steve Connally was crushed by quad Queens made on the river card by Anthony Pirone. By 10:30 PM the field was down to just 72 players. And the busts continued until tournament officials stopped the carnage at 21 players that will see a chair on day 3.

Payout Schedule for the Final Table
$581,851
$360,906
$254,996
$183,345
$133,574
$98,605
$73,719
$55,814
$42,790
Top 9 with chip counts
Christopher Gonzales -- 1,315,000
Martin Jacobson -- 1,098,000
Christopher Kastler -- 1,097,000
David Wilkinson -- 709,000
Jeff Cohen -- 682,000
Jason Hallee -- 605,000
Kevin Obrien -- 602,000
Billy Griner -- 577,000
Allen Stern -- 481,000
Final Table
The day began at 3:00 PM with 21 players and lasted so long to where tournament officials were deciding to turn this into a 4 day battle. By 9:00 PM, there were still 11 left in the field and it took 45 more minutes to reach the 9 for the final table. Jeff Cohen left in 9th after his paired Kings were dismissed by the set of 9's made by David Wilkinson. Then Christopher Gonzales used a set of 9's to take out Christopher Kastler in 8th when he could not improve his pocket J's by the river. Gonzales turned on Jason Hallee next with pocket K's to beat the pocket 3's held by Hallee. Hallee left in 7th. William Kakon followed in 6th after his pocket K's were shut down by the set of Aces brandished by Billy Griner. But then Billy Griner fell in 5th due to the two pair (Q's and 9's) of David Wilkinson. Wilkenson's next victim was Martin Jacobson who was assaulted by paired 10's made on the flop, leaving Jacobson in 4th. But Wilkenson lost his next all-in battle to Gonzales who made two pair (Q's and 3's) on the river and finished in 3rd place.

The heads up was pure volatility, as millions of chips moved back and forth between Mike Ellis and Gonzales like tidal waves. After 2 hours and 15 minutes of this, the hand that made Mike Ellis champion took place. With both players seeing a flop and turn that held three diamonds, Gonzales said he was all-in and was called by Ellis. Gonzales turned over his pocket Aces, only to have the satisfaction of winning leave instantly when Ellis turned over two cards for the nut flush. Gonzales will have to console himself with the $360K for his efforts. And Mike Ellis takes home the coveted gold bracelet of champions.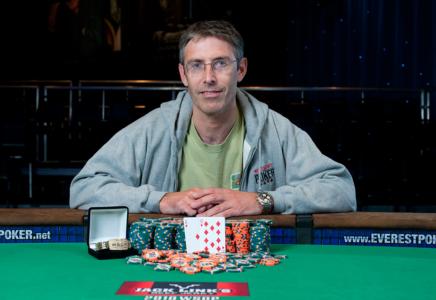 2010 Bracelet Champion #30 -- Mike Ellis
Mike Ellis -- $581,851
Christopher Gonzales -- $360,906
David Wilkinson -- $254,996
Martin Jacobson -- $183,345
Billy Griner -- $133,574
William Kakon -- $98,605
Jason Hallee -- $73,719
Christopher Kastler -- $55,814
Jeff Cohen -- $42,790