Home Online Casino Real Money
2010 WSOP Event Schedule WSOP TV Schedule Free Slot Games Site Map 3 Webmasters

Click on Event Schedule link to view available reports!




All linked player names have free bios, courtesy of FullTiltPoker
Event #31 H.O.R.S.E.
Day 1
Buy-in: $1,500
Players: 828
Prize pool: $1,117,800

The games that will make up Event #31 H.O.R.S.E. will be Limit Hold'em, Omaha Hi-Low Split-8 or Better, Seven Card Razz, Seven Card Stud and Seven Card Stud Hi-Low Split-8 or Better. Seen sitting in their respective seats are Robert Williamson III, Sam Grizzle, Mark Seif, Max Pescatori, Rob Hollink, Annie Duke, Dewey Tomko, Marcel Luske, Steve Zolotow, Daniel Negreanu, Phil Ivey, Mel Judah, John Cernuto, Amnon Filippi, Allen Kessler, Marsha Waggoner, Mike Wattel, Alexander Kravchenko, Ray Dehkharghani, Frankie Odell, Ylon Schwartz, Joseph Hachem, Esther Rossi, Svetlana Gromenkova, Gregg Merkow, ESPN poker commentator Norman Chad, Shirley Rosario, Jeff Madsen, Omar Mehmood, Diego Cordovez, Lex Veldhuis, Bryan Devonshire and Brandon Cantu.

Because of other events going on, the field was split up into the Amazon and Pavilion rooms. Low blinds and antes plus different games made eliminations a slow process with 736 remaining after 4 hours of play. But after dinner break, they were busting by the hundreds. It was observed by the WSOP that the field reached a point to where the averageg stack was just 10 big bets which is not much when you consider the games being played. One player gone was Greg Raymer during Omaha 8 or Better. Raymer tabled A A J J verses the full house (Q's/2's) made by his opponent. In all, there were 257 that made the Day 2 cut after the dust settled.

Cyndy Violette made the Day 2 cut with 29,200 in her stack. Short stacked John D'Agostino with just 5400 will have to play very hard and be lucky to remain at the tables. And Phil Ivey is still in the running with 10,800 on his side. John Cernuto will also see a chair with 24,100 chips with him. Other top pros include Erik Seidel, Tom Dwan with 34,900, Michael Binger 23,300, Howard Lederer 12,200, Cliff Josephy 20,600 and Jesse Rios 47,100. Day 2 will begin at 3:00 PM tomorrow.
Ming Reslock -- 50,000
Jesse Rios -- 47,100
Robert Rasmussen -- 44,600
James Van Alstyne -- 40,900
Jay Hong -- 38,000
Maria Ho -- 38,000
Brian McKain -- 38,000
Dennis Seagle -- 37,400
Derek Boundy -- 37,100
Day 2

Cards began to shuffle at 3;00 PM and the field is back at play. Mickey Appleman was among the first to bust in Stud 8 or better, courtesy of Jon Turner who made a pair of Queens for the high. Phil Ivey was busted during a round of Stud where his opponent made a full house, besting the set of 4's belonging to Ivey. Brandon Cantu also lost the rest of his chips after being sunk by the boat (3's/10's) of James Van Alystyne. Jason Mercier left the tables as part of a double knockout while playing Razz with Kyung Han. Lex Veldhuis had to walk away during No Limit Hold'Em when the pocket K's of James Darnaby reigned supreme. Chip Jett performed well and will see a chair on Day 3.

The tournament officials stopped things when the last three tables were formed, seating 24 players. They will return at 3:00 PM and battle it out until a champion reigns.

Payout Schedule for the final table
$257,134
$158,839
$107,979
$75,149
$53,386
$38,698
$28,604
$21,551
$16,543
Top 9 with chip counts
Konstantin Puchkov -- 465,000
Andrew Revesz -- 336,000
Robert Mizrachi -- 238,000
Allen Kessler -- 229,500
Dustin Leary -- 227,000
Regis Burlot -- 211,000
Cliff Josephy -- 165,500
Hani Awad -- 163,000
Daniel Ospina -- 160,000
Final Table
It took 4 hours to get down to the 9 for the final table. Chip Jett busted in 9th place during Stud when Konstantin Puchkov made a full house (2's/6's) that Jett could not overcome. Robert Mizrachi fell in 8th place during Hold'Em when his pocket Q's were overcome by the paired K's of Dustin Leary. A 7th place finish goes to Blake Cahail after losing the balance of his chips while playing Stud 8 or Better. He lost to the flush hand of Al Barbieri. Andrew Revesz got caught between the high and low of two other players in Stud 8 or Better and ended his quest in 6th place. Hani Awad followed in 5th after failing to better his hand against the set of 4's made by Al Barbieri in Stud 8 or Better. Ken Lennaard ended up walking out in 4th place when his two 6's lost to the two 10's of Dustin Leary. Next to go was Dustin Leary in 4th after his paired Jacks on fifth street lost of the paired K's of Al Barbieri.

Al Barbieri wasted no time going uber aggresive against Konstantin Puchkov in the heads up. Puchkov was beaten down to under 500,000, but during a round of Razz Puchkov won a huge pot that put him back into the game. When Barbieri changed the pace and pressure against Puchkov, Puchkov's stack began to rise to over 2.2 million in less than 1 hour. Afterwards, Barbieri began to bleed chips and seemed more and more visibly upset. But after 3 1/2 hours of heads up action, the hand that made a champion came swift and deliberate. Keeping the long story short, during a round of Stud Konstantin Puchkov made a full house (2's/7's) over the paired 4's managed by Al Barbieri.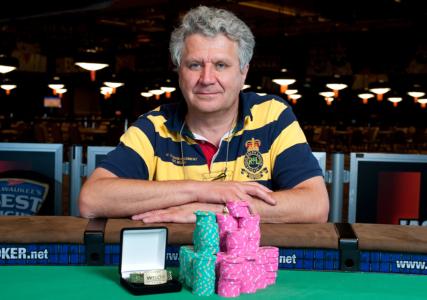 2010 Bracelet Champion #31 -- Konstantin Puchkov
Konstantin Puchkov -- $256,820
Al Barbieri -- $158,647
Dustin Leary -- $107,849
Ken Lennaard -- $75,058
Hani Awad -- $53,321
Andrew Revesz -- $38,651
Blake Cahail -- $28,569
Robert Mizrachi -- $21,525
Chip Jett -- $16,523