Home 2010 WSOP Event Schedule WSOP TV Schedule Free Slot Games Site Map 3 Webmasters

Click on Event Schedule link to view available reports!




All linked player names have free bios, courtesy of FullTiltPoker
Event #33 Pot-Limit Hold'em/Omaha
Day 1
Buy-in: $2,500
Players: 482
Prize pool: $1,108,600 for the top 45

Taking chairs at Event #33 Pot-Limit Hold'em/Omaha were John Shipley, Andy Bloch, Robert Williamson III, Dan Heimiller, Barny Boatman, Steve Zolotow, Kathy Liebert, Surindar Sunar, Erik Seidel, Greg Raymer, Phil Ivey, Chau Giang, Burt Boutin, Ted Lawson, Noah Boeken, Chris Ferguson, Nenad Medic, Michael Mizrachi, Annie Duke, Fabrice Soulier, Ylon Schwartz, Andy Black, Joe Hachem, Gregg Merkow, Chris Reslock, Josť Luis Velador, Eric Lynch, Yuval Bronshtein, Nick Binger, Vitaly Lunkin, Jacobo Fernandez and Noah Schwartz.


Justin Smith -- 130,000
Tyler Patterson -- 95,300
James Mitchel -- l88,800
David Paredes -- 76,600
Craig Hartman -- 71,000
Samuel Ngai -- 69,200
Michael Shklover -- 66,800
Anthony Zinno -- 66,100
Joshua Tieman -- 66,000
Day 2



Payout Schedule for the Final Table
$260,552
$160,902
$116,358
$85,029
$62,791
$46,860
$35,331
$26,905
$20,697
Top 9 with chip counts
Josť Luis Velador -- 455,000
David Chiu -- 451,000
Rob Hollink -- 423,000
Matt Sterling -- 280,000
Joshua Tieman -- 277,000
Victor Ramdin -- 262,000
Craig Gray -- 248,000
Kevin MacPhee -- 247,000
Phil Ivey -- 207,000
Final Table

This was a final table that would make anyone less than expert go home. In the beginning there were 14 players competing to become one of the last 9 remaining. You had multiple gold bracelet holder Phil Ivey, 2008 gold bracelet holder Rob Hollink, two time gold bracelet holder Burt Boutin, Victor Ramdin, David Chiu owner of 4 WSOP bracelets, gold bracelet holder Josť Luis Velador and other title holding highly experienced players. When things got started at 3:00 PM, this was definitely a good time to be a railbird. Konstantin Bucherl was the first to leave in 14th place after Victor Ramdin produced a full house (2's/5's) on the turn. And a full house belonging to Kevin MacPhee (10's/A's) sent Tristan McDonald to the rail in 13th place. Then Lady Luck turned ugly for Phil Ivey as Josť Luis Velador busted him with a full house (J's/4's) in 12th, ending Iveys quest for another bracelet.

Crippled badly down to 55,000 chips, Joshua Tieman finished in 11th after having his 2 3 suited beat to death by the two pair (10's and 7's) brought out by Craig Grey. Following close behind in 10th was Burt Boutin who has his two pair (J's and 5's) overcome by the higher two pair (J's and 8's) of Kevin MacPhee. The last 9 went to a 1 hour dinner break before continuing.

When they returned, first one busted in 9th was Matt Sterling falling victim to the full house of (10's/6's) MacPhee. (We're not making this stuff up!) In 8th place was Gavin Cochrane who was stumped by the two pair of Velador (8's and 7's) which he made on the river card. And next on the busted list in 7th was James Mitchell on the receiving end of a Queen high flush made by David Chiu. Victor Ramdin finished in 6th after his A K J 9 fell short of the A A 6 3 of MacPhee when the dealer laid out J 4 3 2 3, giving MacPhee a full house on the river (3's/A's). But then MacPhee's angel on his shoulder directed him to the cashier's cage for the 5th place payout after his pocket 7's were defeated by the paired Kings held by Velador. He was followed closely by Craig Grey in 4th courtesy of the full house (K's/A's) belonging to Velador. Velador's next notch on his poker gun was Rob Hollink who met Velador with a lower two pair (Q's and 8's) than the one made by Velador (K's and 3's), sending Hollink off to pick up his well deserved 3rd place payout.

The heads up battle between David Chiu and Josť Luis Velador lasted 30 minutes before the final blow took place. After both players saw a flop of 6 3 2, Velador reraised to put Chiu all-in and Chiu called. Velador had 7 6 for top pair and Chiu had A 10. Turn card was a 9 and the river was a Jack. So ending a ferocious battle with a pair of 6's, Velador earned his second gold bracelet which was ceremoniously taken out of the box and placed on Velador's arm by Chiu.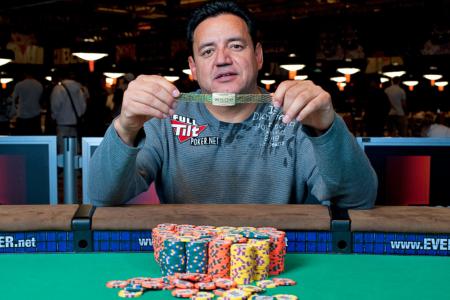 2010 Bracelet Champion #33 -- Josť Luis Velador
Josť Luis Velador -- $260,552
David Chiu -- $160,902
Rob Hollink -- $116,358
Craig Gray -- $85,029
Kevin MacPhee -- $62,791
Victor Ramdin -- $46,860
James Mitchell -- $35,331
Gavin Cochrane -- $26,905
Matt Sterling -- $20,697