Home Online Casino Real Money
2010 WSOP Event Schedule WSOP TV Schedule Free Slot Games Site Map 3 Webmasters

Click on Event Schedule link to view available reports!


Play Video Poker games here like Aces and Faces!
Event #34 Seniors No-Limit Hold´┐Żem Championship
Day 1
Buy-in: $1,000
Players: 3,142
Prize pool: $2,827,800 for the top 324

Event #34 Seniors No-Limit Hold´┐Żem Championship had a WSOP record setting 3,142 players sign up, beating the 2009 record of 2,707. Included in this huge record turnout were Padraig Parkinson, Hoyt Corkins, Barry Shulman, Berry Johnston, Tom McEvoy, David Sklansky, T.J. Cloutier, Dewey Tomko, Surindar Sunar, Tom Franklin, Chau Giang, Maureen Feduniak, Marsha Waggoner, Dan Alspach, Allyn Jaffrey Shulman, Susie Isaacs, Barbara Enright, Doug Carli, Pete Vilandos, ESPN announcer Lon McEachern and Dennis Phillips. All players start with 3,000 chips each which in No Limit can allow you to get into trouble real quick, especially when you have to last 10 levels. Play began at 12 noon. One who was gone from the field early was Barry Shulman. We weren't able to find out what happened, his seat was empty and he was playing somewhere else. Shirley Williams, the mother of David Williams busted just before the night ended. the 450 players who survived Day 1 were told to bag their chips at 1:30 AM and come back tomorrow.

Making the Day 2 cut were Lon McEachern with 27,200, Berry Johnston with 62,900, Dewey Tomko with 23,100, Tom Franklin 20,400, Sigi Stockinger 22,200, Charles Shoten 18,100, Hoyt Corkins 36,900, T.J. Cloutier 12,000, Susie Isaacs 24,400, John Spadavecchia 64,000 and Tom "Donkey Bomber" Schneider holding onto 94,000. They will return at 2;30 PM tomorrow.
Tom Schneider -- 94,000
James Gleason -- 79,300
John Woo -- 78,900
Eduard Scharf -- 72,300
James Winniman -- 71,300
Fred Berger -- 70,200
Ronald Giles -- 70,200
Aubyn Shettle -- 68,200
Richard Nadler -- 67,700
Day 2

Short stacked Mike Sica beginning day 2 with 7200 chips lasted just one hand and busted out. He was soon followed by Dewey Tomko, Sam Simon and others who lost their respective all-in battles. The good thing is that the money will be reached today, and it was about 4 hours after the start. After that point, bravery grew from all parts of the room. T.J. Cloutier busted after his move with A 3 met the full house of Duane Gerleman (A's/7's). Later in the evening, Susie Issacs busted after her paired Kings were not enough to beat the paired Aces beloning to Jay Hong. And Berry Johnston left the tables when his pocket 10's were stonewalled by the pocket J's of another player. Around 3:00 AM, the 23 left standing were told to bag their chips and come back for the final round.

Payout Schedule for the Final Table
$487,994
$301,839
$213,612
$154,624
$113,225
$83,872
$62,833
$47,591
$36,450
Top 9 with Chip Counts
Carlos Pianelli -- 877,000
Preston Derden -- 875,000
Eric Stemp -- 562,000
John Woo -- 551,000
Michael Woo -- 523,000
Jack Ward -- 519,000
Daniel Camillo -- 510,000
Bruce Peterson -- 465,000
Thomas Scott -- 356,000
Final Table

The last day began at 2:30 PM and it took 3 1/2 hours to reach the 9 for the final table. First to leave was Jay Hong in 9th who played incredibly over the past 3 days. With a flop of K 6 K, Hong moved in with K 9 for a set, but was called by Harold Angle with pocket 6's for a full house. Angle used another full house (10's/A's) to bust Carlos Pianelli in 8th. Jack Ward went in with his pocket 4's and lost to the paired Kings made by John Woo, leaving Ward in 7th place. Next on the John Woo hit list, Preston Derden fell to the paired Aces of Woo, finishing in 6th. A pair of 4's also belonging to Woo finished off Daniel Camillo in 4th position. Then misfortune came to visit the door of Woo as his efforts with a bottom pair of 4's lost out to the Ace high flush produced by Harold Angle, sending Woo off to pick up the cash for a 3rd place finish

Angle began the heads up with over 8 million in chips and Michael Minetti met him head on with a little over 1 million. Not much happened between the two until Minnetti made his move preflop with pocket J's and was called by Angle with K J suited. The flop came as 9 9 K, turn card a 8 with a river of 5, giving 78 years of age Harold Angle the larger two pair (K's and 9's) along with the gold bracelet and a beautiful bronze status that says, 'The Golden Eagle "The Seniors" World Championship of Poker' proudly displayed in front of the statue.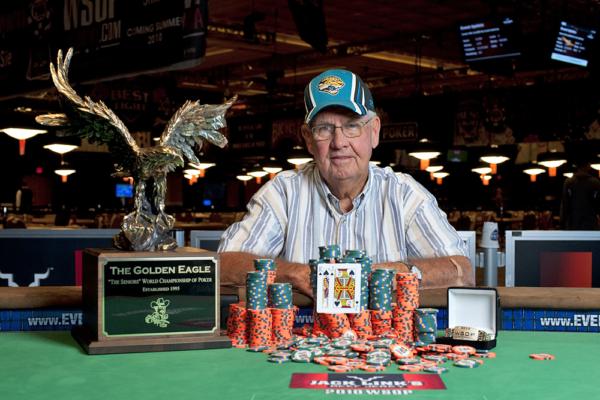 2010 Bracelet Champion #34 -- Harold Angle
Harold Angle -- $487,994
Michael Minetti -- $301,839
John Woo -- $213,612
Eric Stemp -- $154,624
Daniel Camillo -- $113,225
Preston Derden -- $83,872
Jack Ward -- $62,833
Carlos Pianelli -- $47,591
Jay Hong -- $36,450