Home Online Casino Real Money
2010 WSOP Event Schedule WSOP TV Schedule Free Slot Games Site Map 3 Webmasters

Click on Event Schedule link to view available reports!




All linked player names have free bios, courtesy of FullTiltPoker
Event #42 No-Limit Hold'em
Day 1
Buy-in: $1,500
Players: 2,521
Prize pool: $3,403,305 for the top 270 finishers

Event #42 No-Limit Hold'em saw a huge turnout of players at the tables, sprinkled with talented pros like Grayson Ramage, Bahador Ahmadi, Jon 'PearlJammed' Turner, Men "The Master" Nguyen, Gregg Merkow, Nam Le, Jeff Madsen, Eric Baldwin, Chad Batista, Andy Black, Alex Bolotin, Burt Boutin, Carlos Mortensen, Dutch Boyd, Joe Cada, Shannon Elizabeth, Jordan 'iMsoLucky0' Morgan, Antonio Esfandiari, Amnon Filippi, Markus Gonsalves, Svetlana Gromenkova, Bertrand Grospellier, Jared Hamby, Isaac Haxton, Gregg Merkow, Melissa Hayden, Dan Heimiller, Blair Hinkle and Omar Mehmood. They will play 10 60 minute levels with 4,500 chips in front of each of them.

Thayer Rasmussen busted on his very first hand! His all-in move with a straight flush draw failed to his opponent's straight. Jennifer Tilly was very close behind after her pair of 6's failed to beat the paired Aces made by the other player. Jeff Sarwer's pocket Aces were cracked by the set of Queens made by his opponent. Lauren Kling was hoping her A J would win in her all-in move, but to her dismay the other player his two pair (9's and J's) to send her to the rail. Not far behind were Alan Smurfit, Kathy Liebert, Chad Batista, Kevin Saul, Layne Flack and Cody Slaubaugh.

Close to 1:00 AM, tournament officials gave chip bagging orders to the 277 players that will see chairs on day 2.

Money for Final Table Players
$604,222
$375,627
$265,869
$191,744
$140,013
$103,461
$77,392
$58,571
$44,856
Top 9 with Chip Counts
Jackson Zheng -- 151,000
Humberto Brenes -- 146,400
Darren Spurlock -- 142,400
Grayson Ramage -- 130,000
Mike Sowers -- 124,300
Jerry Wong -- 122,500
Carter Phillips -- 122,100
Bryan Paris -- 117,100
Luigi Caramatti -- 108,100
Day 2

Play got underway at 2:30 PM for those who still remain standing in the field. Jeff Madsen took an exit from the tables when his all-in with A 9 was shut down with the set of 10's made by Michael Lytle on the flop. Greg Merkow did the best he could with A 8, but another player with pocket 8's dominated the hand and send Merkow to the cashier's cage. Carter Phillips also met his demise after moving in with pocket J's and meeting a player holding pocket A's preflop. Nothing on the board helped anyone and Phillips was minus his chips plus a whole lot of pain.

Contenders fell off the spinning log in the water one by one, and by the time Day 2 ended there were just 25 who made the cut for the last round.

Top 9 with Chip Counts
James Schaaf -- 1,258,000
Ryan Hemmel -- 1,080,000
Dean Hamrick -- 858,000
Andrew Rosskamm -- 822,000
Humberto Brenes -- 764,000
Aaron Kaiser -- 610,000
Aaron Gustavson -- 554,000
William Prieto -- 535,000
Peter Granlund -- 521,000
Final Table

The group of 25 from day 2 began their last quest at 2:30 PM. By 9:45 PM, the field narrowed down to just 9 players. The first player to leave in 9th place was Aaron Gustavson when his A Q was supplanted by the paired 6's belonging to Niccolo Caramatti. Caramatti then put Thomas Johnson to rest on the rail in 8th when he paired his Ace card, beating the pocket K's of Johnson. Andrew Rosskamm followed soon after in 7th when Thomas O'Neal received a set of 4's on the flop, winning the hand and the rest of Rosskamm's chips. Caramatti then flexed his card muscles once again and busted Ryan Hemmel in 6th with a bigger two pair (Q's and J's) than what Hemmel made.

Two hours passed before the next elimination which was Aaron Kaiser in 5th. Kaiser was under the gun when he moved all-in with Q 9 verses the pocket 7's of Dean Hamrick. No improvement came with the rest of the cards dealt, sending Kaiser off to pick up his cash. Niccolo Caramatti was busted in 4th after Hamrick made a Broadway straight on the river. This drew a huge boat load of chips toward Hamrick's side of the table, bringing out a loud, "Yea! F**k yeah!", which did not result in a penalty for Hamrick from tournament officials. (Guess they were in a good mood.) With over 6.8 million chips, Hamrick easily covered the all-in preflop move from Ian Wiley. Wiley had J 6 and Hamrick showed A 3. Wiley got a Jack on the flop, but an Ace came on the river, sending Wiley to the sidelines in 3rd place.

With an enthusiastic group of railbirds behind him, Hamrick faced Thomas O'Neal in the heads up. It began at 2:30 AM the next day, which is 12 hours from the Day 3 start. And it continued for another 3 1/2 hours. It was so long that 2009 Main Event champ Joe Cada fell asleep in the rail section. But the winning hand did come for Hamrick. After limping in on the button and receiving a raise from O'Neal, Hamrick moved all in with A Q and got an immediate call from O'Neal brandishing A 9. Another Ace came on the flop for both parties but the rest of the cards bricked, leaving Hamrick the win and a nice gold bracelet to wear because of his Queen kicker.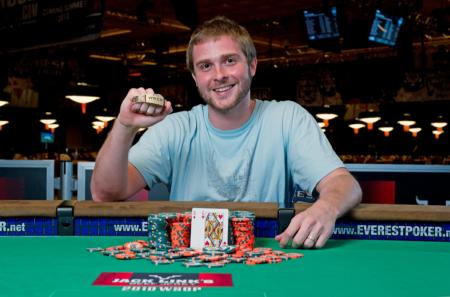 2010 Bracelet Champion #42 -- Dean Hamrick
Dean Hamrick --- $604,222
Thomas O'Neal -- $375,627
Ian Wiley -- $265,869
Niccolo Caramatti -- $191,744
Aaron Kaiser -- $140,013
Ryan Hemmel -- $103,461
Andrew Rosskamm -- $77,392
Thomas Johnson -- $58,571
Aaron Gustavson -- $44,856