Home Online Casino Real Money
2010 WSOP Event Schedule WSOP TV Schedule Free Slot Games Site Map 3 Webmasters

Click on Event Schedule link to view available reports!




All linked player names have free bios, courtesy of FullTiltPoker
Event #43 H.O.R.S.E. Championship
Day 1
Buy-in: $10,000
Players: 241
Prize pool: $2,265,400 going to the top 24

Event #43 H.O.R.S.E. Championship will have the following games played, Limit Hold'em, Omaha Hi-Low Split-8 or Better, Seven Card Razz, Seven Card Stud, Seven Card Stud Hi-Low Split-8 or Better. Seen making their way to the tables were Brandon Adams, Jerrod Ankenman, David Bach, Al Barbieri, Jean-Robert Bellande, David Benyamine, Andy Bloch, Jerry Buss, Scott Clements, Bill Chen, Nikolay Evdakov, Chris Ferguson, Jimmy Fricke, John Hennigan, Doyle Brunson, Mel Judah, Phil Ivey, Eugene Katchalov, Alexander Kostritsyn, Howard Lederer, Vitaly Lunkin, Daniel Negreanu, Men "The Master" Nguyen, Scotty Nguyen, David Oppenheim, Brock Parker, Max Pescatori, John Racener and Greg Raymer. Starting stack amount was 30,000 for everyone.

Not many eliminations took place. Among the few were David Benyamine during Omaha-8. With the board reading J 8 5 2, Benyamine had A 10 10 2 with his opponent showing K J 4 A, dominating the hand when a K came on the river allowing the opponent the only low and top two pair for the high. Dan Heimiller also left the building after Frank Kassela made quad 3's on the river. Following them were Maria Ho, Perry Friedman, David Steicke, Eric Froehlich, Andy Bloch, Steve Wong and David Singer.

Those who will be seeing chairs on Day 2 are Greg Raymer 88,000, Chris Ferguson 86,900, Steve Billirakis 78,700, Erik Seidel 70,000, Allen Kessler 66,700, Michael Binger 62,700, Annie Duke 61,600, Jeffrey Lisandro 57,700 and Robert Mizrachi 56,200. Short stacked are Iaabelle Mercier with 7,500 chips, Huck Seed 1,900, John Juanda 1,900, Eli Elezra 8,200 and George Lind 4,100. In total there will be 111 in the field tomorrow.

Cash Payouts for Final Table Players
$611,666
$378,027
$248,831
$181,503
$135,040
$102,237
$78,654
$61,414
$48,638
Top 9 with Chip Counts
Sergey Altbregin -- 143,000
Carlos Mortensen -- 125,800
Scott Bohlman -- 117,600
Scotty Nguyen -- 113,800
Mikael Thuritz -- 107,700
Todd Brunson -- 105,500
John Racener -- 103,500
Matt Glantz -- 97,500
Sebastian Ruthenberg -- 96,100
Day 2

Dealers started dealing cards to players at 3:00 PM. Gone early was Eli Elezra during the first Hold'Em stage. The top pair of Jacks held by Elezra were no good verses the set of 8's made by Pawel Andrzejewski. Doyle Brunson left his chair empty behind a losing hand during Limit Hold'Em. John D'Agostino lost the rest of his chips after coming out on a losing 5 way hand of Stud-8. Jean-Robert Bellande also walked away from the tables after his A 10 was crushed by the pocket A's belonging to Bill Chen during Hold'em. A round of Omaha-8 saw Chris Ferguson depart from the field courtesy of Scotty Nguyen after Nguyen made a set of 6's for the high and a nut low draw. Michael Binger was gone during Razz where his paired Jacks lost against the Ace high hand of James Mackey. Following close behind were Greg Raymer, Erick Lindgren, Justin Smith, Ville Wahlbeck and John Racener. Adding insult to injury was the fact that Racener busted out in position 25, forcing him to walk away and watch the rest of the field collect the money. Almost as bad was Cyndy Violette and Tommy Hang having to chop 24th place money for busting out at the same time during Omaha-8.

Flying towards the sky was Carlos Mortensen who hit the 500K mark after a huge 3 way Stud-8 hand against Jordan Smith and Dario Alioto.

There were 23 remaining that will come back to battle it out for the bracelet.

Top 9 with Chip Counts
Cuong Do -- 720,000
Marco Johnson -- 626,000
Brian Townsend -- 616,000
Eugene Katchalov -- 525,000
Carlos Mortensen -- 503,000
Ian Gordon -- 483,000
Richard Ashby -- 441,000
Roman Yitzhaki -- 429,100
Nick Schulman -- 402,000
Final Table

Final Table play started at 3:00 PM in the Amazon Room at the Rio. It was still a tough group with the 25 players remaining. Busting out on the way to the 9 were Allen Kessler in 23rd, Al Barbieri in 22nd, Abe Mosseri in 21st, Scotty Nguyen in 19th, Robert Mizrachi in 17th, Brandon Adams in 16th and Brian Townsend being eliminated in 10th around 8:00 PM.

Now that the final table had been determined, the true race for the bracelet begins. Hold'Em - Leaving the group in 9th place is Scott Fischman. In a 3 way all-in hand that involved Marco Traniello, Matt Glantz and Fischman, Traniello had pocket A's, Glantz had pocket K's and Fischman had pocket Q's. The dealer laid on the felt 6 10 3 K 5, leaving Glantz up 1.8 million chips and Fischman cursing and swearing his way to the rail. Omaha-8 - After dinner it was Marco Traniello's turn to bust in 8th place being soundly defeated by the full house (3's/K's) made by Ian Gordon by the river. Hold'Em - Nick Schulman was next in line to fall in 7th place after meeting the two pair (A's and K's) of Marco Johnson. Razz - Carlos Mortensen busted in 6th place when the hand made by Eugene Katchalov was a better low than the Ace high made by Mortensen. Hold'Em - The money for 5th place was claimed by Matt Glantz due to the pocket Queens of Richard Ashby remaining dominate to the river. Stud-8 - Johnson then clashed with Gordon in a round of Stud-8. Gordon made A 4 6 J 8 A 5 verses the A 6 7 K 2 Q J made by Johnson, giving Gordon a pair of Aces and sending Johnson away in 4th. Hold'Em - Eugene Katchalov and Ian Gordon went all-in after a flop of 10 8 3, with Katchalov holding K J and Gordon with pocket 7's. Turn card was a 3 and river card a Q which gave two pair to Gordon (7's and 3's), leaving Katchalov to bolt from the table like a rabbit to get his 3rd place money.

Richard Ashby and Ian Gordon stylishly drank champagne to begin the heads up competition which was kindly provided by Ashby's friends. The celebration was brief as heads up only took one hand during a round of Hold'Em. After seeing a flop and turn of 6 10 8 10 where Ashby had committed most of his chips, he decided to go all in and was called by Gordon. Gordon had pocket 9's and Ashby turned over A J. When the river card fell (King), it gave Ian Gordon two pair (9's and 10's) along with a huge payday and a gold bracelet for champions that cannot be bought, but must be earned.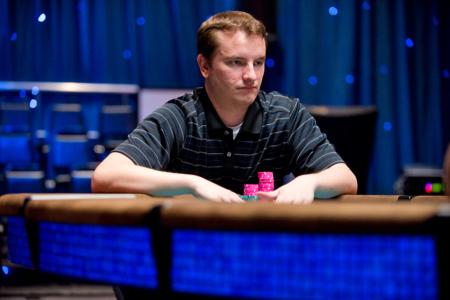 2010 Bracelet Champion #43 -- Ian Gordon
Ian Gordon -- $611,666
Richard Ashby -- $378,027
Eugene Katchalov -- $248,831
Marco Johnson -- $181,503
Matt Glantz -- $135,040
Carlos Mortensen -- $102,237
Nick Schulman -- $78,654
Marco Traniello -- $61,414
Scott Fischman -- $48,638