Home Online Casino Real Money
2010 WSOP Event Schedule WSOP TV Schedule Free Slot Games Site Map 3 Webmasters

Click on Event Schedule link to view available reports!




All linked player names have free bios, courtesy of FullTiltPoker
Event #44 Mixed Hold'em (Limit/No-Limit)
Day 1
Buy-in: $2,500
Players: 507
Prize pool: $1,166,100 for the top 54

Event #44 Mixed Hold'em (Limit/No-Limit) continues to draw the top names in poker such as Dario Alioto, Barry Greenstein, Omar Mehmood, Joe Serock, Mickey Appleman, Dwyte Pilgrim, Richard Ashby, Eric Baldwin, Jean-Robert Bellande, Andy Black, Noah Boeken, Carlos Mortensen, Benjamin Grundy, Dan Heimiller, Andy Bloch, Phil Hellmuth, Phil Ivey, Sirous Jamshidi, Mike Sexton, Sorel Mizzi, Mike Matusow, Kathy Liebert, Brett Jungblut, Jeff Madsen, John Kabbaj, George Lind, Marcel Luske, Lee Markholt, Chris Reslock, Soheil Shamseddin, Svetlana Gromenkova and Mike Wattel. The challenge in this event is to move between Limit and No-Limit every 30 minutes, with each level lasting 1 hour in length. Their buy in will entitle each player to 7,500 chips to start. When referencing what game is being played, we will preface the sentence with either Limit or No-Liimit.

Things began at 12 noon with No Limit for the first 30 minutes. Early bustouts include Allen Cunningham, Antonio Esfandiari, Jason Mercier, Phil Gordon, Joe Sebok, David Williams, Isaac Haxton, Mark Seif, Michael Mizrachi, Rep Porter and Sorel Mizzi. During a round of No Limit, Chad Bautista was eliminated when his K 8 lost out to an opponent with pocket J's after the board helped neither player. No-Limit - Ivey is now gone from the field. What happened is that Ivey called an all-in move from another player with K J and lost when the other player paired their Ace card on the turn. No Limit - Shaun Deeb busted after meeting the straight (3 thru 7) made by Aaron Steury on the flop. Limit - Terrance Chan was all in with a very short stack and was gone after the paired Aces the other player made on the flop were too much to handle. No Limit - Joe Serock took his chances with pocket K's only to be called with pocket A's which turned into a set on the flop, sending Serock to the rail.

Tournament officials put the brakes on around 1:00 AM in the morning, and with that 69 players bagged their chips and will return on Day 2.

Payouts for the Final Table
$268,238
$166,005
$110,324
$81,871
$61,441
$46,562
$35,601
$27,438
$21,304
Top 9 with Chip Counts for Day 1
Eli Elezra -- 165,400
Jim Collopy -- 140,400
Jarred Solomon -- 127,600
Daniel Idema -- 124,200
Dwyte Pilgrim -- 109,500
Jonathan Tamayo -- 108,800
Timothy Finne -- 104,200
Ray Henson -- 100,900
Eric Froechlich -- 97,600
Day 2

Day 2 kicks off at 2:30 PM for the weary 69 players who are still in contention. No-Limit - Taking the quick exit was Shannon Shorr after his push to the center with pocket 9's was met by another player who paired his Ace card on the turn. Limit - Jason Potter went all-in with pocket Q's, only to be met with a set of 9's belonging to Steven Kelly, sending Potter on to the cash tables. Just a few minutes afterwards, the bubble broke and the short stacks began to line up to accept their winnings. Standing in line were Svetlana Gromenkova, Eric Froechlich, Erica Schoenberg, Adam White and Valdemar Kwaysser who just won his gold bracelet in Event #38 Pot-Limit Hold'em Championship. No-Limit - Roberto Romanello busted in 27th place and Matt Stout soon followed after receiving direction from the set of Queens made by Michael Santoro. Eli Elezra was railbound too, losing the rest of his chips to the Queen kicker of Jamie Rosen.

Having a hot day was Dwyte Pilgrim who grew his stack as high as 250,000 before coming down to 196,000 making the Day 3 cut. Jamie Rosen rose to over 500,000 at one point in Day 2 competition. He will see a seat at the final table. No-Limit - Gavin Smith late in the day made a straight (5 thru 9) to win a big chunk of chips, enabling him to go to the final table. All 9 players will come back tomorrow at 2;30 PM.

Top 9 with Chip Counts
Jarred Solomon -- 748,000
Gavin Smith -- 745,000
Danny Hannawa -- 542,000
Michael Michnik -- 527,000
Timothy Finne -- 331,000
Jamie Rosen -- 300,000
Daniel Idema -- 237,000
Dwyte Pilgrim -- 196,000
Mike Santoro -- 179,000
Final Table

It has become a rare occurance for Day 3 to have just the 9 for the final table, so this will be a shorter than usual day for the railbirds. Limit - About 30 minutes into play, Mike Santoro busted in 9th after his move with A J lost to the paired 8's of Micheal Michnik. And after being crippled on a previous hand, Dwyte Pilgrim left the table in 8th place. His final move with K 3 was pushed six feet under with help from the two pair (Q's and 7's) of Jamie Rosen. No-Limit - Daniel Idema came to grips with his 7th place finish after coming out on the losing end of a 3 way hand with his A Q. Limit - Chip leader Jarred Solomon finished in 6th place when his pocket Q's became subservient to the set of Kings belonging to Danny Hannawa. No Limit - Next victim of Hannawa's cards was Jamie Rosen who picked up the cash for finishing 5th. On Rosen's last hand, he lost to the King kicker that Hannawa had. Limit - Michael Michnik lost the final battle between him and Gavin Smith when Smith brought out the pocket K's that held to the river. Michnik finished 4th. And Timothy Finne ended his bracelet quest in 3rd after the two pair made by Hannawa (A's and J's) removed all hope for the gold.

Heads up started with Smith having 2.1 million chips to the 1.7 million on Hannawa's side of the table. It took 2 hours and 15 minutes for a champion to be declared. Limit - The last hand that won it all for Smith had him all-in with A Q suited verses the 10 8 of Hannawa who was crippled on the previous hand with Smith. The flop was A K 2, turn card a J and a river card also a J. So with two pair (A's and J's) Gavin Smith wins it all!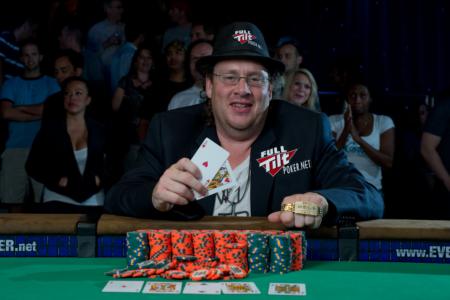 2010 Bracelet Champion #44 -- Gavin Smith
Gavin Smith -- $268,238
Danny Hannawa -- $166,005
Timothy Finne -- $110,324
Michael Michnik -- $81,871
Jamie Rosen -- $61,441
Jarred Solomon -- $46,562
Daniel Idema -- $35,601
Dwyte Pilgrim -- $27,438
Mike Santoro -- $21,304