Home 2010 WSOP Event Schedule WSOP TV Schedule Free Slot Games Site Map 3 Webmasters

Click on Event Schedule link to view available reports!


Play Video Poker games here like Aces and Faces!
Event #47 No-Limit Hold'em
Day 1
Buy-in: $1,000
Players: 3,128
Prize pool: $2,815,200 going to the last 324 in the field

Day 1A

Event #47 No-Limit Hold'em is another one of the highly popular $1,000 low buy ins being held at the WSOP this year. James Akenhead, Roberto Romanello, Antonio Esfandiari, Lauren Kling, Jerry Yang, Scott Montgomery, Billy Baxter, Shannon Elizabeth, Tom Dwan, John Spadavecchia, Jorg Peisert, Luke Vrabel, Young Phan, Amanda Baker, J.J. Liu, Ari Buchman, Neil Channing, Kelly Kim and Chau Giang are among the notables taking up chairs today. All will start with 3,000 in chips, so expect numerous bustouts today. The goal for days 1A and 1B will be play for 10 levels, each level lasting 60 minutes a piece. This event may take 4 playing days and 5 calendar days to complete depending on the field size. Day 1A started with 1,759 players.

Dealers put the cards into play at 12 noon, and the eliminated players began to leave like someone turned on a faucet and left it running. Early departures of notable players included James Akenhead when his two pair (K's and 2's) were overcome by the set of Kings made by his opponent. Sorel Mizzi made an exit stage right after a flop and turn of A A 2 4, Mizzi moved in with A Q and was called by a player holding A K. Another King on the river gave the opponent a full house (A's/K's) and Mizzi the boot. They were followed by Michael "The Grinder" Mizrachi, Nick Maimone and Steve Gross. By the time 10 levels were completed, there were 257 remaining and will return for Day 2.

Top 9 with Chip Counts
Chernykh Moscow -- 75,150
Justin Brickner -- 64,400
Didier Leroy -- 63,750
Tom Braband -- 59,125
John Nguyen -- 55,375
Vasken Jeknavorian -- 55,275
Peter Traply -- 55,100
Bahbak Oboodi -- 54,025
Sergey Pomerantsev -- 53,325
Day 1B

The second half of Day 1 saw 1,369 new faces sit down to take their chances for a gold WSOP bracelet. In this field were Kathy Liebert, Beth Shak, Joe Sebok, Eric Baldwin, Faraz Jaka, Lee Markholt, Jimmy Fricke, John Cernuto, Jennifer Tilly, Al Barberi, Joe Sebok, Isabelle Mercier, Chris Moneymaker, David Levi, Terrance Chan, Chris Moneymaker and Can Kim Hua.

Pro player Ari Engel busted early on when his pocket K's were crushed by the full house (3's/10's) of his opponent. David Baker left his chair as well after the A J held by his opponent turned into two pair by the river. Joe Sebok is also gone from the field. He went all-in with Q J and was called by J 10 suited. The dealer laid out 6 10 8 on the flop which was enough to make Sebok get out of his chair and grab his things. By the 6 turn card he was gone and the 3 on the river transformed him into another statistic on the busted meter. Amnon Filippi took the 2400 chips he had left and went all-in with pocket 10's. The other player who called him had A K which turned into a pair of Kings on the flop, sending Filippi on to the next event.

But making the cut for Day 2 were Thomas Koral 15,625, Faraz Jaka 17,700, Rolf Halverson 20,125, Pete Vilandos 20,875, Can Kim Hua 23,325, David Sklansky 23,850, David Levi 26,225, Terrence Chan 29,200, Carter Gill 31,800, Will Failla 32,500 and Chris Moneymaker 41,125. Total number of entrants on Day 1B remaining were 189.

Payout for the Final Table players
$485,791
$300,494
$212,660
$153,935
$112,720
$83,498
$62,553
$47,379
$36,287
Top 9 with Chip Counts
Benjamin Klier -- 65,675
Richard Ferro -- 64,375
Olivier Busquet -- 59,100
Scott Dorin -- 54,200
Thomas Symonds -- 52,550
Levi Moreno -- 51,325
Jason Riesenberg -- 51,175
Vadim Trincher -- 47,928
Scott Pfeffer -- 47,375
Day 2

At the end of this round there were 33 players remaining.

Top 9 with Chip Counts
Manuel Davidian -- 889,000
Adam White -- 713,000
Jason Riesenberg -- 635,000
Owen Crowe -- 610,000
Justin Young -- 449,000
Paulus Valkenburg -- 439,000
Pekka Ikonen -- 435,000
Shawn Busse -- 432,000
Olivier Busquet -- 377,000
Day 3

Final Table Players
Adam White -- 1,685,000
Allan Baekke -- 1,633,000
Shawn Busse -- 1,203,000
Owen Crowe -- 1,192,000
Illya Andreev -- 985,000
Chuan Shi -- 894,000
Jason Mann -- 893,000
Pekka Ikonen -- 626,000
Wenlong Jin -- 292,000
Final Table

The 9 for the final table gathered in the Amazon Room to battle it out for the bracelet. Three hours after the start, Adam White was the first to leave the group in 9th place. White moved all-in with K J and was called by Owen Crowe with 5 9 suited. Another 9 came on the turn, sending White to gather his cash for his performance. On the next hand, Allan Bække busted in 8th place. Bække moved all-in with 750,000 chips holding onto K J suited and was called by Shawn Busse with pocket 7's. By the turn they became two pair (Q's and 7's), winning the hand for Busse. Then in 7th was Jason Mann who fell victim to the Ace kicker of Owen Crowe. And Ilya Andreev did his best with paired Queens on his all-in, but they could not overcome the pocket A's of Busse, resulting in a 6th place finish for Andreev.

Wenlong Jin had been crippled badly in the prior hand when he went all-in with 8 6 offsuit. He was called by Pekka Ikonen who paired his 9 card on the river and won the balance of Jin's chips giving him a 5th place finish. Chuan Shi was rewarded with the cash for a 4th place finish when his pocket 8's were defeated by the pocket J's belonging to Crowe. Finnish player Pekka Ikonen claimed 3rd place after his all-in with Q J were pushed under by the A 4 of Crowe which held to the river.

The heads up started with Owen Crowe having a commanding stack with 6.25 million in it, while Shawn Busse was ready with 3.135 million in front of him. Initially the hands were uneventful, but after the 25th or so hand, Busse doubled up with pocket 7's on one hand and almost busted Crowe with pocket A's on another all-in move leaving Crowe with just 240,000 chips. On the last hand...

Sorry folks, but evidently no one got close enough to see the last hand. We tried.
But we got a picture so you know who won. Heh, heh.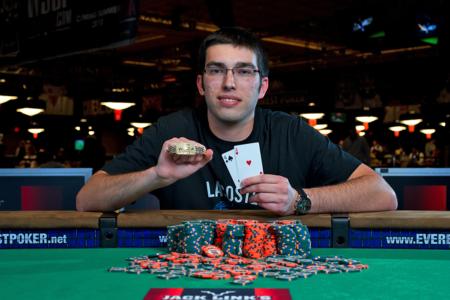 2010 Bracelet Champion #47 -- Shawn Busse
Shawn Busse -- $485,791
Owen Crowe -- $300,494
Pekka Ikonen -- $212,660
Chuan Shi -- $153,935
Wenlong Jin -- $112,720
Ilya Andreev -- $83,498
Jason Mann -- $62,553
Allan Bække -- $47,379
Adam White -- $36,287