Home Online Casino Real Money
2010 WSOP Event Schedule WSOP TV Schedule Free Slot Games Site Map 3 Webmasters

Click on Event Schedule link to view available reports!


All linked player names have free bios, courtesy of FullTiltPoker
Event #5 No Limit Hold'Em
Day 1
Buy-in: $1,500
Players: 2,092
Prize pool: $2,824,200 for the top 216 players

Event #5 No Limit Hold'Em had a huge turnout with over 2,000 players in the field. Taking seats in this event were Dwyte Pilgrim, Chris Moorman, Neil Channing, Mark Seif, Kathy Liebert, Chris Ferguson, Rob Hollink, Freddy Deeb, Dewey Tomko, Barry Greenstein, Allen Cunningham, Phil Ivey, Greg Raymer, Josh Arieh, David Pham, Burt Boutin, Raymond Davis, Aaron Kanter, Fabrice Soulier, Chad Brown, Todd Witteles, Maria Ho, Svetlana Gromenkova and Amanda Baker. And that just names a few! They will all sit down to play 10 one hour levels and try to survive for Day 2. Once tournament director Jack Effel gave the order to shuffle up and deal, things got moving.

The 2007 WSOP Main Event winner Jerry Yang was among the first to bust out. We don't know what happened, but it had to be a shocking experience for Yang. Victor Ramdin followed him when his all-in with A Q met with A K which held to the river. Lex Veldhuis left the building after his A Q lost to pocket Q's early in the event. Even Phil Ivey is gone after losing to the Ace high flush his opponent made on the turn. Other players who joined the fallen on Day 1 include Gavin Griffin, Liz Lieu, Barry Greenstein, Tom Dwan, Allen Cunningham, Brandon Cantu, Maria Ho and Daniel Negreanu who finished 75 spots away from the money. When the smoke cleared at the end of the day, there were 236 that will see Day 2.
Stephen Foutty -- 207,400
Dwyte Pilgrim -- 202,000
Chris Moorman -- 161,400
Trevor Savage -- 125,600
Jesse Fulmer -- 121,400
Taylor Mcfarland -- 118,900
Pramesh Bansi -- 118,700
Lars Bonding -- 106,600
Dustin Pattinson -- 103,300
Day 2

Play began at 2:30 PM and within 45 minutes the money was reached for the top 216 in the field. And soon as you could turn your head, the cashier's line began to grow. In it were Humberto Brenes, Antonio Esfandiari, Jason Somerville, Lauren Kling and Chris Moorman who went from being the chip leader to chipless in 90 minutes. Yea, it is rough in here today.

But there are always those who can meet the challenge like Dwyte Pilgrim. He went from 140K at the start, fell to 30K and grew his stack back to over 300K before ending up at 209,000 making the cut the next round. Yuval Bronshtein stayed continuous like a steamroller at the tables today, finishing with 498K. John Myung also hung in there ending up with 268,000 in chips. So there will be 24 going into the last day of the event, and from there will be born a new bracelet wearing champion.

Final Table Payout Schedule:
$515,501
$320,913
$223,069
$160,654
$117,416
$86,858
$65,097
$49,409
$37,943
Top 9 Players For Day 2:
Vincent Jacques -- 1,498,000
Kyle Knecht -- 971,000
Calvin Kordus -- 876,000
David Sands -- 628,000
Praz Bansi -- 616,000
Hugh Bell -- 504,000
Yuval Bronshtein -- 498,000
Santiago Nadal -- 496,000
John Sidoni -- 389,000
Final Table

Play began at 2;30 PM and it took just under 5 hours to reach the 9 for the final table. First to go in 9th was Kyle Knecht, losing to the set of 8's made by David Tuthill. After dinner break, it was David Sands who finished in 8th place. In a preflop clash between him and UK player Pras Bansi, David went in with pocket 4's and was called by Bansi with pocket J's. The felt showed A 9 A A Q, giving the bigger boat and the win to Bansi. In a horrible beat Hugh Bell moved to the middle with pocket A's and was called by Tuthill with pocket 10's. Things looked really good for Bell until a 10 card spiked up on the river, sending Bell away from the table in 7th. And Donald Offord finished in 6th after his move with pocket J's became dominated by the pocket Q's of Vincent Jacques all the way to the river. Next, Tuthill took his pocket K's and sent Tomer Berda to the rail in 5th. We believe that Bansi thought using pocket K's was a good idea, so he took the ones he got from the dealer and sent Tuthill out of sight of ESPN's cameras in 4th place. Then Calvin Kordus went to the middle with A 5 suited and was called by Jacques with A 8. The outcome was Kordus in 3rd, losing to the 8 kicker of Jacques.

The final hand of the tournament came when Praz Bansi was dealt As Js. Opponent Vincent Jacques was dealt Ac 8s. The board came Qs Qd Jh 8d 2c. That gave Bansi the pot with the better kicker(s). In all, the final table lasted 8 hours and 15 minutes. Bansi collected $515,501 for first place in his latest WSOP victory. He was presented with his second WSOP gold bracelet. He won his first bracelet in 2006.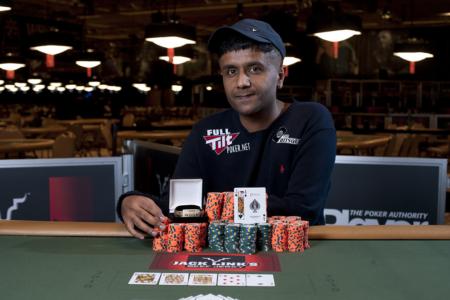 Event #5 Champion -- Praz Bansi
Praz Bansi -- $515,501
Vincent Jacques -- $320,913
Calvin Kordus -- $223,069
David Tuthill -- $160,650
Tomer Berda -- $117,416
Donald Offord -- $86,858
Hugh Bell -- $65,097
David Sands -- $67,221
Kyle Knecht -- $37,943