Home Online Casino Real Money
2010 WSOP Event Schedule WSOP TV Schedule Free Slot Games Site Map 3 Webmasters

Click on Event Schedule link to view available reports!




All linked player names have free bios, courtesy of FullTiltPoker
Event #51 Triple Chance No-Limit Hold'em
Day 1
Buy-in: $3,000
Players: 965
Prize pool: $2,663,400 to the top 90

Event #51 Triple Chance No-Limit Hold'em attracted big players such as Allen Cunningham, Hevad Khan, Phil Ivey, Brandon Cantu, Bahador Ahmadi, James Akenhead, Noah Boeken, Feming Chan, Justin Bonomo, Lee Markholt, Erik Cajelais, Dutch Boyd, Amnon Filippi, Ted Forrest, Svetlana Gromenkova, Joe Hachem, Adam Levy, Tom McEvoy, David Chiu, Alexandre Gomes, Eli Elezra, Jacobo Fernandez, Chris Ferguson, Faraz Jaka, J.J. Liu, Allen Kessler and Sorel Mizzi. All players will start with 3,000 in chips and receive (2) additional add-ons each worth 3,000 tournament chips each, anytime during the first four levels. Any player that has not taken their add-ons by the end of the third level will automatically receive them. Levels will be 60 minutes in length and to goal is to last 10 levels of action.

On the second level, Frank Kassela busted out after his move with a pair of 7's could not fend off the paired Queens of his opponent. Vanessa Rousso had no choice but to vacate her chair after meeting the full house (Q's/10's) turned quad Queens made by Dmitry Motorov. Quad Queens also led to the demise of Maria "Maridu" Mayrinck as she was hoping her set of 2's would hold. Following behind her was Matt Brady, Bruno Fitoussi, Marco Traniello, Andre Akkari, Scott Clements, Tom McCormick, Chad Brown, Victor Ramdin, David Benyamine, Dan Heimiller, Max Pescatori, Bill Chen and Bryan Devonshire.

Some of the players who will be seeing a seat on Day 2 include Alex Bolotin 74,900, Alexander Kravchenko 67,300, Tom Dwan 59,800, Terrence Chan 52,200, Neil Channing 47,400, Justin Pechie 27,500, David Plastik 20,900, Joe Tehan 93,100, Jordan 'iMsoLucky0' Morgan 55,300 and Mike Gracz 67,300. In all there will be 178 players tomorrow.

Money for the Final Table Players
$559,371
$344,830
$223,459
$163,532
$121,451
$91,407
$69,647
$53,694
$41,842
Top 9 for Day 1
Tommy Vedes -- 237,100
David Singer -- 204,100
Alessio Isaia -- 182,900
Gavin Griffin -- 134,300
Jason Helder -- 130,200
Ryan Welch -- 126,800
James Akenhead -- 126,300
Mike Sowers -- 113,000
Jason Doherty -- 107,900
Day 2

Action was started at 2:30 PM and taking the early train out was Allen Kessler. His all-in with pocket 10's was met by the A 10 of Sid Yuen who received another Ace on the turn, sealing Kessler's fate. Mike Ellis was busted by the Ace high flush of Joel Casper. Before dinner, Terrence Chan, Ted Forrest, Vitaly Lunkin, Peter Traply, Jared Hamby, David Singer, Justin Pechie, Alex Bolotin, Neil Channing, Lee Markholt, Amit Makhija, Benjamin Fineman and David Plastik were eliminated from the field. After dinner, the field continued to pare down to just 12 for the last day for play. James Akenhead who perfomed well, busted in 17th after his paired Aces lost verses the set of Jacks made by Nicholas Mitchell.

Top 9 with Chip Counts
Jon Eaton -- 1,678,000
Frank Rusnak -- 1,041,000
Tommy Vedes -- 984,000
Will Failla -- 960,000
Ryan Welch -- 932,000
Sergey Lebedev -- 917,000
Guillaume Darcourt -- 613,000
Noel Scruggs -- 453,000
Bradley Craig -- 340,000
Final Table

It took 2 hours for the field to get to just 9 players for the final table. The first bust was incredible as Tad Jurgens left in 9th and Noel Scruggs followed in 8th on the same hand. What happened is that in a 3 way hand involving both parties and Guillaume Darcourt, everyone went in preflop with all their chips. Jurgens had pocket Q's, Darcourt had pocket 7's and Scruggs had A Q. Darcourt came out victorious when the first card on the flop was a 7, giving him a set and the winning hand. Next to go was Tommy Vedes in 7th after Sergey Lebedev took his pocket 8's and ended up with a full house (5's/8's) by the river. A few hands later, Lebedev fell in 6th to the full house made by Darcourt (10's/K's). Darcourt then busted Bradley Craig in 5th with pocket 9's that held to the river.

Will Failla finished in 4th after the A 7 lost to the A J of Ryan Welch when no cards from the dealer helped either player. Guillaume Darcourt experienced real pain as he knew he could not beat the straight flush made by Jon Eaton, resulting in a 3rd place ending for a player with a particularly loud rail section.

Action was played on level 27 with blinds at $30,000/$60,000 with $5,000 ante. Welch and Eaton watched as the flop produced 9c, 7s & 6c and the turn card was the 10d. Welch called Eaton's 225,000 bet. When the river turned up Kd Welch called all-in. There was a couple of million in the pot by now and Easton took his time calling Welch's all-in bet. Welch turned over a Qh & Jd for a king-high straight. After counting the chips Welch was declared the winner, which left Eaton running home with 344,830 for his pain and suffering.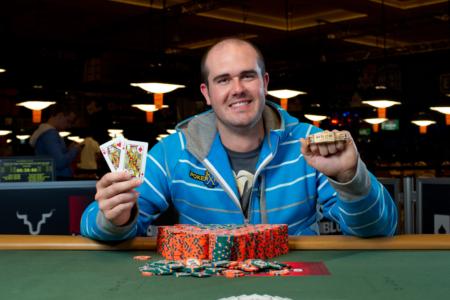 2010 Bracelet Champion #51 -- Ryan Welch
Ryan Welch -- $559,371
Jon Eaton -- $344,830
Guillaume Darcourt -- $223,459
Will Failla -- $163,532
Bradley Craig -- $121,451
Sergey Lebedev -- $91,407
Tommy Vedes -- $69,647
Noel Scruggs -- $53,694
Tad Jurgens -- $41,842