Home Online Casino Real Money
2010 WSOP Event Schedule WSOP TV Schedule Free Slot Games Site Map 3 Webmasters

Click on Event Schedule link to view available reports!


Play Video Poker games here like Aces and Faces!
Event #56 No-Limit Hold'em
Day 1
Buy-in: $2,500
Players: 1,942
Prize pool: $4,466,600 for the top 198 finishers

Event #56 No-Limit Hold'em is the last chance to get a gold bracelet at the RIO this season. Outside of here you will have to travel to Europe for remaining opportunities. In the field were Chris Bell, Nam Le, 2009 defending champion Matt Hawrilenko, Brandon Adams, Chris Moneymaker, Faraz Jaka, Humberto Brenes, Jonathan Aguiar, Al Barbieri, Nick Binger, Dwyte Pilgrim, Max Pescatori, Carlos Mortensen, Allen Kessler, Liz Lieu, Andy Black, Dan Heimiller, Phil Ivey, Alex Bolotin, John Juanda, Chris Ferguson, James Mackey, Jeff Madsen, Daniel Negreanu, Men "The Master" Nguyen, Brock Parker, Roberto Romanello and Francois Safieddine. Everyone here will receive 7,500 chips and play for 8 levels on Day 1. Each level will be 60 minutes in length.

Play began at 5:00 PM with tired player straggling into the Pavilion and Amazon Rooms to sit down. Daniel Negreanu took an early out as his seat was empty after he was eliiminated. Roland DeWolfe was not far behind him. Amnon Filippi left the tables courtesy of Jeff Madsen after the pocket 7's of Filippi were overshadowed by the pocket 8's of Madsen by the river. Todd Brunson was in the race with A Q, but lost it all when the pocket 10's belonging to the other player held up to the end. Other players taking seats in the stands were Erick Lindgren, Chris Moneymaker, David Williams, Phil Ivey and Joe Hachem. At the end of the 8th level, there were close to 575 players remaining. They will all return at 3:00 PM for another round of eliminations.
Daniel Smith -- 229,000
Marc Sander -- 98,000
Barrie Pietersz -- 97,900
Jason Helder -- 92,300
Gianluca Speranza -- 92,100
Tommie Janssen -- 92,000
James Moutsatsos -- 91,200
Thien Nguyen -- 86,500
Brian Roberts -- 82,600
Cash for the Final Table Players
$825,976
$510,939
$353,260
$254,777
$186,250
$137,946
$103,527
$78,705
$60,580
Day 2

The goal of Day 2 is to play down to the final table or the completion of 10 levels, whichever comes first. But with so many remaining in the field, some are saying this could stretch out to four days instead of three. And just for clarification, Daniel Smith only had 22,000 chips in his bag, not the 229,000 that was reported making Marc Sander the day 1 chip leader. Lost to Day 2 in the early going was Men "The Master" Nguyen after his last attempt to double up with 8 9 suited met the pocket A's of David Singer. And Matt Hawrilenko will not be able to defend his title as he busted when his Q A was beaten down by a player who paired his King card on the turn.

After the dinner break, the field size was 222 and the money will be reached at position 198. Jamie Gold made a prop bet that gave him two to one on a couple of hundred thousand that he would make the money. Well he did and not only did he offer to buy drinks for everyone, but when he busted a few hands later he was still really happy! By the end of the night, there were still 75 players left in the field which would be too many to play to the championship in 1 day, so this will extend to 4 days instead of 3.

Top 9 with Chip Counts
James Mackey -- 1,011,000
Christian Jeppsson -- 548,000
Alfonso Amendola -- 480,000
Michael Abdoulah -- 475,500
Peter Kaemmerlen -- 446,000
Mike Wattel -- 428,500
Sebastian Winkler -- 378,000
Viet Vo -- 370,000
Davor Lanini -- 334,000
Day 3


Salvatore Bonavena - 4,505,000
Tomer Berda - 3,410,000
Vladimir Kochelaevskiy - 2,025,000
Joseph Curcio - 1,205,000
Alfonso Amendola - 910,000
Bryan Porter - 740,000
Hungcheng Hung - 740,000
Ali Alawadhi - 670,000
Mike Wattel - 365,000
Final Table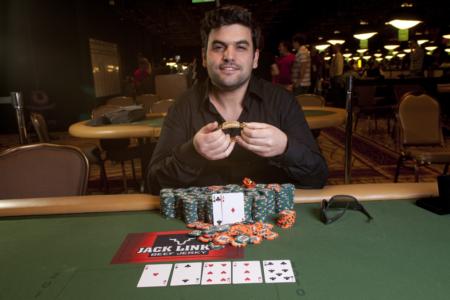 2010 Bracelet Champion #56 -- Tomer Berda
Tomer Berda -- $825,976
Vladimir Kochelaevskiy -- $510,939
Bryan Porter -- $353,260
Salvatore Bonavena -- $254,777
Mike Wattel -- $186,250
Hungcheng Hung -- $137,946
Ali Alawadhi -- $103,527
Joseph Curcio -- $78,705
Alfonso Amendola -- $60,580