Home Online Casino Real Money
2010 WSOP Event Schedule WSOP TV Schedule Free Slot Games Site Map 3 Webmasters

Click on Event Schedule link to view available reports!




All linked player names have free bios, courtesy of FullTiltPoker
Event #6 No-Limit Hold'em Shootout (2000 player max)
Day 1
Buy-in: $5,000
Players: 358
Prize pool: $1,682,600 to the top 36

A No-Limit Hold'em Shootout event works a little different from others in that each table set up continues play with only the winner surviving, and that person advances to the next round. With the 358 players who signed up, there were 36 tables set up for play. And it should be good as top players and recognizable names are taking to the tables, like Phil Ivey, Greg Mueller, Greg Raymer, Rob Hollink, Scott Clements, David "Devilfish" Ulliott, Bill Chen, Gavin Griffin, Daniel Negreanu, Issac Haxton, Jeff Lisandro, Lee Markholt, Kevin Stammen, Max Pescatori, Andy Bloch, Erik Seidel, David Singer and J.C. Tran. The 2009 winner Peter Trapley is also seated, vying for a repeat performance. All players began with stacks of 15,000 and blinds will start at 50/100.

At one table of death, seated are Amnon Filippi, Eric Froelich, Bill Chen and Daniel Negreanu. First casualty there was Amnon Filippi courtesy of Eric Froelich when Filippi move all-in on a straight when Froelich called producing a diamond flush. Action became fierce as tables pared down to the heads up duals. At the same table mentioned, Negreanu made it all the way to the heads up between him and Chris Moore, but lost when the Queens that Moore managed to pair overcame the 7 6 suited from Negreanu as he bet the last of his chips making Moore the winner of that table. Chris Moore will move on to Day 2. Tommy Vedes also advanced when his move with A K turned into a win with two pair (A's and 5's). In a crushing blow, Neil Channing won his table after dispatching Kirk Morrison in the heads up. Morrison pushed to the middle with pocket 3's and Channing responded with A K. It looked good for Morrison as the flop was 9 3 Q giving him a set. Unfortunately, the turn card was a J and river a 10, giving Channing the straight and the ticket for the next round. Max Pescatori came out smelling like a rose as his Ace high flush beat his heads up opponent who had pocket A's at the start. This will send Pescatori to Day 2. Nicholas Levi moved on winning with a pair of Jacks that paved the way in a duel contest with Noah Boeken.

Day 1 took 13 1/2 hours to finish after Brent Wheeler became the 36th player to win his table as his A K managed to take it with an Ace high hand. They will all return at 2:30 PM tomorrow.

Top 36 survivors from Day 1 who won their tables:
William Molson -- 150,000
James Akenhead -- 150,000
Stuart Rutter -- 150,000
Dario Minieri -- 150,000
Julien Nuijten -- 150,000
Pablo Fernandez -- 150,000
Maxim Lykov -- 150,000
Neil Channing -- 150,000
John Duthie -- 150,000
Nicolas Levi -- 150,000
Aaron Been -- 150,000
Chris Bell -- 150,000
Chad Brown -- 150,000
Tom Dwan -- 150,000
Joseph Elpayaa -- 150,000
Danny Estes -- 150,000
Chris Ferguson -- 150,000
Aaron Gustavson -- 150,000
Brent Hanks -- 150,000
Christian Harder -- 150,000
Blair Hinkle -- 150,000
Faraz Jaka -- 150,000
Benjamin May -- 150,000
Brent Wheeler -- 150,000
Cary Katz -- 150,000
Chris Moore -- 150,000
David Rheem -- 150,000
Eugene Katchalov -- 150,000
Heather Mercer -- 150,000
Josef Monro -- 150,000
Joseph Mcgowan -- 150,000
Joshua Tieman -- 150,000
Justin Smith -- 150,000
Keven Stammen -- 150,000
Max Pescatori -- 150,000
Tommy Vedes -- 150,000
Day 2

Goal for the day will see 6 tables play six handed for the Day 3 final table participants. First bust of the day was James Akenhead when Chris Bell made a set of 6's which was enough to have Akenhead muck his hand and walk away. In the heads up table battles, the first victor was Brent Hanks who won over Josef Monro when his pocket 8's turned into two pair (8's and 3's) verses A 10 suited held by Monro. A couple of minutes later it was Neil Channing hitting the nut flush on the river which gave him the victory over Chris Moore and a final table seat. Then Nicholas Levi took K Q up against Blair Hinkle and won entry to the final round with his hand holding up to the river.

Joseph Elpayaa had to take 5 hours of heads up action with Cary Katz before he had his final table seat earned by the full house made on the river (7's/6's). And the showdown between Joshua Tieman and Danny Estes squeeked by as Tieman went in with A 9 and Estes pushed with A 8. After the flop of A 7 3, Estes began to put on his coat. The 9 on the turn made him put on both sleeves and the Queen card on the river saw him walk away. Stuart Rutter won by the Ace kicker in his hand as both players made two pair with Queens and 3's, so he will be at the final table of 6 tomorrow. Come back and see who wins the next bracelet!

Payout Schedule for the Top 6 Finishers:
$441,692
$273,153
$179,617
$125,387
$92,543
$71,998
Final Matchup Players:
Stuart Rutter -- 900,000
Neil Channing -- 900,000
Nicolas Levi -- 900,000
Joseph Elpayaa -- 900,000
Brent Hanks -- 900,000
Joshua Tieman -- 900,000
Final Table

For this final round of play, action will continue in 1 hour levels until there is a champion. It took 1 hour for the first elimination, and it was Brent Hanks in 6th. Hanks went in with A Q suited verses the pocket 7's of Nicholas Levi. A flop of 9 9 5 was a bad sign which got worse as a 7 came on the turn, giving Levi a full house. But 35 minutes later it was Levi in the hot seat as his all-in with pocket J's lost out to the set of 8's made by Joshua Tieman, sending Levi away in 5th. Joseph Elpayaa took home the six figure payout for 4th place after losing to the set of 10's made by Tieman on the river. Then Tieman vanquished Stuart Rutter in 3rd when the two pair he made (A's and Q's) decisively ended Rutter's chance at the bracelet.

The heads up between Joshua Tieman and Neil Channing had Channing at a 7:1 disadvantage. But Channing fought incredibly with his short stack, staying in when others thought he was gone. But eventually the last hand had to come and it began with Channing moving in with A 7 of which Tieman called with A J. The table showed K 10 4 10 Q which allowed the Jack kicker to be the bracelet winner for Tieman. This was one of the shortest final tables on WSOP record with just 4 1/2 hours on the clock. But long or short, a gold WSOP bracelet is something you never forget.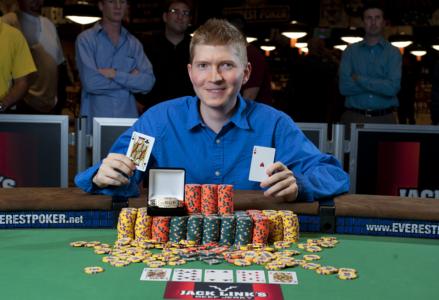 Event #6 Champion -- Joshua Tieman
Joshua Tieman -- $441,692
Neil Channing -- $273,153
Stuart Rutter -- $179,617
Joseph Elpayaa -- $125,387
Nicolas Levi -- $92,543
Brent Hanks -- $71,998