Home Online Casino Real Money
2010 WSOP Event Schedule WSOP TV Schedule Free Slot Games Site Map 3 Webmasters

Click on Event Schedule link to view available reports!




All linked player names have free bios, courtesy of FullTiltPoker
Event #7 2-7 Triple Draw Lowball (Limit)
Day 1
Buy-in: $2,500
Players: 291
Prize pool: $669,300 going to the top 30 finishers

Event #7 2-7 Triple Draw Lowball (Limit) is interesting as the best hand you can get is 2 3 4 5 7. God only knows how this form of poker came into being, but that has not stopped top names from passing on a chance to win a gold bracelet. Seen at the tables were Mimi Tran, David Bach, Jeff Lisandro, Jean Robert Bellande, Allen Kessler, Nam Le, Greg Raymer, Phil Ivey, Phil Hellmuth, Barry Greenstein, Bernard Lee, Matt Hawrilenko, Brent Roberts, Phil Gordon, Mike Matusow, Huck Seed, Ted Forrest, Marc Karam, Mike Wattel, Joe Serock, Steve Zolotow and Victor Ramdin. Missing from the action was last year's champion Abe Mosseri. Starting stacks will be 3 times the buy in or 7500 chips.

Professional player Chau Giang made an early exit from the tables and it was thought that Phil Ivey did the same. But later it was found out that Ivey was also playing in the Event #6 No Limit Hold'Em Shootout as well as this event. Ivey's stack dwindled as he spent more time at the shootout and after dinner break when he returned, his stack was at 2,000 and he could not recessitate it. So at this point Ivey is no longer in the tournament. Daniel Negreanu also busted out playing against Charles Lehr. Negreanu was all-in and got 8 5 4 2 8 verses the 2 3 6 7 9 of Lehr. Lehr having the better low won the hand. In numerous clashes between Steve Sung and Tony Guoga, Guoga repeatedly raked chips over to his side of the table with perfect hands such as the 2 3 4 5 7. Eventually to add shame to misery, Guoga sent Sung to the rail, busted. Mike Matusow also busted out and he was not a happy camper. Swearing up a storm, he complained that he couldn't hit a f***ing card to all the people in the room.

Around 3:00 AM the next day all 87 surviving players bagged their chips to come back for Day 2.

Top 9 players and chip counts:
Salim Hanna -- 65,400
Hoyt Corkins -- 63,400
Davidson Matthew -- 56,400
Brian Tate -- 56,200
Jameson Painter -- 55,200
Allen Kessler -- 52,900
Jaime Kaplan -- 51,800
Jeffrey Lisandro -- 49,500
Greg Mueller -- 46,500
Day 2

After 12 hours of sleep, everyone is back for Day 2 of this event and will take another step closer to the bracelet. Within the first 45 minutes Maria Ho, Adam Friedman, Sebastian Sabic, Bryan Devonshire and James Scott were gone from the event. They were followed by George Danzer, Amnon Filippi, Barry Greenstein (free book time!), Alexander Kostritsyn, Sorel Mizzi, Michael Binger and Huck Seed. Jeff Lisandro was busted after Leonard Martin showed he had 2 3 4 7 8, which was enough to have Lisandro muck his cards and head for the exit. Rob Hollink had to face the music and leave when Alex Balandin brandished the incredible 2 3 4 5 7 in front of Hollink. And the Bubble Boy award for Event #7 goes to Tony Guoga who was not happy about it. You could probably hear him swearing all the way out on Flamingo Road in front of the RIO from the Amazon room.

When the field got down to 24 players, for some reason David Chiu put things into overdrive. He jumped from 75K to 112K in about 5 minutes, then he busted Chris Fargas to vault to 330,000. Next he busted David Baker to put him over the 400K mark. Cowboy Hoyt Corkins was home on the range until some varmit slipped him a pair of threes, which made him walk away in 23rd place. By the time the party ended for the day, there were 8 players who will regroup for a shot at the bracelet. See you then!

Payout Schedule for the Final Table:
$180,730
$111,686
$73,803
$50,157
$34,843
$24,723
$17,903
$17,903
$13,232
Final Table Players:
David Chiu -- 436,000
Peter Gelencser -- 400,000
Don Mcnamara -- 370,000
Raphael Zimmerman -- 262,000
Tad Jurgens -- 223,000
Leonard Martin -- 195,000
Shunjiro Uchida -- 173,000
Jameson Painter -- 127,000
Final Table

So the question is how low can you go as the 8 remaining players make their best attempt to secure a gold WSOP bracelet worn by champions. And at 4:00 PM, the final round got underway. First to bust was an unhappy Tad Jurgens in 8th. When Raphael Zimmerman said he was pat with his 2 4 5 6 7, Jurgens jumped up from his chair and tossed his hand into the muck. Then Zimmerman upset Shunjiro Uchida into a 7th place finish after Uchida made a Queen on the final draw verses the 2 4 6 8 9 made by Zimmerman. About 30 minutes later, Leonard Martin finished 6th after pairing 7's on the final draw against the 2 3 4 6 8 made by Peter Gelencser. Collecting the cash for 5th was Jameson Painter who was all-in after the first draw. The resulting stand for Painter was 2 3 4 7 A which could not overcome the 3 4 6 7 10 of Zimmerman. David Chiu lost a lot in a 3 way hand earlier and was down to his last 20,000 when he made his all-in stand. David had an "87" hand verses the "86" hand of Don McNamera, resulting in a 4th place ending for Chiu. But grace soon departed from McNamera as he drew J 9 8 6 2 against Gelenscer's 9 8 5 3 2, leaving McNamera in 3rd place.

The heads up only lasted two hands, with the winning hand going to Gelenscer who drew 9 7 4 3 2 against Zimmerman who had 8 6 5 3 and unfortunately drew another 6 on his last card resulting in a 2nd place finish for Zimmerman and a gold bracelet for Peter Gelencser.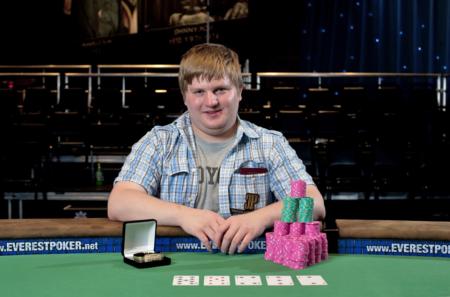 Event #7 Champion -- Peter Gelencser
Peter Gelencser -- $180,730
Raphael Zimmerman -- $111,686
Don Mcnamara -- $73,803
David Chiu -- $50,157
Jameson Painter -- $34,843
Leonard Martin -- $24,723
Shunjiro Uchida -- $17,903
Tad Jurgens -- $17,903
Farzad Bonyadi -- $13,232