Home Online Casino Real Money
2010 WSOP Event Schedule WSOP TV Schedule Free Slot Games Site Map 3 Webmasters

Click on Event Schedule link to view available reports!




All linked player names have free bios, courtesy of FullTiltPoker
Event #8 No Limit Hold'Em
Day 1
Buy-in: $1,500
Players: 2,341
Prize pool: $3,160,350 divided between the top 243

This No Limit Hold'Em event is well attended with over 2300 players at the tables. They will play for 10 one hour levels with 4500 chips in the starting stack before calling it a day. Amazingly Michael Mizrachi who won over $1.5 million USD in Event #2 is at the tables again looking for another gold bracelet. Also here are Vanessa Rousso, Annette Obrestad from Europe, Eric Baldwin and Phil Hellmuth looking for bracelet number 12.

Freddy Deeb took his chair and before you could say, "Oh my God it's President Obama!", he busted out. Too bad. Just a few minutes later Annette Obrestad was gone from her chair, not to return. With a board showing Q K 7 9, Obrestad moved in with her remaining chips and was called by another player. She turned over pocket 7's for a set, but her opponent turned over pocket K's for a larger set, sending her to the rail in her first WSOP tournament on this side of the pond. Following them to the sidelines were Jennifer Tilly, David "The Dragon" Pham, Lex Veldhuis, Jimmy Fricke, Vanessa Rousso, Jimmy Tran, Antonio Esfandiari, Chris Moorman, Humberto Brenes, Jordan Morgan and Brandon Cantu.

On a hilarious note, at the table where John Juanda was sitting, a player actually asked him if this was his first time playing at the WSOP. Juanda replied that yes this was his first time here. (Now the player looked like he was human, but maybe he was not of this world. Go figure.) After 10 levels of play, there were 270 that will see seats on Day 2.

Payout Schedule for the Final Table:
$568,974
$352,916
$249,351
$179,286
$130,617
$96,422
$72,087
$54,579
$41,843
Top 9 Players and Chip Counts From Day 1:
Josh Schlein -- 127,300
Hugo Perez -- 109,300
Blake E Kelso -- 108,100
Timothy Milliron -- 106,900
Trickett Samuel -- 102,800
Robert Harcarik -- 102,300
Scott Vener -- 101,000
Trevor Pope -- 99,800
Davin Costa -- 97,600
Day 2

Play began at 2:30 PM for the second day of this event. With just 27 to go until the money, tournament directors declared play hand for hand within 45 minutes of the start. The bubble burst in the first round of hand for hand as multiple busts took place almost at the same time. Then the line of the fallen in front of the cashier's cage began to grow. Seen picking up their winnings were Victor Ramdin, Marc Davis and Cliff Josephy. James Hannah left his seat after his move with pocket Q's met with unbudging pocket K's from another player that held to the river.

After dinner, Phil Hellmuth continued to do very well building up his stack big enough to make his mom proud. Saar Wilf became the first player to crack the 1 million chip mark after winning a pot of over 200,000 with an Ace high nut flush. By the time all the levels were played, there were 25 that will see chairs on day 3. They will come back tomorrow at 2:30PM.

Top 9 Players and Chip Counts From Day 2:
Saar Wilf -- 1,207,000
Andrew Cohen -- 1,025,000
Charles Lehr -- 653,000
Scott Vener -- 576,000
Phil Hellmuth -- 567,000
Joshua Brikis -- 547,000
Daniel Wjuniski -- 490,000
David Aue -- 479,000
Jared Michelizzi -- 479,000
Final Table

Day 3 began at 3:00 PM and it took almost 7 hours to pare the field down to 9 for the final table. Phil Hellmuth's run at bracelet number 12 was halted in 15th place after he lost the balance of his chips to another player winning with an Ace high hand. Saar Wilf took a beating, losing his chip leader status. In fact Wilf finished 9th at the same time as Joshua Brikis in 8th, with both being busted simultaneously by Max Steinberg who led the way with pocket J's down to the river. In 7th place was Kurt Disessa as his paired Queens lost out to the paired Aces of Kevin Howe. James Andersen went in with pocket A's, only to be defeated by a set of 10's that Daniel Wjuniski made on the flop, resulting in a 6th place ending for Andersen. David Aue took the rest of his chips in with pocket 10's and was called by Howe with pocket 9's. The turn gave Aue a set but the river shifted the chips over to Howe with a straight (6 thru 10), sending Aue to the sidelines in 5th. Wjuniski had to settle for 4th after his pocket 7's were outrun by the pocket J's belonging to Steinberg. Then Kevin Howe finished in 3rd losing to the pocket K's of Pascal LeFrancois.

At the start of the heads up, LeFrancois had a highly commanding lead with 9,184,500 chips to the 1,350,000 in Steinberg's corner. After three hands the hand of fate decided who would walk away with the bracelet. Once the dealer had dealt all five cards, (J 4 K 5 10), both parties moved all in. LeFrancois showed J 6 and Steinberg revealed 4 3, which was good enough for LeFrancois to jump up out of his seat and run to his railbird cheer section to hug everybody. And with that we have another highly satisfied bracelet winner.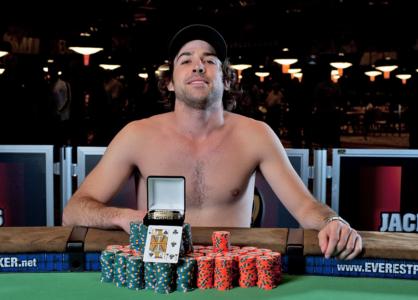 Event #8 Champion -- Pascal LeFrancois
Pascal LeFrancois -- $568,974
Max Steinberg -- $352,916
Kevin Howe -- $249,351
Daniel Wjuniski -- $179,286
David Aue -- $130,617
Jim Andersen -- $96,422
Kurt Disessa -- $72,087
Joshua Brikis -- $54,579
Saar Wilf -- $41,843