Home Online Casino Real Money
2010 WSOP Event Schedule WSOP TV Schedule Free Slot Games Site Map 3 Webmasters

Click on Event Schedule link to view available reports!


All linked player names have free bios, courtesy of FullTiltPoker
Event #9 Pot Limit Hold'Em
Day 1
Buy-in: $1,500
Players: 650
Prize pool: $877,500 for the top 63

Event #9 Pot Limit Hold'Em will have the 650 entrants starting off with 4500 chips with blinds at $25/$50, call at $50 or make it at $100 to $175. And as long as a player doesn't go street rat crazy, they can be here for a while. Seen in the field so far are David "Devilfish" Ulliott, Tom McEvoy, Liv Boeree, Phil Gordon, Joe Sebok, Antonio Esfandiari, James Akenhead, Joe Cada, Gavin Smith, Liz Lieu, Annette Obrestad, Davidi Kitai, Luke Tavis, Eric Cloutier and Quinn Do. And once the tournament officials gave the dealers the order to shuffle up and deal, things got going and so did the bustouts.

Lacey Jones got busted courtesy of the quads belonging to her opponent. Main Event champion Joe Cada also was relieved of his chips and chair by another player. David "Devilfish" Ulliott was railbound after losing to Lex Veldhuis. Then the pace picked up as Jeff Madsen, David "Chino" Rheem, J.C. Tran, Chris Ferguson, Annette Obrestad and Jon Turner went out so fast it looked like a railbird conga line. Bertrand "ElkY" Grospellier went all-in with Big Slick but lost out to the Ace high flush of Igor Yoffe. Then Andy Black had his K Q pummeled by the pocket A's of Justin Bonomo, ending his chance at the bracelet. Another elimination happened when Theo Tran had his pocket 9's reduced to "0" by the set of Queens held by Michael Binger. The Day 1 carnage ended with 65 remaning for Day 2.
James Dempsey -- 205,900
Scott Montgomery -- 193,300
James Lewis -- 154,400
Joanne Liu -- 123,900
Joseph Gotlieb -- 110,400
Adams Sherman -- 93,300
Armen Kara -- 88,200
Chris Moore -- 74,500
Daniel Burke -- 73,300
Payout Schedule for the Final Table Players:
$197,470
$121,963
$86,512
$62,232
$45,393
$33,573
$25,166
$19,120
$14,715
Day 2

The second day saw the 65 players who survived from Day 1 takes seats for another round of action. Being just two spots away from the money, things started off hand for hand by tournament officials. It took just 33 minutes for two players to bust and the rest were in the money. First one to run to the cashier's cage was Eric Lynch, followed by Michael Mayer, Jared Jaffee, Tom "Donkey Bomber" Schneider, Jonathan Little and Tom McEvoy. By dinner time the field was down to 29 players.

On fire was J.J. Liu who jumped from day 1's 123,900 to 479,000! She doubled up in a hand against Brandon Holmes, and busting Joe Gotlieb pushed her over the 400K mark. Melissa Hayden who was also doing very well, unfortunately finished in 13th place. Another amazing tale was that of Armen Kara who started the previous level as a short stack of 24,000 and played like he owned the bracelet, eliminating Joe Serock which put him over the 220K level. That stamped his name on a seat at the final table. Julie Farkas busted in 10th place after losing to the Ace kicker of Steve Chanthabouasy. And with that, the 9 for the final table are assembled. They will reconvene at 2:30 PM to battle for the bracelet.
Steve Chanthabouasy -- 533,000
James Dempsey -- 528,000
J.J. Liu -- 479,000
Joseph Williams -- 385,000
Mark Babekov -- 246,000
Gregg Wilkerson -- 230,000
Scott Haraden -- 224,000
Armen Kara -- 220,000
Edward Brogdon -- 89,000
Final Table

Action began with blinds at $6,000/$12,000, call at $12,000 or make it at $24,000 to $42,000 which is level 19. First to leave the table was Gregg Wilkerson in 9th. Wilkerson went all-in after the flop and was called by Steve Chanthabouasy who took about 5 minutes to make the call. The turn card was a spade giving Chanthabouasy a spade draw, and after the announcer said Wilkerson could stay alive if no spade came on the river, the King of spades came up. In 8th place was Edward Brogdon after his pocket 9's were overcome by the pocket K's of Chanthabouasy after the table gave neither player any help. Joseph Williams finished in 7th, also becoming a victim of Chanthabouasy when his all-in with A 10 lost out to the pocket 7's of Chanthabouasy. Armen Kara took home the cash for 6th as his effort with a pair of 5's lost out when Mark Babekov paired his 6 card on the river. Then Scott Haraden left the table in 5th after his diamond flush draw failed verses the paired J's made by James Dempsey on the flop. Mark Babekov was added as another victim of Chanthabouasy in 4th after a set of Kings were produced in front of Babekov. Top pro J.J. Liu ended up with 3rd place money after her move with pocket 8's were overcome by the paired Aces belonging to James Dempsey.

As the heads up began, Dempsey had 2,115,000 chips verses the 820,000 of Steve Chanthabouasy. After two hours the hand of victory came forth. What happened was both players went all-in preflop with Chanthabouasy having A 7 and Dempsey with A 10. Chanthabouasy did manage an open ended straight draw, but that was far as it went. Dempsey won his first bracelet with a 10 kicker, which was enough to put a smile on his face.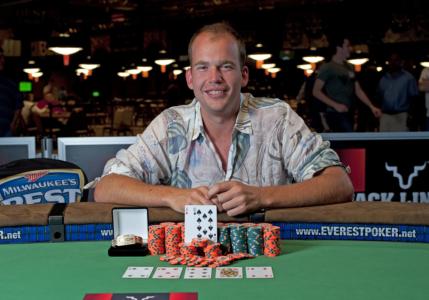 Event #9 Champion -- James Dempsey
James Dempsey -- $197,470
Steve Chanthabouasy -- $121,963
J.J. Liu -- $86,512
Mark Babekov -- $62,232
Scott Haraden -- $45,393
Armen Kara -- $33,573
Joseph Williams -- $25,166
Edward Brogdon -- $19,120
Gregg Wilkerson -- $14,715