Home
Online Casino Real Money
World Poker Tour
2010 World Series of Poker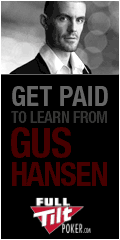 Bellagio Festa Al Lago Tournament
Bellagio
October 16 to October 19, 2006
October 16 -- WPT Championships Day 1
Day 1 of the Festa Al Lago WPT event began at 12:00 noon with 433 players having a ton of top names among them sitting down at the tables. Payouts will go to the top 100 players, with 100th place paying $12,525. Because of the field size, the Bellagio had to put entrants into the Fontana Bar and the poker room to handle everyone. The blinds began at $50/$100 and each player started with $20,000 in chips.

Some of the top names playing are Carlos Mortensen, Peter Feldman, Erick Lindgren, Phil Ivey, Chau Giang, Barry Greenstein, Daniel Negreanu, T.J. Cloutier, Chris Bell, Jamie Gold, Sam Farha, Joe Awada, Patrik Antonius, Alex Jacob, Alan Goehring, Gus Hansen, Joe Sebok, Gavin Smith, David Pham, Liz Lieu, Kathy Liebert and Evelyn Ng.

David Singer was busted after his 3 of a kind 9's was crushed by a full house. 2006 WSOP Main Event Champion Jaime Gold could not manipulate other players in this tournament, resulting in him being busted 90 minutes after today's start. John Gale busted Eric Froehlich after he drew a queen high straight. Eric was followed by Cyndy Violette, Todd Brunson, Mark Seif, Vanessa Rousso, John Juanda, "Miami" John Cernuto, T.J. Cloutier, Martin de Knijff and David Williams. The field narrowed down to 207 by day's end. Below are the payout amounts for the final table and top 6 players with chip counts:

Payout schedule for the final table:

$1,090,025 and a $25,000 entry into the WPT Championship
$542,700
$292,220
$187,745
$125,240
$83,490
Top 6 players with chip counts for Day 1:
Brandon Cantu -- 130,000 chips
Matt Wolfe -- 125,000 chips
Abraham Gray -- 117,000 chips
Johan Storakers -- 89,000 chips
Ali Eslami -- 80,000 chips (Tied for 5th)
Juan Carlos Mortensen -- 80,000 chips (Tied for 5th)
October 17 -- WPT Championships Day 2
The second day in the Festa Al Lago tournament began at noon with blinds at $400/$800 with a $100 ante. Eliminations continued where they left off with Barry Greenstein being busted out by Chris Bigler. Blair Rodman went out in the first couple of hands. Phil Hellmuth who showed up late as usual yesterday was busted out in the first 30 of play. They were followed by Steve Brecher, Erick Lindgren busted by Mimi Tran, Jeff Madsen, John Gale, Erica Schoenberg, Liz Lieu, Tuan Le, Phil Ivey, Hasan Habib, Joe Bartholdi, Scotty Nguyen and Evelyn Ng.

Mike "The Mouth" Matusow got a 20 min penalty after dropping the f-bomb protesting how the officials were redrawing new tables. Obviously the remaining players in the field sided with Mike and began a "free Mike" chant. Five minutes into the penalty, tournament officials overturned Mike Matusow's 20 minute penalty and he was freed. So the action continued and a number of players did well by the end of today's action such as Can Kim Hua with 248,400 chips, Jennifer Harman with 213,000 chips, Steve Zolotow with 180,300 chips, Webber Kang with 167,600 and Erik Seidel having 148,700 chips. 64 players were left at the end of the day.

Top 6 players with chip counts for Day 2:

Brandie Hawbaker -- 541,000 chips
Brandon Cantu -- 396,400 chips
James Van Alstyne -- 350,500 chips
Annand "Victor" Ramdin -- 258,800 chips
Alex Jacob -- 251,000 chips
Steve Wong -- 250,000 chips
October 18 -- WPT Championships Day 3
The goal on what was considered by tournament officials as "hump day", had a goal to reach 18 players or finish 5 levels of play. There was a lot of big changes as a number of the top players with chips ended up leaving the tournament. Blinds began at $1,500/$3,000 with a $400 ante. Within the first 20 minutes, Scott Fischman and Ali Eslami who reached the top 6 on Day 1 of the tournament were busted. They were followed by Alan Goehring, Abraham Gray, Erik Seidel, Jennifer Harman in 37th and Layne Flack in 38th. Dan Harrington went out in 45th position after losing a bad beat to Steve Zolotow. What happened is that Dan went all-in under the gun holding 7h 6h and was called by Steve holding pocket J's. The board showed Kh Jh 2d 3h 2c which gave Dan a flush draw but also gave Steve the full house. But even with that win, Steve Zolotow went out in 36th place.

Yesterday's chip leader Brandi Hawbaker had to settle for 35th place when her A J lost out to Webber Kang's A K. The board on that hand produces three 3's so Brandi lost by Kang's kicker. Victor Ramdin and Chris Bigler were also denied the chance at the million dollar plus first prize when they lost their all-in moves. But one person's pain is another person's pleasure in the tournament world as Michael Mizrachi ended the day with 378,000 chips, Tom Franklin with 336,000, Juan Carlos Mortensen with 203,000 and Joe Tehan having 264,000 make up part of the 18 players who will move on to the next round of play. Come back to see what happens!

Top 6 players with chip counts for Day 3:

Joe Pelton -- 1,288,000 chips
Chris Loveland -- 1,122,000 chips
Loi Phan -- 799,000 chips
Brandon Cantu -- 770,000 chips
Can Kim Hua -- 695,000 chips
Steve Wong -- 621,000 chips
October 19 -- WPT Championships Day 4
This round started at 12:00 noon and ended at 5:47 p.m. with the names of the final table players determined, not really taking much time at all for the eliminations to take place. The blinds began the action with $5,000/$10,000 and a $1,000 ante. Less than 10 min into play, Brandon Cantu who moved all in with a full house 7's over 9's was busted in 18th place when Joe Pelton produced a bigger full house having 9's over 7s. Others who went out to the rail included Juan Carlos Mortensen and Michael Mizrachi both busted by Can Kim Hua, Tom Franklin leaving in 11th position and Ted McNeely going out in 15th place.

Loi Phan left in 8th after losing an encounter with Joe Pelton. Phan moved all in with Ac Js and was called with Pelton's 9c 7h. Luck was with Pelton as he drew Qh Jh 10h 9h 6d, giving him a winning flush hand and the remainder of Phan's chips. The final table will be played beginning at 4:00 PDT on October 20th. Come back and we will tell you who the winner is!

Final Table players with chip counts:

Joe Pelton -- 2,923,000 chips
David Baker -- 1,652,000 chips
Andreas Walnum -- 1,374,000 chips
Chris Loveland -- 1,059,000 chips
Steve Wong -- 886,000 chips
Can Kim Hua -- 765,000 chips
October 20 -- WPT Championships Final Table
This final table had to qualify as one of the quickest in WPT history. Action began at 4:15 p.m. PDT and ended less than four hours later! Play started with the blinds at $10,000/$20,000 with a $2,000 ante. 45 minutes into play, Can Kim Hua's As Ks lost out to David Baker's pocket A's and he left in 6th place after the board produced two 9's giving Baker two pair. Around 7:10 p.m. David Baker (Ac 5s) pushed his chips to the middle and was called by Joe Pelton (Kd Qs). Pelton won the hand when another K Q hit the felt and Baker left in 5th place. By 7:40 p.m. Chris Loveland was busted out in 4th by Andreas Walnum. Three hands later, Andreas took out Joe Pelton in 3rd place leaving only him and Steve Wong for the heads up.

Amazingly, it only took two hands to finish the heads up. On the final hand Wong limped in and Walnum raised by 175,000 which was called by Wong. The flop showed Kh Jh 2c, Walnum bets 200,000 with Wong again calling. Turn card is a 8c. Wong bets 400,000 and is raised by Walnum to 800,000. Wong makes the call and the river card is 5d. Walnum moves all-in and Wong calls. Walnum produces pocket 2's and Wong shows his Kd 4c as he mucks his hand. And that is how Andreas Walnum became an instant millionaire!
Andreas Walnum -- $1,090,025 and a $25,000 entry into the WPT Championship
Steve Wong -- $542,700
Joe Pelton -- $292,220
Chris Loveland -- $187,745
David Baker -- $125,240
Can Kim Hua -- $83,490