Home
World Poker Tour
2009 World Series of Poker
2007 WSOP Circuit Tournanments
Poker on TV
Free Slot Games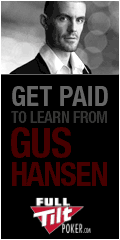 2007 Grand Casino Tunica WSOP Circuit Event
Grand Casino Tunica
Tunica, Mississippi
September 25 to October 4, 2006

The 2007 Grand Casino Tunica is the 2nd event of the WSOP Circuit Tournament season which will begin on September 24. There will be 17 events in all ranging from the satellite events to the tournament events which are all listed below. A seat to the 2007 World Series of Poker Main Event will go to the winner of Event #9 No Limit Hold'em which has a buyin of $5000 + $150. If you want to make room reservations, call 1-800-394-7263 and mention group code C09WSOP. We will post the results of all events here for you to see.

Event Schedule


Monday 9/25/2006 12:00PM
Event #1 - Texas Hold'em (No Limit) $300+$40
834 players with a $242,694 prize pool.
Eric Crain -- $63,105
Raymond Owens -- $33,495
Nick Loader -- $19,416
Michael Wommack -- 16,989
Jared McVay -- $14,562
Gary Huggins -- $12,135
Dan Mitnick -- $12,135
David Clark -- $9,708
Mark Silvers -- $4,854
Tuesday 9/26/2006 12:00PM
Event #2 - No Limit $500+$40
540 entrants with a $261,900 prize pool.
Word Angel -- $75,944
Glyn Banks -- $40,066
Scott Ellegood -- $20,952
Nani Dollison -- $18,333
Joe Simmons -- $15.714
Corrie Wunstel -- $13,095
Ed Pellegrini -- $10,476
Ben Heiks -- $7,857
John Bennett -- $5,238
Wednesday 9/27/2006 12:00PM
Event #3 - Texas Hold'em (No Limit) $300+$40
637 players with a $185,367 prize pool.
L. Brett Thomas -- $50,344
Richard Jentoch -- $26,071
Michael Ciarauino -- $14,384
David Tanner -- $12,586
Orion Fliessbach -- $10,788
Larry Tomaszewski -- $8,989
Jim Harris -- $7,192
Neil Stone -- $5,394
Roger Ballard -- $3,595
Thursday 9/28/2006 12:00PM
Event #4 - Texas Hold'em (Limit) $500+$50
This event had 183 players at the tables each paying $550 for the privilege. Prize pool size reached $88,755 with cash going to the top 18 finishers. After the action began and weeded out 174 hopefuls, the final table sat down to decide the champion. First player out was Doug Paxton in 9th place who was down to his last chip when he was dealt 7 4 and lost to Sonny Perry's pocket K's. Next was Jack Lee in 8th when his all-in preflop in three way action, lost out to Ryan Kennedy who had pocket 8's. Lee held Ac Qc and when the board did not improve either players hand, Lee went home with over $2,600. 7th place went to Jason Munson who lost an all-in move when his A K was called by Wayne Harvey with 10 9 and another 10 hit the board during the hand. Harvey also busted out Salim Kassab in 6th after he hit a Broadway straight on the river. Joseph Baumgartner left in 5th place when his 7 5 was crumbled against Harvey's pocket A's. Ryan Kennedy was busted out in 4th by Wayne Harvey when his pocket Q's lost out to Harvey's hand of A K when the board showed K 6 3 5 5.

Sonny Perry who won a championship ring at New Orleans last season, went out in 3rd when his J 8 lost to J. Hijar's K 9 after the board did not improve either player's hand. Now the heads up begins with Wayne Harvey self described as a "ordinary blue collar family man" and J. Hijar who's family named him just plain "J". Harvey played conservative for the first 40 hands into the heads up and then switched to an aggressive posturing which helped him to win the event. On the final hand, both players raised and called down to the river with the board showing 8 J 5 8 6. Hijar pushed his chips to the center to see what Harvey would do. Harvey called it with A Q and Hijar showed 10 9 and went to pick up his 2nd place cash after his bluff did not work. Wayne Harvey on the other hand went to pick up his 1st place winnings and the gold ring of a champion.
Wayne Harvey -- $28,756
J. Hijar -- $15,088
Sonny Perry -- $8,876
Ryan Kennedy -- $7,100
Joseph Baumgartner -- $5,325
Salim Kassab -- $4,438
Jason Munson -- $3,550
Jack Lee -- $2,663
Doug Paxton -- $1,775
Thursday 9/28/2006 2:00PM
Event #5 - Pot Limit Omaha (Re-buys) $500+$50
The fifth event at Grand Casino Tunica had just 53 players at the tables. Each paid $550 to sit down and play for the gold ring given to the winner of the event signifying that person as champion. With 114 rebuys, the prize pool rose to $80,510 in size. Here are the results of the final table:
Robert Willis -- $28,983
Charles Butler -- $16,102
Tono Sevnsom -- $8,856
Thomas Mixon -- $6,441
Jeffrey Roberson -- $5,636
Matthew Brock -- $4,831
Jordan Brian -- $4,026
Norman Collinsworth -- $3,220
Michael Lucas -- $2,415
Friday 9/29/2006 12:00PM
Event #6 - Texas Hold'em (No Limit) $1000+$60 335 players paid $1,000.00 each to play in this event. The size of the prize pool rose to $324,950 with payouts going to the top 36 finishers. This two day tournament became a one man event by the time things got down to the final table. As he played, he knocked out the first four players in sequential fashion and went on to eliminate four more as he steamrolled to a stunningly decisive win in Event #6 $1,000 No-Limit Hold'em. (Actually, there were 10 at the final table and John Gordon defeated everyone.) The victory brought him $100,727 along with a championship gold ring.

After crushing everyone who was seated but one, here is how the last hand went for Gordon. The hand was down to the turn with Ac Jc 6c 8d showing when Terry Quinn moved all-in for 140,000. Gordon had to figure him for either an ace, a flush draw or a jack. Deciding he would have raised pre-flop with an ace, Gordon, correctly put Quinn on second pair. Later saying he had to call, Gordon did so and turned up two red kings. Quinn turned over J 5 which solidified Gordon's win.
John Gordon -- $100,727
Terry Quinn -- $51,992
Craig Thames -- $25,996
Brian Gibson -- $22,747
Ernie Shepherd -- $19,497
Nick Willie -- $16,248
Ricardo Rodriguez -- $12,998
Shea McGuire -- $9,749
Douglas Bruce -- $6,499
Mark Smith -- $3,899
Saturday 9/30/2006 12:00PM
Event #7 - Texas Hold'em (No Limit) $1500+$70
228 players competed for a share of a $331,740 prize pool. Payouts went to the top 27 finishers.
Andy Alina -- $106,161
Ed Corrado -- $58,386
James Williams -- $29,857
Alan Barnes -- $23,222
Todd Phillips -- $19,904
Rogen Chhabra -- $16,587
John Davis -- $13,270
Joe Simmons -- $9,952
James Henson -- $6,635
Sunday 10/1/2006 2:00PM
Event #8 - Ladies Event $200+$30
There were 247 ladies in force at the tables on Sunday. Fees for the tournament contributed to a $47,918 cash pool for the top 27 performers.
Christy Parham -- $15,330
Sharla Lehrmann -- $8,434
Paula Holder -- $4,313
Connie Rice -- $3,354
Carolyn Starnes -- $2,875
Stephanie Zimmerman -- $2,396
Esther Fedorkevich -- $1,917
Nguyet Lee -- $1,438
Sarah Pritchard -- $958
Monday 10/2/2006 12:00PM
Event #9 -- Main Event No Limit Hold'em $5000+$150
For the Main Event, there were 197 players who entered. This caused the money pool to rise to $955,450 in size with payouts going to the top 18. Unfortunately, we were not able to obtain the chip counts and player status for the first day.

Tuesday 10/3/2006 12:00PM
Main Event - Day 2
The following summary is courtesy of Nolan Dalla of WSOP Media:

Ryan Lenaghan, a student at Louisiana State Univerisity, holds the chip lead going into the final day of the $5,000 championship event at the WSOP circuit tour at Grand Casino Tunica. This event reached the final table when the field was narrowed to nine players at 12:30 a.m. With 10 players left, Steve Murphy was all in with pocket 9s against Glyn Banks' pocket 9s. After Banks flopped a set, Murphy was down to three chips. "You guys don't stand a chance," he warned his opponents. Ignoring his warning, several players called when he put in his last chips on the next hand. The pot was checked down. Murphy, with Q-5, paired his 5, but his queen kicker was edged by an A-5, and the table was set. Because of the late hour, final-table action was changed to 1:45 p.m. on October 4 instead of noon. All the players at the final table got into the main event via satellite.
Jae Chang -- 262,000 chips
Harold Mahaffey -- 132,000 chips
Hoyt Lance -- 169,000 chips
Mark Smith -- 130,000 chips
Manelic Minaya -- 305,000 chips
Jody Stanfill -- 317,000 chips
Ronald Huerkamp -- 56,000 chips
Glyn Banks -- 222,000 chips
Ryan Lenaghan -- 373,000 chips
Wednesday 10/4/2006 12:00PM
Main Event - Final Table
Action was underway as the 9 who all earned their seats through satellite play had their focus set on winning a gold championship ring and a 2007 Main Event seat. The first one out in 9th place 5 hands into play was Ronald Huerkamp after his A 10 lost out to Jae Chang's pocket J's. Ryan Lenaghan went out in 8th courtesy of Jody Stanfill's A 5 when the board finished showing A 8 2 9 9, giving Stanfill two pair. Hoyt Lance finished seventh when he moved all in for his last 102,000 with A Q and ran into Manelic Minaya's A K. Jae Chang was busted out in 6th when Mark Smith hit his straight on the river card. Chang was crippled earlier when Jody Stanfill took a boatload of chips with a King high straight flush. But Stanfill went to the sidelines in 5th place when Manelic Minaya's pocket 9's held up to Stanfill's pocket 3's.

Harold Mahaffey went out for fresh air in 4th when he lost an all-in move to Glyn Banks. Then professional player Glyn Banks was busted out in 3rd by Mark Smith. At this point it was heads up time between Mark Smith (1,117,000 chips) and Manelic Minaya (854,000 chips). It only lasted a few hands when both players went all-in after a flop of 8 7 2. Minaya led with pocket 9s to Smith's A J. But then the turn card was an Ace, next card was dead and Mark Smith won with a pair of Aces.
Mark Smith -- $306,003 + WSOP Main Event Seat Package
Manelic Minaya -- $160,557
Glyn Banks -- $94,445
Harold Mahaffey -- $75,556
Jody Stanfill -- $56,667
Jae Chang -- $47,223
Hoyt Lance -- $37,778
Ryan Lenaghan -- $28,334
Ronald Huerkamp -- $18,889