Home
Online Casino Real Money
World Poker Tour
WPT Archives
2010 World Series of Poker
WSOP Archives
Poker on TV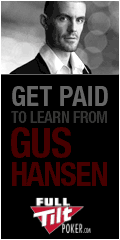 Bay 101 Championships WPT Season 6
San Jose, California
March 10 to March 14, 2008
Day 3
On Day 3 of the tournament there were a lot of disappointments that took place for many top names. One player, J.P. Bryne, did not show up at the beginning of the tournament, and when he did appear his stack had run out and he finished in 28th place out of the 36 names that started this round. More big names went to the sidelines such as Layne Flack in 35th place ($13,500), 2005 WSOP Main Event Champion Joe Hachem in 20th ($20,000), last year's Bay 101 champion Ted Forrest in 25th, Anna Wroblewski in 30th place ($16,000) and Jimmy Tran in 27th place ($16,000). Joe Hachem was one of the players who had a bounty on his head which was collected by Brandon Cantu for another $5,000 in his pocket. Brandon has collected on 5 bounties so far to earn $25,000 on this alone.

The final table will begin tomorrow at 4:00 p.m. PDT and the winner will receive $1,000,000 as the reward for becoming champion.
Brandon Cantu -- 3,323,000 chips
Michael Baker -- 1,964,000 chips
Noah Jefferson -- 842,000 chips
Jennifer Harman-Traniello -- 541,000 chips
Steve Sung -- 474,000 chips
John Phan -- 374,000 chips
Day 4 -- Final Table
Final table action began with blinds at 4000/8000 and antes at 1000. The first one out in 6th place was John Phan after losing to the full house of Noah Jefferson (3's/6's). Leaving in 5th place was Michael Baker, who lost to the two pair (A's and 5's) of Brandon Cantu. But it took almost another 100 hands to put Noah Jefferson out in 4th place. Noah with A K suited lost to the pocket pair 7's of Brandon Cantu who found another 7 on the river. A little later Jennifer Harman-Traniello walked away to pick up the prize winnings for 3rd place. Jennifer has her A K overcome by the full house made by Brandon Cantu (9's/K's). And because there was a bounty on Jennifer, Brandon finished the tournament with 6 bounties of $5,000 each.

And with that the heads up began between Brandon Cantu (6,133,000 chips) and Steve Sung (1,385,000 chips). Here is what happened on the last hand. Both players went all-in preflop with Cantu holding pocket 4's and Sung with pocket 3's. All cards that hit the board helped neither player, so Brandon Cantu became an instant millionaire and a WPT champion.
Brandon Cantu -- $1,000,000
Steve Sung -- $585,000
Jennifer Harman-Traniello -- $330,000
Noah Jefferson -- $265,000
Michael Baker -- $200,000
John Phan -- $135,000