Home
Online Casino Real Money
World Poker Tour
WSOP Archives
WPT Archives
WPT Season 6 2009 World Series of Poker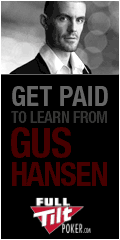 Bellagio Cup III Tournament
WPT Season 6
Bellagio Hotel and Casino, Las Vegas, Nevada
July 10 to July 15, 2007
Bellagio Cup III Tournament Day 1A
For the first day of the Bellagio Cup there were 129 players in Day 1A mostly, pros that were still tired from playing in the WSOP events at the RIO here in Las Vegas. But they still came in droves to play in this WPT Season 6 event. Seen in the field were Dewey Tomko, Barry Shulman, Blair Rodman, Kristy Gazes, Antonio Esfandiari, Kido Pham, Doug Lee, Men Nguyen, Joe Pelton, Harry Demetriou, Steve Dannenman, Haralabos Voulgaris, Toto Leonidas, Brian Haveson, Michael Mizrachi and Steve Billirakis who after winning the first bracelet in Event #1 of the WSOP was able to watch himself play on ESPN. Action started at 12 noon in the Fontana Bar and Lounge with each player having $20,000 in chips. This will be seen on GSN (Game Show Network), the new televised home of the WPT instead of the Travel Channel. One rule newly insituted is that any player using a cellphone at the table which included the new iPhone will receive a 20-min penalty. And it was announced that there would be a Day 1c added to the lineup.

Things moved at a steady pace with bustouts happening at a even rate. Going to the sidelines were Roland De Wolfe, Max Pescatori, Steve Paul-Ambrose, Sam Grizzle, David "Devilfish Ulliott, Ram Vaswani, Kido Pham and Tony Cousineau. With the size of the small field, things did stop early with chip bagging taking place at 8:30 p.m. PDT. Day 1B will start the same time tomorrow.

Top 6 players for Day 1A:
Kevin Saul -- 262,075
Gioi Luong -- 91,000
Mike Wattel -- 80,725
Dewey Tomko -- 49,925
Eric Weiner --46,375
Alex Bolotin -- 44,850
Bellagio Cup III Tournament Day 1B
Well if you were not in the Main Event at the RIO, you were here. The field is full of mostly professionals playing at the Fontana Lounge at the Bellagio. Some at the tables were David Sklansky, Barry Greenstein, Nenad Medic, Ali Eslami, Mike Matusow, Shane "Shaniac" Schleger, Jeff Shulman, Vanessa Rousso, Jennifer Tilly, Evelyn Ng, Jamie Gold, David Oppenheim, John Gale and Maureen Feduniak. Payouts for the event mean a 1 million dollar plus amount for the winner and money will flow down to 100th place.

Play began at noon for the 175 players, and just as in the Main Event at the RIO, two french players were given a warning about speaking in languages outside of English at this tournament. Everyone thought they were friends, possibly colluding so the floor was called over. Turns out they were fighting like cats and dogs...but no one else could understand them. Then Mike Matusow decided to break a rule and open his cell phone and read text messages while a hand is in play. When the tournament director gave him a 20 minute penalty, Mike blew a gasket. He started screaming and yelling as loud as he could saying that this tournament was worse than the RIO. (Basically he was this side of a heart attack by the time the 20 minutes were up.) By the time 8:30 p.m. came, it was decided to play 5 more hands and call it quits for the day.

Top 6 players for Day 1B:
David Oppenheim -- 100,750
Nenad Medic -- 94,975
Erik Friberg -- 91,500
William Thorsson -- 80,275
Vanessa Rousso -- 54,800
Juan Carlos Alvarado -- 47,800
Bellagio Cup III Tournament Day 1C
On Day 1C, more top players were coming from the RIO for more action. At the tables today were Erik Seidel, Bill Gazes, Mark Seif, Anna Wroblewski, John Hennigan, Joe Sebok, Shannon Shorr, Alan Smurfit, Jeff Madsen, David Chiu, David "The Dragon" Pham, Kenna James, Amir Vahedi, Erica Schoenberg, Charlie Shoten, Jamie Gold, Clonie Gowen and Mark Seif. Phil Hellmuth also showed up 3 hours and 10 minutes after the days start wearing a racing uniform colored solid gold for all to see. More came as registration for today ended at 1:30 p.m. PDT. Speaking of registration, there were 535 players in total entering the event making a cash pool of $5,189,500. Here are the payout amounts for the final table players:
$1,342,320
$671,320
$361,480
$232,490
$154,920
$103,280
But with this many top names, play pressure is intense. Anna Wroblewski gave herself a 60-min time out, and left the table for a spell. While she was gone, many were going out the door to watch the fountain show after being busted. Some who didn't make the cut were Ted Forrest, Paul "Eskimo" Clark, Rene Angilil, John "The Razor" Phan, Phil Hellmuth and his space suit, Layne Flack, Phil Ivey, David Williams and Jamie Gold. Play ended at 8:30 p.m. for the field.

Top 6 players for Day 1C:
John Hennigan -- 115,000
Mark Kroon -- 70,500
Burt Boutin -- 62,100
David Chiu -- 61,300
Eric Kesselman -- 60,700
Flaminio Malaguti -- 56,400
Bellagio Cup III Tournament Day 2 and 3
The number of survivors from Day 1A, B and C were 260 that will sit down and play until 36 are reached. Tables were set up in 3 seperate rooms for the players, two of which are the Fontana Bar and the Bellagio poker room. Today was a good day because with the goal of 36, the money would be reached at 100th position. This was reached by 8:30 p.m. that evening. But action continued until 1:00 a.m. the next morning. 55 would go on to Day 3.

Day 3 had to be combined into this report, because we weren't able to get the results of top players for Day 2. So at noon on July 14th, the 55 players from Day 2 went for another round of action with the goal of stopping at 27. Top players were eliminated from the competition like Johnny Hennigan, Nenad Medic, David Oppenheim, Steve Dannenman, Marcel Luske, Burt Boutin, Erica Schoenberg, David Benyamine and Richard Lee. Things got so intense on the floor to where one table had an argument between 3 players that was heard everywhere. Tournament officials threatened to issue a 20 min penalty for the entire table if they did not calm down. The 27 player mark was hit by 4:00 p.m., so the decision was made to continue down to the 6 for the televised final table. Action did slow down quite a bit afterwards, but by 1:00 a.m. PDT, the final six were reached. Here are the final table players with chip counts:
Kevin Saul -- 4,200,000
Mike Matusow -- 1,800,000
Shane Schleger -- 1,800,000
Danny Wong -- 1,000,000
Konstantin Puchkov -- 1,000,000
Eracles Panayiyou -- 600,000
Bellagio Cup III Tournament Final Table
Play began at 4:00 with the blinds at $12,000/$24,000 with a $3,000 ante. The first elimination did not happen for 1 1/2 hours into play, but when it did Konstantin Puchkov went to grab his 6 figure check for 6th place after the paired Queens of Mike Matusow showed him the direction to the cashiers cage. An hour later Eric Panayioyou saw the paired Aces of Kevin Saul resulting in a 5th place finish for Eric. Shane Schleger went out big time in 4th after losing an all-in move with over 1.5 million in chips in the pot. Kevin was responsible for the bust with the paired J's in his corner. Matusow also used paired J's to give Danny Wong 3rd place in this tournament.

The last hand went as follows. After a flop of 10 h 6c 5c Mike Matusow moves all-in with 8c 7c and is called by Kevin Saul with pocket Q's. Turn card is a 3d and the river card is a Kd, which left Mike in tears after losing the hand. (Mike had 4 to an outside straight flush, but the level of tears and emotional imbalance seen from him in this tournament and the World Series of Poker, makes us believe he needs less poker time and more therapy time.) Kevin Saul received a bracelet, $1,342,320 and a $25,000 freeroll seat to the championships to be held in April 2008.
Kevin Saul -- $1,342,320
Mike Matusow -- $671,320
Danny Wong -- $361,480
Shane Schleger -- $232,490
Eracles "Eric" Panayioyou -- $154,920
Konstantin Puchkov -- $103,280