Home
Online Casino Real Money
World Poker Tour
WPT Archives
2010 World Series of Poker
WSOP Archives
Poker on TV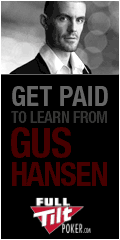 Borgata Poker Open Tournament
WPT Season 6
Borgata Hotel and Casino
September 16 to September 20, 2007

WPT Event Day 1 -- September 16
On Day 1 of the WPT event, a total of 560 players came to the tables. All players began with blinds at $25/$50 and $30,000 in chips. Each level will last 75 minutes in length and 7 levels are scheduled for play on Day 1. Lots of top names were in the field such as Bill Elder hot off his incredible win at the Gulf Coast Poker Championship, Barry Greenstein, Jeff Madsen, Peter Feldman, Clonie Gowan, Vanessa Rousso, J.C. Tran, Tom Dobvrilovich, David "The Dragon" Pham, Chris Reslock, Kathy Liebert and John Gale. Also, the prize pool reached a huge $5,432,000 US dollars and money will go to the top 54 with first place paying $1,575,280.

On an interesting note, all 4 of the prior Borgata champions from 2003 to 2006, Noli Francisco, Daniel Negreanu, Al Ardebili and Mark Newhouse, were not seen in the player field today. Gulf Coast Poker Champion Bill Elder was among the first eliminated from the tournament when the set of Kings he made, was crushed by another player's straight. Following him were Joe Sebok who's pocket A's were cracked by another players pocket K's when a K came out on the flop, Kevin Saul, David "The Dragon" Pham, Davidson Matthews, Ryan Daut and Ammon Filppi. The end of the last level was reached around 7:45 p.m. EST and there were 355 players remaining for Day 2. Here are the top 6 players with chip counts:
Brian Strahl -- 170,550 chips
Tuan Vo -- 163,150 chips
David Paredes -- 142,825 chips
Mark Weitzman -- 140,200 chips
Steve Cho -- 135,200 chips
Steve Olek -- 133,650 chips
WPT Event Day 2 -- September 17
The day began with the 355 players from the last round and continued on trying to survive. But someone had to go and todays list had Gavin Smith, David Williams, Barry Greenstein, Clonie Gowan, Eric Lynch, John D'Agostino, Michael Gracz, Beth Shak, Chris Reslock, Cyndi Violette and Ted Forrest. Kido Pham also left the tournament after running into another player who made quad 3's. By 10:30 p.m. PDT the action for the day was over and 127 players bagged their chips and will return at 11:00 a.m. EST. Here are the top 6 with chip counts:
Sang Hwang -- 511,676 chips
Roland Israelashvili -- 382,900 chips
Alan Goehring -- 376,800 chips
Chris Bonita -- 343,000 chips
Chris Lardaro -- 317,900 chips
Evlys Guitierrez -- 213,700 chips
WPT Event Day 3 -- September 18
Goal for this round was to pare 100 players from the field down to 27. Here is the payout schedule for the final table:
$1,575,280
$832,725
$434,560
$380,240
$325,920
$271,280
There was lots of action during the day. Player Alan Goehring was up to over 1,000,000 in chips, but lost big on two hands and could not stop the hemorrhaging of his stack. Alan ended up going out in 29th place. Freddy Deeb also busted out after his A Q was crushed by another player with pocket A's. Others who went out the door include Shannon Shorr, Steve Brecher (who was eliminated as the bubble boy in 55th place), Tony Cousineau, Justin Pechie, Roland Israelashvili who was second in chips yesterday, Mark Seif, Laura Fink, James Van Alstyne and Surinder Sunar.

But if some had an empty bag, then someone else got the lunch. Mike Matusow will be in the running for Day 3 ending up with over 300K in chips. Joining him at the tables will be Joe Cassidy with 455,000, Abe Mosseri 601,000, Loi Phan 558,000, Victor Ramdin 885,000 and Eugene Tood 668,000. They will come together at 11:00 a.m. EST for Day 4 play. Here are the top 6 with chip counts:
Tom Nguyen -- 1,700,000 chips
Roy Winston -- 1,590,000 chips
Mark Weitzman -- 1,017,000 chips
Brian Strahl -- 985,000 chips
Darrell Hopkins -- 981,000 chips
Victor Ramdin -- 885,000 chips
WPT Event Day 4 -- September 19
This day went pretty fast to reach the players for the final table. Action began with players having blinds at 8,000/16,000 with antes of 2,000. Ninety minutes went by, resulting in the elimination of 9 top names, including Joe Cassidy and Abe Mosseri. Eugene Todd was the first to cross the 1,000,000 chip count but not the last as one by one players went to the wayside. Roy Winston broke two players in huge pots to have over 5 mil in his stack by days end. Mike Matusow also had a good day, receiving all the right cards at the right time to end up over 2 mil in his stack. Victor Ramdin busted out of the tournament, proving that you can do the right thing at the right time and still lose. After a flop of Ah Kd 8d he went all in with Ad 9d and his opponent called with A Q offsuit. By the river no diamond came to help Ramdin and his opponent won by a Queen kicker.

After 7 hours of play, the final table players bagged their chips in order to begin the last round which will start at 5:00 p.m. EST.
Roy Winston -- 5,355,000 chips
Heung Yoon -- 3,090,000 chips
Mike Matusow -- 2,965,000 chips
Eugene Todd -- 2,190,000 chips
Mark Weitzman -- 1,750,000 chips
Haralabos Voulgaris -- 1,465,000 chips
WPT Event Final Table -- September 20
After the elimination of the other 4 contenders, it is time for the heads up between Roy Winston ($13,370,000 in chips) and Heung Yoon ($3,445,000 in chips). It went for a long time, 135 hands to be precise. At many times the chip lead went back and forth with Yoon receiving needed breaks in the cards to stay in the game. On the last hand Roy bet and was called by Yoon, with both seeing a flop of Qd 6h 4d. Roy went all-in and was called by Yoon. Roy had pocket 4's for a set and Yoon had A K needing two cards to the inside to make his straight. The turn card was a 2 of diamonds, meaning that Yoon is out of the running for the win and Roy Winston became an instant millionaire and a WPT champion.
Roy Winston -- $1,575,280
Heung Yoon -- $832,725
Haralabos Voulgaris -- $434,560
Mark Weitzman -- $380,240
Eugene Tood -- $325,920
Mike Matusow -- $271,280