Home
Online Casino Real Money
World Poker Tour
WPT Archives
2010 World Series of Poker
WSOP Archives
Poker on TV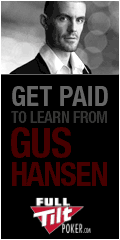 Borgata Poker Open II Tournament
WPT Season 6
Borgata Hotel and Casino
January 27 to January 31, 2008
Day 1
Day 1 saw 507 players at the tables for this WPT tournament. All players will start off with 30,000 in chips with blinds beginning at $25/$50. Some of the faces seen were Joe Sebok and his dad Barry Greenstein, John D'Agostino, Ryan Daut, Cliff Josephy, Peter Feldman, Steve Billirakis, Ari Engel, John Hennigan, Kathy Liebert, John Gale, David Williams, Victor Ramdin, Men "The Master" Nguyen, T.J. Cloutier, Jamie Gold, Beth Shak and Layne Flack. Size of the prize pool reached $4,917,900 with money going to the top 54 finishers. Here is the payout schedule for the final table:
$1,401,109
$737,685
$381,137
$331,958
$282,779
$233,600
Despite having 30K chips at the start, 30 minutes into the start Nick Schulman was among the first to bust out. Following him were Bill Edler, Erick Lindgren, Barry Greenstein who ran into a set of 5's, Jamie Gold courtesy of Kathy Liebert, Theo Tran, Phil Ivey and Gavin Smith. By day's end there were 317 players left. Below are the top 6 with chip counts:
Leonard Cortellino -- 213,000 chips
John Phan -- 182,825 chips
Joe Sebok -- 149,700 chips
Justin Bonomo -- 148,675 chips
Vanessa Rousso -- 148,350 chips
Bill Kontaratos -- 142,650 chips
Day 2
At 8:15 am PST, the 317 players began the second round in order to win a first place prize of over 1 million dollars and a WPT championship. Blinds were at 300/600 with a 75 ante. Some of the players at the tables today include Chris Moneymaker, Mike Matusow, Isabelle Mercier, Michael Gracz and Jon Friedburg.

Elimination of notable players began with Mike Vela who won the WPT Foxwoods tournament going to the rail. He was followed by Travis Rice, Eric Froelich, Mike Matusow, Beth Shak, J.C. Tran, John Phan was one of two players busted at the same time by Lee Watkinson, Joe Tehan and Joe Sebok. Play for the day ended around 7:40 pm, and the 99 who made the cut will continue tomorrow at 8:00 am PST until there are 27 players left. Here are the top 6 players with chip counts:
Gavin Griffin -- 563,000 chips
Noah Schwartz -- 477,000 chips
Ralph Porter -- 421,500 chips
David Tran -- 411,600 chips
Justin Bonomo -- 377,400 chips
Lee Watkinson -- 373,000 chips
Day 3
This round of action at the tables started with blinds at 1500/3000 and a 300 ante. From the start players began merciless aggression to win what they could as quickly as possible. For the first couple of hours of the day it worked pretty well as most of the all-in plays scooped the pot without challenges from all except those who had the goods. After that, low chip stack players began to get desperate and the true weeding out began. Cliff Josephy with pocket A's lost an all in to another player's straight. David Tran was able to use his pocket A's to win a huge pot, placing him over the 2 million mark. Vanessa Rousso ended up leaving in 37th place after winning a number of major hands, when bad luck grabbed her chips and handed them out to players like candy.

Gavin Griffin steamrolled other players to build his stack to over 1 million and making the cut for Day 4. Others who will join him will be Men "The Master" Nguyen, Jared Hamby, Nam Le, John Racener and Bob Hwang. When the 27 remaining players were reached, play for the day ended. The next round will determine the 6 for the final table.
David Tran -- 2,078,000 chips
Scott Blackman -- 1,622,000 chips
Noah Schwartz -- 1,092,000 chips
Gavin Griffin -- 1,089,000 chips
Lee Watkinson -- 879,000 chips
Justin Bonomo -- 878,000 chips
Day 4
At 8:25 am PST, the sound of "Shuffle Up and Deal!" was heard and the race for the final table began. The blinds jumped to 8000/16000 with a 3000 ante during the first five minutes of play. Three players went to the rail in the next 15 minutes of action and the pace did not let up from this point forward with all-ins taking place within seconds of one another. Ervin Prifti took out Jared Hamby (17th) and Vadim Trincher (16th) on the same hand with a set of 9's. And in one big hand Gavin Griffin won a 1 million chip pot from David Tran.

By the time the 14th player was eliminated (Onofrio Reina), the average chip stack was over 1 million. Men "The Master" Nguyen ended up in 10th place after losing to the set of Jacks belonging to Noah Schwartz. Scott Blackman claimed 9th place after Thomas Hare ended up with a full house by the river (K's/2's). Justin Bonomo left in 8th after meeting the set of Queens held by Gavin Griffin. And Shane LaBounty lost to the two pair of David Tran (Q's and 7's) to just miss the televised WPT final table. Here are the last 6 players and their chip counts:
David Tran -- 5,271,000 chips
Gavin Griffin -- 5,105,000 chips
Thomas Hare -- 2,851,000 chips
Noah Schwartz -- 1,320,000 chips
Lee Watkinson -- 397,000 chips
Ervin Prifti -- 289,000 chips
Final Table
Mike Sexton issued the command to "Shuffle Up and Deal!" to begin final table play. Action was resumed with blinds at 20,000/40,000 with a 4,000 ante. Five hands into play, short stacked Ervin Prifti went out in 6th after his all-in bid with K Q was overcome by David Tran's A K with no help from the board. Lee Watkinson did double up from Noah Schwartz at one point, but it was not enough to have the blinds wear down on him. Watkinson went out in 5th after he lost to the pocket 8's of Noah Schwartz. By the 50th hand Noah Schwartz was all-in with pocket 9's but he was eliminated by the two pair (K's and Q's) of David Tran for a 4th place finish. Twenty hands later Thomas Hare was busted out of the tournament in 3rd after losing to the pocket Q's of Gavin Griffin.

So the heads up began with Gavin Griffin having 6,520,000 chips verses David Tran with 8,695,000 chips. Neither player was shy about pushing in the chips as Gavin won a huge 4.2 million chip pot on the third hand in the heads up. Blinds were at 40,000/80,000 with a 5,000 ante. After almost 50 hands of play Gavin Griffin won the tournament with a Queen high straight and became tournament champion. He is now the first player to win the poker "Triple Crown" title as he is the only player to win a WPT title, an EPT title and a WSOP bracelet.
Gavin Griffin -- $1,401,109
David Tran -- $737,685
Thomas Hare -- $381,137
Noah Schwartz -- $331,958
Lee Watkinson -- $282,779
Ervin Prifti -- $233,600