Home
Online Casino Real Money
World Poker Tour
WPT Archives
2009 World Series of Poker
WSOP Archives
Poker on TV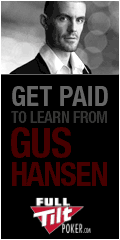 Foxwood World Poker Finals
WPT Season 6
Foxwoods Hotel and Casino
November 8 - November 13, 2007

Day 1A
For the first part of Day 1, there were 237 players who signed up to play. Seen in the field were Chau Giang, Vanessa Rousso, Alex Bolotin, Tom Schneider, J.C. Tran, Darrell Dicken, Chris Reslock, Hoyt Corkins, Robert Mizrachi, Tuan Le, Eric Froehlich, Joe Sebok and John "Miami" Cernuto. All players began with 30,000 in chips with levels 90 min in length each. Tournament directors feel that there may be around 600 players between today and tomorrow. The action moved at a quick pace with surprises every now and then. But one hand stood out with J.C. Tran where Tran hit a set of 9's on the flop and his opponent mucked his cards...so everyone thought. Except the dealer who took the cards, turned them over and finished the hand where the opponent won with a runner runner straight beating Tran's set. Tran was upset and wanted to know why the dealer did that, so a floorperson was called over. It was ruled that since the cards were face down and did not quite touch the muck with the player all-in they were still live. That will stay with J.C. for a long time.

Eric Froehlich went to the rail after losing a battle with Allen Kessler. Eric's A Q could not hold up to the pocket Kings of Allen with no help from the board. Eric went away from the table planning his next tournament to attend. Those who joined him on the sidelines include Barry Greenstein, Mimi Tran, Chad Brown, Johnathan Little and Vanessa Selbst. We will have to bring the player count that survived in the next report as the figures were not given out. Here are the top 6 players with chips:
Michael Farris -- 157,750 chips
Brent Roberts -- 148,525 chips
Norman Rodriguez -- 139,200 chips
Larry Klur -- 123,000 chips
John Hoang -- 119,100 chips
Bill Elder -- 109,450 chips
Day 1B
There were another additional 338 players to sit at the tables, so a total of 575 players have come together for this tournament. With the poker talent in the field like Men "The Master" Nguyen, Freddy Deeb, Michael Binger, Beth Shak, Jeff Madsen, Gavin Smith, Eugene Todd, Chris Moneymaker, Victor Ramdin, Ted Lawson, Joe Cassidy and David Williams, this will not be an easy day for lesser experienced players. Also, we now know the payout structure seeing that all entrants have been accounted for. The prize pool reached $5,404,075 with cash going to the top 50 finishers. These are the payouts for those who make the televised final table:
$1,704,986
$864,652
$486,367
$324,244
$243,184
$189,142
Dramatic bustouts happened as you can imagine. Men "The Master" Nguyen busted Gavin Smith so badly to where Gavin just mucked his cards and walked away from the table. Following Gavin were Steve Buckner, Nicholas Binger, Mark Seif, Gioi Luong (after his pocket A's were cracked), David Singer, Eric Hershler, Danny Wong, John D'Agostino.....and also Men "The Master" Nguyen too. By the time the dust settled, there were 151 survivors of Day 1B that will move on to the next round. Here are the top 6 players with chip counts:
Teddy Adalis -- 186,775
Michael Farris -- 157,750
Matthew Ehrlich -- 154,500
Brent Roberts -- 148,325
Bob Williams -- 147,575
Jake Wells Jr. -- 144,150
Day 2
Action started with the blinds at 400/800 and 100 ante. Whoever is left after 5 level of play will move on to the next round, making it one step closer to the money. With a lot of top players still in the competition, some tables were very tough. Just the featured table alone had Alan Goehring, Steve Sung, Victor Ramdin, David Benyamine, Allan Kessler and Paul Lieu with 4 other unfortunate players.

Some eliminations on the day happened to David Williams, Farzad Bonyadi, Rhynie Campbell, Vanessa Rousso, Steve Billirakis, Jeff Madsen, J.C. Tran and Chau Giang after his all-in move was met with another player's King high flush that he hit on the flop. But we are talking poker so you know one players pain is another players pleasure. Some of the names who will be seen on Day 3 are T.J. Cloutier with 249,300 chips, Nick Shulman 307,900, Darrell Dicken 218,000, Nenad Medic 147,000, Nam Le 112,000 and Josh Arieh with 34,600 chips. Below are the top 6 finishers with chip counts:
Matthew Graham -- 587,300
Freddy Deeb -- 451,900
Michael White -- 402,300
Frank Flowers -- 393,000
Tom Dwan -- 387,700
Aiman Abbassi -- 336,600
Day 3
The 131 finishers from Day 2 will sit down for another five levels of play. This should be the day where the money bubble is breached so this could be a long day of action as players approach it. Blinds are starting at 1,200/2,400 with a 300 ante. Stong performances were made by Nick Shulman who moved up to 665,000 from yesterday's 307,900 making Day 4 play, Young Phan with 418,000, Freddy Deeb who went over the 1 million chip mark and yesterday's chip leader Matthew Graham. Luck was with Freddy Deeb who was able to win a hand with 5 2 suited against pocket A's belonging to another player. He also made many successful bluffs which resulted in him growing his chip stack like a master gardener.

At the end of the day after 9 hours of play, there were 51 who would move on to Day 4, which meant the money will be hit on Day 4. Expect slow play in the beginning, because being that close to cashing, no one wants to be the bubble boy (even the girls). These are the top 6 with chip counts:
Matthew Graham -- 1,161,000
Freddy Deeb -- 1,071,500
Bob Williams -- 771,000
Michael White -- 723,500
Tom Dwan -- 699,000
Matthew Ehrlich -- 685,000
Day 4
Fifty one players sat down at 9:00 a.m. PST at Foxwoods Hotel and Casino to get another step closer to the final table. Within 20 minutes, the unlucky 51st player busted and the money was reached. Play immediately loosened up and a number of players began to double up with more players headed towards the door. Seen headed towards the cashier cage were Zvi Shiff, Tony Cousineau, Ray Coburn, Al Krux, Steve Brecher, John Cernuto and Ken Weiner.

Amazingly enough, both the 2006 World Poker Final champion Nenad Medic and the 2005 champion Nick Shulman are still in the running. It would be interesting to see them at the final table. Other players such as Jimmy Tran 286,000 chips, Young Phan 401,000 chips and Jonathan Aguiar 515,000 chips are also going to compete for a seat at the final table with 19 survivors of today's action. Average chip stack going into Day 5 will be 907K with a number of players over 1 million in chips.
Freddy Deeb -- 1,865,000
T.J. Cloutier -- 1,614,000
Michael White -- 1,488,000
John Myung -- 1,272,000
Tom Dwan -- 1,160,000
Nick Schulman -- 1,100,000
Day 5
With the 19 players left, there was excellent playing as all of them wanted to make the final table. T.J. Cloutier busted out in 12th place and Freddy Deeb busted out in 9th place. At one point the competition was so fierce that in a 2 million chip pot, Freddy Deeb laid down pocket K's preflop! The 2005 champion Nick Schulman stayed in top form ending up with over 4 million in chips and making the final table. Nenad Medic who won the event in 2006 had a tough going of it, but still managed to outlast others to have a seat with a little over half a million chips.

Others who tried but didn't make it include Young Phan who was eliminated in 19th when he got hit by the pocket Q's of John Myung, William Pilossoph who has played at a WPT final table, Jimmy Tran and Bob Williams. The final table will begin at 4 pm EST to see who will become the new champion (or repeat as champion). Here are the final table players:
Tom Dwan -- 4,875,000 chips
Nick Schulman -- 4,395,000 chips
Mike Vela -- 4,155,000 chips
Mike White -- 2,455,000 chips
Mark Weitzman -- 855,000 chips
Nenad Medic -- 555,000 chips
Final Table
It was very interesting to see both the 2006 and 2005 champions of this event playing at the final table. The blinds began at $30,000/$60,000 and a $3,000 ante at 2:30 pm PST. Mark Weitzman was the first to leave in 6th place courtesy of Nenad Medic who at this point has grown his chips to 1.5 million. Next in 5th was Mike White who lost a huge 7.4 million chip pot to Mike Vela and went out a couple of hands later. Mike Vela also busted Tom Dwan in 4th place with two pair (J's and 10's). Vela then got a set of Jacks to bust Nenad Medic out in 3rd place, ending Medic's chance for a repeat win.

Destiny was almost written from the start with Mike Vela with 13,015,000 chips verses Nick Schulman having 4,225,000 in his stack for the heads up play. But in 6 hands it was over. On the last hand, both players went all-in, Schulman with pocket 5's and Vela with A Q. The flop showed A Q J 7 8 giving the championship win to Mike Vela.
Mike Vela -- $1,704,986 and a $25,000 freeroll seat to the WPT finals at the Bellagio next year
Nick Schulman -- $864,652
Nenad Medic -- $486,367
Tom Dwan -- $324,244
Mike White -- $243,184
Mark Weitzman -- $189,142