Home
Online Casino Real Money
World Poker Tour
WPT Archives
2009 World Series of Poker
WSOP Archives
Poker on TV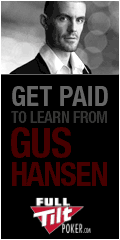 L.A Poker Classic Tournament
WPT Season 6
Commerce Casino
February 23 to February 28, 2008
The L.A Poker Classic Tournament had 665 entrants with lots of top pros that paid $10,000 each to play. And with events this size there were lots of big names in the field. Four of the former champions namely, 2004 Champion Antonio Esfandiari, 2005 Champion Michael Mizrachi, 2006 Champion Alan Goehring and 2007 Champion Eric Hershler were there to fight for a repeat triumph. Stars like Montel Williams and Jennifer Tilly along with the rich and famous like Jerry Buss were seen in the field. Even WPT commentator Mike Sexton was seated with cards in this tournament. A total prize pool of $6,384,000 was established for the top 63 survivors.

Things got tough as eliminations began with Shane Schleger being the first major bust. Following him were Hasan Habib, Liz Lieu, Johnathan Little, Lee Watkinson, WSOP Main Event Champion Jerry Yang, Joe Sebok and Gavin Griffin. At the end of the first day there were 428 to move on to the next round.

Payout Structure for Final Table

$1,596,100
$909,400
$625,630
$411,770
$296,860
$229,480
Cash will go to the top 63 finishers starting at $22,020. Below are the top 6 with chip counts for Day 1.


David Singer -- 137,400
Antonio Esfandiari -- 119,000
Anna Wroblewski -- 116,550
Theo Tran -- 112,575
Alan Goehring -- 93,575
Justin Bonomo -- 77,125
Day 2
The pace of eliminations was crushing as by the second level, there were 300 remaining. Names like Jean-Robert Bellande, Barry Schulman, Max Pescatori, Carlos Mortensen who went all in with pocket K's only to be knocked out by another players flush, Young Phan who had his paired Aces run into a set of 9's, Ted Forrest, John Juanda, Barry Greenstein, Isabelle Mercier, Evenlyn Ng and Lee Markholt were gone from the tournament in this round of play.

At the end of the day, there were 140 who survived. Some of the names who will move on to Day 3 are Bob Stupak, David Benyamine, Phil Hellmuth Jr., Raymond Davis, Farzad Bonyadi, Humberto Brenes, David Singer, Dan Harrington, Anna Wroblewski, Mark Seif and Kenna James. Below are the top 6 with chip counts.
Daniel Fuhs -- 397,100
Joe Schulman -- 282,600
Kyle Burnside -- 279,700
Phil Ivey -- 276,200
Antonio Esfandiari -- 261,500
Blair Hinkle -- 224,000
Day 3
Play began at level 12 with blinds at 1000/2000 with a 300 ante. Phil Ivey took off like a shot out of a cannon as he eliminated Jon Friedburg on the first hand of play. He continued to stay in the top 6 players in chips. Other early eliminations were Farzad Bonyadi, Robert Mizrachi, David Benyamine, Dan Harrington, Gavin Smith, John "Miami" Cernuto, Mark Seif, Jerry Buss and Kenna James after his K 10 met with an opponents set of 5's. Anna Wroblewski was also busted after her A J suited met with a player who had pocket 8's.

Lots of eyes were on Phil Ivey as he has made 6 WPT final tables, but not a championship. Statistically speaking, he will be 7 for 7 as if he gets to the money he makes the final table.

Seven hours into play, action slowed as the magic number of 63 position comes closer meaning that those left will take home some cash for their hard work. Then the bubble burst with the one player who others at many tables called "irritating" by repeatedly stalling and calling on other players to move faster was the one to go. (That does not happen enough in poker.) Action continued for a few more minutes and then the day was over with 59 left for another round. Here are the top players with chip counts:
Kyle Burnside -- 781,000
Phil Ivey -- 656,000
Jennifer Tilly -- 569,000
David Singer -- 561,000
Yury Parad -- 560,000
Mike Hamparsomian -- 499,000
Day 4
Action continues at level 17 with blinds at 4000/8000 with 1000 ante. The goal is to compete until 27 are left. Now if they arrive at that number too fast, they will keep going until the tournament officials say stop. Eliminations began quickly as Bob Stupak was busted out of the tournament, finishing 56th after losing to another player's flush hand. Following him were Mike Wattel in 49th, Kyle Burnside in 41st, Alan Goehring in 37th and Noah Schwartz in 36th on the same hand, Toto Leonidas in 34th and defending champion Eric Hersler in 26th.

But meanwhile other players were scooping up the chips of the fallen such as Phil Ivey ending up with over 1 million in chips. He will be joined with other top players such as Phil Hellmuth Jr., WeiKai Chang 751,000, Jennifer Tilly 417,000, Theo Tran 410,000 and David Singer 285,000. Play for the day stopped at 18 survivors. Day 5 will continue at 12:30 p.m. PST tomorrow.
Phil Ivey -- 1,543,000
Blair Hinkle -- 1,541,000
Phil Hellmuth Jr. -- 1,399,000
Nam Le -- 1,254,000
Michael Carson -- 1,029,000
Michael Watson -- 987,000
Day 5
Today will determine who makes the final table. The 18 players began action at level 20 with blinds at 8000/16000 and a 200 ante. There are a lot of top names in the field which means this round of Texas No Limit Hold'Em will be intense. In one hand both Mike Carson and Blair Hinkle fearlessly raised, re-raised and went all in, only to have both of them turn over pocket Aces to chop the pot. David Singer was busted in 17th by Phil Hellmuth when the pocket A's Phil held turned into an Ace high flush. Later on Phil busted Mike Carson in 13th with paired Aces to beat the pocket 5's held by Carson. Hellmuth also eliminated Jennifer Tilly who played top notch poker when his K Q held up to Tilly's 10c 7c. She left to the applause of the crowd in 12th place.

Theo Tran left in 8th place after Scott Montgomery turned his pocket K's into a set, beating the pocket 2's of Theo. And Phil Ivey just built up his chip stack in true poker fashion, by outstanding play. Twice he pulled huge pots from Phil Hellmuth having pocket A's each time. But Hellmuth also played on an incredible level as he busted Wei Kai Chang in 7th place to finalize the 6 for the WPT final table. Here is how the final table players stand:
Phil Ivey -- 4,100,000
Scott Montgomery -- 2,680,000
Phil Hellmuth Jr. -- 2,380,000
Charles Moore -- 1,510,000
Quinn Do -- 1,450,000
Nam Le -- 1,180,000
The final table will begin at 5:00 p.m. tomorrow!

Final Table
In the first hand of play Ivey took a huge hit to his stack, losing 1.5 million chips to Scott Montgomery. But he later got those chips back and then some. First to go was the incredibly arrogant and childish Phil Hellmuth Jr. in 6th place, losing to Charles Moore when Moore's A Q dominated Hellmuth with A 9. Scott Montgomery had his luck go from bad to worse when he busted out in 5th place to the King kicker of Nam Le. Nam Le went out in 4th behind the set of 3's of Phil Ivey. On the very next hand Charles Moore left in 3rd, losing from the two pair held by Phil Ivey (7's and 8's).

Although the crowd would have loved to see an heads up with Ivey and Hellmuth, they were not disappointed with what they saw. It began with Ivey having 10,820,000 in chips to Quinn Do with 2.48 million. And it ended two hands later with Phil Ivey finally winning a WPT championship. What happened on the last hand, a pre-flop raise by Ivey was made which was called by Quinn. The table had a flop of As 8s 6s, resulting in Ivey raising of which Quinn called. Turn card was an Ac and Ivey moved all-in. Quinn after almost 5 minutes called. Ivey turned over A 8 which gave him a full house (A's/8's) to Quinn who had 9 8 suited connectors for two pair. Look for Ivey in a magazine photo ad with the caption, "Persistence Pays!".
Phil Ivey -- $1,596,100
Quinn Do -- $909,400
Charles Moore -- $625,630
Nam Le -- $411,770
Scott Montgomery -- $296,860
Phil Hellmuth Jr. -- $229,480