Home
Online Casino Real Money
World Poker Tour
WPT Archives
2010 World Series of Poker
WSOP Archives
Poker on TV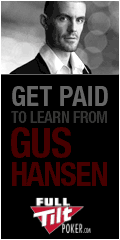 2008 North American Poker Championship
WPT Season 6
Niagara Fallsview Resort Casino
Niagara Falls, Canada
October 26 to November 2, 2007
Day 1A
For the beginning day of the North American Poker Championship there were 174 players, each paying $10,000 to enter. This tournament will have three days of action for the first day with Day 1A to be played on 10/26, Day 1B and Day 1C. Many known names took part in today's play such as Barry Greenstein, Tuan Lam, Gavin Griffin, Gavin Smith, Rhynie Campbell who won the Turks and Caicos WPT event, Jim McManus and Peter Feldman. All players will start with 20,000 in chips.

Eliminations began with earnest as Rhynie Campbell was busted out with quads belonging to Jonathan Little. Campbell was followed by Jeff Williams, Andre Boyer, Jason Sagle, Cory Carroll and Steve Paul-Ambrose. One interesting fact in this tournament is the high concentration of online players in the field. As their skills evolve at their computers, an increasing number of Internet competitors are showing up to take on their brick-and-mortar counterparts. The field of players is also a lot younger because of the 19 yrs of age Canada allows for gaming. By the end of the day 12 1/2 hours later, there were 74 players left that will return on Monday for Day 2. Here are the top 6 from Day 1A:
Johnathan Little -- 164,200 chips
Ilsoo Baek -- 125,100 chips
Matt Kay -- 88,700 chips
Tuan Lam -- 85,100 chips
Richard Mallow -- 85,000 chips
Mike Watson -- 76,100 chips
Day 1B
For the second round, there were 169 players at the tables for Day 1B. They will start out with 20,000 chips each and the goal is to survive 6 levels and one hour of play. Vanessa Rousso was the first one sent to the rail on Day 1B by Shane Schleger within the first 15 minutes of play. Among those eliminated who followed her were Alan Goehring, Freddy Deeb, Chad Brown, David "The Dragon" Pham, John Juanda, Nenad Medic, Theo Tran and Sorel Mizzi.

Those who made the cut include Lee Markholt 71,100 chips, Jeremiah Smith 71,000, Kathy Liebert 58,000, Marcello Del Grosso 38,300 and Jeff Madsen 21,500. By the time the midnight came around, there were 78 players left who bagged their chips to take a day off and return on Day 2 which will be on Monday.
Marc Karum -- 126,600 chips
Jeff Kostrnuik -- 125,900 chips
Jordan Morgan -- 124,500 chips
Jeff Garza -- 111,300 chips
Aran Jamasi -- 102,200 chips
Mike Leah -- 97,600 chips
Day 1C
The third round had 161 entrants at the tables for Day 1C with the strongest showing of top players so far. And now that all players have entered, we should have the payout structure posted when the next round of results are released. Jean-Robert Bellande ended up the chip leader after bullying his table, winning many pots in the process. But there were a number of bustouts that included Isabelle Mercier, Mike Matusow, Jon Friedberg, Greg Mueller, David Williams, Johnny Chan, Daniel Negreanu, Mark Seif and John Phan. Evelyn Ng and Bellande got into it about something she believes he did to her at the WPT Bellagio Championships...3 years ago! They calmed down, but obviously Bellande is not a person you can forget about easily.

About 10:00 p.m., officials said it was time to close up shop and the remaining players bagged their chips. Additional players who will see Day 2 action are David Singer 57,000, Gus Hansen 54,200, Adam Levy 49,800, Alex Bolotin 47,200, Eugene Todd 44,400, David Chiu 38,900, Allen Cunningham 38,500, J.C. Tran and Dan Harrington 32,900. In all, 236 players will come together for Day 2.
Jean-Robert Bellande -- 200,100 chips
Mark Zadjner -- 88,100 chips
Nick Schulman -- 86,600 chips
Scott Clements -- 85,400 chips
Bill Edler -- 74,300 chips
John Racener -- 63,800 chips
Day 2
Okay the payout structure is out so here are the money figures for those who make the final table:
$1,387,224
$680,862
$355,021
$291,798
$218,849
$170,216
Cash will go to the top 45 finishers. These payout figures are in USD, although the players will be paid in Canadian dollars. Which is good because the US dollar is not looking too good these days. Action for Day 3 began with blinds at 300/600 with a 100 ante at 9:00 a.m. PDT. Gavin Smith was the first casualty as his all in with A K was outdone by Ted Lawson's A Q when two more Queen cards hit the felt, sending Gavin to the rail within the first 5 minutes of play. But other players had good days like Allen Cunningham who at one point doubled up and just kept going to make the Day 3 cut. Bellande had a tough time at first with his stack crumbling away to other players down to the 90,000 mark after beginning the day as chip leader. But Bellande managed to hold it together and come out ahead to join Cunningham for Day 3.

Other players who will be part of the 79 returning for Day 3 are Barry Greenstein 67,900 chips, Kathy Liebert 40,900, Nick Schulman 128,200, J.C. Tran 142,200, David Singer 148,500, William Edler 167,800 and Jeff Madsen with 213,200 chips. Here are the top 6 with chip counts:
Joe Cassidy -- 330,500 chips
Aran Jamasi -- 306,800 chips
Dale Pinchot -- 255,000 chips
Lee Markholt -- 239,100 chips
Scott Freeman -- 215,000 chips
Jean-Robert Bellande -- 214,300 chips
Day 3
Goal for Day 3 is 5 levels of play with possibly 6 if that is what is takes for 79 players to filter down to 18 survivors. Kathy Liebert was one of the early eliminations when her all in with 8 3 lost to the pocket K's of Peter Feldman. Joe Cassidy was busted after his pocket Q's lost to the two pair (4's and 3's) of Arun Jamasi, resulting in Jamasi raking in 850,000 chips on that one hand. They were followed to the rail by Peter Feldman, Jean-Robert Bellande who made more mistakes and got more angry as he lost more chips (officially, he was not voted out of the tourney), Nick Schulman, Lee Markholt, David Singer, Bill Edler, Allen Cunningham and Marc Karam. Bellande is on the TV reality series "Survivor: China" where a personality like his may be good for ratings. Time will tell.

Barry Greenstein was steamrolling throughout the whole day doubling up and winning big pots to go from yesterdays 67K to 612K. Another big mover was Kofi Farkye who came out of nowhere to end up one of 4 players with over 1 million chips. The field is still strong with players like Adam Levy 557,000 chips, WeiKei Chang 485,000, Daniel Shak 261,000, Scott Clemens 190,000 at the tables. The 18 players left will continue down to the final 6 for the WPT televised broadcast.
Johnathan Little -- 1,576,000 chips
David Cloutier -- 1,340,000 chips
Kofi Farkye -- 1,212,000 chips
Harry Tsoukalous -- 1,079,000 chips
Stephen Silverman -- 857,000 chips
Barry Greenstein -- 612,000 chips
Day 4
After an offday of rest, action for the 18 remaining players was serious with not many players going with nothing less than pocket pairs during hands. When the busts did take place, they were not pretty. Take for example the hand between Harry Tsokalous and Kofi Farkye. Harry raised and Kofi called with a flop of Qd 8h 2h. Kofi raised for 150K and was immediately re-raised by Harry for 650K. Kofi called and the turn card was 10c. Kofi went in for 100k and Harry called with a 10 on the river. Kofi put Harry in for the rest of his chips of which Harry called. Kofi turned over pocket Q's and Harry just got up and left the table with a 13th place finish. Kofi ended up with over 2.2 million in chips after that hand. Scott Clements was blessed with pocket A's a number of times which he used to bust other players and make the final table.

Cheryl Lynn Deleon who busted in 7th place, just shy of the televised final table played very well. Unfortunately she became the victim of a bluff by Clements who relieved her of 520,000 chips in one hand. She then slowly lost her remaining chips and busted but took home 121,583 Canadian for her efforts. The players below will meet again on the 2nd to see who will become champion.
Johnathan Little -- 2,716,000 chips
Scott Clements -- 2,483,000 chips
David Cloutier -- 1,614,000 chips
Kofi Farkye -- 1,504,000 chips
Jeff Garza -- 1,320,000 chips
Barry Greenstein -- 447,000 chips
Final Table
This was one for the WPT record books as it was the longest final table in history by the number of hands (271 to be precise). As the action was underway with blinds at $10,000/$20,000 with a $3,000 ante, all players were very cautious of Barry Greenstein as no one wanted to give him any chips from their stack. Consequently, Barry did not get that much action during play. First one to bust was Jeff Garza in 6th place as his open ended straight was outdone by the nut flush hand by Scott Clements. Next to go in 5th was Kofi Farkye as his open ended straight could not overcome the two pair (10's/8's) of Scott Clements. At this point Barry had less than 500K in chips while everyone else was over 2 million in each stack. Barry did manage to win some pots, but getting those chips from the other players was like pulling teeth. But eventually the poker icon fell to the pair of Kings belonging to David Cloutier, and gracefully left the table in 4th place. Five hours later on hand #255, David Cloutier was busted in 3rd by the Ace high flush of Johnathan Little.

Heads up action began with Johnathan Little with 3,685,000 chips verses Scott Clements having 6,400,000 chips. Fourteen hands later the outcome was decided. On that hand, both players went all-in on the turn with 7 5 5 4 on the felt. Johnathan shows K 4 and Scott has Q 5. The river card was a King and Scott Clements became champion with a set of 5's. The final table payouts are different from what was given above on Day 2 because the currency value of the Canadian dollar shot up recently in the foreign exchange market. Here is how the final table ended:
Scott Clements -- $1,456,585 USD
Johnathan Little -- $714,905 USD
David Cloutier -- $372,772 USD
Barry Greenstein -- 306,388 USD
Kofi Farkey -- $229,791 USD
Jeff Garza -- $178,727 USD