Home
Online Casino Real Money
World Poker Tour
WPT Archives
2010 World Series of Poker
WSOP Archives
Poker on TV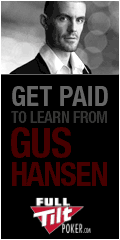 Turks & Caicos Poker Classic
WPT Season 6
Club Med -- The Players Club
September 26 to September 30, 2007
WPT Event Day 1 -- September 26
This WPT event is a first for Season 6 in the Caribbean at Club Med. Whoever won would be guaranteed $1,000,000 in prize money. But there was a small problem, mainly the small number of players who signed up for the $7,500 event. There were 137 players for the 6 day event and the prize pool totaled 1 million dollars...period. Well, the players voted to have the payout structure give cash to the top 9 finishers. Here is how the top 6 will fare out money wise:
$436,675
$225,000
$125,000
$70,000
$50,000
$30,000
Because of the small field, Day 1a and 1b will just be a regular Day 1. Action began at 12:35 pm with four levels of play which ended around 7:00 pm with 84 left for the next round. Some faces seen were Michael Mizrachi, Nenad Medic, Mike Matusow, Alan Sass, Steve Buckner, Nam Le, Bill Edler, Joe Sebok, Evelyn Ng and Gavin Smith. Below are the top 6 players with chip counts:
Mark Seif -- 91,225 chips
Lou White -- 90,050 chips
Maros Lechman -- 88,100 chips
Perry Friedman -- 79,575 chips
Hieu Nguyen -- 78,000 chips
Erik Cajelais -- 76,850 chips
WPT Event Day 2 -- September 27
On Day 2 of the Turks & Caicos Poker Classic, the 84 players from Day 1 got together to play down to 30. And it looks like instead of the six days of play, it will be just 4 due to the low initial turnout. But the action is still hot as in the first level of play, 17 were sent to the rail including Bill Edler, Mike Matusow and Nenad Medic. Steve Buckner who's loud and obnoxious yelling of 'one time' resulted in his wish being granted as he followed the line of the eliminated out of the tourney.

Well the chips of the fallen had to go to someone, and of the survivors of Day 2 Erik Cajelais had over 208K in his stack and Alan Sass ended up with over 177K after doubling up through Johan Storakers. More names that will be seen on Day 3 are Mark Seif with 41,400 chips, Joe Sebok 57,500, Michael Mizrachi 35,000, Nam Le 103,000 and Steve Sung 41,500. Here are the top 6 players with chips:
Rami Boukai -- 235,700 chips
Erik Cajelais -- 208,100 chips
Chris Smith -- 181,600 chips
Alan Sass -- 177,100 chips
Trevor Hebert -- 175,000 chips
Johan Storakers -- 147,500 chips
WPT Event Day 3 -- September 28
While the majority of the 137 players enjoyed the absolutely beatiful beaches at Club Med, the 30 that were left sat down for another round of play. Another nice surprise was that the Players Club Casino who is hosting the event, stated that they would pay the entry fee of $7,500.00 for whoever finished in 10th place, making things just a little bit better for all at the tables. Alan Sass had a hot day as he made incredible plays against Trevor Hebert and Steve Sung on the way to making the final table. Robert Been who played well ended up claming the casino prize of $7,500 for his 10th place finish after his A Q lost out to the pocket K's of Erik Cajelais.

In less than 35 minutes, players 9, 8 and 7 were busted out to give the names of the final table players which are below with chip counts:
Erik Cajelais -- 1,086,000 chips
Alan Sass -- 466,000 chips
Trevor Hebert -- 400,000 chips
Chris Smith -- 301,000 chips
Rhynie Campbell -- 275,000 chips
Nam Le -- 232,000 chips
WPT Event Day 4 -- September 29
This was given as an off day for the final table players, so that everyone who came to the tournament could enjoy the sun and surf.
WPT Event Final Table -- September 30
Final Table action began with blinds at $4,000/$8,000 and antes at $1,000. Nam Le claimed 6th position after losing a hand to Rhynie Campbell when his K Q was dominated by Rhynie's A K. After almost 100 hands of play Trevor Hebert finished in 5th after he lost to the Ace high straight of Erik Cajelais. Erik also took out Chris Smith in 4th winning with a Ace high hand. With the blinds up to $10,000/$20,000 and antes of $3,000, Alan Sass was eliminated in 3rd place after his pocket 4's lost to the 10 7 of Rhynie Campbell when the first 4 card hitting the table gave Rhynie a Broadway straight.

Heads up play started with Rhynie Campbell having a dominating 2,041,000 chip stack and Erik Cajelais with 719,000. They continue at the $10,000/$20,000 blind level. Erik was never able to make real headway in the bout, and the final hand took place when Rhynie went all-in with pocket 10's and Erik called with Q 9. The flop showed Q 9 3 with a turn card of K. The win came on the river when a 10 hit the felt giving Rhynie the win and the title of champion. Not only will he receive the big money, but he will also receive a freeroll seat to the championships at the Bellagio next year in April. Here are the final table results:
Rhynie Campbell -- $436,675
Erik Cajelais -- $225,000
Alan Sass -- $125,000
Chris Smith -- $70,000
Trevor Hebert -- $50,000
Nam Le -- $30,000