Home
Online Casino Real Money
World Poker Tour
WPT Archives
2009 World Series of Poker
WSOP Archives
Poker on TV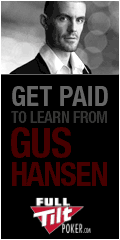 2008 World Poker Challenge
Grand Sierra Resort Casino
Reno, Nevada March 25 to March 29, 2008
Day 1
This event was small compared to others with just 261 entrants and will only last 4 days in total. The payout schedule for the final table is as follows:
$493,815
$271,625
$149,862
$103,030
$93,664
$84,297
Cash will go to the top 27 finishers with the 27th players receiving $18,733 from a prize pool of $1,866,000. And action will be for the first 6 levels. And of course the top names were mostly the ones that showed up. Players such as Tom Franklin, Joe Sebok, John Hennigan, Chau Giang, Jeff Madsen, Erick Lindgren, Brandon Cantu fresh off his win at the last WPT event, Vanessa Rousso, defending champion J.C. Tran and Lee Watkinson.

Overall the mood was jovial, but there were those who did not make it such as Allan Kessler, Mike Matusow, David Tran, Ted Lawson, Vanessa Rousso, Kathy Liebert, Dutch Boyd and Men "The Master" Nguyen were gone in today's action. At the end there were 75 players that will make it to the next round which will begin tomorrow at noon. Here are the top 6 players with chip counts:
Phil Ivey -- 179,000 chips
Eli Elezra -- 178,800 chips
Jordan Rich -- 131,300 chips
Steve Conigliaro -- 130,200 chips
Tim West -- 121,000 chips
Hasan Habib -- 110,300 chips
Day 2
This second round began with blinds at 500/100 and a 100 chip ante. Goal for today's action is to stop when there are 27 left at the tables. Eliminations started early with Tom Schneider who lost his all-in bid with Q J. He was followed by Eugene Todd, Brandon Cantu who's pocket 8's lost to Michael Mizrachi holding pocket J's, Bob Stupak, Huck Seed, Bill Edler, Arnold Spee who became champion of this event in Season 3, Hasan Habib, and Erick Lindgren.

But Phil Ivey was smoking in todays play, building up his stack for a shot at another WPT final table. Historically Ivey is 8 for 8 for making the final table when he reaches the money in a WPT tournament.

Zachary Hyman also took out top players like Eli Elezra and ended the play for the night receiving 4 of a kind Aces, busting Robert Goldfarb in 28th place. This makes 27 players who made the cut for Day 3. Here are the top 6 with chip counts:
Jason Potter -- 351,700 chips
Jordan Rich -- 327,900 chips
Ron Linden -- 301,400 chips
Zachary Hyman -- 298,000 chips
Phil Ivey -- 286,100 chips
Michael Mizrachi -- 255,900 chips
Day 3
Making the trim down to the televised 6 for the final table was not an easy process. Still in the field were Michael Mizrachi, Phil Ivey, Chau Giang, Jordan Rich, Keith Carter, Pat Poels and more really tough players. Phil Ivey will attempt to gain a seat at his 9th WPT final table with his chips. Action continued at level 16 with blinds at 2000/4000 and a 400 ante.

Keith Carter was one of the first to go (25th) when his pocket 3's lost to the A K of Pat Poels when he paired his King card on the river. Following him were Stephen Ladowsky when he lost to the pocket A's of Bryan Devonshire, Erik Seidel (16th) who was also busted by Bryan Devonshire after making his full house on the river (A's/J's) and Jordan Rich (15th). But when it got down to 10 players, things really got intense as the calibre of players was very high, and no one making any mistakes.

Phil Ivey was busted in 10th by Lee Markholt with a 10 high straight, ending his chance for a 9th televised WPT final table. Pat Poels went in 9th after losing to the Ace kicker of Jason Potter. Chau Giang made claim to the 8th place money as Michael Mizrachi made a gutshot straight draw on the river. But his prescence at the table did not last much longer as Mizrachi lost out to the pocket A's of Jason Potter, finishing in 7th.

Here are the final table players:

Jason Potter -- 1,156,000 chips
Lee Markholt -- 1,137,000 chips
Bryan Devonshire -- 674,000 chips
David "The Dragon" Pham -- 406,000 chips
Zachary Hyman -- 285,000 chips
Jeff Dewitt -- 249,000 chips
Final Table
With a few minutes left in level 21, play continues with blinds at 8000/16,000 and 2000 ante. By the 8th hand Jeff Dewitt moved all-in with a flush draw against Lee Markholt who was holding pocket Q's and lost, making him finishing in 6th place. Markholt was also responsible for sending David "The Dragon" Pham home in 5th after pairing his A 10 cards. Jason Potter who began as chip leader, did not have a great start with his stack hemmoraghing as he played. Potter ended up in 4th after losing to the Ace high flush of Zachary Hyman. But the "Yes, yes, yes!" of Hyman was soon put to silence when he lost to Bryan Devonshire, and left to pick up his six figure earnings for 3rd place.

Lee Markholt began the heads up with 2,380,000 chips and Bryan Devonshire had 1,525,000 chips. And by the turn card on the second hand it was over. What happened was after a flop of 4s 3h 2s, both parties bet to see the J on the turn. Devonshire though first...then called which got an insta-call from Markholt who has J 4. This overcame the 8h 4c that Devonshire had. The 3s came on the river, but it meant nothing at this point and Lee Markholt picked up his first WPT tournament title and became the champion of this event.
Lee Markholt -- $493,815
Bryan Devonshire -- $271,625
Zachary Hyman -- $149,862
Jason Potter -- $103,030
David "The Dragon" Pham -- $93,664
Jeff Dewitt -- $84,297