Home
Online Casino Real Money
World Poker Tour
2008 World Series of Poker
2008 WSOP Circuit Tournaments
Poker on TV
Free Slot Games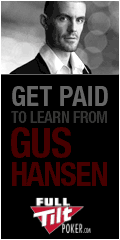 2008 World Poker Open
WPT Season 6
Gold Strike Casino
Tunica, Mississippi
January 20 - January 24, 2008
Main Event -- Day 1A
This WPT tournament had 117 players sit down at noon to begin the Main Event at the Gold Strike Casino. Two reasons for the smaller number of entrants is that the WSOPC Main Event is being held at Grand Casino Tunica along with the Aussie Millions Championship being held in Australia at the same time. But just because the group was small did not mean that the talent was too. At the tables were Humberto Brenes, Mark Seif, Daniel Negreanu, Surinder Sunar, David "The Dragon" Pham, Hoyt Corkins, Dutch Boyd and Chris Reslock among others. All players began with 20,000 in chips.

Eliminations soon began with Ted Lawson busting out after his A Q lost to another player's Queen high straight. Mark Seif was taken out by David Pham. They were followed by Gavin Griffin, Andy Philachack, David "Devilfish" Ulliott who was also playing at the Grand Casino Tunica Main Event, 2006 WSOP Main Event winner Jamie Gold and Daniel Negreanu. At the end of Day 1 there were 64 players left to move on to Day 2. The next half of Day 1B will take place tomorrow, starting at noon.
Matt Culberson -- 98,000 chips
Antonio Solario -- 90,700 chips
Matt Sterling -- 86,800 chips
John Price -- 86,500 chips
Ken Christopher -- 84,875 chips
Jose Rosenkrantz -- 82,025 chips
Main Event -- Day 1B
On the second half of Day 1, 142 players signed up making the total number of entrants 259. The resulting prize pool is $2,436,041 with a nice first place payout of $892,413. Here are the payouts for the final table players:
$892,413
$458,267
$241,193
$168,835
$123,008
$96,477
Lots of big names were in the field such as 2007 WSOP champion Main Event Jerry Yang, Michael Mizrachi, Gavin Smith, Chau Giang, Lee Markholt, Kathy Liebert, Vanessa Rousso, T.J. Cloutier, Barry Greenstein, David Williams, Andy Black and Darrell Dicken. But when the action began it was hot! Barry Greenstein went to work taking out Jerry Yang with a full house (3's/10's), Darrell Dicken went to the rail when his pocket 9's lost to an opponents pocket J's and Todd Bruson son of Doyle Brunson met up with a straight sending him to the sidelines. Following these players were Phil Ivey, Chau Giang, Josh Arieh along with Robert Mizrachi. At the end of the day there were 143 players left.
Chad Brown -- 112,325 chips
Brett Faustman -- 107,700 chips
Mike Postle -- 84,600 chips
Jae Chang -- 78,275 chips
John Racener -- 64,600 chips
Erick Lindgren -- 57,800 chips
Main Event -- Day 2
With Day 1A and 1B wrapped up, the 143 that remain will battle it out until there are 27 left. Action began with blinds at 300/600 with a 100 ante at 10:00 am PST. Men "The Master" had lady luck on his side as he kept winning hand after hand. One in particular had a player trying to bluff with an all-in with 2 Kings and an Ace on the board. Men called it and turned over pocket A's giving him a full house (A's/K's). He continued until he was in the top 6 in chips for the day. Dutch Boyd who lost a few big hands with lots of chips, came back on a few key hands to rise above the 400K level. Freddy Deeb having a great day, also sent players to the rail including Chad Brown who made a straight by the river card.

John "The Razor" Phan rode the roller coaster drunk as a skunk, at one point becoming chip leader then falling almost out of the tournament. He did manage to hold on for Day 3 with 169,000 chips. But gone from the tournament were Humberto Brenes, David Williams, Allan Kessler, Vanessa Rousso, David Pham, Nam Le, Kido Pham and Glyn Banks. The day ended just close to 1:00 am PST. Action will pick up again by 10:00 am later on today.
Erick Lindgren -- 498,000 chips
Dutch Boyd -- 440,000 chips
Gabriel Costner -- 402,000 chips
Freddy Deeb -- 324,000 chips
Men "The Master" Nguyen -- 323,000 chips
Barry Greenstein -- 280,000 chips
Main Event -- Day 3
Freddy Deeb continued steamrolling over players taking their chips to become chip leader going into the final table. Men Nguyen also made the final table, and at one point seemed to irritate Erick Lindgren who he sent to the rail in 24th place. After winning one of two key hands against Erick, Men jumped up and yelled, "Yes! Yes! Yes!" for about a minute. Even though Lindgren made comments to Men, it was not enough to intimidate as he lost the balance of his chips when Men hit two pair on the turn. On another hand, Men flopped quad Aces which shows how hot he was today.

Not so lucky were John Phan, T.J. Cloutier, Gary Gibbs, Barry Greenstein, Jimmy Tran, Jose Rosenkrantz and Dutch Boyd. Dutch went all-in with pocket A's pre flop, only to lose when the other player hit a straight and 4 to a royal on the flop. Here are the players for the final table:
Freddy Deeb -- 1,345,000 chips
Brett Faustman -- 1,282,000 chips
Gabriel Costner -- 1,181,000 chips
Men "The Master" Nguyen -- 729,000 chips
Hoyt Corkins -- 395,000 chips
John Spadavecchia -- 256,000 chips
Main Event -- Final Table
The final table was underway at 1:30 pm PST and it was slow going as no one wanted to go home. On the 5th hand John Spadavecchia who began severly short stacked, busted out in 6th after Hoyt Corkins won the hand with two pair (Q's/5's). Fifty two hands later, Hoyt sent Gabriel Costner home in 5th after hitting another two pair on the turn (A's/6's). Hoyt Corkins continued to pick and choose his battles, slowly building up his chip stack. Freddy Deeb picked up a six figure payday for 4th place after losing to the A K suited of Brett Faustman. Men "The Master" Nguyen then lost out to the pocket J's belonging to Hoyt Corkins to claim almost a quarter of a million for 3rd place.

So Hoyt began the heads up at another WPT final table with 2,470,000 chips, Brett has 2,715,000 in his stack. Blinds are 30,000/60,000 with a 10,000 ante. Both played aggresively resulting in chip moving back and forth between them. It took 42 hands in total to reach the climax, but when it did it was dramatic. On a flop of 9 9 3, Hoyt went all-in and Brett stood up and said, "I call". Hoyt flipped over pocket 2's and Brett showed pocket Q's. Turn card was a 6 river card was a J. And that is how Brett Faustman earned his first WPT championship!
Brett Faustman -- $892,413
Hoyt Corkins -- $458,267
Men "The Master" Nguyen -- $241,193
Freddy Deeb -- $168,835
Gabriel Costner -- $123,008
John Spadavecchia -- $96,477