Home
World Poker Tour
WPT Season 4
WPT Season 5
PPT Tour Info
2009 World Series of Poker
2006 WSOP Info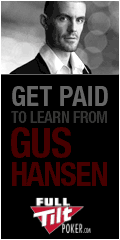 North American Poker Championship
Niagara Fallsview Resort
October 25 to October 29, 2006
October 25 -- North American Poker Championship Day 1A
Well the North American Poker Championship was already labeled as hot seeing it was the first ever WPT stop into Canada. There were so many entrants to where the field was split up to run across two days. On the first day there were 264 players at the tables, each paying $10,000 to enter the tournament. Tournament officials stated that the action would go on until 2:00 a.m. or 150 players were left. A payout structure for the event will be made available after Day 2 when a total count of entries has been made. All players began with 20,000 chips and the first level of blinds began at $25/$25 with each level being 90 minutes long. Officials wanted to have a environment that would allow players to advance based more on skill instead of blind luck. Some of the names arriving include Michael Gracz, Joe Sebok, Amnon Filippi, Kathy Liebert, John Juanda, Liz Lieu, Alan Sass, Humberto Brenes, David Levi and Isabelle Mercier.

As the play went on at the tables, the list of the busted grew. Among the casualties were Carlos Mortensen, Michael Binger, Tim Anders, Humberto Brenes, J.C. Tran, Denis Ethier, James Van Alstyne, Jim McManus and Peter Giordano. At 1:29 a.m. the day came to an end with 119 players remaining. Below are the top 6 players with chip counts for the first day:
John Juanda -- 205,000 chips
Steven Ambrose -- 138,000 chips
Thomas Wahlroos -- 97,000 chips
Alan Sass -- 86,000 chips
Todd Rebello -- 85,000 chips
Liz Lieu -- 73,000 chips
October 26 -- North American Poker Championship Day 1B
With the beginning of Day 1B, we now know that 497 players have entered the tournament. Prize pool size reached $4,829,332 with money going to the top 45 and here are the payouts for the final table:
$1,352,224
$676,107
$352,541
$289,760
$217,320
$169,027
The second day started with the remaining 233 players for this half of the tournament. The blinds began at $25/$25 just like it did for Day 1A. Daniel Negreanu was busted in less than 45 min into this tournament round. Others who followed include Michael Mizrachi, Dustin "Neverwin" Woolf, David Williams got busted by Allen Cunningham, Joe Bartholdi, Casey Kastle, Jean-Robert Bellande, Paul Wasicka and John Phan. By the time the end of the day came around 10:17 p.m., there were 90 players left to move on to Day 2. Here are the top players with chips counts:
#1 Jason Sagle -- 183,000 chips
#2 Mark Newhouse -- 150,000 chips
#3 Marc Karam -- 147,000 chips
#4 Brad Booth -- 104,000 chips
#5 Allen Cunningham -- 72,500 chips
#6 (TIED) William "Bill" Edler -- 60,000 chips
#6 (TIED) Jordan Morgan -- 60,000 chips
October 27 -- North American Poker Championship Day 2
The slow and cautious pace of action over Day 1A and 1B was replaced with a much faster one as eliminations happened left and right. This round of tournament play started at 9:15 a.m. with the blinds at $400/$800 with a $100 ante. The first hour of play saw top pros like Tom Franklin, Sean McCabe, Liz Lieu, Victor Ramdin, Dan Harrington and Isabelle Mercier being sent to the rail.

By the time the end of the evening came, most of the players left were visibly exhausted with many going as far as to say how tired they are. Brad Booth actually was falling asleep at the table during play, but managed to finish his hands. At 10:45 p.m., 45 players remained to move on to Day 3. Here are the top players with chips counts:
Marc Karam -- 742,500 chips
John D'Agostino -- 733,500 chips
Mark Newhouse -- 671,000 chips
John Juanda -- 505,000 chips
Brad Booth -- 460,500 chips
Peter Valente -- 425,000 chips
October 28 -- North American Poker Championship Day 3
Unfortunately, we did not receive updates to pass on to you for Day 3. But we are sure that these are the final table players for this event:
Jason Sagle - 2,970,000 chips
John Lam - 2,285,000 chips
Soren Turkewitsch - 1,690,000 chips
James "KrazyKanuck" Worth - 1,305,000 chips
Marc Karam - 1,290,000 chips
John Juanda - 425,000 chips
October 29 -- North American Poker Championship Final Table
It was fitting that 5 Canadians were at the final table for this first WPT event being held in Canada. Play was held in the Fallsview Casino Hotelís Avalon Ballroom which was packed with Canadian fans, many who waited hours in advance for their seats. After lots of very loud cheers during the introduction of the players, things got started at 5:00 p.m. with $15,000/$30,000 blinds and $3,000 antes. Marc Karam was the first elimination in 6th when his all in move with pocket J's was met by the pocket A's of Soren Turkewitsch, with Soren ending up with a better pair by the end of the hand. John Juanda left to a standing ovation in 5th after his A Q lost to Soren's pocket 9's when the board failed to improve either player. James Worth left in 4th when his Ah Qh lost to James Sagle's Ac Kc. John Lam, (3rd place), became another victim of Soren when his 10h 5s met Soren's Ah Qh.

From this point it was heads up between James Sagle and Soren Turkewitsch. The blinds were at $300,000/$600,000 and $50,000 antes. Things were going well for Sagle until a hand that many said he played correctly went against him and left him crippled with close to 400,000 chips. Sagle did manage to double up on the next 2 consecutive hands but it was the 3rd hand that determined the champion. Here is what happened, Soren Turkewitsch (Kh 2d) was on the button and moved all-in which was called by James Sagle (As 5d). Board showed 7d 6c 2h 4h Js which did not improve the hand of either player and Soren Turkewitsch became the WPT champ and an instant millionaire in the process!
Soren Turkewitsch -- $1,352,224
James Sagle -- $676,107
John Lam -- $352,541
James "KrazyKanuck" Worth -- $289,760
John Junada -- $217,320
Marc Karam -- $169,027