Home
Online Casino Real Money
World Poker Tour
WPT Archives
2010 World Series of Poker
WSOP Archives
Poker on TV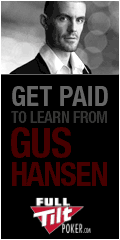 Grand Casino Tunica | Caesars Indiana | Harveys Tahoe | Harrah's New Orleans
Harrah's Atlantic City | Grand Casino Tunica II | Harrah's Rincon San Diego
Horseshoe Council | Caesars Atlantic City | Caesars Indiana II
Caesar's Palace Las Vegas | Harrah's New Orleans II
2008 Caesar's Atlantic City WSOP Circuit Event
Caesar's Atlantic City
March 5 to March 15, 2008
Event #1 No-Limit Hold'em Buy-In: $300 (+40)
The kickoff tournament had 1,056 players at the tables for the next two days. Prize pool rose to $317,100.

What made this tournament interesting was the disqualification of a player for extreme unsportsman like conduct. Here is what the WSOP had to say about it:

One of the biggest hands of the tournament unfolded when the eccentric and boisterous Virginian, Lesley Thornburg got tremendously lucky and survived his first all-in of the day. Thornburg, who had been given two warnings for unsportsmanlike behavior on the previous day, pushed everyone's patience to the limit with a ceaseless display of loud comments and baiting tactics lasting several hours

(After losing a few hands) Holding onto a perilous chip lead, Thornburg lost self-control and began jamming chips into the pot with reckless abandon. Warned by tournament officials (repeatedly) to stack his chips properly and obey the rules, Thornburg crossed the final demarcation of everyone's patience when he shoved half of his stack into the pot and then later announced, "all in." Fed up with the annoying and confusing antics, officials announced Thornburg's immediate disqualification.

And he still got paid $19,026 before going out the door!
Frank Panetta -- $76,104
Andy Santiago -- $42,824
Todd Rebello -- $25,368
Lee Ervin -- $22,197
Lesley S. Thornburg (was later disqualified) -- $19,026
Edward "Yank" Sullivan -- $15,855
Donald Mercer -- $12,684
"Karate Mike" Santoro -- $9,513
Francis Snyder -- $6,342
Event #2 No-Limit Hold'em Buy-In: $500 (+60)
The number of players for the second tournament tapered down to 500. Total prize money was $250,000 and paid out to 54th place.
Ryan Osborne -- $72,500
Jake Neff -- $38,250
David Zeitlin -- $20,000
Sarah "Sallie" Stohler -- $17,500
Bryce Carroll-Coe -- $15,000
Adam Steinback -- $12,500
John Doran -- $10,000
Victor Johnson -- $7,500
Artie Smith -- $5,000
Event #3
No-Limit Hold'em
A healthy 1,050 players paid $300 each to get into this tournament. After 2 days, the $315,000 prize pool was split between the top 99 finishers.
Todd Rebello -- $75,600
Doug Slomka -- $42,540
Sonny Lusha -- $25,200
Anthony Bogan -- $22,050
Rupert Jones -- $18,900
Greg Antolick -- $15,750
Christine Wilson -- $12,600
Jason Morman -- $9,450
Michael Dentale -- $6,300
Event #4
No-Limit Hold'em Buy-In: $1,000 (+80)
A total of 411 players entered this event to have a shot at becoming champion. This 2 day event had the last 45 finishers split a $411,000 prize pool. Here is how the last hand went courtesy of the WSOP:

Garver was dealt Q-10. Bonavita was dealt A-Q. Given the many exciting hands over the course of the final table, the finale was anti-climatic. Neither player made a pair. Bonavita's ace-high won, and the tournament was over. The runner-up was Al Garver, who served many years proudly in the U.S. Air Force. He now flies as a private pilot. Garver, who now resides in Montana, flew off with a very respectable $66,171 for second place. Garver qualified to play in this event by winning a single-table satellite, that cost him only $80.
Victor V. Bonavita -- $123,300
Al Garver -- $66,171
Larry Nelson -- $32,880
Stuart Elkin -- $28,770
Jason B. Goldman -- $24,660
Tim Bryan -- $20,550
Matthew Casterella -- $16,440
James English -- $12,330
Han S. Oh -- $8,220
Event #5
No-Limit Hold'em Buy-In: $1,000 (+80)
Allen Bari came out on top of a field of 225 players, each trying to get a slice of the $225,000 prize pool pie. But that was reserved for the top 27 finishers. After losing his job in finance, 23-year-old aspiring poker pro wins gold ring and $72,000.

There are few tougher setbacks than losing one's job. That's exactly what happened to 23-year-old Allen Bari just four months ago. After graduating from Rutgers University with a degree in finance and economics, Bari went to work for the global financial giant Morgan Stanley. That didn't exactly work out as he expected. Late last year Bari was laid-off as part of its "corporate downsizing," leaving the ambitious young man from West Orange, NJ in a career quandary. So far he's done pretty good, cashing in 6 tournaments to date. But this is his first championship. Here is the final hand that did it for him as provided by the WSOP:

When heads-up play began, Pahuja still held the chip lead. But everything would change on one big hand, which essentially determined the outcome of the tournament. On the biggest hand of the night, Pahuja was dealt the A-4 of clubs. Bari was dealt A-3. After the flop came 8-6-3 with two clubs, Bari was all-in with bottom player (threes) against Pahuja's club draw. However, two big red face cards fell on the turn and river, which meant Pahuja had completely missed his flush draw. That gave Bari an overwhelming chip advantage and left Pahuja on life support. With just enough chips left to post a blind, it all ended just a short time later when Bari won the final hand of the night and the tournament officially ended.
Allen Bari -- $72,000
Vinny Pahuja -- $39,600
Dewey Whitmore -- $20,250
Mike Huguenot -- $15,750
Michael Scipione -- $13,500
Ed Berger -- $11,250
Soheil Shamseddin -- $9,000
Jeff Morrill -- $6,750
Lance Carter -- $4,500
Event #6
No-Limit Hold'em Buy-In: $300 (+40)
Number of Entries: 706
Total Prize Money: $211,800
Excerpt from WSOP:

Jim Stenella won his biggest poker prize ever. First place officially paid $57,186, plus the WSOP Circuit gold and diamond ring, which is awarded to each event winner at this year's Caesars poker series. It was obvious that the ring meant a great deal to Stenella, who proudly showed off his prize to the crowd afterward. His win was the quickest of any of the six events held thus far at Caesars, clocking in at just over two hours.
Jim Stenella -- $57,186
Mustafa Ali -- $29,969
Joseph Hanna -- $16,944
Rick Chang -- $14,826
Michael Smith -- $12,708
Jack Maloy -- $10,590
Francis "Mickey" Pergine -- $8,472
Ralph Van Ormer -- $6,354
Mike Muscatello -- $4,236
Event #7
No-Limit Hold'em Buy-In: $500 (+60)
Number of Entries: 382
Total Prize Money: $191,000
Final Hand Excerpt from WSOP:

After two hours of fast and aggressive play, during which time seven players went out, the heads-up match was considerably more cautious and calculating. The two finalists battled back and forth for 55 minutes, during which time only a few flops were seen. No hand went past the turn. Predictably, it would take a monster hand with both players holding big cards to tilt the balance. That moment came when Stout was dealt A-Q. He raised 70,000 pre-flop, and Kim re-raised to 300,000. Stout, true to his name, moved "all in" and Kim called with J-J. The flop made it appear that Kim would gain the advantage as three blanks fell - 9-6-2. Then, a queen rained down on the turn giving Stout top pair. An ace on the river was the definitive final action, giving Stout the victory.
Matt "All In" Stout -- $59,210
Thomas Kim -- 30,560
Chris Reslock -- $15,280
Frank Passantio -- $13,370
Elizabeth Grey-Pardo -- $11,460
Lou Esposito -- $9,550
Steven Merrifield -- $7,640
Bayarsaikhan Batkhuu -- $5,730
David Godfrey -- $3,820
Event #8
No-Limit Hold'em Turbo Buy-In: $200 (+30)
Number of Entries: 607
Total Prize Money: $105,950
Event Excerpt from WSOP:

The $200 buy-in no-limit hold'em tournament was played with a "turbo" format, which meant structures were accelerated to 20-minute levels. This ensured that the massive 607-player field would play down to a single winner within one day.

Right on schedule, the event concluded 10 hours after it began as Leo Donofrio took the top prize. Donofrio received $29,666 for first place, plus the WSOP gold and diamond winner's ring. At nearly $30,000 for first place, Donofrio's win meant he earned about $2,750-an-hour. Not bad for a day of poker playing on the Jersey shore.
Leo Donofrio -- $29,666
Justin Renna -- $15,562
Bruce "Dragon"Bartfield -- $8,476
John Hirsch -- $7,416
Jonathan Calipes -- $6,357
Ronnie Bardah -- $5,297
Stephen J. Kimet -- $4,238
John Todaro -- $3,178
Angel Molina -- $2,119
Event #9
Main Event Championship Event
This 3 day event had 277 players each pay $4,900 (+250) that made a prize pool of $1,357,300. First place would reward the champion with $431,136 and a WSOP main event entry. A lot of top names were in the tournament such as Cliff Josephy, Chris Reslock, Michael "Little Man" Sica, Cyndy Violette, Chris Reslock, defending champion Danny Yousefzadeh, Lou Esposito, and 2007 Main Event Final Table player Hevad Khan.

Most of these players did not survive past the first day. In fact, 204 players were eliminated - leaving just 73 players for day two. After another 11 hours of play on the second day, the final nine were set. Florida's Dan Hicks arrived at the final table with a slight chip lead. Eric "Sheets" Haber and Soheil Shamseddin were close behind. Players and their starting chip counts began as follows:
Dan Hicks -- 1,182,000 chips
Eric "Sheets" Haber -- 927,000 chips
Soheil Shamseddin -- 855,000 chips
Steven Merrifield -- 624,000 chips
Sumeet Batra -- 579,000 chips
Nick Binger -- 546,000 chips
Scott Blackman -- 391,000 chips
Steven Greenberg -- 251,000 chips
Marc Morris -- 185,000 chips
Play began for the final table at level 20 with blinds at 12,000-24,000 and a 3,000 ante. When things got down to the heads up, here is coverage from the WSOP:

On the final hand, Haber raised 180,000 before the flop. Hicks called. The flop came J-9-5. Hicks moved all in, and Haber could hardly believe what he was experiencing. Haber called instantly and flipped over J-J for a set of jacks. "When are you going to stop catching?" Hicks muttered in disgust as he tabled his 10-9, good for middle pair. The last two cards did not help Hicks, who was forced to settle for second place. Meanwhile, the celebration in Haber's corner began, as the new poker champ high-fived several friends in the audience.
Eric "Sheets" Haber -- $431,136 (plus $WSOP main event entry)
Dan Hicks -- $237,124
Sumeet Batra -- $121,257
Soheil Shamseddin -- $94,311
Steven Greenberg -- $80,838
Nick Binger -- $67,365
Scott Blackman -- $53,892
Steven Merrifield -- $40,419
Marc "Clark Kent" Morris -- $26,946