Home
WSOP Tournament Circuit
Events 1 to 10
Events 11 to 20
Events 21 to 30
Events 31 to 40
Events 41 to 45
2009 World Series of Poker
WSOP Archives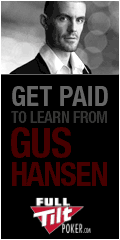 2005 WSOP Tournament Events 41 to 45 and Final Table coverage will probably end up the most intensely viewed of all the WSOP competition due to the fact that event 42 is the World Series of Poker Main Event. 5,619 challengers for the $7,500,000 are expected. Find out what is going on during the 3 days of Day 1 elimination. As information becomes available, we will put it on our site. Once the best of the best at Texas HoldEm has been crowned, come back to find out who became champion. But if you think anyone who got busted went home, think again. They went to play in Events #43, #44 and #45.
2005 WSOP Tournament
Events 41 to 45 and Final Table coverage
Event #41 July 6 - Media/Celebrity Charity Event
It was time to raise money for charity and a friendly competition between celebrities and news media personel that were covering the WSOP. Every dime raised is important to help those in need, but with an anticipated $100,000,000 total prize pool hopefully the overall amounts reported will increase to help charity efforts. Here are the players, charities and amounts earned:
#1 Randy Bowman -- Noblesville Boys and Girls Club raising $10,000
#2 Jake Witcher -- Trace Trans-Atlantic Childrens' Enterprise raising $1,000
#3 Mick McCloskey -- Glenshane Community Care raising $750
#4 Casey Robbins -- National Childhood Cancer Foundation $500
#5 Gregory Go -- UCLA Alumni Association
#6 Paul McGuire -- The Charlie Tuttle Foundation
#7 Lisa Denkinger -- Red Door Animal Shelter
#8 David Moore -- Micahel J. Fox Foundation
#9 Charlotte Nilsson -- World Children Foundation
#10 Dean Stone -- TBD
Event 42 July 7 - No Limit Texas Hold'em World Championship
Main Event Day 1A
Day 1A Full Report
This will be without question the largest tournament on the planet in the history of the game. The prize pool estimate has hovered between $7,500,000 and $10,000,000 for the winner this year. One huge source of players will be from online poker rooms on the Internet. PokerStars.com will send 1116 players to play in the Main Event. It will be important to watch these players as the last 2 WSOP champions for 2003 and 2004 came from PokerStars.

Day 1A began with 1,885 players and ended up with 650 that will move on to Day 2 which will take place on July 10th. Some of the names who survived are 2004 WSOP champion Greg Raymer, Layne Flack, Reza Payvar, Liz Lieu, Lee Watkinson, John Gale, actress Shannon Elizabeth, Tiffany Williamson, Joe Rafferty, Paul Darden, Clonie Gowen, Chris Hinchcliff, Mike Wattel and David Plastik. Day 1B will begin at 11:00 a.m. on July 8th.

At 11:00 a.m. on July 8 we began the 2nd round of eliminations putting 1,878 hopefuls to the test, seeing who would make it to Day 2. Lots of top players did not make today's cut such as Evelyn Ng, Men "The Master" Nguyen, Max Pescatori, Erick Lindgren, Dewey Tomko, Hasan Habib, Senthil Kumar, Eli Elezra and 2004 WSOP runner up David Williams. Plus to his disgust, Phil Hellmuth Jr. was eliminated at 2:00 a.m. not long before the cutoff level would be reached for the day. Phil lost to Paul "X-22" Magriel in a heads up battle where X-22 has pocket 7's. By 2:45 a.m. 620 weary players had their chips bagged and went to their rooms for some well earned sleep.

From 1,898 players, we ended up with 640 who survived to play on Day 2 of the Main Event. Notable players such as T.J. Cloutier, Howard Lederer, Doyle Brunson, Matt Hilger, Mark Seif, Todd Witteles, Phil Ivey, John Juanda, Chau Giang, Hoyt Corkins and Chad Brown were seen sitting down to begin this 3rd round of action. The day got off to an entertaining start with Mike Matusow letting the world know why they call him "The Mouth" when his loose lips earned him a 40 minute period of non playing penalties from the Tournament Director. Everyone at the tables became excited to learn that the champion of this Main Event will take home $7,500,000! Any player who makes the final table will be guaranteed to become an instant millionaire! The prize pool is an astounding $52,818,610 and payouts will take place to 560th place. Day 2 will have approximately 1880 players in it. Play should be fast as the goal will be to reach between 500 to 1000 by the end. It will slow as we get close to the 560th position. Day 2 will begin at 12:00 noon.

Day 2 began with 1880 and ended with 569, which is 9 short of the golden money position of 560. Day 3 will get off to a nervous start for all involved because today 9 players will see their hard earned work rewarded with no money period. Tonight will be hard to get sleep if you are short stacked. Yesterday saw several noted players sidelined such as Dan Harrington who made the WSOP Main Event final table for the past 2 years, Cliff Josephy, Barry Shulman, John Gale, Toto Leonidas, Arnold Spee, Marcel Luske, 2003 WSOP champ Chris Moneymaker, Gus Hansen, Tony Cousineau, John Myung and David Sklansky. There are 72 players from PokerStars.com one of whom is 2004 WSOP champion Greg Raymer, giving the online poker room a 12.65% representation going into the next round. Greg Raymer and Russ Hamilton are the only two WSOP champions left in the field. Play for Day 3 will start at 12:00 noon on July 11th. Go to the Day 2 Full Report for top 10 chip counts and players.

Day 3 began with apprehension and nervousness for the 569 players who started at the tables. The biggest thought in the minds of all was how could one last in order get to the money position of 560. The eliminations began slowly, and then Karl Ygborn became the unfortunate statistic of finishing in 561st position. Everyone was ecstatic when the announcement came, except Karl. But in the true tradition of rewarding players, Harrah's gave Karl Ygborn a free seat to the 2006 WSOP Main Event! Once the anxiety was gone, players began ordering drinks at the tables and lots of all-ins were taking place. At one point players were leaving the tables to pick up their money at the rate of 1 per minute. The numbers continued to landslide all day with not that many noted players going out. 2004 WSOP champion Greg Raymer increased his chip count up into the million plus number becoming the chip leader of Day 3. By the end of this tournament round there were 185 players left. Day 4 will begin at 12:00 noon on July 12th. For the top ten players and chip counts, read the Day 3 Full Report.

Action was taking place everywhere as 185 players started this tournament round to reach a target of 150 to 100, but continued until 58 remained. Greg Raymer who was the chip leader on Day 3 had a roller coaster ride winning and losing hundreds of thousands of chips, but still remained in the field having 766,000. What was more eye opening was seeing the chip stacks of other players climb over 2 million and to see Tim Phan reach over 3 million. Play will resume for Day 5 at 12:00 noon. Read the Day 4 Full Report for the top 10 chip counts and players.

58 players assembled to compete in order to get a shot at the final table. But this one really had the heat turned up on it as hands were soon moving hundreds of thousands of dollars of chips. Throughout the tournament players were moving from having 2 to 3 million in chips back to 750,000 in minutes. PokerStars.com is hoping that they can lay claim to producing this year's WSOP champ as they did in 2003 and 2004. They have 4 entrants left from the original 1116, one of which is 2004 champ Greg Raymer. Greg Raymer's chip stack went up and down, but he was basically in command of what he was doing and when he did it. He'll have his work cut out for him with players like Mike "The Mouth" Matusow running up a stack over 5 million. 27 survivors will meet at the Horseshoe in downtown Las Vegas at 3:00 p.m. Come back for more news.

Day 6 began with 27 players slugging it out to see who would make the final table. Anyone who made it to the Horseshoe would receive over $300,000 but making this final table would guarantee those individuals will no less than $1,000,000. Plus, instead of receiving a gold bracelet an extremely beautiful diamond studded bracelet is the prize. A lot of cautious and careful players would end up having to take chances they normally would not make as the elimination process had to be completed today. From 3:00 p.m. until 3:00 a.m. there were a lot of surprises. Greg Raymer had his stack gouged which led to his leaving the tournament in 25th place, ($304,680), and a bid to claim another WSOP title. Tiffany Williamson went out in 15th Place $450,000, but not before claiming a WSOP record of making more money than any other woman in the Main Event. One by one, players left the Horseshoe, got into a limo provided by Harrah's and went to the RIO! to pick up their cash. Others who were more fortunate saw their chip piles go up sometimes over 1,000,000 per hand. Mike Matusow who had 5 mil on Day 5, went up to over 7 mil. Aaron Kanter at one point had his chips over 12,000,000 before coming down to his 10,700,000.

PokerStars.com who has produced the 2003 and 2004 winners, has two at the final table from their original 1116. They are Daniel Bergsdorf and Brad Kondracki. Incidentally Daniel Bergsdorf spent $33 at PokerStars to qualify for the Main Event. For their efforts, each has become a guaranteed instant millionaire. The Main Event final table will begin at 4:00 p.m. due to last night's late finish.
Event 42 July 15 FINAL TABLE
Main Event Day 7
Day 7 Full Report
At almost 14 hours this was the longest final table in WSOP history. One by one players were taking the limousine back to the RIO for their winnings which were no less than 1 million. Mike "The Mouth" Matusow went out in 9th place with $1,000,000. Next, Brad Kondracki went out in 8th position taking home $1,150,000. Then in 7th place Daniel Bergsdorf went to pick up his $1,300,000 after being eliminated. Scott Lazar was gone in 6th place pocketing $1,500,000 to reward his skill at the game. And in a big surprise, Andrew Black who had as many as 21,000,000 in chips left in 5th place with $1,750,000. Aaron Kanter, who earned his seat at PartyPoker.com, was out of the tournament in 4th place earning $2,000,000 becoming an instant millionaire. Then John Barch left in 3rd place receiving $2,500,000 for an excellent final table performance.

By this time, the heads up pair are both tired. Both the remaining players Joseph Hachem and Steven Dannenmann keep playing but 6 hands into the heads up....it happens. In this hand there was a raise and a reraise, then the flop shows 6h 5d 4d. The turn card is an A and both continue to raise and reraise until Steven Dannenmann is all in and is called by Joseph. Joseph shows 7c-3s giving him a straight and Steven has Ad 3c. The river card is the 4c so Steven Dannenmann goes out in 2nd place with $4,500,000 to boot and Joseph Hachem is the 2005 World Series of Poker champion! He became the recipient of a diamond bracelet and $7,500,000 for the win.

Event #43 July 11 - No Limit Hold'Em, 1-day event
Ron Kirk is the winner of Event #43 having tough competition from players like Erid Seidel and Marcel Luske. Ron picked up a gold WSOP bracelet and $321,520 for the victory. 863 players entered the event and the prize pool was $1,191,380.
#1 Ron Kirk -- $321,520
#2 Adam White -- $168,520
#3 Didier Leroy -- $95,725
#4 Alvin Horowitz -- $83,365
#5 Joe Bartholdi -- $71,445
#6 Erik Seidel -- $59,545
#7 Magnus Betmer -- $47,640
#8 Sherkhan Farnood -- $35,730
#9 Hasan Harajli -- $23,820
#10 Marcel Luske $13,100
Event #44 July 12 - No Limit Hold'Em, 1-day event
John Pires is the No Limit Hold'Em champion for Event #44. He can be one of few poker players in the world to wear a WSOP gold bracelet and also was rewarded with $220,935. 971 players entered this tournament and the prize pool was $882,505.
#1 John Pires -- $220,935
#2 Eli Balas -- $120,835
#3 Douglas Carli -- $70,690
#4 Mika Puro -- $61,855
#5 John Baerlen -- $53,015
#6 Mark Petrillo -- $44,180
#7 Matthew Milliken -- $35,345
#8 Haddad Gilles -- $26,510
#9 Carson Cashman -- $17,670
#10 Gerald L Reed -- $9,720
Event #45 July 13 No Limit Hold'Em, 1-day event
The winner for Event #45 was Willie Tann who graciously accepted his gold bracelet and $188,335. Not bad for a days work! 758 players entered this event and the prize pool was $697,360.
#1 Willie Tann -- $188,335
#2 Matthew Smith -- $98,675
#3 Thor Hansen -- $55,790
#4 Chris Short -- $48,815
#5 Gary Haglund -- $41,840
#6 Ravi Babber -- $34,870
#7 Ryan Jensen -- $27,895
#8 Bennett Cloud -- $20,920
#9 Jacob Zalewski -- $13,945
#10 Vanchau Nguyen -- $7,670