Home Online Casino Real Money
2009 WSOP Event Schedule WSOP TV Schedule Free Slot Games Site Map 3 Webmasters 2008 WSOP Europe

Event #1 | Event #2 | Event #3 | Caesar's Cup
Main Event Day 1A/1B | Day 2 | Day 3 | Day 4 | Final Table Player Bios | Day 5




All linked player names have free bios, courtesy of FullTiltPoker
World Series of Poker Europe
Caesar's Cup
Day 1
Buy-in: N/A
Start Date: September 25
Length: 1 day
Players: 16 total
Prize pool: A big 0 for this one, but complete bragging rights on who kicked who's butt

The World Series of Poker Europe Caesar's Cup has two teams involved. Team Europe made up of Annette Obrestad as captain, Peter Eastgate, Dario Minieri, Bertrand "Elky" Grospellier, Ilari Sahamies, Patrik Antonius, Gus Hansen and John Harvey &150 Betfair Qualifier. Then there is team Americas having Daniel Negreanu as its captain, Doyle Brunson, Phil Hellmuth, Phil Ivey, Huck Seed, John Juanda, Jennifer Harman and Barry Greenstein. (Greenstein was a last minute replacement for Chris Ferguson who chose not to participate.) This is the WSOP's equivalent to the Ryder Cup in golf. The competition began at 1:00 PM London time and ended when one team won four match victories. Everything was filmed for showing on ESPN and we can expect the airing to happen on February 7, 2010.

The European team came out the victors in the Caesar's Cup competition. They were successful in winning four of the seven matches held with the game being No Limit Hold'Em.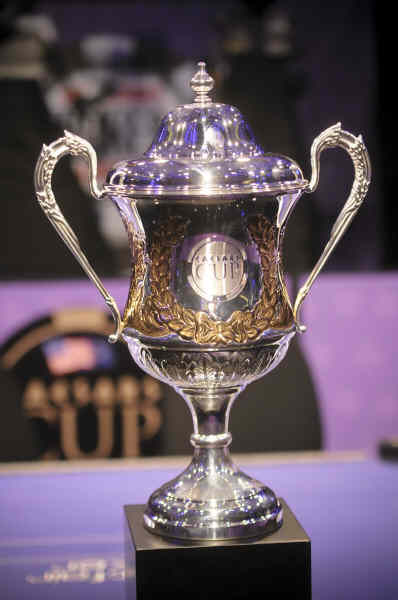 Caesars Cup Trophy

Here is the summary of the matches held by the WSOP: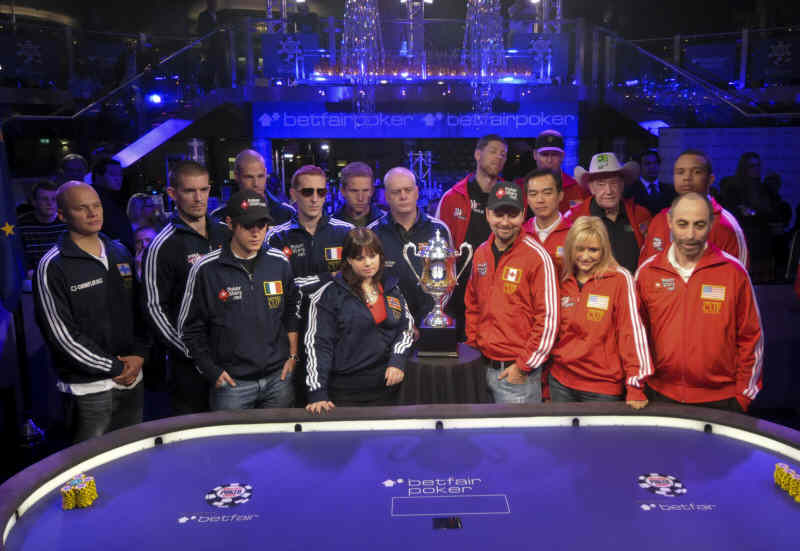 Top Players From Both Sides of the Pond Compete for the Caesars Cup
The first match saw Phil Ivey and Huck Seed from Team Americas competing against Patrik Antonius and Ilari "Ziigmund" Sahamies from Team Europe. Play lasted about an hour, during which the hyper-aggressiveness of the Europeans allowed them to seize the chip lead. Non-WSOP event winners to date, Antonius and Sahamies &150 both highly-respected cash-game players &150 ultimately defeated the two American poker greats, who hold a combined 11 gold bracelets between them. Europe led 1-0.

Fireworks were expected in the second match, given the combustible personalities of Team Americas members Daniel Negreanu and Phil Hellmuth. The pair did not disappoint. However, Euro-superstar Bertrad "Elky" Grospellier and Betfair's online qualifier John Harvey, stole the show and ended up with the win. After taking an early beat for more than half their chips, Team Americas was short-stacked. Then, about 30 minutes into play, Caesar Cup's most exciting hand occurred when the Europeans put a horrific beat on Negreanu and Hellmuth. John Harvey pushed all in pre-flop with A-3. Phil Hellmuth looked down and saw an ace, and immediately announced "I call." He then added, "I saw the ace of clubs and that's all I need to call." Incredibly, Hellmuth flipped over his second card -- another ace. It appeared Team America's would get a much-needed win holding such a dominant lead, which was A-A versus A-3. Then, disaster struck for Team Americas. The flop came K-4-2, giving Team Europe four cards to a straight. With all minds focused on a five, both team members rushed to the table. Kaboom! The five of diamonds rained down on the turn from the poker heavens, crushing Team Americas' chances of getting even, and temporarily muzzling two of poker's biggest yappers, Negreanu and Hellmuth. Europe led 2-0.

Later, when asked to comment about what was indisputably the most decisive hand of Caesars Cup, John Henry replied with his thick Scottish accent: "I quite like A-3 as a hand, yes I do. Of course, I had no idea I was facing up against (pocket) aces. When it come with a five, I said 'gee."

Winning the third match was critical for Team Americas, which seated poker legend Doyle "Texas Dolly" Brunson with Jennifer Harman. Team Europe sat Dario Minieri alongside Annette Obrestad. Despite the change of players, early on, it appeared Team Europe would take a decisive 3-0 edge when Minieri and Obrestad won a big pot holding A-8 versus A-6. But a short time later, the poker gods smiled and dealt out a massive apology to Team Americas following the pocket aces debacle which took place the previous match. This time, Brunson and Harman were dealt A-A. Their all-in raise was called and Team Americas ended up making quad-aces on a monster hand. The Europeans went bust a few hands later, making the score 2-1 still in their favor.

Match four bestowed yet another intriguing face off. John Juanda teamed with Barry Greenstein, representing Team Americas. Gus Hansen and Peter Eastgate provided a formidable obstacle as the European contingent. This ended up being a short match, ending in just 18 minutes. Outchipped, Barry Greenstein made a raise with K-Q. Gus Hansen moved all-in with A-8. Greenstein made a crying call. Neither player improved, which meant the ace-high played. Chalk up another victory for Team Europe, which lead 3-1.

The format was changed for the fifth match. Single-player heads-up play replaced the two-players to a hand format. Team Americas picked 1996 world champion Huck Seed to face 2007 WSOPE Main Event winner Annette Obrestad. It took only nine minutes for Team Europe to pound the final nail in Team Americas' coffin. After Obrestad took most of Seed's chips holding top pair (Seed had a pair with a flush draw, which missed), on the final hand Obrestad was dealt A-7 against Seed's A-3. Obrestad hit a seven and made nines-full-of sevens on the river to scoop the final pot of the match and lock up an impressive victory. Final score, Team Europe 4, Team Americas 1.

The members of Team Europe were jubilant afterward, in contrast to Team America, which was visibly shocked and disappointed. The visitors were not only dissatisfied with the results. They were stunned by the lopsided score and relative ease by which the Europeans achieved their victory.

The early buzz following the result is a mix of conjecture suggesting many young online and cash game specialists are indeed the world's best poker players. Many of these players may not be as well-known to the poker community nor have the achieved proper name recognition of players like Brunson, Hellmuth, Negreanu, and so forth. Nonetheless, Team Europe's Caesars Cup victory is a testament to the fact that poker continues to change towards a much younger demographic. And one thing is for certain: It's not just an American game anymore.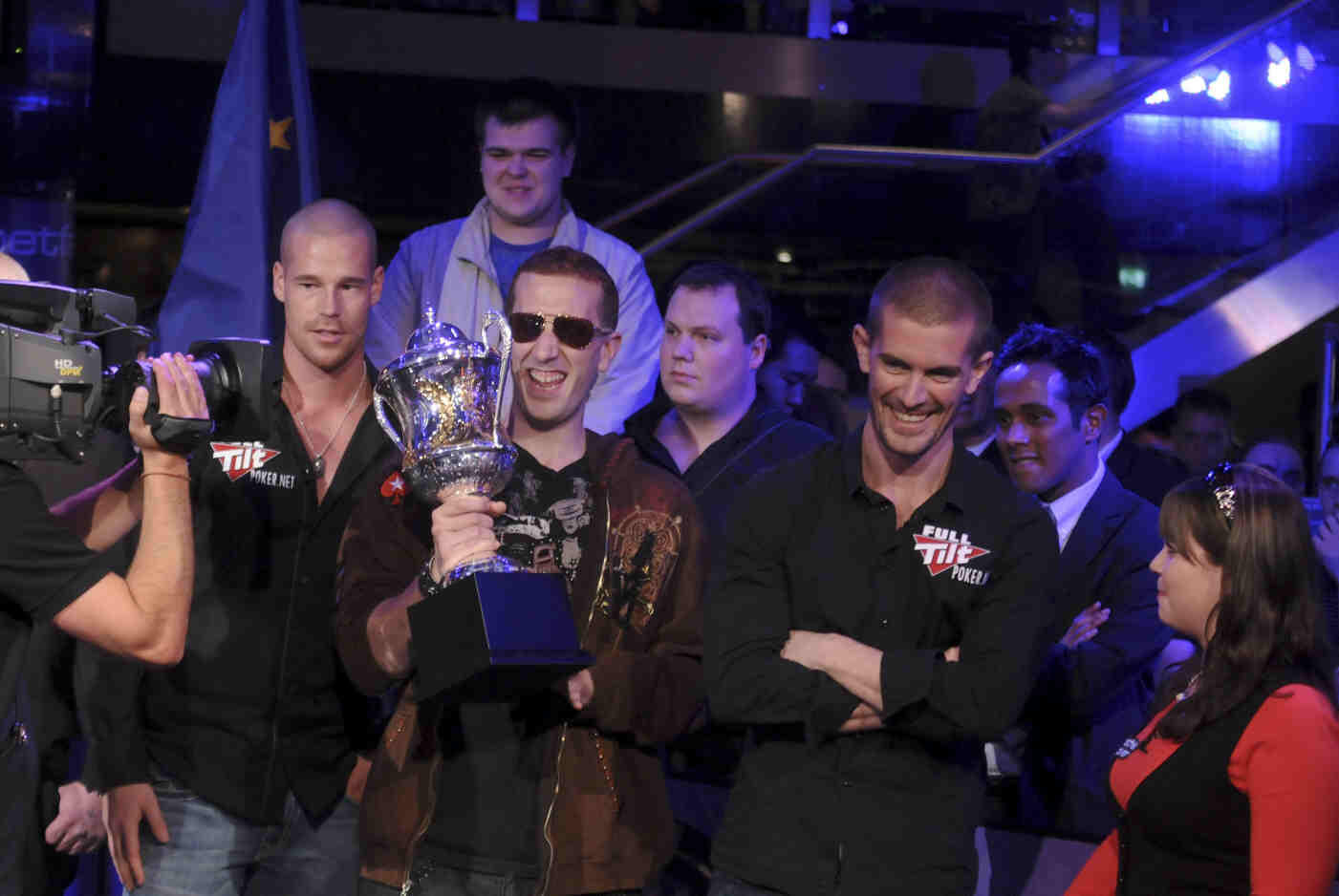 Members of Team Europe were presented with the inaugural Caesars Cup, a large flashy silver-plated trophy which promises to become a coveted keepsake for winning teams in the future.

There is no official word on the future of Caesars Cup. However, based on the turnout in London, and overwhelmingly positive player and fan reactions to the format, one expects to see more discussion about the Caesars Cup as an annual event.
Photo credit: IMPDI 2009