Home Online Casino Real Money
2009 WSOP Event Schedule WSOP TV Schedule Free Slot Games Site Map 3 Webmasters 2008 WSOP Europe

Event #1 | Event #2 | Event #3 | Caesar's Cup
Main Event Day 1A/1B | Day 2 | Day 3 | Day 4 | Final Table Player Bios | Day 5




All linked player names have free bios, courtesy of FullTiltPoker
World Series of Poker Europe
Main Event Day 5
Buy-in: &pound10;,000 + &pound350; ($16574.45 USD)
Start Date: September 26
Length: 5-day event/2 start days
Players: 178
Prize pool: &pound3;,340,000 ($5,348,677 USD)
(2009 WSOP Gold Bracelet Event: 61)

News on the other 57 WSOP events is available, just click on the Site Map 3 link to see a list of the reports with pictures of the new champions.

Main Event Day 5
Action is underway at the final table at 12 noon London time. Play continues with 10,000/20,000 blinds and a 3,000 ante. 55:06 remains in Level 22. James Akenhead has taken a serious hit to the stack and is down over 450,000 from his starting amount of 1,361,000. Barry Shulman is up to 1.5 million, Praz Bansi down to 866,000, Markus Ristola just breached the 1 million chip mark and Daniel Negreanu has vaulted over many players and is now at 1,758,000 from his short stack starting amount of 498,000. Looks like the 4 time WSOP bracelet holder is using his experience and lots of aggressiveness to bulldoze the other players. Actually, he is being very aggressive and not being shy about it. He is still jovial, but it's combined with an 'after the blood has been spilled' kind of aura.

5:02 PM UK Time -- Action is taking place at level 24 with blinds at 15,000/30,000 with an ante of 4,000. No busts yet, but James Akenhead and Antoine Saout have had the poker angel give them the thumbs down on a short term basis with chip stacks of 575,000 and 517,000 respectively. Matt Hawrilenko hasn't done much as he began with 571,000 and is currently at 504,000. James Mercier has climbed back to the 2.6 million level while others are relatively unchanged from the last update. Stick with us folks as many are saying we will be here a long time. But can you really expect less of this level of players?

5:25 PM -- Big hand took place between Jason Mercier and Daniel Negreanu. Detail are hard to come by right now but after the dust settled, Mericier was up to 3,734,000 and Negreanu fell to 1,110,000.

Follow up on the Mercier and Negreanu hand. Negreanu bet big with pocket Q's and was called by Mercier who was holding pocket A's. He soon read Mercier and folded but not before the big time loss.

5:48 PM -- First bustout in 9th place is James Akenhead! Akenhead went all-in preflop with A Q and was called by Mercier holding pocket K's that held up to the river. After Akenhead made his move and was called, the board showed J 6 4 9 Q, ending a fantastic performance by the UK player.

6:40 PM -- Matt Hawrilenko in 8th, Antoine Saout in 7th and Chris Bjorin in 6th Play is now at level 25 with blinds at 20,000/40,000 and a 5,000 ante once the 1,000 chips were removed from the table. Recently Matt Hawrilenko lost the balance of his stack for an 8th place finish. Hawrilenko pushed in preflop with J 7 offsuit and was called by Barry Shulman holding A Q. Demise came forth to the table as 3 10 3 6 8, giving the win and the chips to Shulman. After that Antoine Saout was removed from his seat by Daniel Negreanu for a 7th place finish in the WSOPE Main Event. Saout pushed to the center preflop with pocket 5's and was called by Negreanu with A Q of spades. Next the dealer tabled 8s 10s 4c 2d 7s, giving the win to Negreanu with an Ace high flush. Chris Bjorin was also busted in 6th place during a tangle with Daniel Negreanu. Bjorin went all-in preflop with A J and was called by Negreanu with A Q. What hit the table was 10 9 3 K 9 which allowed Negreanu to take it down with a Queen kicker.

7:20 PM -- Markus Ristola has just been eliminated by Daniel Negreanu in 5th place. Negreanu opened for 100K preflop and was called by Ristola who tabled K 10 of diamonds. Negreanu showed a A 5 of clubs. The flop revealed 8 Q 6, turn card a K and the river was and A allowing Negreanu to pair his Ace card and win the hand. Soon the players will stop for a 90 minute dinner break. Here are the latest chip counts from the remaining players:
Praz Bansi -- 2,925,000
Daniel Negreanu -- 2,865,000
Jason Mercier -- 2,320,000
Barry Shulman -- 1,925,000
9:40 PM -- After lunch, Praz Bansi hit on a couple of good hands against Barry Shulman to vault up to 3,975,000 in chips. Needless to say the UK crowd was cheering for their home player, now that Akenhead is gone. Action will soon level up to 26 where blinds are 25,500/50,000 with an ante of 5,000.

10:32 PM -- Jason Mercier in 4th Most of the action was between Bansi and Shulman from the last update until now. Then a hand came where Negreanu raised, Shulman called the raise and Jason Mercier who had chips dwindling from his pile, went all-in with 1,670,000 preflop. Negreanu called and Shulman immediately folded to get out of the way. Negreanu had pocket 9's to the pocket 7's of Mercier. The dealer dealt J K 3 Q 3, which was enough to put the former chip leader into a 4th place finish for the Main Event.

11:35 PM -- Praz Bansi finishes in 3rd place What happened is that Bansi went all-in and Negreanu called. Bansi had Q 2 suited and Negreanu revealed A Q. The dealer laid on the felt 4 8 4 J 6, resulting in Negreanu winning by an Ace kicker. The crowd went from very vocal "Ooooh!, Ooooh!" each time a card was laid down to a standing ovation for the UK player known as Pras Bansi. So now it is heads up between Barry Shulman and Daniel Negreanu. Shulman has 3,885,000 in front of him and Negreanu has a massive 6,180,000.

1:09 AM October 2, 2009 -- The heads up has been comprised of mostly passing 200,000 to 300,000 back and forth between the players. But just recently in a sick hand, Barry Shulman took A 5 of hearts and bet big which was called by Daniel Negreanu with pocket A's. By the river another Ace card fell, but so did three more heart cards which gave Shulman an Ace high flush. The reward...over 3.8 million chips coming over to Shulman. Chip count is now Barry Shulman 6,760,000 and Daniel Negreanu with 3,275,000.

4:27 AM -- They are still at it although the chip stack is in favor of Barry Shulman, who currently has 8,020,000 chips to Daniel Negreanu with 2,015,000. But Negreanu at one point was down to 1.435 million chips. You have to give Daniel credit for the fearlessness that he has had for the high number of all-in moves that have taken place in this heads up. Play is at level 29 with blinds of 50,000/100,000 and ante of 10,000. Normally with this many chips that won't impact you, except in a heads up situation.

5:25 AM -- Barry Shulman Wins The WSOPE Main Event, Daniel Negreanu comes in 2nd This ending was incredible! Negreanu worked his way back up to over 5.3 million in chips and then Shulman with 4.7 million went all-in after seeing a flop of 5 8 J. Negreanu turned to the rail and said, "You all want to go home now right?" Then he decided to not listen to the sleepy railbirds and called the all-in. Negreanu showed Q J and Shulman turned over pocket A's. The turn card was a J, awakening the crowd but the river was an Ace. This put Shulman over 8 million chips and Negreanu under 2 million.

The next and final hand had Negreanu all-in with pocket 4's and Shulman calling with pocket 10's. Another 10 on the flop sealed the bracelet for Shulman as the remaining cards bricked. And with that Barry Shulman becomes the WSOPE Main Event champion.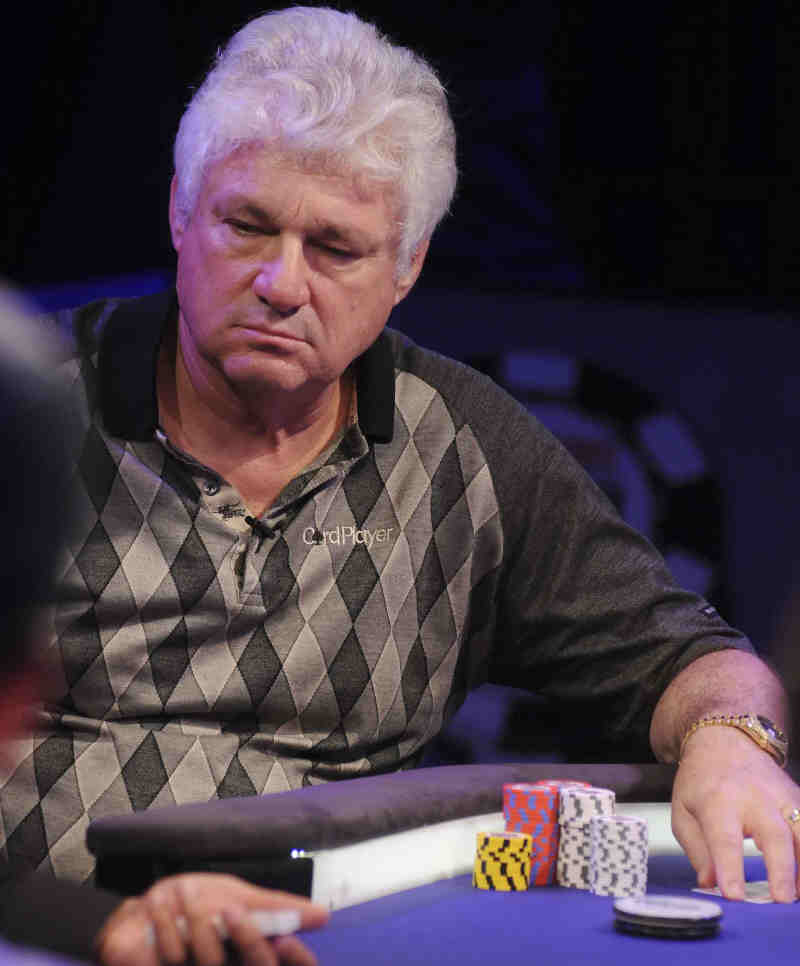 2009 WSOP Europe Main Event Champion Barry Shulman

Top 36 finishers and Main Event Champion:
Barry Shulman -- &pound801;,603 ($1,283,684.15 USD)
Daniel Negreanu -- &pound495;,589 ($793,634.43 USD)
Praz Bansi -- &pound360;,887 ($577,923.14 USD)
Jason Mercier -- &pound267;,267 ($428,000.41 USD)
Markus Ristola -- &pound200;,367 ($320,866.99 USD)
Chris Bjorin -- &pound150;,267 ($240,637.03 USD)
Antoine Saout -- &pound114;,228 ($182,924.31 USD)
Matt Hawrilenko -- &pound87;,074 ($139,439.99 USD)
James Akenhead -- &pound66;,533 ($106,545.71 USD)
Eric Liu -- &pound51;,536 ($82,277.47 USD)
Keith Hawkins -- &pound51;,536 ($82,277.47 USD)
Thomas Bichon -- &pound51;,536 ($82,277.47 USD)
Tony Cousineau -- &pound40;,481 ($64,628.11 USD)
Teddy Sheringham -- &pound40;,481 ($64,628.11 USD)
Ram Vaswani -- &pound40;,481 ($64,628.11 USD)
Saar Wilf -- &pound32;,198 ($51,404.26 USD)
Doyle Brunson -- &pound32;,198 ($51,404.26 USD)
Craig Burgess -- &pound32;,198 ($51,404.26 USD)
Sandor Demjan -- &pound25;,918 ($41,378.21 USD)
Steve Fung -- &pound25;,918 ($41,378.21 USD)
Konstantin Bacherl -- &pound25;,918 ($41,378.21 USD)
Liz Lieu -- &pound25;,918 ($41,378.21 USD)
Arnaud Mattern -- &pound25;,918 ($41,378.21 USD)
Yevgeniv Timoshenko -- &pound25;,918 ($41,378.21 USD)
Peter Gould -- &pound25;,918 ($41,378.21 USD)
Andre Akkari -- &pound25;,918 ($41,378.21 USD)
Men "The Master" Nguyen -- &pound25;,918 ($41,378.21 USD)
Christian Harder -- &pound21;,142 ($33,753.30 USD)
John Kabbaj -- &pound21;,142 ($33,753.30 USD)
Christian Kruel -- &pound21;,142 ($33,753.30 USD)
Tommy Pavlicek -- &pound21;,142 ($33,753.30 USD)
Steve Zolotow -- &pound21;,142 ($33,753.30 USD)
Michael Fosco -- &pound21;,142 ($33,753.30 USD)
Oyvind Riisem -- &pound21;,142 ($33,753.30 USD)
David "Devilfish" Ulliott -- &pound21;,142 ($33,753.30 USD)
David Docherty -- &pound21;,142 ($33,753.30 USD)
Photo credit: IMPDI 2009