Home Online Casino Real Money
2009 WSOP Event Schedule WSOP TV Schedule Free Slot Games Site Map 3 Webmasters 2008 WSOP Europe

Event #1 | Event #2 | Event #3 | Caesar's Cup
Main Event Day 1A/1B | Day 2 | Day 3 | Day 4 | Final Table Player Bios | Day 5




WSOP Online is For Non-US Players Only...For Now
World Series of Poker Europe
Main Event Day 1A and 1B
Buy-in: &pound10;,000 + &pound350; ($16574.45 USD)
Start Date: September 26
Length: 5-day event/2 start days
Players: Day 1A had 156, Day 1B had 178. 334 in total
Prize pool: &pound3;,340,000 ($5,348,677 USD)
(2009 WSOP Gold Bracelet Event: 61)

The World Series of Poker Europe Main Event will have the first day split up into Day 1A and Day 1B. From that point it will progress into days 2, 3 and 4 with the final table on the last day to determine the champion. As in the 2009 WSOP Main Event held at the RIO in Las Vegas, Nevada, many top names in the game will come from casinos all over the country like the Rainbow, Gutshot Card Club, The Sandcastle, Gala, Grosvenor, Ladbroke, Stanley, Rendezvous, Napoleon's and the Avation Club de France in Paris, France where games like No Limit Hold'Em are becoming increasingly popular. Many casinos in Canada have also helped to popularize Texas No Limit Hold'Em such as Boulevard, Riverock, Baccarat, Cash and the Great Canadian Casinos, so it will be very nice to see Canadian players in the field as well. And also to be thanked are the Spielbank casinos of Germany for hosting huge poker tournaments. Even more exciting, will be to see how many other countries from around the planet are represented at the tables by highly talented and determined players.

If you want to catch up on who won bracelets in the other 57 WSOP events, just click on the Site Map 3 link to see a list of the reports with pictures of the new champions.

Main Event Day 1A
Beginning at 12 noon, the Main Event will have everyone starting with 30,000 in poker chips on both days 1A and 1B, with the field playing for 6 levels lasting 90 minutes each. If on Day 1A the field is not down to 100 players then play will continue until it happens. Day 1B will play for the exact same time as Day 1A. The dinner break will be for 90 minutes and happen after level 4 play.

Days 2 to 5 will begin at 5:30 PM and play for 4 levels, with no scheduled dinner break on Day 2.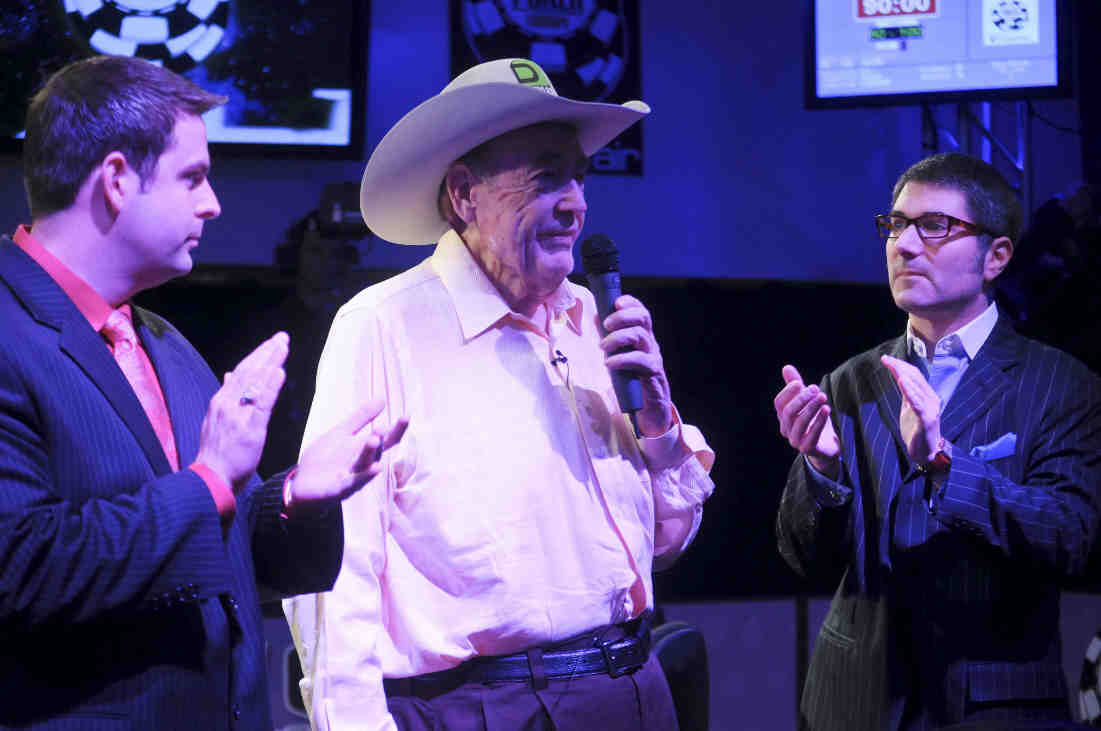 With Doyle Brunson giving the word to "Shuffle Up and Deal" at 12:15 PM, the Main Event is underway! Seen in the 156 person field on Day 1A are Phil Ivey, Christopher Moorman, Andy Black, David Pham, Erik Seidel, Ben Grundy, Mike Matusow, Beth Shak, Nikolay Evdakov, James Akenhead, Markus Golser, Sean Deeb, Men "The Master" Nguyen, Jeff Madsen, Richard Kellett, Christian Harder, Chad Brown, Robert Mizrachi, Huck Seed, Barney Boatman, Victoria Coren, Roland De Wolfe, Steven Begleiter, Bruno Fituossi, Ludovic Lacay, Liz Lieu, Hoyt Corkins, John Kabbaj, Martin Wendt, Raymond Rahme and Allen Cunningham just to name a few.

And now here is a video that we hope you are ready for........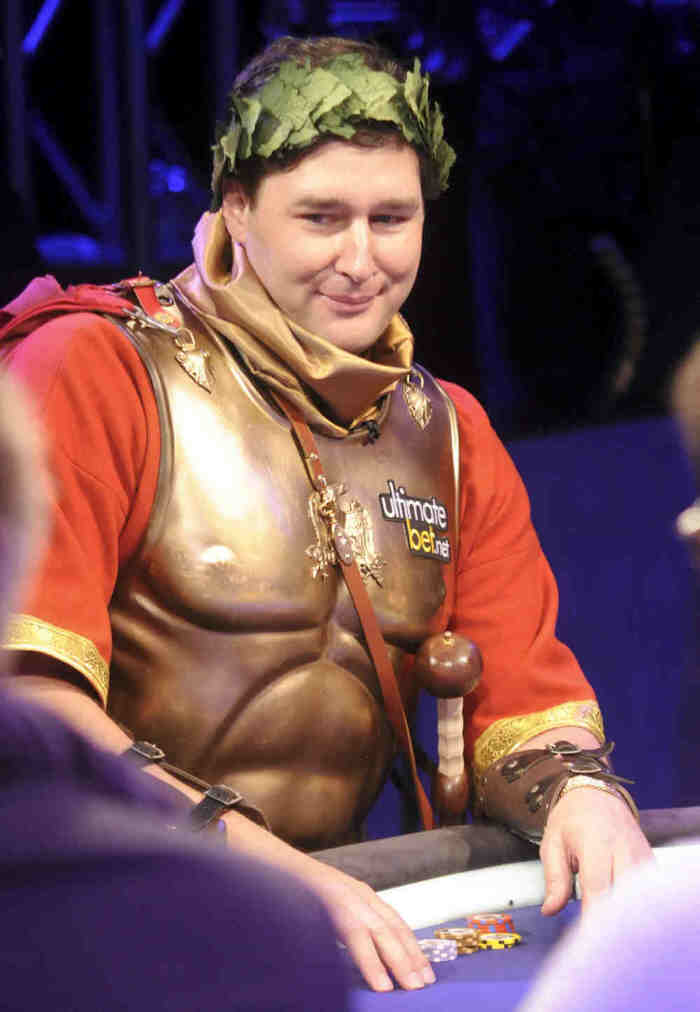 Phil Hellmuth Jr. also came to the fray, fashionably dressed in ancient Roman attire on a chariot. The chariot stopped outside of Leicester Square, where he got off and was escorted by men in armor and scantily clad women to the tables. Within 2 hours of sitting down to play, Hellmuth is down to less than 14,000 chips. Ivey is back up to 18,000 and Huck Seed may be an bust as he is down to 2,700 remaining. But Bruno Fituossi is up to 47,000, James Akenhead at 51,000, Markus Golser at 40,000 and David "Viffer" Peat the chip leader with 60,000. After 3 1/2 hours, the action is at level 3 with blinds at $150/$300 with no ante. Level 4 will have blinds at $150/$300 and a $25 ante. Not much pressure today.

Ludovic Lacay is going back to France after meeting the pocket Q's of Mike Matusow. Phil Hellmuth has doubled up to 25,000 after winning with a 10 high straight. Christopher Moorman is also gone after Richard Kellett paired his Ace card, winning the hand. Andy Bloch was eliminated after his pocket 2's were crushed by the Broadway straight (A thru 10) of another player. Just before dinner break here are the top 9 players:
Jonathan Aguiar -- 108,000
Andy Black -- 87,000
Richard Grace -- 75,000
David "Viffer" Peat -- 72,000
Jason Mercier -- 70,000
Chad Brown -- 65,000
Brandon Cantu -- 65,000
David Docherty -- 60,000
Joe Beevers -- 60,000
Phil Ivey also busted out after his straight was overcome by the Ace high flush of Erik Friberg. Following Ivey to the sidelines are Patrick Antonius, Barney Boatman, Albert Iversen, Huck Seed, Richard Kellett, Mark Teltscher, Steven Begleiter and David Pham. Still at the tables are Doyle Brunson with 16,225, Phil Hellmuth 23,950, James Akenhead 50,500, Liz Lieu 50,000, Ben Grundy 48,000, Nick Schulman 45,000 and Alex Kravchenko 41,000.

As the field came to level 6 with blinds of $250/$500 and ante of $50, more players have busted and the stacks of the survivors have grown. The new chip leader at this point is Brian Powell with 148,000 chips. Others like Todd Brunson 64,050, Ian Frazer 43,000, Doyle Brunson 31,000 and 2009 WSOP Player of the Year Jeff Lisandro 40,800 are highly focused on making the cut to Day 2. Roland DeWolfe will not be there as his set of J's lost out to the Broadway straight of Martin Hansen. A set of 7's did not help Hoyt Corkins either as his opponent made a 7 high straight on the flop, so Corkins rides off into the sunset. Ben Grundy is gone too as his pocket J's were beaten when Jason Mercier paired his King card. The list of the fallen also includes David "Viffer" Peat, James Sudworth, Mohammed Hassan, Vanessa Rousso, Jeff Madsen and Eugene Katchalov. At the end of the day there were 75 players left. Here are the top 9 with chip counts:
Brian Powell -- 194,600
Jason Mercier -- 189,725
Sami Kelopuro -- 168,925
Viktor Blom -- 163,175
Jonathan Aguiar -- 160,100
Martin Hansen -- 152,775
Christian Harder -- 134,125
Tommy Pavlicek -- 119,825
Richard Grace -- 116,850
Day 1B
Today will see another group of top notch players, (178 for Day 1B), take to the tables. Seen so far are Annette Obreatad, John Tabatabai, Barry Greenstein, Jesper Hougaard, Daniel Negreanu, Antonio Esfandiari, Jennifer Harman, William Thorson, Josh Arieh, David Oppenheim, Dennis Phillips, Martin Vallo, Ben Roberts, Praz Bansi, Nik Persaud, Ian Woodley, John Juanda, Wooka Kim, Steve Zolotow, Noah Boeken, Sorel Mizzi, Justin Smith, Brandon Adams, Carlos Mortensen, 2009 November Nine French player Antoine Saout, Roberto Romanello and Julian Thew.

Players seem to be a bit more careful than yesterday as after the first two hours, not a player has busted. And of course that was short lived with William Thorson leaving the tables after losing his chips. He is joined by Morten Erlandsen, Michael Greco, Neil Channing, EPT champion Michael Martin, J.C. Tran, Vitaly Lunkin, Jean Robert Bellande, all saddened after facing defeat. Top chip stacks are Ram Vaswani with 90,400, Eli Berg 71,300, Daniel Drescher 64,800, Samuel Chartier 61,300 and John Magill with 60,000 in front of him. But then everyone perked up when the payout schedule came out. Prize pool reached &pound3;,340,000 ($5,348,677 USD)Money will go to the top 36 finishers. Here is what the final table will receive:
&pound801;,603 ($1,283,684.15 USD)
&pound495;,589 ($793,634.43 USD)
&pound360;,887 ($577,923.14 USD)
&pound267;,267 ($428,000.41 USD)
&pound200;,367 ($320,866.99 USD)
&pound150;,267 ($240,637.03 USD)
&pound114;,228 ($182,924.31 USD)
&pound87;,074 ($139,439.99 USD)
&pound66;,533 ($106,545.71 USD)
Currently players are on their last 20 min break before the start of level 6 which is the last level to be played. Level 6 has blinds of $250/$500 and ante of $50. During this time period, Jesper Hougaard lost his all-in battle with pocket 10's when his opponent paired his Ace card on the river and now has an official status of "busted". Also Robert Williamson III, 2008 Main Event Champion Peter Eastgate, Nenad Medic, Howard Lederer, Scott Fischman, Sorel Mizzi, Joe Sebok, Alec Torelli and Jennifer Harman are no longer with us. When all was said and done, there were 103 remaining. This means that 178 players will move on to Day 2. Here are the top 9 with chip counts of the combined fields 1A and 1B: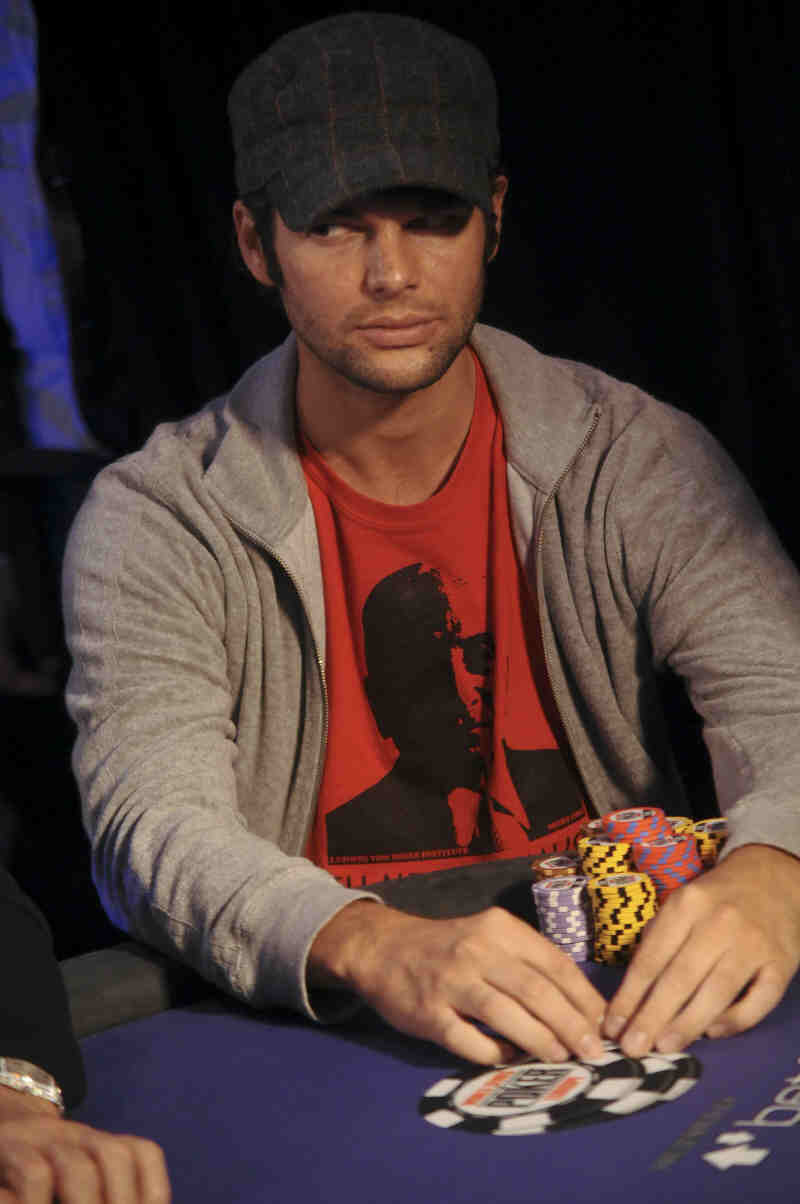 Day 1B Chip Leader Brian Powell
Brian Powell -- 194600
Jason Mercier -- 189725
Sami Kelopuro -- 168925
Steve Zolotow -- 166825
Viktor Blom -- 163175
Jonathan Aguiar -- 160100
Praz Bansi -- 155450
Martin Hansen -- 152775
Antoine Saout -- 144400
Other players that will go on to Day 2 are Ram Vaswani 113625, John Kabbaj 104500, Doyle Brunson 92900, Brandon Cantu 89000, Daniel Negreanu 88925, Jani Vilmunen 80650, James Akenhead 77675, Matt Hawrilenko 73175, Tommy Vedes 72625 and Freddy Deeb 56900. This group will begin at 5:30 PM London time and play for 4 levels without dinner to get down to 27 players.

Photo credit: IMPDI 2009