Home Online Casino Real Money
2009 WSOP Event Schedule WSOP TV Schedule Free Slot Games Site Map 3 Webmasters 2008 WSOP Europe

Event #1 | Event #2 | Event #3 | Caesar's Cup
Main Event Day 1A/1B | Day 2 | Day 3 | Day 4 | Final Table Player Bios | Day 5




Available only to non-US players at this time
World Series of Poker Europe Event #2
Pot Limit Hold'em/Pot-Limit Omaha
Day 1
Buy-in: &pound2;,500 + &pound150; ($4,329.85 USD)
Start Date: September 21
Length: 3-day event
Players: 158
Prize pool: &pound395;,000 ($645,392.91 USD)
(2009 WSOP Gold Bracelet Event: 59)

All entrants will receive 7,500 poker chips in their starting stack. A total of 10 levels of play will be completed on Day 1 with each level lasting 60 minutes. Because there are two games that will be played, the game will change every 9 hands. Dinner break on Day 1 will take place after the completion of level 6 and last for 90 minutes. Day 2 will see action continue until the final table is determined with Day 3 establishing the champion for this event.

Capacity for this tournament event is 252 max, so if this is well attended it will be interesting to see what they will do for any overflow of players. As a matter of fact, Event #1 set an new record for poker tournaments in London with 608 entrants. Some of the faces in the field are Men "The Master" Nguyen, Ian Frazer, Annette Obrestad, Chris Bjorin, Sherkhan Farnood, John Kabbaj, Marc Goodwin, Huck Seed, Sandra Naujoks, Hoyt Corkins, Howard Lederer, Allie Prescott, Doyle Brunson, Yuval Bronshtein, Max Pescatori, Barney Boatman, Phil Ivey, Barry Greenstein, Brandon Cantu, Vitaly Lunkin, Neil Channing, Julian Gardener, Michael Greco, Roland De Wolfe, Mike Ellis, Marty Smyth, Phil Hellmuth Jr., Nikolay Evdakov, Tony Cousineau and Erik Cajelais.


By the time the 1st level ended, it was obvious that the field was small in number (158) but huge in talent. AmErika's Pot Limit Omaha king Robert Williamson III is there along with highly successful UK cash player Ben Roberts. When they did get into a hand Robert Williamson III came out the winner against Ben Roberts, sending Ben to the rail for a cold one. So pretty much you would want to be on the sidelines and not at the tables for this event. Annette Obrestad smashed a few stacks to quickly become chip leader at one point with 26,500 in her stack. Juha Helppi lost his chips and is now on the rail. Phil Hellmuth and Phil Ivey also were eliminated early on as well.

The prize pool reached &pound395;,000 and will be divided between the top 18 finishers with the champion pocketing &pound104;,667. Other players who are now among the fallen are Jeff Kimber, Mike Matusow, Doyle Brunson, Jeff Madsen and Neil Channing. When the field got down to 22 players, tournament officials said it was time to bag the chips and come back tomorrow. Here are the top 9 with chip counts:
Erik Cajelais -- 144,900
Tristan Clemencom -- 118,400
Allie Prescott -- 88,100
Hoyt Corkins -- 80,600
Men "The Master" Nguyen -- 75,800
Mats Gavatin -- 66,900
Harry Suni -- 66,500
Dino Brivati -- 58,400
Brian Johnson -- 58,400
Day 2
Well to start with, here is the payout schedule for the final table in pounds and dollars:
&pound104;,677 ($171,167.83 USD)
&pound64;,705 ($105,805.62 USD)
&pound47;,858 ($78,195.48 USD)
&pound35;,412 ($57,859.88 USD)
&pound26;,619 ($43,492.95 USD)
&pound20;,106 ($32,851.32 USD)
&pound15;,302 ($25,002.03 USD)
&pound11;,732 ($19,168.99 USD)
&pound9;,117 ($14,896.32 USD)
Late yesterday, the tournament officials stated that there is a possibility that this event could end today instead of going the full 3 days. But once the tournament got going, players were very careful with their hands, probably because payouts begin at position 18 and there are 22 in the field. The day started at 2:00 PM in London, but it took 1 1/2 hours for the first bust to occur. And then play went hand-for-hand for an hour until 3 more busts took place and players were in the money. Chip stacks of the top 9 in the field when the money was made looked like this:
Mats Gavatin -- 160,000
Erik Cajelais -- 127,000
Men "The Master" Nguyen -- 125,000
Hoyt Corkins and Tristan Clemencom -- 90,000
Dino Brivati -- 67,000
Allie Prescott -- 52,000
Robin Keston -- 51,000
Richard Gryko -- 50,000
Vitaly Lunkin busted in 17th place after losing a huge portion of his stack to Howard Lederer a couple of hands ago. Following him were Brian Johnson in 16th, Harry Suni in 15th and Tristan Clemencom in 14th. By then it was dinner time and players took a 60 minute break.

After dinner the eliminations continued. Mats Gavatin removed both Allie Prescott in 13th and Michael Abecassis in 12th from their chairs simultaneously with an Ace high flush. Dino Brivati went out in 11th and Nikolay Evdakov finished in 10th. Howard Lederer finished in 9th after meeting the crushing quad Aces belonging to Mats Gavatin. An eighth place finish was in the cards for Ian Frazer when his K Q suited received a blow after Richard Gryko paired his 6 card. In 7th, was Hoyt Corkins who lost to the King kicker of Richard Gryko. Chris Bjorin also became a victim of Gryko after he could not overcome the full house Gryko made on the river (K's/Q's), sending Bjorin off to pick up the money for a 6th place finish. After that the tournament officials decided to end play and the remaining 5 players will come back for a final table tomorrow at 2:00 PM. Here are the players with chip counts:

Pot-Limit championship at WSOP Europe in London down to the final five players
Mats Gavatin -- 448,000
Richard Gryko -- 329,000
Men "The Master" Nguyen -- 268,000
Erik Cajelais -- 81,000
Robin Keston -- 63,000
Day 3 Final Table
Well we hope you like incredible poker stories, because you've got a good one here! At 2:15 PM the final table got underway and it took less than 3 hours to determine who became the latest WSOP gold bracelet champion. We will preface the action with (Omaha) or (Hold'Em) to give you a clearer picture of what happened. (Hold'Em) Erik Cajelais made a straight and doubled up 15 min into play, courtesy of Mats Gavatin. (Hold'Em) In 5th place was Richard Gryko after his all-in with K J suited was met with the A K of Erik Cajelais. (Hold'Em) Next to go in 4th place was Men "The Master" Nguyen who became another victim of Cajelais after he produced a Jack high straight to silence The Master. If Men had won this event, he would have been in a tie with Phil Hellmuth for the highest number of WSOP champion bracelets. (Hold'Em) The 3rd place finish goes to Robin Keston who lost to the set of Kings held by, you guessed it Cajelais.

(Omaha) Now it is heads up for the bracelet between Erik Cajelais with 1 million+ in his stack verses Mats Gavatin with 180,000. Cajelais is in complete monster mode, going from 81,000 to having over 1 million chips in front of him. After Gavatin doubled up, he moved all-in on the next hand preflop with 10 10 9 8 and was called by Cajelais with Q J 9 7. The flop showed A Q Q, turn card a A with a river of J. So with a full house (Q's/A's), Erik Cajelais pulls off one of the most incredible comebacks of this year's WSOP and has the bracelet to prove it! Now this is being taped by ESPN, and we hope it will be televised, just keep your fingers crossed.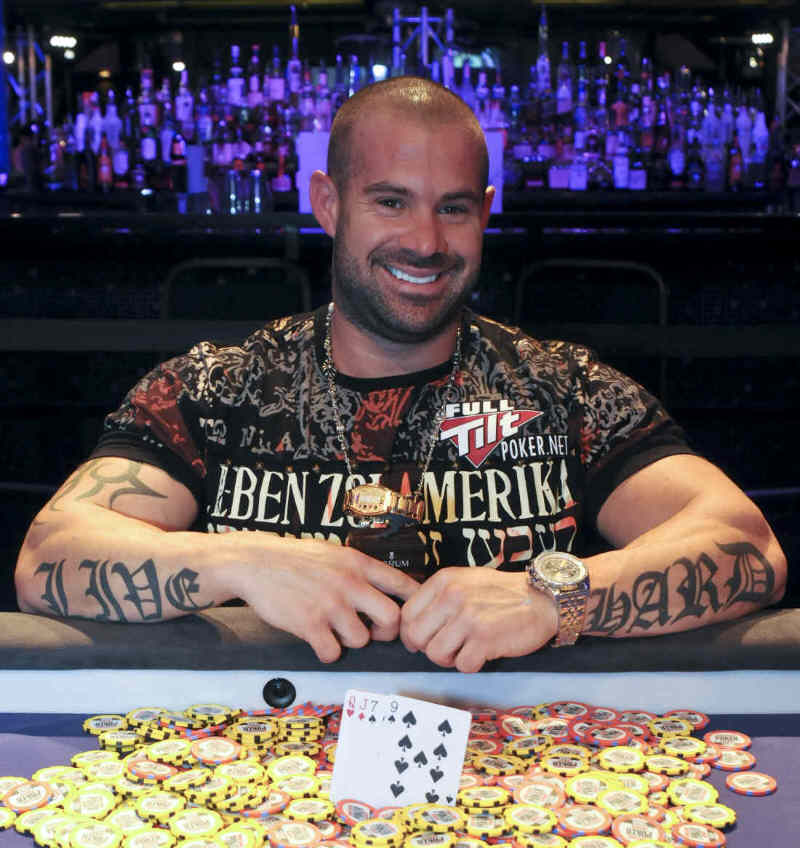 Event #2 Champion Erik Cajelais with bracelet on his chain
Erik Cajelais -- &pound104;,677 ($171,167.83 USD)
Mats Gavatin -- &pound64;,705 ($105,805.62 USD)
Robin Keston -- &pound47;,858 ($78,195.48 USD)
Men "The Master" Nguyen -- &pound35;,412 ($57,859.88 USD)
Richard Gryko -- &pound26;,619 ($43,492.95 USD)
Photo credit: IMPDI 2009