Home
World Poker Tour
2009 World Series of Poker
2008 WSOP Event Schedule and Reports
WSOP Archives
2009 World Series of Poker Europe

2008 World Series of Poker Europe Event 1
Event #1 | Event #2 | Event #3 | Main Event

Event 1 Day 1A
The kickoff event is No Limit Hold'Em which had 191 entrants for Day 1A. Whoever the champion is will receive a gold bracelet to denote their accomplishment. Buy in was £1,500 pounds Sterling ($2,755 USD) and had a number of top players in the field. Names such as John Kabbaj, Ben Grundy, John Juanda, Surinder Sunar, Vitaly Lunkin and Eric Seidel coming from nations such as the United States, UK, Germany, Russia, Sweden, Italy, Canada. In short they are coming from all over the globe to play in this tournament. Players started with 6,000 in tournament chips. Starting blinds were 25-50. Day Ones included eight levels. Each level was one hour in length.

There were 42 remaining at the end of the day. And they will take a rest while the players for Day 1B come to the tables. We will publish the payouts when the WSOP lets us know what they are. Here are the top 9 leaders on Day 1A:
Daniel Negreanu -- 74,900
Jason Gray -- 72,800
David La Ronde -- 57,000
Branson Cantu -- 54,200
Willie Tann -- 52,500
Yevgeniy Timoschenko -- 50,800
Michael Bepper -- 49,500
Tim Pennington -- 43,300
Carl Hostrup -- 38,700
Event 1 Day 1B
An additional 219 players showed up for Day 1B, making a total of 410 in this event. Total prize pool reached £615,000 pounds with money going to the top 45 finishers. First place will receive £144,218 for their efforts. And remember that no achievements will be slighted as all WSOPE results are included in WSOP records -- including all-time wins, cashes, final table appearances, etc.

Several notable former WSOP gold bracelet winners and poker pros played in Event 1 -- Day 1-B. This list included Phil Hellmuth, John Phan, Jean-Robert Bellande, Michael Binger, Howard Lederer, Jeff Madsen, Sorel Mizzi, David Williams, Davil "Devil Fish" Ulliott, Andrew Black, Andreas Krause, Andy Bloch, Ben Roberts, Jeffrey Lisandro, Annette Obrestad who won the Main Event last year, John Juanda, Mike Matusow, Melissa Hayden, Allen Cunningham, Robert Williamson III, Jennifer Tilly, Phil Laak, Mickey Wernick, and many others. The payout schedule is as follows:
£144,218
£89,175
£55,350
£44,588
£36,285
£28,598
£22,448
£17,835
£13,222
Play began at 1:00 pm and ended at 12 midnight, at the conclusion of Level 8. At the end of Day 1B there were 88 players that will move on to Day 2. Here are the top players with chip counts as of Day 1B:
Adam Junglen -- 84,200
Daniel Nutt -- 74,500
Remy Biechel -- 65,500
James Akenhead -- 58,800
Costas Artemi -- 57,300
Salim Ghozali -- 52,700
Phil Laak -- 50,000
F. Serhan -- 40,700
Event 1 Day 2
Here is the list of the final table players as given by the WSOP:
Adam Junglen -- 795,000
John Dwyer -- 511,000
Yevgeniy Timoshenko -- 345,000
Daniel Nutt -- 207,000
Neil "Bad Beat" Channing -- 199,000
Ian Woodley -- 153,000
Linda Lee -- 121,000
Jesper Hougaard -- 89,000
Fuad Serhan -- 61,000
Event 1 Final Table
Here is the WSOP summary on what took place at the final table:

The champion is Jesper Hougaard. Hougaard is a 24-year-old professional poker player. Hougaard's victory means he now becomes the first player in history to win WSOP gold bracelets on both sides of the Atlantic. He won his first WSOP title in Las Vegas. This victory occurred in London. Hougaard collected first place prize money totaling £144,218, equivalent to about $264,019 in US dollars.

Hougaard won his way into this tournament by winning a poker "boot camp" sponsored by Betfair. The popular poker site agreed to give the second-place finisher in that same boot camp 50 percent of whatever prize money was earned by Hougaard. The name of the lucky player has not yet been released. However, he/she is now £72,109 richer – thanks to Huogaard and Betfair.

When Hougaard was heads up against Fuad Serhan, the Dane enjoyed a 4 to 1 chip advantage over his opponent. However, on what turned out to be the final hand of the tournament, Serhan held a huge advantage. With about 500,000 in chips invested in the pot, Serhan had A-K versus Hougaard's A-J (two diamonds). The flop was a horrible beat for Serhan, as three diamonds fell – giving Hougaard a flush. Serhan was left drawing dead while Hougaard won WSOP victory number two.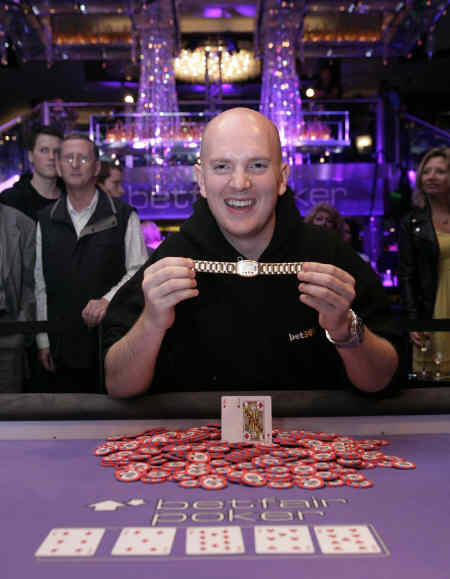 Event #1 Champion Jesper Hougaard
Jesper Hougaard -- £144,218
Fuad Serhan -- £89,175
Yevgeniy Timoshenko -- £55,350
Neil "Bad Beat" Channing -- £44,588
John Dwyer -- £36,285
Adam Junglen -- £28,598
Linda Lee -- £22,448
Ian Woodley -- £17,835
Daniel Nutt -- £13,222