Home
World Poker Tour
2009 World Series of Poker
2008 WSOP Event Schedule and Reports
WSOP Archives
2009 World Series of Poker Europe

2008 World Series of Poker Europe Event 3
Event #1 | Event #2 | Event #3 | Main Event
Event 3 -- Pot Limit Omaha Day 1

For the third event, there were 156 players at the tables who each paid 5,000 pounds a piece for the right. The cash pool of £825,000 will go to the top 18 finishers. But with the names in the field, getting to the top 18 positions will be hard fought. The tournament attracted 31 former WSOP gold bracelet winners including Josh Arieh, David Benyamine, Chris Bjorin, Doyle Brunson, Brandon Cantu, Allen Cunningham, Freddy Deeb, Eli Elezra, Sherkahn Farnood, Chris "Jesus" Ferguson, Layne Flack, Barry Greenstein, Thor Hansen, Phil Hellmuth, Dan Heimiller, Phil Ivey, John Juanda, Alexander Kravchenko, Ted Lawson, Jeff Madsen, Mike Matusow, Nenad Medic, Daniel Negreanu, WSOP Europe Main Event Champion Annette Oberstad, Max Pescatori, John Phan, Erik Seidel, David "Devilfish" Ulliott, Jen Voertmann, David Williams and the King of Omaha Robert Williamson III.

By the end of the day, there were 56 players left to move on to Day 2. Here are the top 9 players with chip counts:
Phil Ivey -- 59,200
Phil Hellmuth -- 54,200
Woody Deck -- 37,500
Bruce Yamron -- 34,700
Erik Albinsson -- 32,400
A. Osborne -- 31,900
Yuval Bronshtein -- 31,900
Joe Beevers -- 31,300
Issac Hayton -- 30,800
Event 3 -- Pot Limit Omaha Day 2

This is the payout schedule for the final table players:
£218,626
£132,000
£84,562
£66,000
£51,562
£41,250
£33,000
£26,812
£22,688
By the end of the day there were 11 finishers that will move on to compete for the title of champion. Here are the names of those players:
Raul Paez -- 17,500
Erik Albinsson -- 43,000
Sherkhan Farnood -- 141,500
Ivo Donev -- 78,000
Jeffrey Lisandro -- 82,500
Mark Gregorich -- 62,500
Howard Lederer -- 208,500
Yuval Bronshtein -- 133,500
Phil Ivey -- 114,500
Jeff Duvall -- 112,000
Spencer Lawrence -- 88,500
Event 3 -- Pot Limit Omaha Final Table

The winner is Theo Jorgensen. Jorgensen has been playing poker seriously for about 15 years. Jorgensen has many tournament accomplishments, including the 2004 Seven-Card Stud European championship and two European Poker Tour final tables. Jorgensen also took eighth place at last year's World Series of Poker Main Event in London, which paid £85,070. Jorgensen collected first place prize money totaling £218,626 equivalent to about $402,403 in US dollars.

Prior to the start of the final table, a one-of-a-kind attraction featured Doyle Brunson playing against 2007 WSOPE champ Annette Obrestad in a special heads-up match. Billed as the "King versus Queen," Brunson represented old school America against the young up-and-coming European poker prodigy. Played on the Main Stage inside the Empire Casino, a large crowd turned out to watch the duel. In a best two-out-of-three series, Brunson ended up winning the match 2-0. However, it should be noted that on both key losing hands, Obrestad actually started off with the best cards. Her straight lost to a higher straight in the first match. Then, her top pair with best kicker lost when Brunson managed to spike a second pair on the turn of the final hand. Obrestad graciously congratulated the poker legend, while Brunson personally signed over copies of his highly-acclaimed two book series (Super/System 1 and 2) to the reigning "Queen of Poker."

When heads-up play began, Jorgensen enjoyed slightly better than a 2 to 1 chip advantage. However, his final adversary Sorel Mizzi staged a dramatic comeback during the 90-minute heads-up battle. At one point, Mizzi had his opponent all-in and drawing to just four outs. Mizzi had turned a straight and Jorgensen was left holding top two pair. The board paid, miraculously recuing Jorgensen from the jaws of defeat. About 20 hands later Jorgensen ultimately won his victory.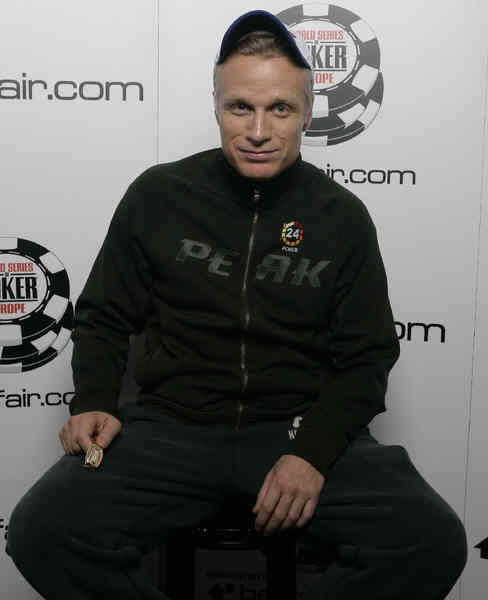 Event #3 Champion Theo Jorgensen
Theo Jorgensen -- £218,626
Sorel Mizzi -- £132,000
Eric Dalby -- £84,562
Erik Friberg -- £66,000
Max Pescatori -- £51,562
David Penly -- £41,250
Chris Ferguson -- £33,000
Jason Mercier -- £26,812
Tomi Nyback -- £22,688