Home
World Poker Tour
2009 World Series of Poker
2008 WSOP Event Schedule and Reports
WSOP Archives
2009 World Series of Poker Europe

2008 World Series of Poker Europe Event 2
Event #1 | Event #2 | Event #3 | Main Event
Event 2 Day 1 -- H.O.R.S.E.

There were 110 entries for the H.O.R.S.E. event, with each player paying £1500 Pounds for the right to do so. In the field were Gus Hansen, Daniel Negreanu, Andreas Krause, Barney Boatman, Sherkhan Farnood, David Williams, Robert Williamson III, John Kabbaj, Jason Grey, John Juanda, Bruno Fitoussi and Mike Matusow just to name a few.

The prize pool rose to £275,000 with the champion walking away with £75,000 and a gold WSOP bracelet. There will be 16 places paid in this event and it will be played over a 3 day period.

By the end of Day 1, there were 56 who will move on to the next round. Here are the top 9 with chip counts:
Phil Ivey -- 59,200
Phil Hellmuth -- 54,200
Woody Deck -- 37,500
Bruce Yamron -- 34,700
Erik Albinsson -- 32,400
A. Osborne -- 31,900
Yuval Bronshtein -- 31,900
Joe Beevers -- 31,300
Issac Hayton -- 30,800
Event 2 Day 2 -- H.O.R.S.E.

The action was fast and furious with the 56 from Day 1. Officials had the goal in mind to play until the 9 for the final table were established, but the day ended with 12 names. Action will continue at 2:30 pm in London. Below is the payout schedule for the final table and the names of the 12 players from Day 2 with chip counts:
£76,999
£48,125
£30,250
£22,000
£17,188
£13,750
£11,000
£8,938
£6,875
Howard Lederer -- 208,500
Sherkhan Farnood -- 141,500
Yuval Bronshtein -- 133,500
Phil Ivey -- 114,500
Jeff Duvall -- 112,000
Spencer Lawrence -- 88,500
Jeffrey Lisandro -- 82,500
Ivo Donev -- 78,000
Mark Gregorich -- 62,500
Erik Albinsson -- 43,000
Raul Paez -- 17,500
Event 2 Final Table -- H.O.R.S.E.

The winner is Sherkhan Farnood. This was Farnood's first WSOP gold bracelet victory. He now has six career WSOP in-the-money finishes. This was his fourth final table appearance. Farnood also made it to the final table of last year's WSOPE Pot-Limit Omaha championship (6th place). Farnood collected first place prize money totaling £76,999, equivalent to about $192,894 in US dollars. Could there now be such a thing as 31 million gold bracelet winners? Perhaps. "This is for the people of Afghanistan," Farnood proudly announced in a post-tournament interview. "Because (I won), all the people of my country have a gold bracelet with me."

When heads-up play began, rival Ivo Donev enjoyed a 3 to 2 chip advantage over Sherkhan Farnood. However Farnood recovered from an all-in situation late and stormed back to dominate the final 30 minutes of play. Farnood scooped virtually every pot in the later stages of the tournament.

Some other top names that did not make the final table out of the 12 who started were Phil Hellmuth Jr. in a 12th place finish, Issac Haxton in 13th, Mark Gregorich in 14th, Marc Goodwin in 15th and David Williams finishing in 16th.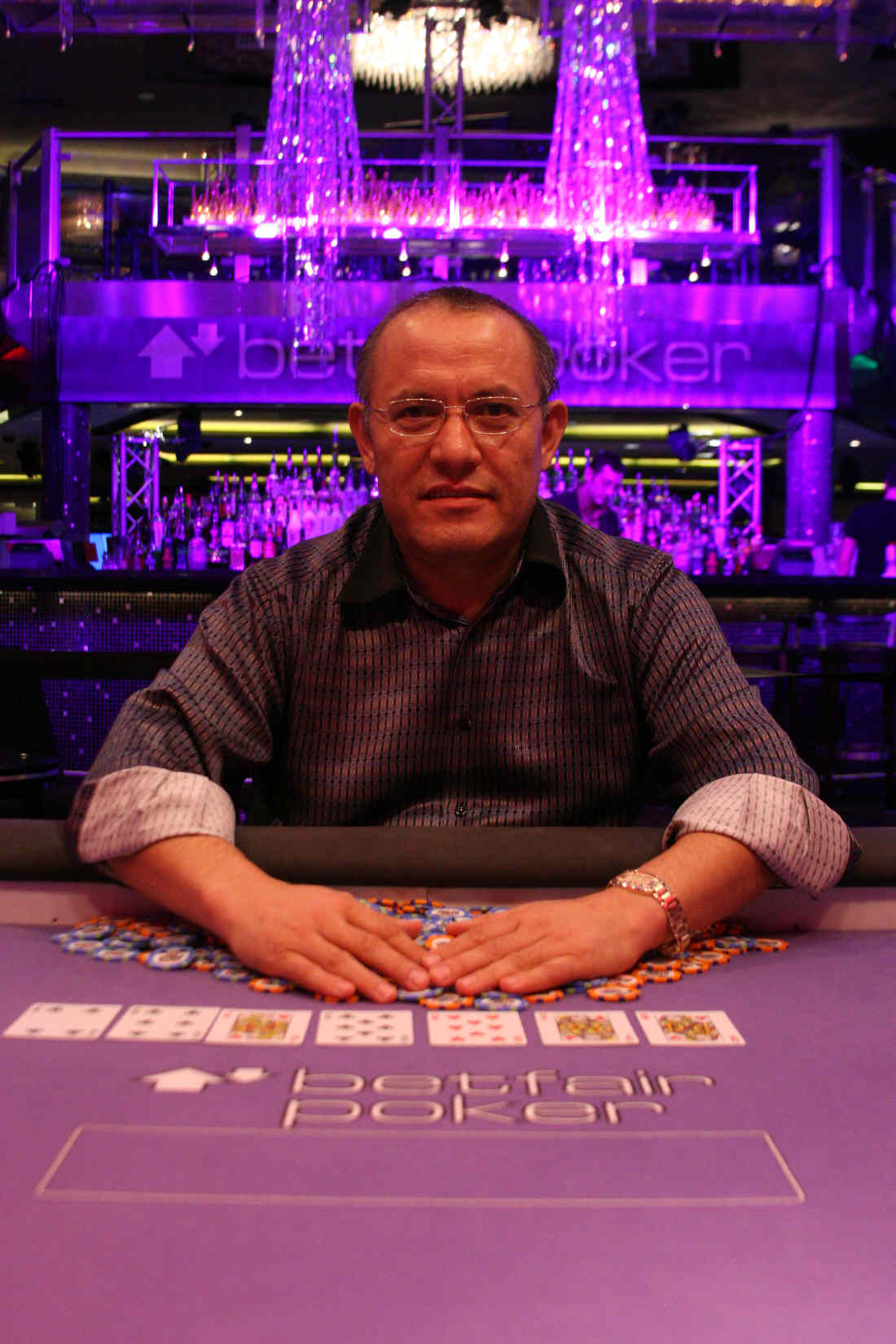 Event #2 Champion Sherkhan Farnood
Sherkhan Farnood -- £76,999
Ivo Donev -- £48,125
Howard Lederer -- £30,250
Jeff Duvall -- £22,000
Mark Gregorich -- £17,188
Phil Ivey -- £13,750
Jeffrey Lisandro -- £11,000
Spencer Lawrence -- £8,938
Erik Albinsson -- £6,875