Home Online Casino Real Money
2010 WSOP Event Schedule WSOP TV Schedule Free Slot Games Site Map 3 Webmasters

Main Event Day 1A | Day 1B | Day 1C | Day 1D | Day 2A | Day 2B | Day 3 | Day 4 | Day 5 | Day 6 | Day 7 | Day 8 | Final Table

Click on Event Schedule link to view available reports!




All linked player names have free bios, courtesy of FullTiltPoker
Event #57 Main Event Final Table
Number of players entered Day 1A: 1,125, Remaining 819
Number of players entered Day 1B: 1,489, Remaining 1,018
Number of players entered Day 1C: 2,341, Remaining 1,593
Number of players entered Day 1D: 2,364, Remaining 1,716
Number of players on Day 2A (1A + 1C): 2,412, Remaining 1,295
Number of players on Day 2B (1B + 1D): 2,734, Remaining 1,357
Number of players on Day 3: 2,557, Remaining 1,240
Number of players on Day 4: 1,240, Remaining 574
Number of players on Day 5: 574, Remaining 220
Number of players on Day 6: 220, Remaining 78
Number of players on Day 7: 78, Remaining 27
Number of players on Day 8: 27
Number of players at Final Table: 9
The Main Event Final Table began in the Penn and Teller theater at the Rio just like last year. The waiting lines were long with so many people wondering if professional players Michael Mizrachi or John Racener could accomplish what Phil Ivey was not able to do last year which was to win the Main Event. Once everyone was seated, Jack Effel being the Master of Ceremonies called on Bruce Buffer from the UFC to give the order to shuffle up and deal! As expected players were very careful in makeing their moves, so careful to where a spectator yelled out "Call!" to John Racener while he was under the gun. Immediately Jack Effel stated clearly, "That will get you ejected" which had a dampening effect on the crowd for about 3 minutes. Here are the starting chip counts:
Jonathan Duhamel -- 65,975,000
John Dolan -- 46,250,000
Joseph Cheong -- 23,525,000
John Racener -- 19,050,000
Matthew Jarvis -- 16,700,000
Filippo Candio -- 16,400,000
Michael Mizrachi -- 14,450,000
Soi Nguyen -- 9,650,000
Jason Senti -- 7,625,000
Soi Nguyen Eliminated in 9th Place ($811,823)
At the end of the first hour. busting in 9th position was Soi Nguyen. Nguyen decided to go all-in when he was on the button and everyone else folded around him. Calling the brave preflop move was Jason Senti with pocket Q's verses the A K of Nguyen. The dealer laid down a flop of Q 3 10, leaving Nguyen in the prayer position calling out for a Jack. Turn card was a 9 and the river was a K. As Nguyen left the table, Senti raked in a new pile of 17.5 million chips which is 10 million more that his short stack beginning.

Matthew Jarvis Eliminated in 8th Place ($1,045,743)
Action soon jumps to level 37 where blinds are at $300,000/$600,000 and the ante is $75,000. When the pace slowed down to where it was obvious no one wanted to bet heavy, Matthew Jarvis moved all-in preflop with just over 14 million in chips...and was a little surprized when Michael Mizrachi decided to call. So with a pot of over 30 million chips everyone stood up to watch. Mizrachi had A Q to the pocket 9's of Jarvis who looked confident he would win this huge pot. But a flop of Q 8 Q sent the Mizrachi cheering squad into an uproar! Next a 9 came on the felt to even louder cheers from the Jarvis group because their man had a boat. The last card the dealer laid down was and Ace which gave Mizrachi the bigger boat which would be needed to carry off the 30+ million chip pot, placing Mizrachi at over 42 million chips.

For the next 2 1/2 hours there was not much action as players were taking care to pick and choose their battles. Then dinner break came up and when they returned, there were at level 38 with blinds at $400,000/$800,000 with the ante now at $100,000. The crowd was pretty well liquored up and they wanted action. Well, they got it.

Jason Senti Eliminated in 7th Place ($1,356,720)
Joseph Cheong's raise got a reraise from Senti until they were all-in preflop. Senti had A K while Cheong brandished pocket 10's. On the flop came K K Q which sent the theater into loud chants for Senti. They were soon silenced as the turn card was a J and the river a 9, giving Cheong a staight to beat a strong set of Kings.

John Dolan Eliminated in 6th Place ($1,772,959)
An hour after Senti, John Dolan moved it to the middle preflop with Q 5 suited and was called by Jonathan Duhamel with pocket 4's. The flop came out J 7 6 of hearts which helped no one, but the 9 of hearts gave Dolan a few more outs he could catch. None of them came as a 3 of clubs came on the river, sending Dolan off to the cashier's cage.

Lady Luck took a breather from resting on Duhamel's shoulder. And with that the chips seemed to grow legs right in front of Duhamel and leave him. In one big hand between John Racener and Duhamel, Racener doubled up to 34 million with paired Queens leaving Duhamel with 26 million. But Lady Luck got her text message that break was over, and with that she was back in Duhamel's corner. On the very next hand against Michael Mizrachi he managed to double up to 52 million. Wow!

Michael Mizrachi Eliminated in 5th Place ($2,332,992)
After seeing a flop of 4 5 Q, Duhamel and Mizrachi went into a raise/reraise battle until they were both all-in. Mizrachi shows Q 8, but Duhamel produces pocket A's which held all the way to the river, leaving the legendary player on the rail. If Mizrachi would have won this event, he would have been the WSOP Player of the Year, but due to his loss that honor will go to Frank Kasella.

Filippo Candio Eliminated in 4th Place ($3,092,545)
Three hands later another player was eliminated. Candio open shoved his stacks to the center and was quickly called by Cheong. Candio had K Q while Cheong had A 3. A flop of A 7 2 had to have made Candio's heart drop. They turn was a 5 while the river a 4 giving Cheong a wheel and top pair for the win.

Joseph Cheong Eliminated in 3rd Place ($4,130,049)
On the 219th hand which was being played around 2:00 AM the next day, Cheong moved in from the small blind and was called by Duhamel. Duhamel had the edge with A 2 verses the Q 10 held by Cheong. Being laid to the feld was a flop of K 9 6, followed by a turn of 6 and a river of 7 which sent the crowd wild with excitement! The heads up battle will take place with pro player John Racener verses online pro Jonathan Duhamel.
Heads Up Battle
Things started off at 8:00 PM in the Penn and Teller theater at the RIO with John Racener having 30,650,000 chips on his side and Jonathan Duhamel surrounded by a mind numbing 188,950,000 chip fortress. Before action kicked into gear, Frank Kasella was presented with the 2010 WSOP Player of the Year award. Next was Nolan Dalla who announced the induction of Dan Harrington into the Poker Hall of Fame, which was followed by Doyle Brunson who introduced Eric Seidel who was also added to the Poker Hall of Fame. Once that was done, Frank Kasella gave the directive to 'Shuffle Up and Deal!' to begin the heads up. Play soon went to level 41 with blinds at $800,000/$1,600,000 with ante of $200,000.

Naturally the railbirds were chanting for their favorite player. The Racener camp seemed to be the loudest with, "Double Up!, Double Up!", as it would help to get Racener into a better position. The first major hand took a chunk off of Racener's stack when Duhamel produced two pair (J's and 4's) to add 12 million to his side. But Racener was determined not to go down without a fight as his all-in move on the next hand, vaulted him back over 36 million chips. After that, Racener floated between 25 and 30 million chips, not seeing a good opportunity to make a move. Duhamel continued to place pressure on Racener to erode Racener's stack. Then on the 262nd hand of the Final Table the winning hand came.

Duhamel went all-in preflop and Racener called with the 15 million that he had left. Duhamel had A J and Racener had K 8. After a flop of 4 4 9, both players were on their feet. Turn card was a 6 and river a 5, meaning that Jonathan Duhamel had become an instant millionaire AND the Main Event Champion. What was it like to be there? The picture says it all.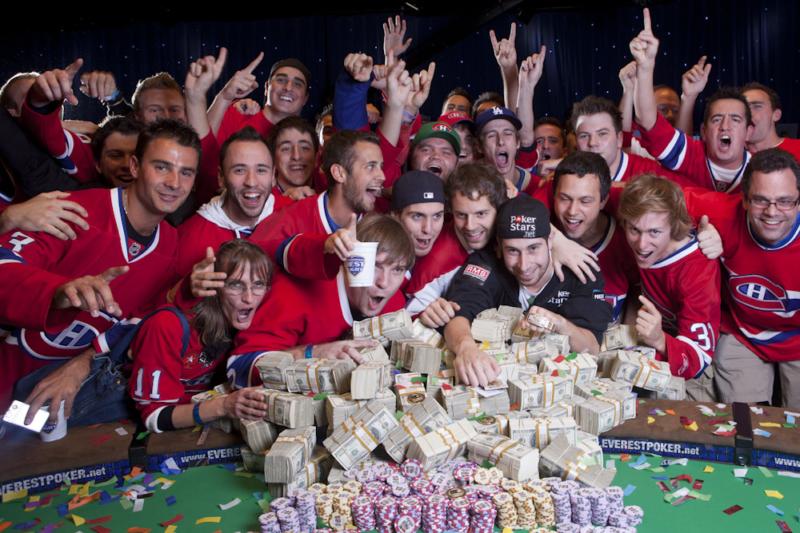 2010 Main Event Champion Jonathan Duhamel (and lots of friends!)

Top 50 Players:
Jonathan Duhamel -- $8,944,138
John Racener -- $5,545,855
Joseph Cheong -- $4,129,979
Filippo Candio -- $3,092,497
Michael Mizrachi -- $2,332,960
John Dolan -- $1,772,939
Jason Senti -- $1,356,708
Matthew Jarvis -- $1,045,738
Soi Nguyen -- $811,823
Brandon Steven -- $635,011
Pascal LeFrancois -- $635,011
Adam Levy -- $635,011
Duy Le -- $500,165
Hasan Habib -- $500,165
Matt Affleck -- $500,165
Benjamin Statz -- $396,967
David Baker -- $396,967
Scott Clements -- $396,967
Michiel Sijpkens -- $317,161
Patrick Eskandar -- $317,161
Redmond Lee -- $317,161
William Thorson -- $317,161
Robert Pisano -- $317,161
Ronnie Bardah -- $317,161
Mads Wissing -- $317,161
Matthew Bucaric -- $317,161
Johnny Lodden -- $317,161
Bryn Kenney -- $255,242
Gianni Direnzo -- $255,242
Michael Skender -- $255,242
Theo Jorgensen -- $255,242
Corey Emery -- $255,242
Eduardo Parra -- $255,242
Edward Ochana -- $255,242
Gabe Costner -- $255,242
Dag Palovic -- $255,242
Michal Wywrot -- $206,395
Jonathan Driscoll -- $206,395
Jakob Toestesen - $206,395
Nicolas Babel -- $206,395
Damien Luis -- $206,395
Jerry Payne -- $206,395
Matthew Berkey -- $206,395
David Assouline -- $206,395
Sergey Rybachenko -- $206,395
James Fennell -- $168,556
Evgeny Shnayder -- $168,556
Evan Lamprea -- $168,556
Jacobo Fernandez -- $168,556
James Manning -- $168,556