Home
World Poker Tour
WPT Archives
2010 World Series of Poker
WSOP Archives
2010 WSOP Circuit
Tournaments
Poker on TV


Horseshoe Hammond | Horseshoe Southern Indiana | Harvey's Lake Tahoe
Harrah's Atlantic City | Harrah's New Orleans Bayou Challenge | Harrah's Tunica
Horseshoe Council Bluffs | Caesar's Atlantic City | Harrah's Rincon
Harrah's St. Louis | Caesar's Palace
2010 Harrah's Rincon
World Series of Poker Circuit Event
Harrah's Rincon (San Diego) Casino And Resort
777 Harrah's Rincon Way
Valley Center, CA
March 18 – March 31, 2010

If more information is needed, call 760-751-3100.

Event #1 -- No Limit Hold'Em



A prize pool of $116,206 went to the top 63 finishers in the field for the kickoff event at Harrah's Rincon. In total there were 599 players who really went at it, each paying an entry fee of $230. For this two day event, it was so competitive that one player who made the money got mad and ran out without picking up his cash for his 55th place finish. Day one only left four tables of players after 14 hours of action, and day two went for 12 more hours before the winning hand was dealt at 2:00 AM.

When the final table began, blinds were $6,000/$12,000 with an average stack of 350,000. First to leave the table was Jerry Simon in 9th place after losing out to the paired Q's of another player. Bill Denadel laid claim to 8th after his race with A K lost to the pocket 10's of Chris McGrath. Tim Omohundro went out in 7th place in his first live tournament when his opponent received another Queen card on the river for the winning hand. George Rutherford lost to the King kicker of Ron Segni to end his run at the title in 6th and Chris McGrath took the money for 5th when the paired Jacks of another player pointed the way to the cashier's cage for him. Ron Segni had his bluff met by the set of Queens made by Chris Farmer, resulting in a 4th place ending. Two hours later, Ryan Westland went to the rail in 3rd courtesy of the Broadway straight made by Farmer.

Rod Dingler almost took it all 4 times during the heads up with Farmer, but lost on each occasion. The winning hand came when Dingler went to the middle with A Q and was called by the pocket 8's of Farmer which held to the river. The gold WSOP Circuit ring given to Farmer was his first victory in any WSOP tournament.
Chris Farmer -- $24,415
Rod Dingler -- $14,235
Ryan Westland -- $9,471
Ron Segni -- $7,286
Chris McGrath -- $5,834
George Rutherford -- $4,369
Tim Omohundro -- $2,917
Bill Denadel -- $2,371
Jerry Simon -- $2,010
Event #2 -- No Limit Hold'Em



The 236 players who paid $340 each for a seat at the tables, took a chance at a $68,686 prize pool. Cash went to the top 24 finishers. The new champion, Joseph Cheong, became the dominate force at the table, taking out six of the nine players seated during the five hours it took to conclude this finale. The professional poker player received his first gold WSOP circuit ring as a reward for his efforts.

As the final table began with 10 players, David "Da Piper" Savage was silenced in 10th when his K Q was met with quad Aces that belonged to Cheong. A few hands later, William Guerend lost out to the pocket 10's held by John Hernandez, resulting in a 9th place finish. Brandon Bowyer was stopped in 8th due to the two pair (8's and 9's) of Cheong. John Hernandez then finished off Jeffrey Jack in 7th with pocket 9's that held to the river. Sean "The Dog" Stewart who came to the table as the short stack, held on to finish in 6th as his all-in with A 2 was overcome by the paired 9's of another player sending him to the cashier's cage. Dave Caserta who also had just a few chips managed to stay in the game and go out in 5th when he lost to the 8 kicker of Cheong on his last hand. John Hernandez took home the winnings for 4th place after losing to the pocket 8's of Cheong which held to the river. Raney Stanczak laid claim to 3rd when his all-in move with pocket 6's was instantly called and dominated by Cheong holding pocket Q's.

Dave Williams took 2nd place in the heads up with Cheong when on the last hand, Williams took his pocket J's and moved it all to the center. Cheong called with K 7 and was rewarded when another King came up on the flop, giving Cheong the advantage. The final board showed Kc 9c 3h 9h Ah, giving Cheong two pair, and the victory.
Joseph Cheong -- $17,541
David Williams -- $10,727
Raney Stanczak - $7,609
John Hernandez -- $5,432
Dave Caserta -- $4,347
Sean "The Dog" Stewart -- $3,262
Jeffrey Jack - $2,177
Brandon Bowyer -- $1,765
William Guerend -- $1,497
Event #3 -- No Limit Hold'Em



After paying a buy in of $540, the 151 entrants helped build a pool of $73,235 that went to the last 15 survivors. This newest champion who is currently working on obtaining his PhD, is taking off time to play poker and now has a nice gold WSOP ring to add to his achievements. Play at the final table took 5 hours to finish.

An hour into final table play, Kenton Taylor was taken to the rail in 9th place when his pocket J's lost to the set of Kings made by James Eubank. Fred "Rocky" Karimi finished 8th soon after he lost the majority of his stack when his pocket Aces lost to a set of Queens made by another player. Larry Turley who placed his confidence in pocket Kings walked to the sidelines when his opponent paired his Ace card on the river, resulting in a 7th place finish for Turley. Alexandru Masek who has won 2 gold WSOP circuit rings, failed to get another as the pocket 9's held by Yang dominated his A 7. Masek ended his quest in 6th place. James Eubank was listed in 5th place after his last hand received no help from the board, putting him on the losing end of a 3 way hand. Next to go was Derek W. Sanders in 4th after Yang paired his Queen card on the river, dominating the pocket 4's held by Sanders. Michael Souza who had three straight cashes in the Main Event from 2006 to 2008, was the 3rd place finisher when the Ace high hand of Jason Jacintho sealed his fate.

Yang held a 5 to 1 chip lead over Jacintho when the heads up started. So it did not take long, (20 minutes), for the final hand to be dealt. On that hand Yang limped in with pocket A's, which got an all-in preflop call with Q 8 from Jacintho which got an automatic response from Yang. The board showed 10c 4h 4s Jc Kh, giving Yang his first tournament victory, and a well deserved 2nd place for Jason Jacintho.
Bernie Yang -- $20,065
Jason Jacintho -- $13,585
Michael Souza -- $9,059
Derek Sanders -- $6,474
James Eubank -- $5,178
Alexandru Masek -- $3,881
Larry Turley -- $2,585
Farhad Karimi -- $2,102
Kenton Taylor -- $1,780
Event #4 -- No Limit Hold'Em



This WSOP gold ring event had 197 players each pay $340 for the entry fee, helping to create a $57,327 pool that went to the last 21 standing. Although this event lasted two days, the final table was the highlight for poker action seen by the spectators.

The pain began with Kelvin "CK the Great" Goode going all-in preflop with pocket A's and was called by Troy Benjamin. As the board revealed the cards, the advantage of pocket Aces faded and Benjamin won with the two pair he made by the river, sending Goode out in 9th place. Ray "Mac the Knife" McCabe left the table in 8th place after his move with K Q met the A Q of another player. With the board helping no one, the Ace kicker was McCabe's demise. For the 7th place mention was Vince Burgio when his bid with pocket J's was defeated in a 3 way hand with Stephen Peterson and Troy Benjamin. Then, Ron "Skwitz" Moskowitz finished 6th when he tried to steal being low on chips with 9 6 and had his hand caught in the cookie jar by Peterson brandishing two pair (Q's and 7's). Keith Strebe took home the cash for 5th place when his paired 10's were overcome by a player who paired his King card. Troy "Cowboy" Benjamin was the 4th place finisher when his K 6 club draw lost out to the pocket 9's of Chicago Ali Yousri. Stephen Peterson went to the cashier's cage in 3rd when his pocket 5's could not stand up to the pocket 9's of Ethan van Klaveren.

The heads up is best described by Nolan Dalla, WSOP Media Director:
"Chicago Ali" experienced one of the most incredible days in tournament poker in quite some time. It's hard to imagine any player at a major tournament anywhere that went from being chip leader, then down to a single chip, and then back to chip leader, followed by second place finish. That's exactly what happened to the 53-year-old businessman who was born in Egypt. "Chicago Ali" received $9,258 for his second place finish.

The last hand came when Ali was dealt Tc 3h. After the flop came Ts 5d 4s, Ali moved all-in. Van Klaveren called and showed Qs Td. He had the best kicker. Ali needed help. The last two cards came Th followed by the 8s giving both players three-of-a-kind, with 10's. But Van Klaveren won with the better kicker.

And that is how Ethan van Klaveren earned his first WSOP gold ring which is the one worn by champions.
Ethan van Klaveren -- $15,079
Chicago Ali Yousri -- $9,258
Stephen Peterson -- $6,552
Troy Benjamin -- $4,678
Keith Strebe -- $3,743
Ron Moskokwitz -- $2,809
Vincent Burgio -- $1,875
Raymond McCabe -- $1,519
Kelvin Goode -- $1,290
Event #5 -- No Limit Hold'Em



With an entry fee of $340, the 120 players who came to the tables together created a $34,920 pool. Cash was seen by the top 12 finishers. Taken from report written by Nolan Dalla WSOP Media Director:

Everything you need to know about 58-year-old retiree Brent Wilkes is pretty much summed up by his poker nickname, which is -- "the Enigma." Indeed, Wilkes leaves little mystery about why he chose the odd moniker which he uses to confuse and intimidate opponents at the poker table. Wilkes certainly mystified everyone in the most recent WSOP Circuit tournament, which was held at the at Harrah's Rincon Casino and Resort. Wilkes won $10,090 in prize money along with his first-ever old ring, the coveted award which is presented to all champions of WSOP Circuit tournaments held around the country. This was his fourth time to cash in a WSOP Circuit tournament. Wilkes made three final table appearances at last year's Rincon series, coming up just short of victory on each occasion. But he could take great pride in this long-awaited victory, which not only brought him a five-figure score, but the satisfaction of overcoming decisive odds against victory at several stages of play.

The $300 (+40) buy-in No-Limit Hold'em tournament was played over two consecutive days during March 22-23, 2010. Final Table play began on a Tuesday afternoon. There were no prior WSOP Circuit gold ring event winners among the final nine players, which guaranteed a first-time champion. Joseph Occhipinti arrived at the Final Table with a decisive chip advantage over the remaining players. Closest in chip were David "Four Racks" Luttbeg, and eventual champion Wilkes, who were covered by the chip leader by about a 2 to 1 margin. The remaining players were down 3 to 1 or more. During most of the five-hour Final Table, Occhipinit absolutely dominated play. But a late surge by Wilkes and a determined effort by the experienced veteran was the deciding factor in the victory.

Once heads-up play began, the tournament took a 180-degree detour. Chip leader Joseph Occhipinti, a 33-year-old poker pro from Temecula, CA who had been so dominant during the first four hours of play that some players actually thought they were playing for second place, lost a few pots and then went on a slow but steady decline that reversed the chip lead in Brent Wilkes favor, and ultimately flip flopped what many might have expected as far as an outcome. The last hand came when Occhipinti moved all-win with Ah 6h. The raised was called by Wilkes, who showed Ac 9d. The final board of the tournament came: Ts 8h 3d Kc 7d which meant Wilkes' 9d played as a better high card. The victory went to Wilkes while Occhipinti had to settle for runner-up status, which paid $6,837.

Brent Wilkes -- $10,090
Joseph Occhipinti -- $6,837
Chuck Martinez -- $4,561
Leo Gianulis -- $3,258
David Luttbeg -- $2,605
Alan Ho -- $1,956
Dave Hosfield -- $1,303
James Matthews -- $1,058
Event #6 -- No Limit Hold'Em



This event had 283 players at the tables, each paying $230 for the right to enter. A prize pool of $54,904 went to the top 30 finishers. The 26 year old poker professional Garrett Levrini, made it through the two day event and came out on top of a 5 hour final table to earn his first gold WSOP circuit championship ring.

When the final table began, gone in 9th place was Luis Davila who made his move with pocket A's that gave him 5 minutes of play as Levrini rivered the winning hand, (a Broadway straight), on the first hand dealt. Levrini then dispatched Michael Ippolito in 8th place with pocket 10's that held to the river. Katherine Ansorge took home the cash for 7th after her all-in with A Q lost out to the pocket K's of Jason "Heckler" Warner. But then Warner had to settle for a 6th place ending when his hand lost to the pocket 9's of Bret Eledge. Soon after Charley McLean went to the cashier's cage in 5th when the set of 10's made by another player pointed the way. Edward Liu left the table in 4th after a flush draw did not work out for him against the pocket J's of Amir Turkzadeh. Bret Eledge finished 3rd after losing most of his chips on a devastating hand with Levrini. Two hands later Eledge was railbound.

On the last hand of the heads up, victory came when Garrett Levrini was dealt 5s 5d. Turkzadeh was dealt 6h 3s. After the turn, Turkzadeh was all-in. The final board showed Tc 3c 2d Ac Kd, which meant the pocket 5's took down the last pot of the night.
Garrett Levrini -- $13,339
Amir Turkzadeh -- $8,115
Bret Eledge -- $5,776
Edward Liu -- $4,129
Charley McLean -- $3,300
Jason "Heckler" Warner -- $2,476
Katherine Ansorge -- $1,653
Michael Ippolito -- $1,340
Luis Davila -- $1,136
Event #7 -- No Limit Hold'Em



Taken from report written by Nolan Dalla WSOP Media Director:

When Michael Souza won his first World Series of Poker Circuit gold ring back in 2006, he must have thought it was the start of something really big. To his credit, the 36-year-old from San Diego had been a full-time poker pro for several years. But winning any kind of WSOP-related victory often changes things. If nothing else, a major tournament victory instills self-confidence and opens up a new frontier of opportunities as to what is humanly possible on the rough and tumble tournament poker circuit.

With his victory in today's most recent World Series of Poker tournament -- which was held at the at Harrah's Rincon Casino and Resort, near San Diego - Souza's poker career took another giant leap forward. The victory gave him his second WSOP Circuit gold ring and re-emphasizes the natural progression of things in the poker world which is, "First the Ring, then the Bracelet." Souza never had many chips during the tournament, and arrived at the Final Table ranked eighth out of nine players. The chip leader had him dominated by an 8 to 1 margin. But that didn't seem to matter. Souza did what he does best, playing extraordinary poker when it really counted en route to the victory.

The last hand came when Khanna was dealt 5c 5d. After the flop came 8s 7h 4s, he moved all-in with a pair and a straight draw, and was called by Souza -- who showed Kd 8h, good for top pair. The remaining cards came Qs and Jd, giving Souza the last pot of the night, and the win. San Diego poker pro Michael Souza won his second WSOP Circuit title. First place paid $13,327. In additon to enjoying success on the Circuit, Souza has also cashed in the WSOP Main Event three times. In fact, he was one of only two players to cash each year in the Main Event, from 2006 through 2008.

Michael Souza -- $13,237
Ashish Khanna -- $8,155
Dustin Fox -- $5,759
David Williams -- $4,111
Jeremy Hopkins -- $3,290
Richard Aronow -- $2,469
Rip Fritzer -- $1,647
Matthew Kursar -- $1,336
Anthony Lee -- $1,132
Event #8 -- No Limit Hold'Em


Dwyte Pilgrim hs officially won his third WSOP gold circuit championship ring with the conclucion of this event. Besides the other two wins in 2009, (one at Caesars Atlantic City and the other here at Harrah's Rincon in last year's Main Event), he also was declared the "unofficial" WSOP Circuit Player of the Year in May 2009. Adding the many WSOP cashes he has made, Pilgrim is a superstar on the rise. He came out on top of a 169 player field that had a buy in of $340 per player. The $49,179 prize pool was divided between the top 18 finishers.

Final table action began on Friday March 26th at 2:15 PM. First to leave the table in 9th place was Richard Yelland who was sent to the rail by the pocket K's of Jim Silveira, sending Yelland to pick up his 6th WSOP circuit cash. Suffering a painful dismissal in 8th was Trent Blackwell who moved in with pocket A's after a flop of J 10 K. He was called by Pilgrim holding J 10 for two pair which held to the river. (When Blackwell went to the middle, he also had an overpair, a straight draw, and a flush draw. Like we said, painful.) Andrew Di Falco claimed 7th after meeting the King high straight made by Pilgrim on the river. Another King high straight by Pilgrim sent poker dealer Andrew Fornoff to the cashier's cage in 6th. For 5th place was Andrew "the Overlook" Greenberg who did not see the straight made by James Everly quick enough to avoid the bust. Then Conrad Monica finished 4th when his pocket 3's were overcome by the two pair made by Everly. But later on, an all-in move by Everly with pocket 3's lost to the paired Kings made by Silveira on the turn, resulting in a 3rd place finish for Everly.

When it was time for the heads up, Silveira had a 3 to 2 chip advantage over Pilgrim, but it took just 20 minutes for Pilgrim to turn things around. The new champion was close to victory when Pilgrim had Qh 9c against Silveira's 9h 4h preflop. That hand was disatrous for Silveira as Pilgrim made a larger two pair than he did by the river. Silveira soon after lost the balance of his chips, giving a huge smile and another WSOP circuit championship to Dwyte Pilgrim.
Dwyte Pilgrim -- $13,392
Jim Silveira -- $8,252
James Everly -- $5,828
Conrad Monica -- $4,161
Andrew Greenberg -- $3,329
Andrew Fornoff -- $2,498
Andrew Difalco -- $1,667
Trevor Blackwell -- $1,352
Richard Yelland -- $1,146
Event #9 -- No Limit Hold'Em



The field size for this event was 142, with all paying a buyin of $550 to create a prize pool of $68,870 that went to the top 15 finishers. The champion, John "Cowboy" Land, now has his second WSOP circuit championship ring as a reward for his efforts. Professional poker player John Land, earned his nickname because he often wears a white cowboy hat while playing. When he came to the final table, he confidently announced that he was going to 'take this one down'. The final table began with Land having a huge lead in chips (350,000), over anyone else at the table.

One hour after the 9 sat at the table, Guillermo Calderon finished his quest in 9th place when his short stack move with J K failed once Ryan Gentry paired his Ace card for top pair. But J K was luckier for Harold Wasson who turned them into two pair, busting James Kozono in 8th. Joe Zomorrodi walked away in 7th when his all-in with A K became stonewalled with two pair (7's and 6's) held by Gentry. Chris DeFalco seeking his second gold circuit ring, was gone in 6th after his pocket J's met up with the paired Kings of Jason Jacintho. Mac "the Knife" McCabe claimed the money for 5th in a bad way. His all-in move with A 10 saw another 10 on the flop, another A on the turn, but a fourth spade on the river gave the winning hand to Harold Wasson. Jason Jacintho would be next on the chopping block in 4th when his pocket Q's were cut short by the two pair of Land (A's and 8's). And soon Harold Wasson was on the skids in 3rd as his pocket 7's lost out to the pocket 9's of Land.

When the heads up bettle was about to begin, Land had a significant chip advantange against Gentry. Gentry offered a deal which was accepted by Land, resulting in his second WSOP circuit championship.
John "Cowboy" Land -- $18,871
Ryan Gentry -- $12,775
Harold Wasson -- $8,519
Jason Jacintho -- $6,088
Raymond McCabe -- $4,869
Christopher Defalco -- $3,650
Hossein Zomorrodi -- $2,431
James Kozono -- $1,977
Guillermo Calderon -- $1,674
Event #10 -- No Limit Hold'Em



This tournament with a $1,080 buy in had 105 players in it. All but the 9 for the final table were gone by the end of the first day. Pool size for this two day event reached $101,850 and went to the last 12 survivors. There were a number of competent players at the final table, Bernie Yang who won his first gold ring in Event #3 among them.

Thirty minutes into the final table, Jason Thornhill finished in 9th place once Kaplitz paired his Queen card on the flop. Next to leave in 8th was David Powers who had his all-in move with A 9 met with pocket J's belonging to Yang. Mario Delis earned $3,799 for a 7th place finish when he lost to the King high hand of Yang. Darryn "Eastside" Hardin was 6th in this tournament when he saw a 6 land on the river, giving his opponent two pair (A's and 6's) and the win. Kaplitz sent Ron Segni away from the table in 5th when he paired his Queen card on the turn. Paul Koks took home the money for 4th place after his chips bled away to where he had to commit to a bad hand, losing to pocket 4's in the process. Jason Smith ended up in 3rd when his opponent made two pair (A's and 2's) on the river card.

Heads up went for 40 minutes for Kaplitz who had a 2 to 1 advantage over Yang. Yang made up ground but lost all of his chips when Kaplitz made a full house verses his two pair by the river. On the last hand Yang held J 9 and Kaplitz got pocket Q's. After a flop of J 9 8, Yang moved in and was called by Kaplitz. Turn card was a Queen and the river card an 8, dealing a nasty blow to Yang and giving the championship ring to Kaplitz.
Michael Kaplitz -- $29,433
Bernie Yang -- $19,942
Jason Smith -- $13,302
Paul Koks -- $9,503
Ron Segni -- $7,598
Darryn Hardin -- $5,704
Mario Delis -- $3,799
David Powers -- $3,086
Jason Thornhill -- $2,607
Event #11 -- Ladies No Limit Hold'Em



Taken from report written by Nolan Dalla WSOP Media Director:

The winner of the 2010 Harrah's Rincon Ladies Poker Championship is Susan Rhodes, from Las Vegas, NV. She is a social work supervisor, who also happens to take poker very seriously. Rhodes has previously won several poker tournaments -- mostly notably events held at the Nevada Poker League, The Eureka Open, and with Card Player Cruises. Rhodes also final tabled the Ladies Championship at the L.A. Poker Classic. But this win was clearly her most satisfying victory. Rhodes won the $100 (+25) buy-in No-Limit Hold'em tournament which was held at the Harrah's Rincon Casino and Resort, near San Diego. She collected first-place prize money totaling $5,993. Rhodes was also presented with a gold pendant, which is equal in stature to a gold ring, the ultimate prize awarded to all winners of World Series of Poker Circuit tournaments.

This year's Harrah's Rincon Ladies Championship attracted a large field of 242 players. In fact, this was one of the best-attended ladies tournaments held this year on the WSOP Circuit. The top 25 finishers received prize money. Among those who participated in the Ladies Poker Championship at Rincon was Barbara Enright, a three-time WSOP gold bracelet winner and the only female member of the Poker Hall of Fame. It was a one-day tournament which began at 4 pm on March 27th and played deep into the night. The last hand was dealt out at 4:15 am.

Here is how the final table ended up:
Susan Rhodes -- $5,993
Leah Wasicka -- $3,667
Victoria Quach -- $2,601
Brenda Cobian -- $1,857
Naomi Takaya -- $1,486
Melissa Nelson -- $1,115
Laura Bryant -- $744
Debra Williams -- $603
Event #12 -- Championship Event (3 day event)

The Main Event drew fewer players than usual with only 70 entrants willing to pay the $5,150 fee. This was the driving reason that the three day event was reduced to just two days being played on the 29th and 30th. Amount of the prize pool hit $328,500 which went to only 7 players. Here is the payout schedule for the Main Event:
$114,975
$72,270
$49,275
$32,850
$26,280
$19,710
$13,140
Day one saw the field leveled down to the 9 for the final table. Here are the names of these players for the final table:
Ron Segni -- 97,800
Wei Kai Chang -- 194,200
Darryn "Eastside" Hardin -- 79,800
Daniel Burke -- 158,400
Dan Schreiber -- 142,400
Howard "Tahoe" Andrew -- 69,000
Mike McClain -- 52,800
John Farrell -- 117,700
Bryan Devonshire -- 145,800
Final Table

Amazingly, Wei Kai Chang who is known in poker circles went in as the chip leader, but was the first to leave in 9th place with nothing to show for it. Darryn "Eastside" Hardin who made another final table here at Rincon suffered a bad beat and was definitely upset at being the "bubble boy", going out with an 8th place finish. Daniel Burke ended up in 7th place after losing to the Ace high hand of John Farrell. Mike McClain who lost to Chris Moneymaker in the 2003 Main Event, was the 6th place finisher, leaving after Devonshire made a heart flush on the river. Ron Segni took home the cash for 5th when his all-in bid with A 8 was crushed by the runner-runner flush made by Daniel Schreiber. The same hand (A 8) did not work for 4th place finisher John Farrell who was hit by the two pair (A's and K's) of Schreiber. Farrell capped an excellent performance by making the Main Event final table two straight years in a row. And 3rd place was earned by Howard "Tahoe" Andrew, who has played more consecutive WSOP years than any other player dating back to 1974. Tahoe with Q 10 lost to the Ace high hand of Schreiber after no other cards helped either player.

Schreiber led most of the heads up, until a crippling hand left him with few chips. After two more non-successful hands, Schreiber had to close shop and walk away from the table with professional poker player Bryan Devonshire receiving a gold and diamond ring for becoming champion. Also, Bryan was presented with a $10,000 seat into the WSOP Main Event, coming up in July.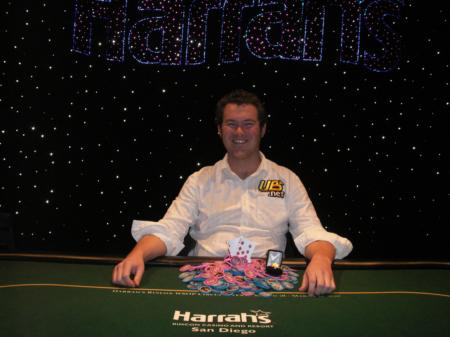 Harrah's Rincon Main Event Champion -- Bryan Devonshire
Bryan Devonshire -- $114,975
Daniel Schreiber -- $72,270
Howard "Tahoe" Andrew -- $49,275
John Farrell -- $32,850
Ron Segni -- $26,280
Michael McClain -- $19,710
Daniel Burke -- $13,140