Home
Online Casino Real Money
World Poker Tour
WPT Archives
2010 World Series of Poker
WSOP Archives
2010 WSOP Circuit
Tournaments
Poker on TV


Horseshoe Hammond | Horseshoe Southern Indiana | Harvey's Lake Tahoe
Harrah's Atlantic City | Harrah's New Orleans Bayou Challenge | Harrah's Tunica
Horseshoe Council Bluffs | Caesar's Atlantic City | Harrah's Rincon
Harrah's St. Louis | Caesar's Palace
2010 Harrah's St. Louis
World Series of Poker Circuit Event
Harrah's St. Louis Casino And Resort
777 Casino Center Drive
Maryland Heights, MO
April 1 � April 14, 2010

The 2010 Harrah's St. Louis leg of the WSOP circuit will consist of 12 major events will numerous smaller events taking place daily. Those who are in need of a place to stay, then click on this link for Special Room Rates

If more information is needed, call 314-770-8100.

Full Tilt Poker -- 50 Free Main Event Seats

Play at Full Tilt Poker starting in April for your chance to win a 2010 Main Event seat. Start your Race to the Main Event by playing in any of our round-the-clock Main Event Race � Round 1 Sit & Go Freeroll tournaments


Event #1 -- No Limit Hold'Em


The 675 players who paid $340 each, contributed to a $196,425 prize pool. Money went to the top 72 finishers in this two day event. World Series of Poker officials said this was the largest poker tournament in the history of the state of Missouri. All players began with 8,000 in chips. Local poker celebrity Paul Harris, co-host of "The Final Table" radio show, also said a few words before making the customary announcement to shuffle up and deal. Day one saw the field reduced to 23 after 14 hours of action. Day two took about 90 minutes before there were 10 left to pack into the last table of the event.

Final table play for the last 9 began with blinds moved up to 20,000/40,000 with 5,000 antes. First to leave in 9th place was chip leader John Feigl who had the misfortune of having his chips go in the directions of other players before losing the balance to the King kicker belonging to Gregory Headrick. Next, Headrick used pocket A's to defeat Nick Weber who went to the middle with Q J, leaving Weber behind in 8th. Following him was Charles Beggs who saw his all-in effort unsupported by the cards dealt by the dealer, giving an 7th place ending for Beggs. After losing a devastating hand to two other players, Ralph Lehman took his last two $5,000 chips and went all in with 5 4 which were mowed down by the 10 7 held by Mark Koll, sending Lehman to the cashier's cage for the 6th place winnings. John Thompson was put out to the rail in 5th once Koll paired his Ace card on the flop. And the table rampage by Gregory Headrick ended in 4th place when Koll paired his Queen card on the flop with no help for Headrick from the dealer. Brett Reinhart went out in 3rd place after Dustin Grimm rivered a Queen high straight.

When heads up began, Grimm had a marginal chip advantage over Koll, but continued to grow his stack with successive wins. On the final hand, Koll reraised to an all-in move which was called by Grimm. Koll held A 7 while Grimm had pocket 10's. By the river, Grimm received two more 9's giving him two pair (10's and 9's) and his first WSOP championship win.
Dustin Grimm -- $40,837
Mark Koll -- $23,203
Brett Reinhart -- $14,494
Gregory Headrick -- $11,925
John Thompson -- $9,532
Ralph Lehman -- $7,159
Charles Beggs -- $4,766
Nick Weber -- $3,864
John Feigl -- $3,275
Event #2 -- No Limit Hold'Em



In the second event held, there were 288 players at the tables, each paying $560 for the buy in. Prize pool rose to $139,680, going to the top 30 in the field. Some of the players include rap artist Nelly and Dennis Phillips who made the 2008 Main Event final table at the RIO in Las Vegas. When the final table began, the nine players seated faced blinds of $5,000/$10,000 with a $2,000 ante.

Leaving in 9th place was Timothy Hart who lost the balance of his chips to the Queen kicker of Paul Harris. Gary Hieronymus finished in 8th after his preflop all-in with pocket A's was devastated by the set of Queens made on the river by Raymond Lantz. Mark Koeln was gone in 7th when his pocket 4's were silenced by the paired Jacks of Kevin Shimp. Steven Heeley went all-in with A K and was called by the pocket 2's of Shimp. A third 2 on the flop sealed the deal and Heeley finished 6th. Next, Paul Harris finished in 5th after his pocket 10's could not overcome the pocket A's held by Jesse Menley. Jon Sexton took the cash for a 4th place ending after his pocket 6's lost when Shimp paired his Queen card, giving Shimp the winning hand. Shimp then busted Jesse Menley in 3rd with pocket K's when Menley made his move with A K and lost.

When heads up began, Shimp was a 6 to 1 leader in chips. But as time wore on, Raymond Lantz doubled up and passed Shimp in chip count. On the last hand, both players saw a flop of 8 10 Q, Shimp raised big, Lantz moved all-in and was called. Shimp showed 9 K and Lantz revealed 8 10 for two pair. The turn came Qc and the river was an 8s to give Lantz a full house (8's/10's) and the win worth $33,942 along with a WSOP Circuit Event gold ring.
Raymond Lantz -- $33,942
Kevin Shimp -- $20,645
Jesse Menley -- $14,694
Jon Sexton -- $10,504
Paul Harris -- $8,395
Steven Heeley -- $6,300
Mark Koeln -- $4,204
Gary Hieronymus -- $3,408
Timothy Hart -- $2,891
Event #3 -- Seniors No Limit Hold'Em



Taken from report written by Alan Fowler WSOP Assistant Media Director :

The winner of the Harrah's St. Louis WSOP Circuit Seniors Event is Bob Irby. Irby said that the $300 + (50) buy-in, No-Limit Hold'em event was some of the most fun he's had at the poker table. In addition to his two days of folly, Irby picked up $14,344 and a gold WSOP Circuit Event ring. Irby played his way through the 181 day-one field on Easter Sunday to become one of the final nine players who returned Monday to play down to a winner. Sue Smith, an LPN from Poplar Bluff, MO was the lone woman among the nine.

Heads up play between Simon and Irby lasted only a few hands, the last of which saw Simon all-in with Kd 10d against Irby's As 4c. The board came 5d Js 6c 3h 8d to give Irby the win. Simon took home $8,838 for his runner-up finish. He is a 61-year old computer programmer/analyst who final tabled an event this year at the WSOPC Tunica. Irby was all smiles as he was presented with a WSOPC gold ring and the distinction of first seniors event champion at Harrah's St. Louis. "This event was a lot of fun. The people here at Harrah's St. Louis, the players and casino staff are just terrific," said Irby. Irby has been playing poker since 1960 and says he has seen the game constantly evolving. "The games used to be much easier, even online poker back in 2001 but players started reading books, so I started reading myself to keep up." Irby says that this was only his second seniors event, but that he plans to play a lot more in the future and has already registered for the 2010 World Series of Poker Seniors Event at the Rio All-Suites Hotel and Casino in Las Vegas.

Robert Irby -- $14,344
David Simon -- $8,838
Sue Smith -- $6,242
Joseph Laure -- $4,456
Patrick Fleming -- $3,566
Louis Barlu -- $2,676
Frederick Lynch -- $1,786
Lowell Walker -- $1,448
Patrick Olsen -- $1,227
Event #4 -- No Limit Hold'Em


There were 253 players who paid $340 for a seat at the tables. Prize pool rose to $73,623 which went to the last 27 remaining. Day one saw the field come down to the nine for the final table. Day two play got underway shortly after 2:00 pm with blinds and antes at $8,000/$16,000 with a $2,000 ante. Kevin Manley was busted in 9th after losing the rest of his chips to the Ace kicker of Preston Baxley. But the sweetness of winning was short lived as Baxley left in 8th, courtesy of the two pair (J's and K's) of Jonathan Mings. Then Michelle Chase took home the money for 7th when her paired 9's lost to the pocket K's of another player. Mings tried to take out another player, but finished 6th when his A K lost to the paired 10's of Rahul Chaudhari. Rahul Chaudhari paired his Queen card to end Richard Gum's chance at the title, sending him home in 5th. For 4th place, Donald Rousseau earned $5,669 after losing to the Queen kicker of Konstantin Beylm. Beylm took the cash for 3rd when the pccket 5s of Chaudhari held to the river, sending Beylm to the rail.

When the heads up began, blinds were at 30,000/60,000 and ante of 5,000. Chaudhari tried a number of times to negotiate a deal for the ring, but Bone was not going for it. On the final hand Bone moved all-in with A 2 and Chaudhari called with Q J preflop. The river card was a Jack, sealing the championship with top pair.
Rahul Chaudhari -- $18,325
Marthen Bone -- $11,169
Konstantin Beylm -- $7,937
Donald Rousseau -- $5,669
Richard Gum -- $4,535
Jonathan Mings -- $3,401
Michelle Chase -- $2,268
Preston Baxley -- $1,841
Kevin Manley -- $1,561
Event #5 -- No Limit Hold'Em


A total of 305 entered this event paying $340 to get in on the action. Pool size reached $88,755 for the top 30 finishers. Day 2 saw the final table with Maurice Hawkins trying for a 4th WSOP gold ring which would put him in the league of Men "The Master" Nguyen and Mark "Pegasus" Smith who each have four. Final table action began with blinds at 8,000/16,000 and a ante of 2,000.

Leaving in 9th was Maurice Hawkins who had a bad run meeting quad Aces on a prior hand taking the bulk of his stack, pushed the remainder of his chips to the center with A 10, losing to the two pair (K's and 6's) made by Austin McCormick. Robert Whalen walked away in 8th after meeting the heart flush made another player on the flop. Scott Ehlermann finished in 7th when his all-in with pocket A's lost to the two pair made by Brett Martin. Paul Blood claimed 6th place after his Q 2 was run over in a 3 way hand. Stanton Thomas followed in 5th and Brett Martin lost his last 400,000 chips to Larry Weinberg to seal 4th position. With the blinds up to 40,000/80,000, Edward Lackey was shot down by the Ace kicker of McCormick finishing 3rd.

Heads up did not last long as McCormick was a 6 to 1 chip dominator at the start. Just a few hands later McCormick went all-in with K 6 and was called by Weinberg holding J Q. A 6 card on the flop gave McCormick the edge he needed to win and received his first WSOP gold ring for becoming champion.
Austin McCormick -- $21,570
Larry Weinberg -- $13,118
Edward Lackey -- $9,337
Brett Martin -- $6,674
Stanton Thomas -- $5,334
Paul Blood -- $4,003
Scott Ehlermann -- $2,672
Robert Whalen -- $2,166
Maurice Hawkins -- $1,837
Event #6 -- No Limit Hold'Em



This event drew a field of 319 players, generating a total prize pool of $92,829. Cash went to the last 33 in the field. Buy in was $340 per player. Day one went down to eight players as the 9th and 10th were busted on the same hand.

John Kelly moved in from the late position with Q 10 and got called by Jerry Zehr revealing pocket A's. None of the cards dealt were helpful to Kelly, resulting in a quick trip to the cashier's cage for 8th place. Steve Reynolds moved his short stack all-in from the cutoff with Qh Jc, and was called by Mark Pearse who sent Reynolds away in 7th after pairing his King card. Next to walk was Jay Little who went in preflop with 7 8 along with his last few chips. Eugene Esker called with J 3 and won the hand, sending Little to the sidelines in 6th. Player Johnny Bryant tried to force his opponent off the hand after a flop of 3 J 5 with pocket 2's, but the other player had A J in his hand and won with top pair, sending Bryant along in 5th. Then Jerry Zehr's all-in bid with pocket 5's soon faded into smoke in a 3 way hand, leaving Zehr with a 4th place payday. David Ridgeway took a shot at doubling up with A 4, but it failed against the pocket 8's which held to the river. This provided Ridgeway with a 3rd place finish.

In the beginning of the heads up, Mark Pearse had a large lead over Eugene Esker when play began, but within a few hands, Esker grew his stack to within 400,000 chips of Pearse. With the tournament now going either way, both players agreed to chop first and second and play on for the ring. The winning hand came when Pearse went all-in preflop with Ac 8c and was called by Esker holding Ah 4h suited. The board revealed 2d 10h 6c on the flop, the turn was Kh and the river card was 3h allowing Esker to win the ring with an Ace high heart flush.
Eugene Esker -- $22,083
Mark Pearse -- $13,405
David Ridgeway -- $9,552
Jerry Zehr -- $6,823
Johnny Bryant -- $5,458
Jay Little -- $4,094
Steve Reynolds -- $2,729
John Kelly -- $2,219
Christopher Cardenas -- $1,875
Event #7 -- No Limit Hold'Em




The pool for Event #7 was $89,240, which was divided up between the top 24 finishers. Buy in was $440 per player and there were 230 at the tables for this two day event.
Douglas Lovelace -- $22,796
Christopher Cardenas -- $13,939
Michael White -- $9,888
Patrick Fogleman -- $7,059
Perry Ernest -- $5,649
Jamie McAlister -- $4,239
Jeffrey Copeland -- $2,829
Eric Koffman -- $2,293
Thomas Grasso -- $1,945
Event #8 -- No Limit Hold'Em



With a $560 buy in, 313 players contributed to a $151,805 prize pool. Only the top 34 received any money. Matt Lawrence tried to collect on a ring earlier in the season at the Harrah's Tunica event, but it did not work out for him. But winning it two months later was just as sweet for him.

With blinds and antes at 4,000/8,000 and 1,000, final table play started at 3:20 PM. Nathaniel Grinols ended his quest for the ring in 9th after his K J lost to the A K suited of Michael Boyet. High Heels Poker Tour marketing director, Tina Tellone was the lone woman at the final table. She called an all-in with pocket J's and lost to the set of 5's made by Lawrence on the flop. Tellone left in 8th place. Lawrence then wiped out David Rylander in 7th with two pair (5's and 8's) also made on the flop. Next victim was Michael Boyet who went in with pocket K's but was in trouble when Lawrence paired his Ace card on the turn, leaving Boyet picking up the money for 6th place. Austin Schaal finished in 5th after his move with 9d 5d was called by Hijar holding A J of diamonds which held to the river. Duane Gerleman had to accept the losing hand for 4th place, but he did take home over $11K for his efforts. And Brandon Hinkle put in all his chips on an outside straight draw he received on the flop, but nothing else came and he walked to he cashier's cage for 3rd place winnings.

It was a battle between the heads up contestants Matt Lawrence and J. Austin Hijar. For three hours it went on until Hijar moved all-in with 10d Qd and was called by Lawrence with 7c 8c. Flop showed 4h Jh 5c, but running clubs (10c9c) on the turn and river gave Lawrence the victory, worth $36,115 and the WSOPC gold ring he desired.
Matt Lawrence -- $36115
J. Austin Hijar -- $21921
Brandon Hinkle -- $15621
Duane Gerleman -- $11158
Austin Schaal -- $8926
Michael Boyet -- $6695
David Rylander -- $4463
Tina Tellone -- 43628
Nathaniel Grinols -- $3066
Event #9 -- No Limit Hold'Em


Taken from report written by Alan Fowler WSOP Assistant Media Director :

The $1,000 (+90) buy-in No Limit Hold'em event drew an impressive field of 258 runners, generating a prize pool of $250,260, the largest poker tournament prize pool so far at the World Series of Poker Circuit Events at Harrah's St. Louis. The quarter million dollar purse was also the largest ever in the state of Missouri. 21 players made it to day two including event # 6 winner, Gene Esker and Paul Wasicka who would finish the day in 14th place.

Heads-up play began at 5:35 pm with Adams holding about a 2-1 chip lead over Scimeca. Blinds and antes were at 6,000/12,000/2,000. Undaunted, Scimeca slowly chipped away slowly at his opponent to take the chip lead. In the final hand of the night, Adams fired out 60,000 on a flop of 8d5h3c, which Scimeca called. The turn brought a Jh. Adams moved all-in. After about seven or eight minutes, Scimeca called and turned over 6h3h. Scimeca had bottom pair and was drawing to a river flush. Adams turned over Kd9s. The river was a Jc, giving Scimeca the win worth a healthy $62,289 and his first WSOP Circuit Event gold ring. Adams took home $37,964 for second place. Scimeca is a 28-year-old poker player. With over a $25,000 difference in first and second prize and a WSOPC gold ring on the line, Scimeca did not want to let tournament be decided by a couple of fateful all-ins.

And that is how it's done!
Joseph Scimeca -- $62,289
John Adams -- $37,964
Lance Dorsey -- $26,978
Dixon Ruecker -- $19,270
Patrick Fogleman -- $15,416
Larry Smith -- $11,562
Andrew Rubinberg -- $7,708
Michael Patterson -- $6,257
Robert Thornhill -- $5,306
Event #10 -- No Limit Hold'Em



With 116 players paying $1,590 for a seat, the prize pool of $168,780 looked really juicy. But only the top 13 would see any of the cash, so the action was fierce. Coming to the final table with just 43,500 chips meant Kuhnert had a big mountain to climb up. He fought hard and was rewarded heartily for his efforts.

First victim of Kuhnert was 9th place finisher William Emerson. Emerson moved in with A 7 and was called by Kuhnert with A K. With no other cards helping either player, it was over quickly for the 37 year old IT manager. Soon after, Kyle Kloeckner took pocket 8's and sent Angelo Milanos to the sidelines in 8th. Kloeckner then used pocket 10's to overcome the A Q of Peter Hernandez, resulting in a 7th place win for Hernandez. Jason Goldman decided to test the waters with pocket Q's only to be called by the pocket A's of Kloeckner which held to the river, giving Goldman the boot in 6th. Kenneth Ware moved to the middle with pocket A's preflop and was called by Kuhnert with pocket J's. All was right in the world for Ware...until a Jack came up on the river, sending Ware to the cashier's cage for the 5th place winnings. Anand Mody had his stack slowly bleed away until he had to take his last few chips and go for it holding K 2 offsuit. That was not enough to defeat the Q 10 of Gregory Headrick who paired a card on the flop, putting an end to a bad day for Mody in 4th, (well he did take home $22,043 so it wasn't that bad). Kloeckner used pocket A's to vanquish the Q 10 suited of Headrick to take one step closer towards the championship, giving Headrick a 3rd place finish.

At the start of the heads up, Kloeckner was at a big advantage in chips to Kuhnert. But he lost two significant hands which moved piles of chips to Kuhnert. On the last hand of the night, Kuhnert raised for about 100,000 before Kloeckner moved all-in. Kuhnert called, turning over pocket J's. Kloeckner was looking to pair his King card after tabling Kd 7d, but the board played out 4c 4h 2d 8c 10s. So with a resulting two pair (J's and 4's), Charles Kuhnert won his first WSOP gold ring!
Charles Kuhnert -- $48,776
Kyle Kloeckner -- $33,047
Gregory Headrick -- $22,043
Anand Mody -- $15,747
Kenneth Ware -- $12,591
Jason Goldman -- $9,452
Peter Hernandez -- $6,295
Angelo Milanos -- $5,114
William Emerson -- $4,321
Event #11 -- Ladies No Limit Hold'Em Sunday April 11 4:00 PM Buy In: $230



Felicia Johnico -- $7,975
Barbara Hunsel -- $5,398
Lynn Asher -- $3,600
Julie McDonald -- $2,572
Kristy Campbell -- $2,057
Jessica Crites -- $1,542
Julie Gegg -- $1,027
Yun Zhou -- $835
Tina Tellone -- $707
Event #12 -- Championship Event (3 day event) Tuesday April 13 12:00 PM Buy In: $5,180

This event drew 129 players, creating a total prize pool of $625,650 which will go to the top 12 finishers. In the field were top pros such as Tom Franklin, Blair Hinkle, Dennis Phillips, Paul Wasicka, Soheil Shamseddin, Allen Kessler, Bernard Lee and multi-platinum recording artist Nelly.

By the end of Day one, there were 34 remaining to fight in the next round. Below is the payout schedule:

Payout Schedule:

$180,814
$122,502
$81,710
$58,373
$46,673
$35,036
$23,337
$18,957
$16,017
Day One Top 9 Players:
Joel Casper -- 140,900
Jeff Roper -- 135,800
Matt Schwarmann -- 130,400
"Captain" Tom Franklin -- 116,400
Jason Potter -- 100,100
Gary Lambert -- 85,100
Greg Headrick -- 76,900
Ben Hock -- 73,700
Peter Brooks -- 73,100
Day two went on for over nine hours before the number for the final table was reached. When the field got down to the bubble, it took 2 hours to burst.

Final Table Players:

Jeff Roper -- 592,200
Matt Schwarmann -- 409,000
Joel Casper -- 193,500
Gary Lambert -- 188,500
Jason Mo -- 184,000
Jordan Portell -- 116,000
Gregory Headrick -- 111,000
Michael Softino -- 70,000
Gary Bolden -- 66,500
Day 3 action got under way when the players resumed their seats at 2:00 PM. They battled it down to a new champion who will receive a coveted diamond-encrusted WSOP Circuit Main Event Championship gold ring, $170,814 and a $10,000 2010 WSOP Main Event Seat. Blinds were at $2,500/$5,000 with ante of $500. Busting in 9th place was Michael Sortino who lost to the two pair (A Q) made by Gary Lambert. Next was Gary Bolden who moved in with pocket 2's and was called by Jeff Roper brandishing pocket Q's. With no other help from the table, Bolden walked away in 8th. Lambert soon took out player Gregory Headrick in 7th when he paired his King card on the river after calling Headrick's all-in move. On a bad beat, player Joel Casper moved in with the pocket A's he received verses the pocket J's that Roper held. It all looked well with the 6 5 6 flop until another Jack came up on the turn, giving Roper a full house (J's/6's). This left Casper busted in 6th place. Following close behind, Jordan Portell finished in 5th when Gary Lambert flopped a winning flush hand. Matthew Schwarmann lost to the 7 kicker of Jason Mo to walk to the cashier's cage for 4th place cash. After pairing his Ace card on the turn, Gary Lambert went all-in and was insta-called by Jeff Roper who made an Ace high flush on the flop. Seeing that he was drawing dead, Lambert did not wait for the dealer and got up, shook Roper's hand and went to the rail in 3rd.

The battle for the heads up lasted two hours, with Roper having a 2 to 1 chip lead in the beginning. With constantly aggressive play, Roper wore his opponent down to a small stack. On the last hand Mo took his A Q and went all-in. He was called by Roper who slammed his pocket Aces to the table. The rockets held to the river, giving Roper a WSOP Circuit Main Event win.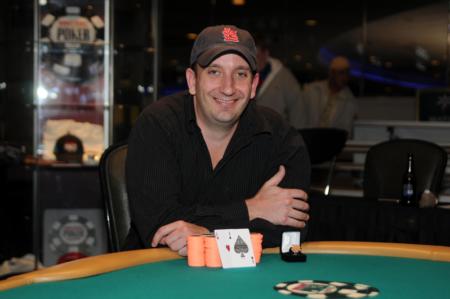 St. Louis Main Event Champion Jeff Roper
Jeff Roper -- $170,814 + $10,000 2010 WSOP Main Event Seat
Jason Mo -- $122,502
Gary Lambert -- $81,710
Matthew Schwarmann -- $58,373
Jordan Portell -- $46,673
Joel Casper -- $35,036
Gregory Headrick -- $23,337
Gary Bolden -- $18,957
Michael Sortino -- $16,017