Home
World Poker Tour
WPT Archives
2010 World Series of Poker
WSOP Archives
2010 WSOP Circuit
Tournaments
Poker on TV



Horseshoe Hammond | Horseshoe Southern Indiana | Harvey's Lake Tahoe
Harrah's Atlantic City | Harrah's New Orleans Bayou Challenge | Harrah's Tunica
Horseshoe Council Bluffs | Caesar's Atlantic City | Harrah's Rincon
Harrah's St. Louis | Caesar's Palace
2010 Harvey's Lake Tahoe
World Series of Poker Circuit Event
Harvey's Lake Tahoe
Stateline, Nevada
November 5 - November 15, 2009

The Harvey's Lake Tahoe Circuit Event was being played during the 2009 WSOP Main Event final table where 21-year old Joseph Cada became champion. As a result, coverage is a little late getting out. There are a total of 18 events for Lake Tahoe and we will post information on as many as the WSOP makes available to us. So if some events are out of order, please forgive us.

Event #1 -- No Limit Hold'Em

A total number of players was 250 on this two day event. Buy-in was $300 making a pool of $72,750. There were 12 players remaining at the end of Day 1 which returned to play to the final table and then for the title of champion. Final table action began at level 19 with blinds of 4,000/8,000 and a 1,000 ante.

By the time Lothar Knierieman went out in 5th place after his all-in with A 8 lost to the paired Kings of Shawn Roberts, a deal was made between the four remaining players. So officially, this is Shawn Roberts's first WSOP Circuit ring victory.
Shawn Roberts -- $20,077 ($12,800 in a four way deal)
Rudy Sisson -- $12,077 ($11,300 in a four way deal)
Lawrence Chow -- $8,221 ($11,018 in a four way deal)
Les Spear -- $5,602 ($10,860 in a four way deal)
Lothar Knierieman -- $4,147
Chuck Hancock -- $3,274
Mousa "Moose" Halo -- $2,474
Rudy Sisson -- $1,819
Emilio "EP" Porcalla -- $1,310
Event #2 -- No Limit Hold'Em

Brand new champion Anthony Dye had only played in home games, because poker is illegal in the state where he lives. So he was well rewarded by making the trip to Nevada as he took home the lions share of a $101,268 prize pool which was created by the 348 players who bought in. (And the buy-in was $300 per player.)

On the second day of this event, Dye began at the final table with 646,000 chips. Lady luck stepped away for a drink and came back to help Dye double up verses Alan Rosenson when his pocket Queens held up to the pocket Jacks of Rosenson. After that he never looked back. When asked how he liked playing in a WSOP event he said, "It was more than I ever dreamed of. This was the best week of my life!" So another 22 year old champion is born. Keep an eye open as he says he will play in more WSOP events in the future.
Anthony Dye -- $26,373
Ryan "Gusty" Gustineau -- $15,950
Ed Yang -- $10,684
Alan Rosenson -- $7,190
Damon Witt -- $5,367
Todd Wilson -- $4,253
John Rodgers -- $3,190
Brian Graham -- $2,380
Jason "Taco" Ortiz -- $1,722
Event #3 -- Pot Limit Omaha (High Only)

Troy Thompson really had to earn his gold ring with top players like Sabyl Landrum and Brent Carter at his final table. Landrum finished deep in the 2006 WSOP Main Event and Carter has over $3 million in lifetime cashes. Things should have gone easy with just 52 players paying $300 each. This created a pool of $15,132. When the final table got underway, Thompson has 114,000 chips and blinds were 300/600. When he got to the heads up, chips really went back and forth between the two opponents. But McMorrow lost a ton of chips when he missed his straight and on the very next hand he went all-in on a flop of 6 8 8 while holding A K J 2. Thompson called with A A K 3 and it held up after a Queen and 7 were dealt out, which was just right to earn him the title of champion.
Troy Thompson -- $5,379
James McMorrow -- $2,875
Neil "Tater Salad" Henning -- $2,013
Steve "SUV" Underly -- $1,422
David "The" Hood -- $1,090
Brent Carter -- $863
Sabyl Landrum -- $666
Joe Michael -- $484
Matt Dames -- $340
Event #4 -- No Limit Hold'Em

There were 273 players who entered, paying $500 each for a seat. A pool of $132,405 was created for the top players. At one point on Day 1, Anthony Swift was down to his last 400 chips and was almost the first to bustout if it weren't for a all-in move win that allowed him to triple up and stay in the game.

In a little reality as to what takes place in tournaments, the last 7 players agreed to chop the remaining parts of the pool so each of those 7 players including the winner received $14,526, but Anthony received the gold ring of champions.
Anthony Swift -- $36,543
John McFarland -- $31,979
Michael Foundation -- $14,962
Richard Orchid -- $10,195
Allen Jacobi -- $7,547
Danny Linder -- $5,958
Drew Marks -- $4,502
Tat Le -- $3,310
William "Will" Chao -- $2,383
Event #5 -- Limit Omaha Hi/Lo (8 or better)

Professional player Frankie O'Dell who owns 2 WSOP gold bracelets is knows as a Omaha guru. He just came to visit a friend in the Lake Tahoe area, came to Harvey's Lake Tahoe and jumped into the tournament. Buy-in was $300 for the 107 players who attended the tables. Prize pool grew to $31,070.

After the first 6 eliminations, a three way deal was struck between the last players at the table which allowed O'Dell who has been playing professionally since he was 21 another win on the books.
Frankie O'Dell -- $9,337
Jack Larson -- $5,468
Scott Dixon -- $3,759
Brendon Thomson -- UNKNOWN
Donna Heard -- UNKNOWN
Glenn Uchibori -- UNKNOWN
William "Computer Bill" Bertram -- UNKNOWN
Richard Lathem -- UNKNOWN
Kirk Loberman -- UNKNOWN
Event #6 -- No Limit Hold'Em

A total of 192 players paid $300 each to participate, creating a pool of $55,872. The champion Jody Shadbolt originally came to Stateline, Nevada because it is where he got married as well as his wife's birthday. Normally he plays at a Horseshoe casino close to home, but he decided to jump into this tournament and ended up with the gold ring of champions and enough money to buy his wife a gold ring too. Here is how the final table turned out:
Jody Shadbolt -- $16,790
Matthew Weber -- $9,833
Kien "Kim" Thich -- $6,761
Ed "Special Ed" Yang -- $4,693
Lance Oliver -- UNKNOWN
David "Dragon Luck" Leonard -- $2,738
Mike Fisk -- $2,179
Robert Conlon -- $1,620
Steven Gibbs -- $1,173
Event #7 -- H.O.R.S.E.

The number of player who signed up were 87 and each paid $340 to enter. A pool of $25,317 was created. The cash in the event went to the top 8 finishers.
Micheal Scott Arents -- $9,243
Jason Stern -- $4,987
Miles Hathaway -- $3,392
William Schrader -- $2,405
Marie Gabert -- $1,848
Gregg Wilkenson -- UNKNOWN
J. Wyatt -- $1,139
Suzan Landrum -- $835
Event #8 -- No Limit Hold'Em

The $300 buy-in was great for Ivan Holmes giving him the chance to come out on top of a 157 player field. Cash pool rose to $45,687 for the top players. Ivan who plays golf a lot, took up poker seriously four years ago. He led the pack as chip leader for the final table in this two day event with 205,000 chips. Even though he did lose chips to "Big Freddy" at one point, Holmes turned things around and won the event and the gold ring that comes with it.
Ivan Holmes -- $13,728
Freddy "Big Freddy" Murphy -- $8,041
Richard Thousand -- $5,528
Patricia "Phyllis Helmuth" Tequida -- $3,838
Craig Stackert -- $2,901
Chris Bioletto -- $2,239
Jesse "Big Swing" Starke -- $1,782
David "Woo" Robinson -- $1,325
John Wolfe -- $959
Event #9 -- Pot Limit Hold'Em/Omaha (High Only)

This alternating game of poker was interesting enough for 52 players to pony up $300 each for the rights to a seat. Prize pool reached $15,132. Play time was of course short, beginning just after midnight and ending just before 3:00 AM that same day. The 22 year old champion Danny Hinkle says he has learned poker through a combination of watching online poker and participating in cash games at his favorite poker room/casino.

During a round of Omaha, David Dubnik was out of the game in 4th after Joe Mathes made a set of Jacks with the board showing 6 9 5 J and then a straight when the dealer put down an 8 on the river. After that, a three way deal was struck with Hinkle having 131,800 chips, Dauenhauer with 104,000 in front of him and Mathes holding onto 75,000 chips. This was the finishing and cashing order for Event #9.
Danny Hinkle -- $5,379
Darryl Dauenhauer -- $2,875
Joe Mathes -- $2,013
David Dubnik -- $1,422
Ken Wiegardt -- $1,090
Bryan Williams -- $863
Tony Townsend -- $666
Joseph Acosta -- $484
Yuval Bronshtein -- $340
Event #10 -- No Limit Hold'Em

Amazingly enough Brock Sawyer won the first WSOP event he had ever entered! He attributed aggresive play combined with patience to wait out bad cards to his victory. The starting field was 161 in size paying a buy-in of $300, and the pool was $46,851.
Brock Sawyer -- $14,079
Scott Moskalik -- $8,246
Floyd Clemman -- $5,669
Don Smith -- $3,935
Jesse Dean -- $2,975
Steve Schcchitano -- $2,296
Robert Kosten -- $1,827
Jong "Jason" O -- $1,359
Monte Gilley -- $984
Event #11 -- Omaha 8 Hi/Lo

This event had a smaller gathering at the tables with 65 players paying $300 each for a seat. Prize pool was $18,915 which went to the top 5, although a deal was struck between the last 2 players when heads up began. On the final hand, Ware made the high, Kapsack made the low which left Scott Dixon making for the cashier's cage after being squeezed out of the tournament. With a board showing 7 3 8 7 A, Ware who had A 2 7 8 made a full house (7's/A's).

Ware had the most chips and was declared champion, then he dashed off to play in the Crazy Pineapple event which he had bought into but not played a hand yet. Here is the final table results:
Ron "Grumpy" Ware -- $6,724
Bruce Kapsack -- $3,594
Scott "Scotty O" Dixon -- $2,516
Mark "Scoop" Lamb -- $1,778
Frankie O'Dell -- $1,362
Pete Donnelly
Gary "Big Gar" Neese
Miles Hathaway
Anthony "Too Tight" Rollins
Event #12 -- No Limit Hold'Em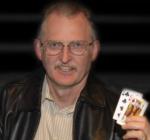 There were 185 players who dished out $300 to play No Limit Hold'Em. A pool of $53,835 was generated and went to the top 18 in this two day event. Gary Kramer earned his first WSOP circuit gold ring after winning against Tony Le in a dramatic heads up. With a board showing A 9 9, Le holding A 3 decided to move all-in and was called by Kramer who brandished K 9. The last two cards bricked, giving a big victory to a very happy Gary Kramer.
Gary Kramer -- $16,175
Tony Le -- $9,475
Joel Monteith -- $6,514
Paul Sterling -- $4,522
Greg Burns -- $3,419
Mark Doherty -- $2,638
Winston Chung -- $2,100
Tim O'Brian -- $1,561
John Muscat -- $1,131
Event #13 -- Limit Crazy Pineapple Hi/Lo (8 or better)



Okay, so your first question is what is Crazy Pineapple? According to the WSOP, this is a three-card version of the popular poker game of Hold'em. And Lake Tahoe has had many tournaments there based on this game at their casino over the past 20 years. But no Crazy Pineapple tournament had ever been scheduled at any stop on the WSOP Circuit, until this year.

A total of 34 sat down at the tables, paying a entry fee of $340, which resulted in a pool size of $9,894. And that cash went to the top 3 finishers. The winner is 77 year old Jack Larson who has won quite a few tournaments, but this is his first WSOP circuit victory. Here is how the final table did:
Jack Larson -- $4,947
Presten Derden -- $2,968
Garrett Levini -- $1,979
Event #14 -- No Limit Hold'Em



This two day event had 202 players lined up to pay $340 each for a seat. A cash pool of $58,782 went to the top 27 finishers. The field played down to the 9 for the final table of which Denise Molloy just missed busting out in 10th place. After the first 7 were gone, a battle ensued between the two that were left.

Following a grueling Friday night heads-up battle that reached nearly three hours, Charlie Fiorella and Rip Fritzer came the sensible deduction that both players were pretty evenly matched and that to continue playing would have been too much of a gamble. Hence, Fiorella and Fritzer agreed to chop up the prize money, with Fiorella taking the fame and glory of first place.
Charlie Fiorella -- $16,227.00
Rip Fritzer -- $9,758
J.R. Hamilton -- $6,642
David Robinson -- $4,526
Neal Cooke -- $3,351
Matt Luther -- $2,645
Bill Rizzuto -- $1,999
Eric Thompkins -- $1,470
Mike Hashmati -- $1,058
Event #15 -- Pot Limit Omaha (High Only)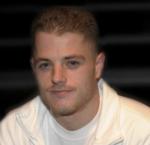 Ty Rundquist gained his first WSOP Circuit title and the gold ring that goes along with it, after striking a deal with Vinh Do 45 minutes into the heads up. What made this a huge battle between them is that at the beggining of the heads up, Do had a 4 to 1 chip advantage. In the next few minutes Rundquist chipped away at Do's stack until he had turned the tide in his favor. The sun began to show up on the horizon and both players decided to call it a night.

A total of 40 players entered after paying a $300 entry fee. Pool size rose to $11,640 and went to the top 5 finishers.
Ty Rundquist -- $5,335
Vinh Do -- UNKNOWN
Mark Bonsack -- UNKNOWN
Kevin Phillips -- UNKNOWN
Dave Costain -- UNKNOWN
Event #16 -- No Limit Hold'Em



This two day event attracted a strong field of 302 players, generating $87,882 in prize money. The top 36 finishers collected payouts.

After three hours at the final table, the heads up play began. Joe worked his way up from being 7th in chips. The key hand to victory came when Joe Giannone received a J 10 to the 10 7 of Tony Solis with a flop of 10 8 4. Tony doubled up Joe through this hand giving Joe the majority of his chips. On the next hand, Tony lost what was left and Joe earned his gold championship ring.
Joe Giannone -- $22,892
Tony Solis -- $13,841
Kevin O'Sullivan -- $9,272
Elizabeth Elwell -- $6,240
Paul Carey -- $4,658
Mark Moskowitz -- $3,691
Jaime Rascon -- $2,768
Vincent Phu -- $2,065
Dustin "Doc" Williams -- $1,494
Event #17 -- Ladies Only No Limit Hold'Em



Okay, if you like controversy then here is a good chunk for you. Greg Sessler, a 22 year old male, is the champion of the Ladies No Limit Hold'Em event. There were 96 players, (can't say 96 ladies in this case), who came to the tables for part of a $27,396 prize pool that went to those who made the final table.

Here are some comments by the WSOP regarding this event:

Harvey's Lake Tahoe has crowned a male winner in a "ladies-only" poker tournament. How is this possible, you may ask? Easy. The WSOP isn't a political organization and can't be expected to get involved in debates about sexism, discrimination, or other polarizing issues which may be applicable to poker tournaments. While the WSOP makes a sincere effort to promote women in poker and offers quasi-exclusive tournaments designed to increase female participation in the game, officials generally do not turn away those who want to play in the event, based solely on gender. In short, the WSOP hopes that by offering and supporting ladies-only poker tournaments and providing an event for which there is considerable interest (by women), others (namely men) will respect and understand the spirit of competition. And so, ladies-only tournaments are expected to be an offering at most WSOP Circuits so long as there is a demand for these events.
Greg Sessler -- $9,932
Mariance "Mimi" Kalem -- $5,308
Corinn Ignatieff -- $3,715
Candy Alexander -- $2,626
Linda Peverini -- $2,100
Tera Brown -- $1,592
Persia Bonella -- $1,229
Rebecca Burnside -- $894
Rose Erhart -- $629
Event #18 -- Championship Main Event $5,150 Buy in

Day 1
There were a total of 64 players who came to the tables to compete for a share of the $299,400 prize pool. Some of the names in the field included Tommy Vedes, Scott Clements and Matt Keikoan. Cash will go to the top 9 places.
$106,435
$56,886
$39,820
$28,144
$21,557
$17,066
$13,174
$9,581
$6,737
At the end of the day there were 23 that will see seats on Day 2. Here are the top 9 players with chip counts:
Steve Kujubu -- 119,800
Tommy Vedes --117,000
James Czarnecki -- 98,100
Gregory Masterson -- 94,200
David Woo -- 75,000
Tim Davey -- 74,900
Greg Haubner -- 63,100
John McNelly -- 56,400
Matt Keikoan -- 56,000
Day 2 Final Table

It took until 6:00 PM to get down to the 9 for the final table, and another 8 hours to pare that down to the final two for the heads up battle between Matt Keikoan and Justin Hallstrom. Here is the winning hand summary as given by the WSOP:

Keikoan enjoyed about a 5 to 1 chip advantage when the duel began. The action lasted another hour before the final hand was dealt out at about 3 am. Hallstrom, sensing he had to make a bold move and try to double up, moved all-in with A-5. Keikoan looked down and saw A-K and snap-called. A king on the flop all but ended Hallstrom's shot of a comeback. Keikoan ended up scooping the final pot of the tournament with a pair of kings.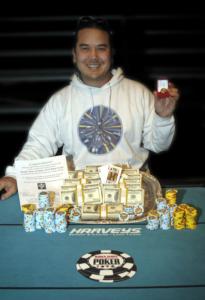 Matt Keikoan Wins Main Event Championship
Matt Keikoan -- $106,435
Justin Hallstrom -- $56,886
John Goodger -- $39,820
Ari Engel -- $28,144
Tommy Vedes -- $21,557
Roger Sippl -- $17,066
David Woo -- $13,174
Tim Davey -- $9,581
John McNeilly -- $6,737
Photo Credit: IMPDI