Home
World Poker Tour
2009 World Series of Poker
Event Schedule
WSOP Archives
Main Event Day 1A
Main Event Day 1B
Main Event Day 1C
Main Event Day 2
Main Event Day 3
Main Event Day 4
Main Event Day 5
Main Event Day 6
Main Event Day 7
Main Event
Final Table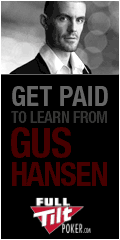 Click Here to Access Individual WSOP Event Reports
2007 World Series of Poker
Event #39 H.O.R.S.E. Tournament
Day 1
The 2007 World Series of Poker Event #39 H.O.R.S.E. tournament is a unique stand out at this years WSOP. With a $50,000 buy in per person, it is not for the average player. Even with a number of satellite events for this event, there were 148 players at the tables, an increase of just 5 more than the 143 that came last year. But at $50,000 each, a prize pool reached $7,104,000. First place will pay $2,276,832 to it's newest champion, which is almost a half a million more than Chip Reese who won the event last year took home with money going to the top 16 only. To read up on last years event follow this link to the 2006 World Series of Poker Event #20 H.O.R.S.E. tournament. Here are the payouts for the final table:
$2,276,832
$1,278,720
$852,480
$586,080
$444,000
$337,400
$259,296
$188,256
$131,424
Everyone will start with $100,000 in chips and participate in different games every 30 minutes. The games featured for the first 5 levels will be:
Hold'em -- Blinds of $300/$600, Limits of $600/$1,200
Omaha/8 or Better -- Blinds of $300/$600, Limits of $600/$1,200
RAZZ -- Ante of $200, Low Card of $200, Completion of $800 and Limits of $800/$1,600
Stud -- Ante of $200, Low Card of $200, Completion of $800 and Limits of $800/$1,600
Stud/8 or Better -- Ante of $200, Low Card of $200, Completion of $800 and Limits of $800/$1,600
After Stud/8 or Better, the game changes back to Hold'Em and the amounts increase. At 12:15 p.m. Chip Reese gave the order to "Shuffle up and deal!", and the star packed tables began a adventure to see who will capture the bracelet this year. Chip Reese was there to defend his title as were other players like Phil Ivey, John Hennigan, Gabe Kaplan, Mike Sexton, Dewey Tomko, David Singer, Howard Lederer, Doyle Brunson, Todd Brunson, Allen Cunningham, Maureen Feduniak, Erik Seidel, Annie Duke, Chau Giang, Thor Hansen and Mike Matusow.

First elimination took place during level 9 of Stud with Jeff Lisandro, who just won the Event #32 bracelet at Seven Card Stud, when he lost to the Broadway straight of Mark Gregorich. Also during Stud, Lyle Berman was busted by Kristy Gazes as her paired Aces held up against the two 7's of Berman. When the game changed to RAZZ, David "The Dragon" Pham was eliminated after Eli Elezra got a pair of 2's which beat Pham paired J's. During Stud/8 Gus Hansen was sent to the rail by a pair of 5's held by Steve Sung. Others who went out on Day 1 include Andy Black, John Kabbaj, Josh Arieh, David Benyamine, Sammy Farha, Mark Vos and Chau Giang. Day 1 ended with 127 remaining. The next round will start at 2:00 p.m. PDT tomorrow. Here are the top 9 with chip counts:
Eli Elezra -- 561,000
Bruno Fitoussi -- 358,900
David Oppenheim -- 302,300
Gavin Smith -- 260,900
Phil Ivey -- 260,400
Alexander Kravchenko -- 218,900
Barry Greenstein -- 211,800
Erik Seidel -- 189,700
Toto Leonidas -- 188,100
Day 2
Well today the gloves came off, as the number of players taken out of the tournament skyrocketed. This second round started with 127 at 2:15 p.m. PDT and by 11:15 p.m. the number was down to 56 players. Play began with Stud at level 19 with an ante of $500, limits of $2500/$5000, bring in at $700 and completion of $2500. Some of yesterday's short stacks like Jesse Jones with 2000 chips, Brandon Adams with 13000, Patrick Bueno with 25900 and Mike Sexton with 14600 were among the first to go. Tony Guoga started with 64000, but soon got whittled down badly and was busted in a 3-way involving Greg Raymer and Carlos Mortensen. These were followed by Carlos Mortensen, Jennifer Harman, Ted Lawson, David Levi, Sherkhan Farnood, Hassan Habib, David Chiu, Doyle Brunson, T.J. Cloutier, Nick Frangos, William Chen, Maureen Feduniak and Robert Williamson III. At 12:45 a.m. there were 52 survivors that will move on to Day 3. Of those survivors Phil Hellmuth ended the day at 412,000 and Chip Reese is still in the running, although he is really short stacked with just 35,000 left. The top 9 with chip amounts are below:
John Hanson -- 650,000
Eli Elezra -- -568,000
Kenny Tran -- -544,000
Allen Cunningham -- 526,000
David Oppenheim -- 469,000
Justin Bonomo -- 430,000
Amnon Filippi -- 429,000
Andy Bloch -- 425,000
Matthew Hawrilenko -- 416,000
Day 3
With ESPN cameras all over the place, the 52 players left from yesterday sat down for another round of poker business. The game being played is Stud with a $2,000 ante, limits are $10,000/$20,000, the bring in is $3,000 and completion $10,000. During this round Cyndy Violette, David Sklansky and Greg Mascio were busted out of the tourney. After the game moved to Stud/8 OB having the same betting structure David Williams, Scotty Nguyen and defending champion Chip Reese were busted out. These titans were followed by Erik Seidel, Phil Ivey, Phil Hellmuth, Allen Cunningham, Johnny Hennigan and Annie Duke. By the end of the day at 11:15 p.m. there were 21 players still standing that began bagging their chips. Some of those players that will continue to make it tough for everyone are Gabe Kaplan with 625,000 chips, Chris Reslock 536,000, Thor Hansen 537,000, Greg Raymer 504,000, Dewey Tomko 248,000 and Daniel Negreanu having 149,000. Mike Matusow who seemed to piss off everyone today with his mindless braying will also be in the field with 696,000 chips. Numerous players were either ignoring him or threatening to call the floorman as Phil Hellmuth did, saying Matusow's mouth was crossing the line. Action will begin tomorrow at 2:00 p.m., so come back to see who wins a seat at the final table.

Day 3 top 9 chip leaders:

Amnon Filippi -- 2,343,000
Kenny Tran -- 1,959,000
Bruno Fitoussi -- 1,248,000
John Hanson -- 1,215,000
David Singer -- 1,017,000
Freddy Deeb -- 963,000
Tim Phan -- 889,000
Barry Greenstein -- 700,000
Mike Matusow -- 696,000
Day 4
Today was an incredible day for poker. Everyone had their A game on steroids when they sat down to play at 2:00 p.m. PDT. ESPN will film this event with cameras at all three tables and it was decided that the final table will consist of eight players. The game is Seven Card Stud with antes of $5,000, bring-in of $5,000, completion of $20,000, with limits of $20,000/$40,000. First bustout happened with Daniel Negreanu when his two pair (J's and 8's) were outdone by Bruno Fitoussi's two pair of A's and 3's. When Greg Raymer busted Noah Jefferson in 17th with an Ace high straight, everyone left was in the money. Worse hand of the tourney had to go to David Singer when during Omaha, he made quad 6's...only to be stopped by the wall of quad K's of Steve Wolff losing a lot of chips in the process. (David still made the final table!) The mindless chatter of Mike Matusow was put to rest in 16th when he was run over, courtesy of a wheel (hand) from Steve Wolff. There were a lot of excellent hands played, courage shown and bad beats that took place which means you have to watch this on ESPN when it is shown. Last bust came during RAZZ when Gabe Kaplan went all in on 4th street with Freddy Deeb and Thor Hansen. By the end of the hand Freddy said, "Four sixes". Freddy scooped a HUGE pot, Hansen was left with 40,000 chips and Kaplan went out in 9th place. Come back as this final table will be a battle of the titans to be remembered!

Final Table Players:

Amnon Filippi -- 4,015,000
Freddy Deeb -- 3,500,000
Kenny Tran -- 2,445,000
John Hanson -- 1,995,000
David Singer -- 1,330,000
Bruno Fitoussi -- 895,000
Barry Greenstein -- 750,000
Thor Hansen -- 40,000
Gabe Kaplan who did not make the final table, but deserves honorable mention
Final Table
This monster of a final table started at 2:30 p.m. with Seven Card Stud/8 OB, having antes of $10,000, bring-in of $15,000, completion of $50,000 with limits of $50,000/$100,000. The rail was full of other pros like Chau Giang, T.J. Cloutier, Gavin Smith, Daniel Negreanu, J.C. Tran and Andy Bloch who wanted to see how things end up. First to go on the beginning hand was Thor Hansen in 8th place who was all-in from the start suffering from that crushing last hand he had with Freddy Deeb yesterday. Hansen lost to John Hanson's two pair (7's and 5's). With the game switching to Omaha, Barry Greenstein was eliminated in 7th, losing to the set of 9's with an A Q kicker held by Amnon Filippi. While playing RAZZ, David Singer was ousted in 6th by the 8 7 low of Bruno Fitoussi. (David also made the final table in 2006 as well.) Play from this point went rather quickly as 74 hands were played in 3 hours, with chips flying so fast that Freddy went from pulling down a 3 million chip pot to going to 430K in less than 10 minutes (5 hands). He then doubled up in Omaha 8 and tripled up in RAZZ, putting him back in the game. Then during RAZZ, Kenny Tran ended his fight in 5th place losing to the 7 6 low of Amnon Filippi. But then yesterday's chip leader Amnon Filippi fell to the 10-high club flush of Bruno Fitoussi while playing 7 Card Stud 8/OB, leaving in 4th place. After that, a void of time in the amount of 6 hours passed before the next player John Hanson walked away from the table which encompassed 151 hands for those keeping track. At this point while playing RAZZ, the levels were so high that without raises it would cost over 2 million chips to see a showdown. And for John Hanson, it cost all his chips for such a scenario to learn that Freddy Deeb had the best hand with a 6 5 low rewarding his talent and stamina with a 3rd place finish among all the top players in the world that were in this event.

Heads up began at 4:08 a.m. between Freddy Deeb with 10,800,000 chips and Bruno Fitoussi of France with 4,070,000. The game is Seven Card Stud with antes of $50,000, bring in of $70,000, completion of $250,000 with limits of $250,000/$500,000. Play was cautious with many folds as no one wanted to risk losing huge portions of their stack. Twenty one hands later, the game switched to Stud 8/OB with the same amounts. Then, during one hand Deeb cripples Fitoussi down to 560,000 chips. The next hand was all-in for Fitoussi and Deeb wished him good luck. When the dust settled, Freddy Deeb won with a 8 7 5 4 A for the low and a pair of 5's for the high, giving Freddy a bracelet boasting 91 black diamonds and two rubies and the title of champion of the most prestigious tournament outside of the Main Event.


Freddy Deeb -- $2,276,832
Bruno Fitoussi -- $1,278,720
John Hanson -- $852,480
Amnon Filippi -- $586,080
Kenny Tran -- $444,000
David Singer -- $337,440
Barry Greenstein -- $259,296
Thor Hansen -- $188,256