Home Online Casino Real Money
2009 WSOP Event Schedule WSOP TV Schedule Free Slot Games Site Map 3 Webmasters

Day 1A | Day 1B | Day 1C | Day 1D | Day 2A | Day 2B | Day 3 | Day 4 | Day 5 | Day 6 | Day 7 | Day 8 | Final Table




All linked player names have free bios, courtesy of FullTiltPoker
Event #57 Main Event Day 1A
Number of players entered Day 1A: 1,116, Remaining 821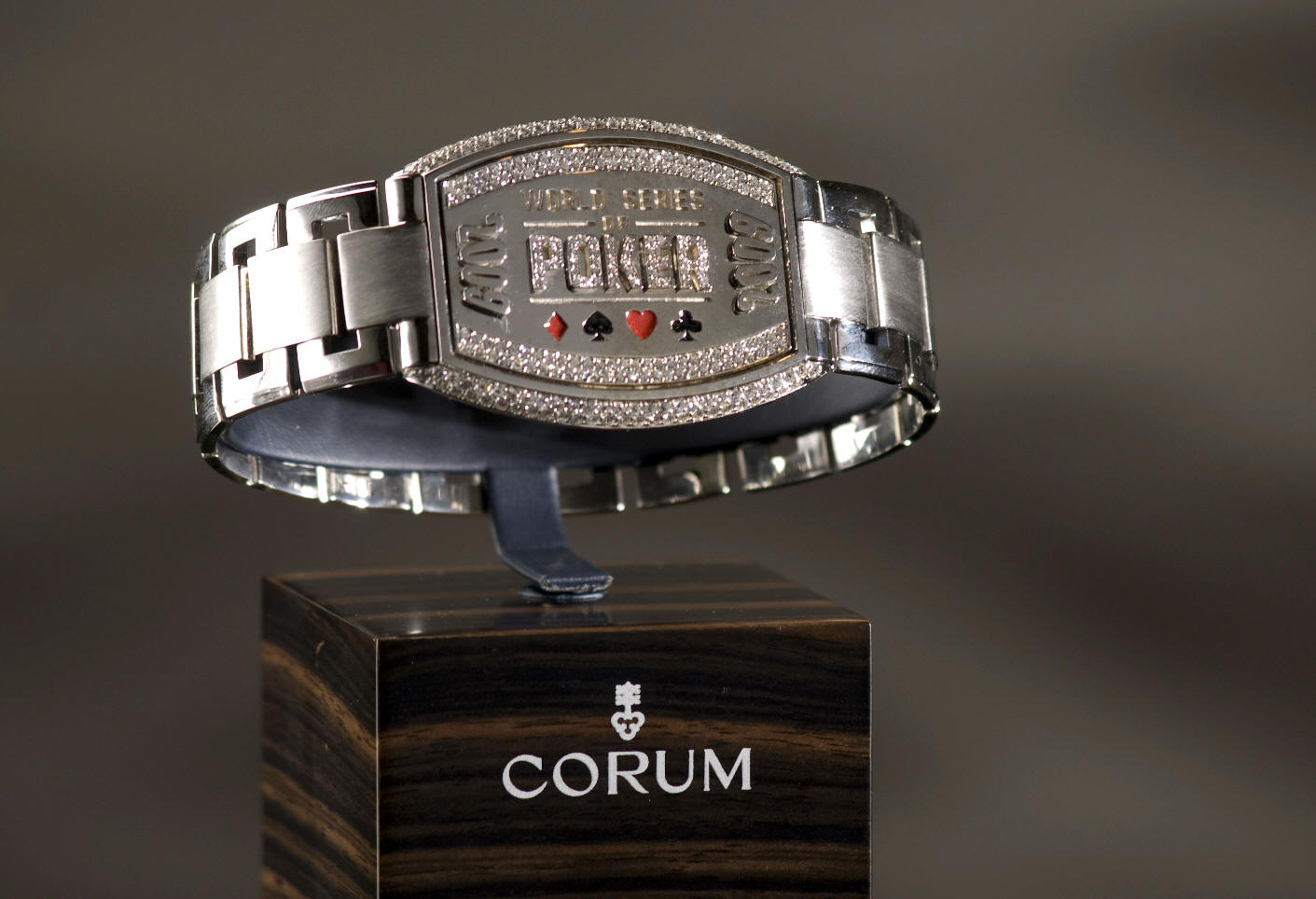 2009 World Series of Poker Main Event Bracelet
Day 1A

8:19 AM -- It is now time to rock! Poker players from around the planet will come together to take a shot at immortality by winning the Main Event. All players will receive $30,000 in chips to start with blinds beginning at $50 to $100. The goal will be to survive 5 levels of play, with each level lasting 120 minutes. By the time the final table is reached, play could go as high as level 47 with an ante of $1,000,000 and blinds of $3,000,000 to $6,000,000. If it does happen, count on us to let you know about it.

One nice feature for those who are entering is that based upon availability, you can choose your date to play Day 1, which is divided into 4 parts A, B, C and D. Last year brought 6,844 players to the tables and resulted in Peter Eastgate as the Main Event champion. This year money does not seem to be a problem with the economic global slowdown, so we may see a better turnout than in 2008. Things will kick off at 12 noon here in Las Vegas, Nevada. Come back from time to time and see what is taking place at the biggest poker tournament on earth!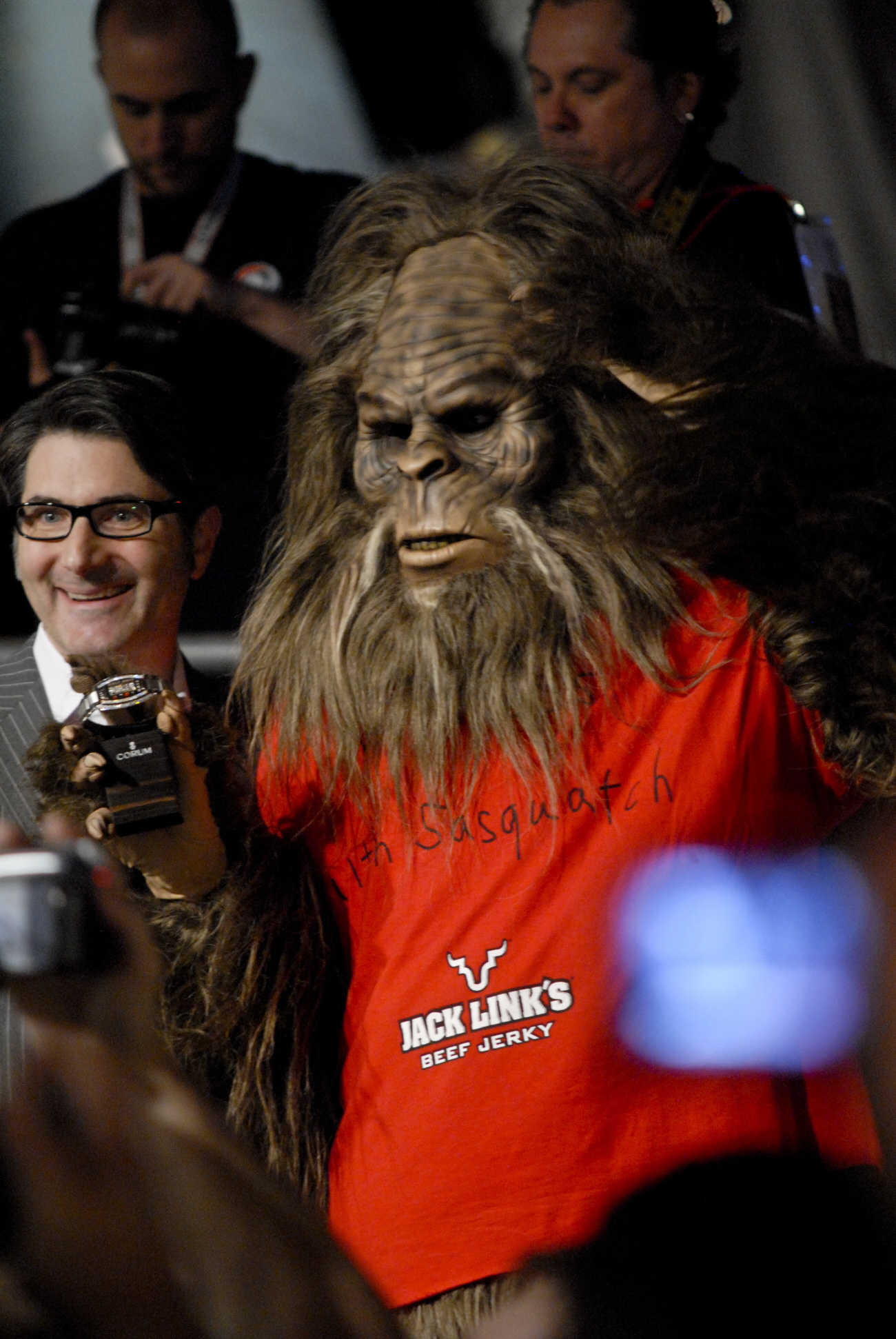 12:01 PM -- With the Sasquatch mascot of Jack Link's Beef Jerky who is the sponsor of the WSOP announcing to dealers to "Shuffle Up and Deal!", the Main Event is underway. Oh, any player who makes 4 of a kind Jacks will receive a Jack Link prize pack valued at $100. (I want mine now!)

12:09 PM -- So who is here? Well comedian Brad Garrett is in the field, Eli Elezra, Chris Moorman, Greg Mueller, Jennifer Tilly, Beth Shak, Dewey Tomko, Berry Johnston, Jerry Yang, Can Kim Hua, Jason Alexander, Phil Laak, Gavin Smith, Tony G., Andy Black, Vitaly Lunkin, rapper Nelly, Sorel Mizzi, Ted Lawson, Allen Cunningham, Lex Veldhuis, Issac Haxton and Erik Cajelais. We will post more names as we find out who else is coming to the party.

Speaking of Phil Laak, the WSOP made a new rule that says a player cannot conceal their identity and that tournament officials should be able to see who they are at all times. Phil Laak normally goes 'hoodie' at a moments notice, so that will take some of the fun away from the tables.

12:48 PM -- Also seen in the field are Mike Sexton, Tom Schneider, Nick Frangos, Sam Farha, former baseball pitcher Orel Hershiser, Roland De Wolfe, John Duthie, Jimmy Fricke, Barry Shulman,Amanda Baker, WPT Champion Martin Deknijff, Gus Hansen, Mel Judah, Brad Kondracki, Jason Mercier, Lacay Ludovic, Luke Staudenmaier, Jon "PearlJammed" Turner and Padraig Parkinson. The first notable player out was John Phan who went all-in with pocket A's, only to have his opponent make two pair (K's and 9's) winning the hand. It took 35 minutes for Phan to lose 30K in chips. Ouch!

1:37 PM -- Eric Koskas lost the balance of his chips and became a spectator after his two pair (Q's and 10's) were upstaged by a player who had a better two pair (A's and 9's). The Amazon room is full and some spillover into one other room indicates good attendance, but not a sellout so far. We will post the entry numbers for you once they are released by the WSOP.

2:43 PM -- Men "The Master" Nguyen just came to his seat to play in the Main Event a few minutes ago. Cody Slaubaugh and Jan Von Halle are also in the field.

3:22 PM -- Main Event champion Jerry Yang has managed to turn bad luck into good as his downward spiral was halted after he hit quad 10's, pushing his stack up to 34,000. Jan Von Halle was busted out of the tournament when his opponent made an Ace high flush on the turn. Bad beat hand of the day so far happened when a player went all-in on a table having Jd Jh 8s 7s Js and was called by a player named Radek Stockner. The other player turned over As Jc for quad Jacks...but Stockner revealed 9s 10s for a straight flush of spades. This raised Stockner up to 67,000 and sent the other to the rail.

3:58 PM -- Cody Slaubaugh lost his chips and his chair to Eli Elezra when Elezra had two pair (K's and 6's) Cody could not overcome.

4:26 PM -- New bad beat of the day. Patrik Danzer held 8h 9h with the table showing 5s 7h Ah Jh 10h and moved all-in for the straight flush. But the smile fell off Patrik's face immediately when his opponent flipped over the Kh Qh for a royal flush. Gabe Kaplan was also seen at the tables. At 4:30 PM there will be a dinner break for 90 minutes.

6:38 PM -- Official number of entries for Day 1A is 1,116. Last year had 1,297 entrants on Day 1A, and when compared to past three years, 2009 has the lowest figure. But then again, this is just Day 1A.

6:49 PM -- Rapper Nelly was eliminated after his all-in move with pocket Queens was countered by another player with 10 9. The flop produced two more 9's making a set and a reason for exit for Nelly. Top 6 players right now are Jeremy Ausmus with 85,000 chips, Radek Stockner with 83,000, Bryan Colin 75,000, Jeff Williams 68,500, Jason Risenberg 68,000 and Tom Schneider with 65,500.

7:55 PM -- Freddy Deeb lost to the full house (Q's/K's) belonging to Keven Stammen and is no longer in this event. Wooka Kim ran for the exit after having his pocket A's cracked by the set of Kings held by another player. Mark Vos followed them as his all-in with pocket Q's was met by the paired Aces of Peter Hedlund. Chris Moorman from the United Kingdom can get back on a plane to hop the pond after he lost with pocket J's once the other player paired his Ace card.

8:00 PM -- Gabe Kaplan recently went to the sidelines, losing the balance of his chips within the past 15 minutes. Orel Hershiser followed Gabe after his two pair he made by the river (9's and 8's) were bested by a better two pair (J's and 10's) belonging to Luke Patten. Orel gave Luke a autographed baseball encased in glass before he left the event.

8:35 PM -- Jerry Yang who really had an up and down day, lost the battle of the cards and joined the list of the fallen. He was under the gun and moved all-in with J 7. His opponent managed to pair his King card on the turn and that was it for Yang. Darrell Dicken had his pocket 10's outdone by the set of Aces made by the other player.

9:12 PM -- Issac Haxton lost to the Ace high flush made by another player and will have to come back next year. David Grey also went to the rail recently.

10:40 PM -- Allen Cunningham was busted, losing to the pocket K's of Lex Veldhuis. And at this point it is a wrap with tournament officials telling the surviving Day 1A players to bag their chips.

821 made it from a field os 1,116. The top 50 from Day 1A are:
Eric Cloutier -- 150,750 See update at bottom
Redmond Lee -- 134,275
Jean Docquier -- 122,755
Marcucci Gianluca -- 118,000
Peter Buermann -- 117,400
Ebrahim Mourshaki -- 116,025
Balazs Botond -- 113,000
Alexander Grishchuk -- 111,875
Jimmie Guinther -- 110,425
Arthur Rhea -- 109,275
Joe Luht -- 108,125
Bryan Colin -- 106,000
Kevin Schaffel -- 104,250
Timothy Rogers -- 103,225
Michael Pickett -- 101,200
Domen Pinteric -- 101,175
Daniel Makowsky -- 100,200
Timothy Batow -- 100,025
Luke Patten -- 99,625
Coba Cao -- 99,575
Joey Lovelady -- 99,300
Tommi Etelapera -- 99,025
Paren Arzoomanian -- 98,825
Billy "Patrolman35" Kopp -- 98,550
Eric Ehas -- 97,850
Jason Riesenberg -- 93,650
Kevin Kim -- 92,675
David Sands -- 91,150
James A. Navolanic -- 90,225
Matt Morris -- 89,800
Jason Alexander -- 89,575
Steve Gogry -- 89,525
Sami Banizuraij -- 89,500
John Wilson -- 89,200
Shane Warne -- 87,625
Phi Nguyen -- 86,550
Scott Sitron -- 86,450
Marco Mattes -- 85,775
Jeremy Ausmus -- 85,300
Bruce Perry -- 85,075
Alexander Veldhuis -- 84,000
Eli Elezra -- 83,375
Joseph Gotlieb -- 82,275
Michael Chow -- 82,200
Elia Ahmadian -- 81,425
Vladimir Ventsko -- 81,250
Sean Nolan -- 81,175
Nghia Le -- 81,000
John Phillips -- 80,950
Carl Olson -- 80,825
Scott Sitron -- 86,450
This is from the WSOP dated July 5, 2009:

We deeply regret the following error. It turns out the chip leader from Day 1A [Eric Cloutier] has been verified to have 15,075 chips, NOT 150,750 as has been reported by us. We apologize for this unfortunate error. We take full responsibility. As such, Cloutier should be replaced as the current chip leader with BRANDON DEMES, who finished Day 1B with a verified 137,075 in chips.

Thank you.