Home Online Casino Real Money
2009 WSOP Event Schedule WSOP TV Schedule Free Slot Games Site Map 3 Webmasters

Day 1A | Day 1B | Day 1C | Day 1D | Day 2A | Day 2B | Day 3 | Day 4 | Day 5 | Day 6 | Day 7 | Day 8 | Final Table




All linked player names have free bios, courtesy of FullTiltPoker
Event #57 Main Event Day 2B (1C + 1D)
Number of players entered Day 1A: 1,116, Remaining 821
Number of players entered Day 1B: 873, Remaining 655
Number of players entered Day 1C: 1,696, Remaining 1,106
Number of players entered Day 1D: 2,809, Remaining 1,816
Number of players on Day 2A: 1,476, Remaining 607
Number of players on Day 2B: 2,922, Remaining 1,436
Day 2B

11:31 AM -- Official count remaining from Day 2A was 607 players. Now the 2,922 players from Day 1C and Day 1D will combine and have another round of play. Action will continue at level 6 with blinds at $250/$500 with a $50 ante. Day 2B will start at noon.

Keep in mind that players will have an off day tomorrow, so if you are following our blog use the day to sleep in late. We will.

12:15 PM -- Things got started a little late, but underway nonetheless. Lots of all-in will take place as many are short stacked. Like Vanessa Rousso with 6,350 chips, James Ma 7,275, Todd Witteles 9,625, Paul Darden 10,450, Toto Leonidas 10,875 and Bobby Toye 11,075. There are 186 players under 12,000 chips.

Actually, before we could release this, dealers were already crying, "All-in with a call" to an almost deafening level.

12:32 PM -- Erick Lindgren is gone from the Main Event. His all-in with pocket Q's was met by another player with pocket J's, but another Jack came on the river. Erick began with 20,450 and pushed a remaining 17,500 in chips to the middle before he busted.

Remember on Day 1D, when there were numerous players who did not make it into the Main Event because of too many trying to get in? Well believe it or not, T.J. Cloutier was one of those player. Cloutier was going around the Amazon room wishing those he knew good luck. Pro player Robert Cheung experienced the happiness of hitting a royal flush today!

1:44 PM -- Eric Froelich is no longer in the game after the flush hand he made on the turn was overrun by the full house made on the river (6's/K's) by the other player. Isabelle Mercier also was eliminated. Hal Lubarsky is up to 40,000 from his initial 24,025 chips. Paul Darden went all-in with pocket K's only to meet up with a full house (2's/10's) of another player, sending Paul to the rail.

2:07 PM -- Victor Ramdin has lost his remaining chips and is gone from the Main Event. Ramdin's pocket 9's were no match for the other player with pocket Q's. Bill Chen followed Ramdin to the rail after his opponent made a flush by the turn.

J.C. Tran put lots of pressure to make the other player fold to a good sized pot. After that hand Tran increased his stack to 125,000.

2:55 PM -- Steve Wong could not overcome the two pair made by the other player (A's and Q's), and had to make a fast exit from the tournament. Vanessa Rousso was on the short stack, but doubled up quickly to stay alive. She did well, but ran into trouble when she went all-in with A K verses pocket 4's. No other cards came to help Rousso and she is no longer at the tables.

3:40 PM -- Scotty Nguyen had Lady Luck not only leave him, but she took his drink too! Scotty went in with pocket A's on turn with 5 5 10 K on the board. The other player who called did so with K 10. Then the river card came up a King, giving the full house (K's/10's) to the player and leaving Scotty high and dry. (That is no fun in Scotty's book!)

Chris Klodnicki's dream of a Main Event bracelet was flushed away when the other player made the flush on the river card.

4:25 PM -- The 2008 Main Event champion Peter Eastgate is still at the tables with over 20,000 chips. Rob Hollink was not so fortunate as his all-in with pocket Q's was crushed as his caller (A Q) made a board of x 5 4 3 2, boom! No more Hollink. He was followed by Howard Lederer who put his pocket 6's to the test, but met up with pocket Kings that held to the river.

5:00 PM -- Dinner break will be for the next 90 minutes.

6:48 PM -- Play will continue at level 8 for the next few minutes. Before the break Michael "The Grinder" Mizrachi was still not feeling well after tossing his chips to a player who beat his hand. He had a straight flush draw when he went all-in, but that is as far as it got. Fans of John "Miami" Cernuto will be happy to know he is still in the game and looking well. John earlier in another event had taken ill and required hospitalization.

7:22 PM -- Comedian/Actor Marlon Wayans won a great sized pot to keep him playing and his stack up to 57,000 chips. Also fighting for another Main Event bracelet is 2005 champion Joe Hachem with 77,000 in front of him.

Gavin Griffin is out of the tournament after his all-in with K J was stopped by A K and no other cards came to help him. Noah Schwartz is also gone due to his A K suited losing to the pocket 8's of his opponent.

8:35 PM -- Phil Ivey is really racking up chips by taking out other players. Right now he is up to 230,000 chips, winning 200,000+ in a recent hand that sent a player to the rail. Also looking solid is Phil Hellmuth with about 170,000 chips.

These big piles of chips have not come without a cost to others. Right now the field has lost 200 players in the last hour. Head count is around 1,900 give or take a few.

8:58 PM -- Latest to leave the tables are Brian Devonshire, Maya Geller, Stephen Kjaestad, Kevin O'Leary, Tim Vance, Tom Dwan, Johnny Loden and David Plastik. Ylon Schwartz pushed his chips to the middle with pocket K's, but the caller who had A K hit on another Ace card to send Ylon to the showers. If you recall Ylon made the final table last year which is not an easy thing to do.

9:27 PM -- Top 6 players in the field with chip counts are:
Troy Weber -- 475,000
John Hammer -- 360,000
Andreas Altmeyer -- 318,000
Amir Lehavot -- 280,000
Brian Lemke -- 275,000
Bertrand Grospellier -- 250,000
Other players who are doing well are Justin Bonomo 190,000, Josh Arieh 185,000, Hevad Khan 145,000, Nasr El Nasr 130,000 and Tony Hachem 155,000.

10:45 PM -- It is all over for Day 2B, but for some who were this close to making the cut it's really over. Cyndi Violette lost the rest of her chips to a player holding pocket K's to her Q 9. Hal Lubarsky lost his last 20,000 to Nick Binger, and will probably come back next year.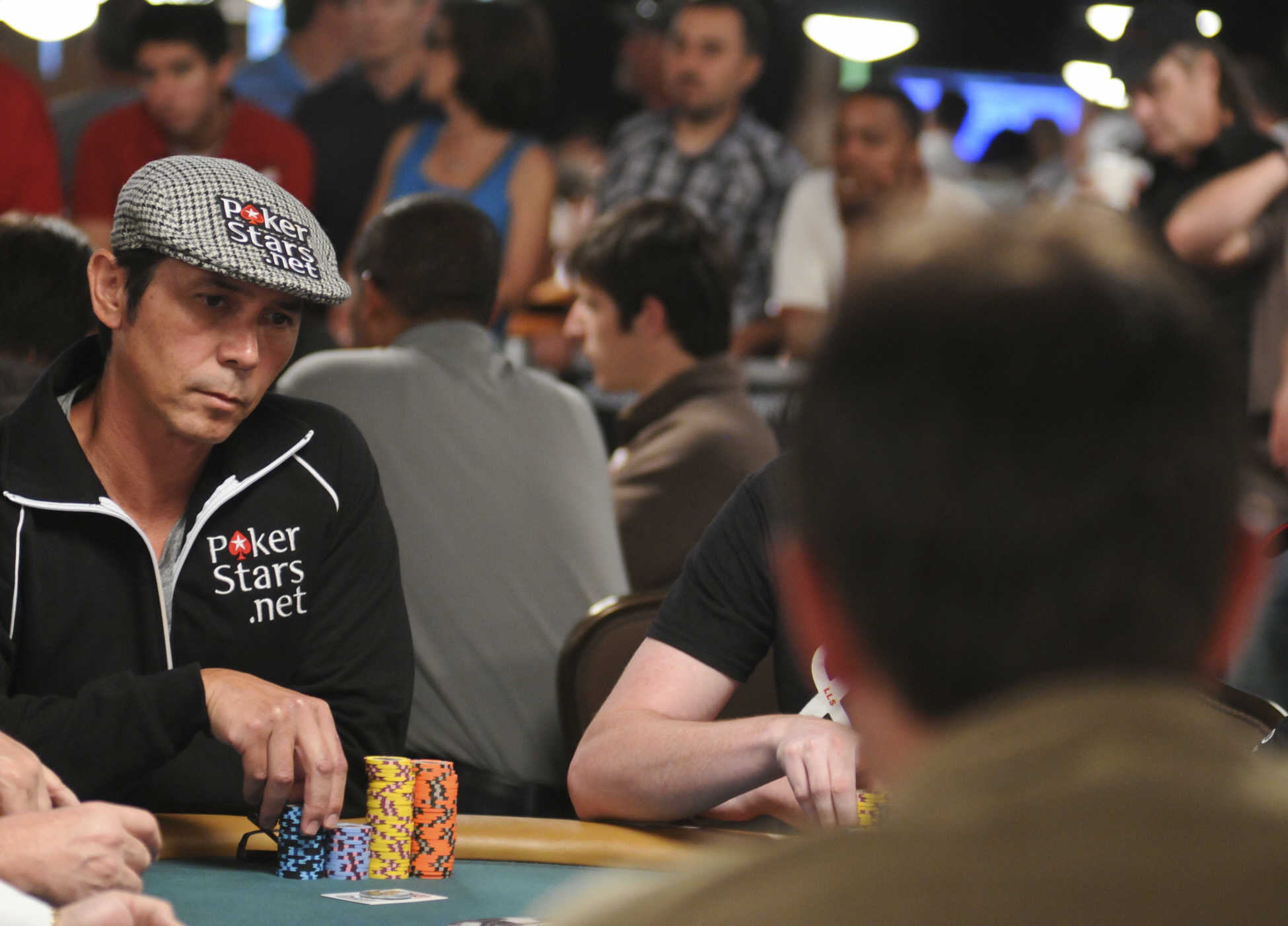 Vivek Rajkumar went in with pocket A's and came out with nothing as the other player got him on the flop, so Vivek can party with Marlon. See you on Friday!








Official count of remaining players was 1,436. Here are the top 50: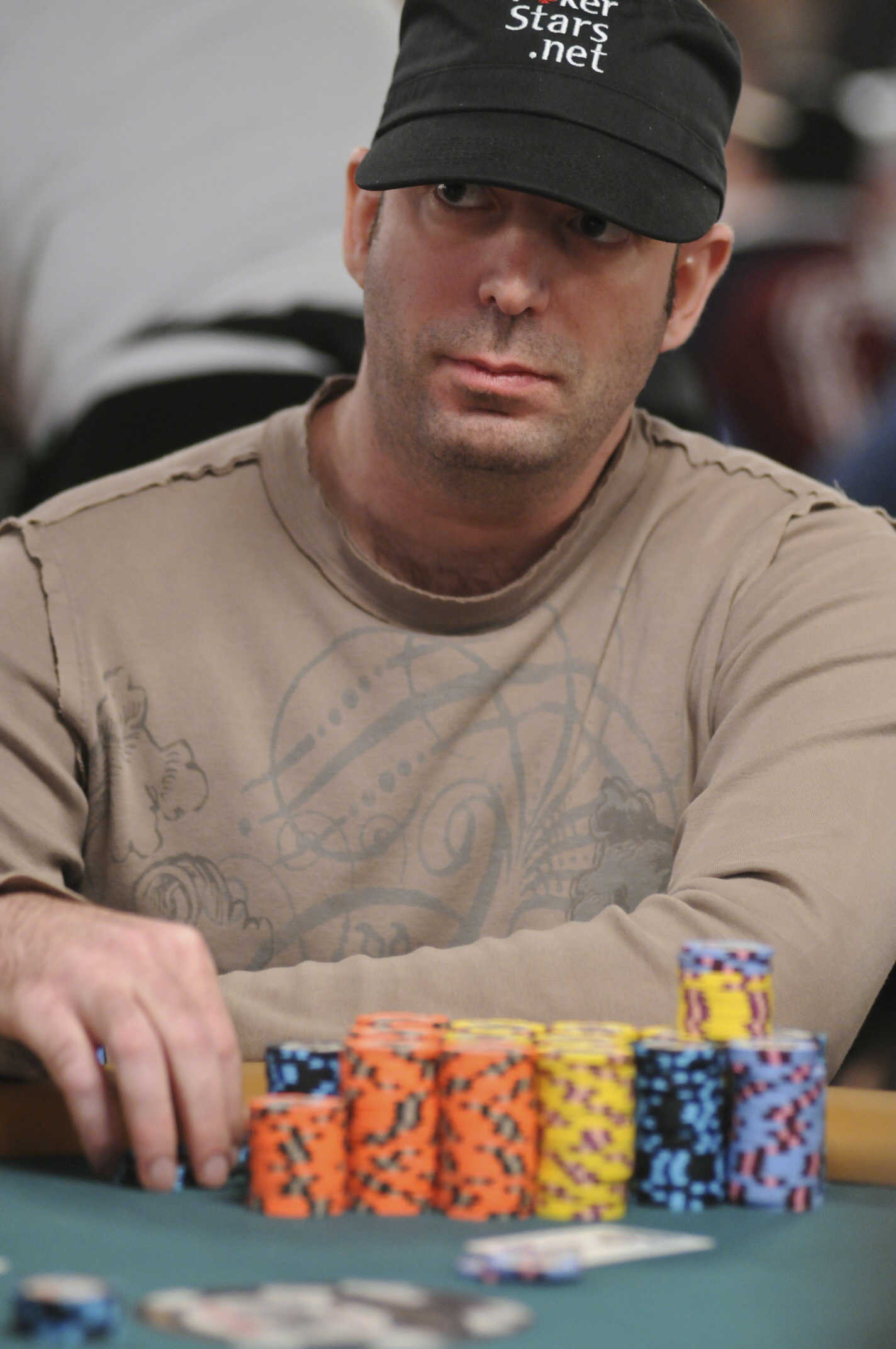 Day 2B Chip Leader Amir Lehavot
Amir Lehavot -- 610,500
Peter DeBaene -- 465,000
Troy Weber -- 453,200
Dan Bilzerian -- 439,500
Franklin Grigsby -- 424,400
Gabe Walls -- 417,900
Mikael Thuritz -- 395,400
Jason Brice -- 376,100
John Hammer -- 359,400
Phil Ivey -- 346,200
Adam Latimer -- 340,100
Tyler Patterson -- 337,800
Brennan Hanson -- 312,600
Raul Mestre -- 306,500
Adam Bilzerian -- 305,300
Bolivar Palacios -- 301,400
Mike Lesle -- 299,000
Jon Weinbach -- 297,000
Michael Kinney -- 291,700
Jason Somerville -- 289,600
Brendan Taylor -- 287,400
JC Tran -- 284,600
David Wickham -- 283,500
Hung Pham -- 282,800
Behzad Javadzadeh -- 282,300
Michael Merichko -- 281,900
James Keys -- 278,200
Scott Eskenazi -- 276,100
Joseph Ward -- 273,000
Kenny Tran -- 273,000
Derek Cheung -- 259,100
Tyson Marks -- 256,500
Joseph Sanders -- 254,000
Saieva Maurizio -- 253,500
Bernhard Perner -- 247,300
Keith Lehr -- 247,100
Denis Estelle -- 245,100
Akio Ishige -- 243,500
Fergal Nealon -- 241,500
Thom Werthmann -- 241,100
Nick Eisel -- 240,400
James Akenhead -- 240,200
Joseph Michael -- 238,800
Joe Conner -- 237,300
Jason Maxwell -- 236,100
Lawrence Greenberg -- 235,500
Mohamedazam Razabsekh -- 235,400
Stan Jablonski -- 235,200
Haiduc Florian -- 232,000
Mads Andersen -- 231,700