Home Online Casino Real Money
2009 WSOP Event Schedule WSOP TV Schedule Free Slot Games Site Map 3 Webmasters

Day 1A | Day 1B | Day 1C | Day 1D | Day 2A | Day 2B | Day 3 | Day 4 | Day 5 | Day 6 | Day 7 | Day 8 | Final Table



All linked player names have free bios, courtesy of FullTiltPoker
Event #57 Main Event Day 9 Final Table
Day 9

The Final Table will be played in the Penn and Teller room at the RIO on November 7 to 10. One thing we need to make you aware of is that the payouts went up for the final table! According to the WSOP, on July 15, 2009 the nine remaining players each were paid ninth place prize money ($1,263,602) from the initial $27,219,668 that was slotted for the first nine places in the tournament. The remaining amount ($15,847,250) for spots 1-8 were placed in a risk-free Goldman Sachs Treasury-Only Money Market interest-bearing account on July 16, 2009. That $15,847,250 accrued $1,321 in interest, which when added to the prize pool will pay out the following:
$8,547,042
$5,182,928
$3,479,670
$2,502,890
$1,953,452
$1,587,160
$1,404,014
$1,300,231
This creates a new total of $27,220,989 for the Final Table and a new total of $61,044,921 for the Main Event. Lon McEachern and Norman Chad call all the action. Come back to our site for the latest as to what happens!

Day 9 -- November 7
1:01 PM
Players have unbagged their chips and are seated. The roar from the crowd is deafening as the players are reintroduced one by one.

1:12 PM
Play is now underway. Action will finish the last 8 minutes of level 33 which has blinds of $120,000/$240,000 and ante of $30,000. Level 34 will have blinds of $150,000/$300,000 and ante of $40,000 with $5,000 chips removed from play. The price of playing will get expensive quickly for those on short stacks. We expect an all-in move to take place relatively soon. Akenhead just had his stack pieced down to 5.6 million, losing 775,000 to Darvin Moon.

1:48 PM
First all-in comes from Phil Ivey verses Joseph Cada. Cada decided not to call, so blinds and antes go to Ivey. Ivey now stands at 10.7 million chips. Ivey then continues to rake in move blinds and antes, raising his stack above 11.4 million. Akenhead is not catching any cards good enough to make a move and is down to 4.485 million.

2:15 PM
Akenhead continues to fall and is currently at 3.445 million. Current chip count of all players is;
Darvin Moon -- 61,575,000
Eric Buchman -- 40,660,000
Steven Begleiter -- 31,215,000
Jeff Shulman -- 15,510,000
Joseph Cada -- 11,835,000
Kevin Schaffel -- 11,230,000
Phil Ivey -- 10,225,000
Antoine Saout -- 9,035,000
James Akenhead -- 3,445,000
3:13 PM
Lots of big name players are in the stands watching such as Chris Ferguson, Greg Raymer, Howard Lederer, Doyle Brunson, Daniel Negreanu, Erick Lindgren, Annie Duke, David Singer, Phil Hellmuth, Phil Gordon and Barry Greenstein. Akenhead just moved all-in with no callers, so he took down the pot raising his stack to over 4 million. Next to go all-in was Antoine Saout which was enough to make Kevin Schaffel back down after raising 750,000. With lots of French fans cheering for the player, Saout now sits on top of 11 million chips.

3:28 PM
It's amazing that it is easy to calculate when the booze kicks in. The unison cheers for different players are already falling into disarray from the fans. Tournament director Jack Effel had to ask the crowd to quiet down during big hands so the players could have a chance to think.

James Akenhead went all-in and was called by Eric Buchman after Begleiter bet and folded. Akenhead hit a two pair on the river resulting in him tripling up through Buchman and is now over 12 million in chips. Antoine Saout also doubled up to 20 million through Darvin Moon.

4:08 PM
Next level is 35 with blinds at $200,000/$400,000 with a $50,000 ante and begins now. Current chip count is:
Darvin Moon -- 49,375,000
Eric Buchman -- 34,215,000
Steve Begleiter -- 24,400,000
Antoine Saout -- 21,840,000
Jeff Shulman -- 17,890,000
Joseph Cada -- 16,515,000
James Akenhead -- 12,245,000
Phil Ivey -- 10,805,000
Kevin Schaffel -- 7,490,000
4:44 PM -- James Akenhead Busts in 9th Place
Down to under 5 million chips, Akenhead moved to the middle with pocket 3's and was called by Kevin Schaffel with pocket 9's that turned into a full house (9's/2's) by the river, leaving UK player James Akenhead in 9th place and a standing ovation. To give proper credit to Akenhead, he has accomplished something that only one other person has ever done...he made the Main Event final table here and in Europe in the same year becoming an instant millionaire in the process. The other player to do so is Antoine Saout.

Mike Matusow was watching the action and actually gave advice that wasn't off the wall. He said it would be a long day and night, so the players should exercise patience.

5:15 PM -- Kevin Schaffel Finished in 8th Place
In what has to be the worst bad beat in WSOP Main Event final table history, Kevin Schaffel had his all-in move with pocket Aces crushed by the quad Kings that Eric Buchman made by the turn after calling Kevin. Ouch!

The only thing that could have hurt more were the behinds of the two drunk Joseph Cada fans that got into a fight during play and were just tossed out by security.

6:26 PM
We are now moving up to level 36 with blinds of $250,000/$500,000 and ante of $50,000.

7:10 PM
Current chip counts are:
Eric Buchman -- 54,725,000
Darvin Moon -- 44,350,000
Steve Begleiter -- 38,100,000
Antoine Saout -- 28,725,000
Phil Ivey -- 14,900,000
Joseph Cada -- 10,700,000
Jeff Shulman -- 7,475,000
10:32 PM
After dinner break the 7 remaining players went back to the table. No busts have taken place, but there have been some close ones with Joseph Cada falling as low as 2.2 million before regaining ground. Ivey has been hovering mostly between 10 and 15 million. Shulman got his chips back and is up to 15 million. Here are the current chip counts:
Steven Begleiter -- 47,300,000
Eric Buchman -- 45,950,000
Darvin Moon -- 38,000,000
Antoine Saout -- 28,125,000
Jeff Shulman -- 14,700,000
Joseph Cada -- 11,300,000
Phil Ivey -- 9,575,000
11:11 PM
Antoine Saout is now chip leader! We don't know the details yet, but Steve Begleiter is down to 19 million and Saout has 52 million in front of him. Ivey is slowly losing his chips and is currently at 7,475,000 million. Play is at level 37 with blinds at $300,000/$600,000 and ante of $75,000.

12:06 AM Sunday November 8
It is very interesting about the posturing that Phil Ivey is taking. Usually he is brilliantly uber-aggressive, but here he seems to be doing only what it takes to survive. Could he have money on this? Or maybe no one is calling his all-ins because not one person at that table wants to double Ivey up. Anyway, Ivey has pushed to the center three times and no one has called him, allowing him to collect the blinds and antes. But he is still between 6 to 7 million in chips. Level 38 will have blinds at $400,000/$800,000 and ante of $100,000, so he can't do this forever.

Tournament director Jack Effel has already told the spectators and media that this could be a long night.

12:22 AM -- Phil Ivey Eliminated in 7th Place
Ivey went all-in with A K and Darvin Moon called, turning over A Q. The flop was Q 6 6 and Ivey who was eating an apple just watched and kept eating. A turn card of 3 and river of 5 ended the quest of Phil Ivey to become Main Event champion. The whole room of 1200 people kept shouting, "IVEY! IVEY!", praying for a King to come up but didn't. When it was over, everyone but Moon applauded and got up to shake Ivey's hand before he walked off. (It seemed that Moon was busy raking in his chips.)

Some of Moon's supporters tried to get a Darvin chant going, but were quickly trumped by the louder and more vocal Ivey supporters.

12:48 AM -- Steve Begleiter Gone in 6th Place
Begleiter made a 1.7 million raise and Darvin Moon moved all-in of which Begleiter called. Begleiter had pocket Q's against the A Q of Moon. The flop revealed 7 4 8, turn card was a 3, but the river was a devastating Ace card which pushed more chips in the direction of Darvin Moon. Interestingly enough, Moon also does not shake the hand of Begleiter when he leaves, but everyone else at the table does. Begleiter did not extend a hand to Moon either. Makes you wonder about Moon, probably overwhelmed by the Vegas experience. At this point, Moon has over 63 million chips in his stack.

NOTE November 9 and 10: Just FYI, too many have said that Moon is one of the nicest guys there. Plus if you saw the Final Table on ESPN, Moon did shake Begleiter's hand. Yeah, we admit that we didn't see it.

2:27 AM
Joseph Cada has made monstrous moves against the pile of chips Moon had. Here is the current chip count:
Antoine Saout -- 54,250,000
Eric Buchman -- 50,300,000
Joseph Cada -- 44,650,000
Darvin Moon -- 31,850,000
Jeff Shulman -- 13,125,000
3:37 AM -- Jeff Shulman Vanquished in 5th Place
Well, there will be no tossing the bracelet into the trash by Shulman as he lost his all-in bid to Antoine Saout. Saout made a huge 5.4 million chip raise and Shulman responded by going all-in of which Saout called. Saout showed A 9 to the pocket 7's of Shulman. The 9 card came on the flop, ending any potential threat of disrespectable antics by Shulman. Saout was up to 63 million after the win.

4:32 AM
Play is now at level 39 with blinds at $500,000/$1,000,000 and a $150,000 ante! Chip counts are:
Darvin Moon -- 56,275,000
Eric Buchman -- 54,000,000
Antoine Saout -- 44,200,000
Joseph Cada -- 41,325,000
5:02 AM -- Eric Buchman Eliminated in 4th Place
Buchman lost the largest pot of the tournament to Antoine Saout when he lost to the set of Kings made by Saout. Saout ended up with 89,200,000 chips while Buchman had a residual 9,800,000 in his corner. Even though he managed to double up through Moon, he still lost the balance of his chips to Moon when his next all-in with A 5 lost to the K J suited of Moon once Moon received another King on the turn. Darvin Moon now has 76 million chips.

6:04 AM -- Antoine Saout Finishes In 3rd Place
Saout decided that it was time to go all-in preflop and did so with pocket 8's. Moon quickly folded and Joseph Cada called, holding A K offsuit. The dealer put on the table 5 4 5 for the flop, 10 on the turn and then a King came on the river, giving Joseph Cada a bigger two pair (K's and 5's) than Saout (8's and 5's).

So the two remaining players will come back on Monday at 10 PM with Joseph Cada having 135,950,000 chips and Darvin Moon with 58,850,000 in front of him for the heads up battle. Good night all!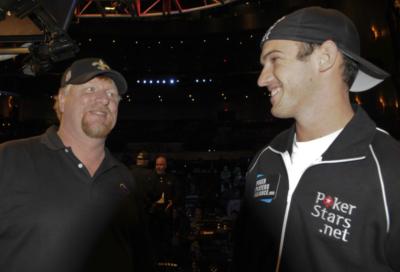 Darvin Moon and Joseph Cada
November 9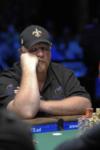 9:19 PM
How long tonight will take no one knows. The next level for play is 40 with blinds at $600,000/$1,200,000 and a $200,000 ante. The line to get into the Penn and Teller theater is over 1,000 people long, and that is after the bottom section has already been packed. Plus all the money has been stacked on the table.

There have been many rumors that Darvin Moon has been offered lucrative sponsorships, but he says he wants no part of them and is not accepting. In a Washington Post interview, he stated that he does not want to become anyone's "b****". He also says he is done playing poker after this tournament. So it seems the self-employed logger wants to keep his life simple.

10:08 PM
Lots of big names in the audience like Dennis Phillips, Paul Darden, Mike Caro, Joe Sebok, Phil Hellmuth, Barry Greenstein, Greg Raymer and Steve Dannenmann.

10:29 PM
Vince Neil from the band Motley Crue sang to the table, "Shuffle Up and Deal!" And with that we are beginning the heads up between Moon and Cada. Moon then proceeded to take down a 27 million chip monster pot with pocket Q's against the pocket 9's of Cada.

11:11 PM
Things have changed very quickly from the beginning. Moon has asserted his dominance and has won significant amounts of chips and is now the chip leader. Currently Moon has 101,850,000 chips verses the 92,950,000 of Cada.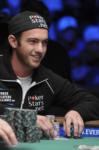 11:37 PM
Cada has fired back, winning a huge pot from Moon! On one he captured a big win after firing 35 million into the pot. And a pair of 10's won against the Ace high heart flush draw of Moon for another big win. Cada now has 128,400,000 verses Moon with 66,400,000. Four of Cada's supporters took their shirts off with C-A-D-A on their chests hollering from the rafters. Tournament director Jack Effel immediately had security tell them to put the shirts and shoes back on.

11:58 PM
The first all-in of the night comes from Darvin Moon after seeing a K 7 6 3 on the board. Cada folds and Moon is up to 82,450,000. Rate of play is very quick with a hand being completed basically every 2 minutes.

12:48 AM November 10
After a couple of huge bets with high aggression, Darvin Moon now has won two very large pots. He now has 145,000,000 to Cada who now has under 49,000,000. What has worked for Moon is when Cada decided to reach for a huge bet, Moon has immediately begins reaching for re-raising chips. So far Cada has folded nearly every time he has done this.

12:52 AM
Cada just moved all-in preflop with 49 million. Moon stood up to think it over and decided to fold. This is really an incredible battle with both players searching for weakness to exploit. A second all-in from Cada received a fold from Moon. With blinds at $600,000/$1,200,000 and a $200,000 ante taking place every two minutes or so, the small raises to 3 million from Moon can take its toll on Cada's stack.

1:12 AM
After both parties saw 10 5 9 10, Moon moved all-in on Cada. Cada took a long time to think before he called. Moon showed 7 8 for a open ended straight and Cada had J 9 for two pair. A 3 on the river allowed Cada to double up, raising his stack to 108,300,000. Moon went down to 86,500,000.

1:38 AM -- Darvin Moon Finishes in 2nd Place, Joseph Cada is the Main Event Champion!
After three-betting up to 8 million preflop, Cada decided to go all-in and Moon thought about it...and called! Cada showed pocket 9's verses the Q J suited of Moon. The dealer showed 8 2 7 on the flop, K on the turn and 7 on the river. The crowd exploded as tons of family and friends swarmed all over Joseph Cada. Moon shook his head and started to walk slowly away from the table, but Cada moved quickly to catch him and shake his hand. An incredible finish by a player who is hardly 21 years old that is now immortalized as Main Event champion.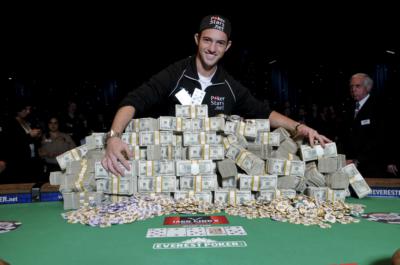 Joseph Cada -- 2009 Main Event Champion
---
Top 50 Players in the Main Event:
Joseph Cada -- $8,546,435 ($8,547,042)
Darvin Moon -- $5,182,601 ($5,182,928)
Antoine Saout -- $3,479,485 ($3,479,670)
Eric Buchman -- $2,502,787 ($2,502,890)
Jeff Shulman -- $1,953,395 ($1,953,452)
Steve Begleiter -- $1,587,133 ($1,587,160)
Phil Ivey -- $1,404,002 ($1,404,014)
Kevin Schaffel -- $1,300,228 ($1,300,231)
James Akenhead -- $1,263,602
Jordan Smith -- $896,730
Jamie Robbins -- $896,730
Billy Kopp -- $896,730
James Calderaro -- $633,022
Ben Lamb -- $633,022
Nick Maimone -- $633,022
Ludovic Lacay -- $500,557
Ian Tavelli -- $500,557
Andrew Lichtenberger -- $500,557
Tommy Vedes -- $352,832
George Caragiorgas -- $352,832
Jonathan Tamayo -- $352,832
Warren Zackey -- $352,832
Marco Mattes -- $352,832
Antonio Esfandiari -- $352,832
Francois Balmigere -- $352,832
Jesse Haabak -- $352,832
Leo Margets -- $352,832
Joe Ward -- $253,941
Luis Nargentino -- $253,941
Marc Etienne McLaughlin -- $253,941
Ryan Fair -- $253,941
Scott Sitron -- $253,941
Jason Brice -- $253,941
Blair Rodman -- $253,941
Grayson Ramage -- $253,941
Christopher Bach -- $253,941
Martin Lapostolle -- $178,857
Gabriel Vezina -- $178,857
Eugene Katchalov -- $178,857
Scott Cook -- $178,857
Adam York -- $178,857
Jeff Duval -- $178,857
Montagna Corrado -- $178,857
Manuel Labandeira -- $178,857
Dennis Phillips -- $178,857
Hung Pham -- $138,568
Adam Bilzerian -- $138,568
Hieu Luu -- $138,568
Fabrice Soulier -- $138,568
Bradley Craig -- $138,568
Photo Credit: 2009 IMPDI