Home Online Casino Real Money
2009 WSOP Event Schedule WSOP TV Schedule Free Slot Games Site Map 3 Webmasters

Day 1A | Day 1B | Day 1C | Day 1D | Day 2A | Day 2B | Day 3 | Day 4 | Day 5 | Day 6 | Day 7 | Day 8 | Final Table




All linked player names have free bios, courtesy of FullTiltPoker
Event #57 Main Event Day 4
Number of players entered Day 1A: 1,116, Remaining 821
Number of players entered Day 1B: 873, Remaining 655
Number of players entered Day 1C: 1,696, Remaining 1,106
Number of players entered Day 1D: 2,809, Remaining 1,816
Number of players on Day 2A: 1,476, Remaining 607
Number of players on Day 2B: 2,922, Remaining 1,436
Number of players on Day 3: 2,044, Remaining 789
Number of players on Day 4: 789, Remaining 407
Day 4

12:00 PM -- The 789 players from Day 3 will play another 5 levels today. Blinds and ante for each level is as follows:
Level 15 $2,000/$4,000 with $500 ante
Level 16 $2,500/$5,000 with $500 ante
Level 17 $3,000/$6,000 with $1,000 ante
Level 18 $4,000/$8,000 with $1,000 ante
Level 19 $5,000/$10,000 with $1,000 ante
Money will reached at player 648, so today should be a good day. The payout schedule is on Day 1D, but if you would like to see the payouts for the past 5 years, then visit our World Series of Poker Payouts page.

Note From The WSOP Tournament Director Jack Effel has stated that play will go on for 4 levels, (not 5 as was previously mentioned), or 400 eliminations happen whichever comes first. Hand for hand play will start on the basis on how quickly players are eliminated.

12:30 PM -- Immediately the short stacks started going all in, placing their tournament lives on the line. Gone are Dean Schultz, Billy Adams and Robert Jackson. Mads Anderson who was also short stacked was sent to the rail by Joe Sebok, leaving Sebok at 315,000 chips. Maria Mayrinck had 102,500 to start, but is now gone after her opponent pulled out pocket A's that beat her A 9. William Frymer also ran into pocket A's and is gone from the Main Event.

12:56 PM -- With level 15 play, many began to get worried that they would go under, particularly the shorts. Starting at or below 110,000 chips were Derek Cheung 110,000, Lukyanov Alexander with 107,000, Mark Gregorich 105,000, Bobby Law 104,500, Andreas Altmeyer 104,000, Greg Mueller 101,500, Can Kim Hua 100,500, Ian Woodley 96,000, J.C. Alverado 85,000, Trond Eidsvig 74,000, John Racener 63,500 and Denise Molloy 60,500.

Action is happening so fast here, the latest to bust is John Racener.

1:34 PM -- Paul Lieu is the latest recipient of the Jack Link beef jerky prize for making quad Jacks. He also doubled up on the same hand so Paul is off to a good start. But Greg Mueller was not so lucky. His pocket 6's were not enough to fend off a player with pocket A's, so we are down another one. In the first hour 66 players were gone from the tables.

2:06 PM -- By our count the field is about 75 from the money. In a note from the WSOP they stated, "Last year, players reached the money at the end of Day 3. However, due to larger starting stack sizes this year, eliminations have taken longer. The payout point is likely to be reached approximately two levels later than last year."

The champion from 2008 Peter Eastgate began the day with 292,500 chips and is still in the game.

2:17 PM -- Hevad Khan who began with 272,500 chips is no longer in the Main Event. Neither is Brian Lemke and J.C. Alvarado. Lemke started out with 388,000 chips and they are gone in less than 2 hours. (Gotta be painful!) Average stack in the field at this time is 283,581. Player count: 659.

2:59 PM -- Action is now at level 16 and play is now hand to hand. Information will be a little restricted as all Media except ESPN has been asked to stay out of the field so they can film. The top 6 players right now are:
Bertrand Grospellier -- 1,600,000
Benjamin Jensen -- 1,100,000
Ludovic Lacay -- 925,000
Jason Brice -- 858,500
Jordan Morgan -- 811,000
Eli Adler -- 810,000
3:09 PM -- Other eliminations include Denise Molloy who earned a good pot earlier with a quad hand, went in with A Q suited and lost to the pocket K's of Jerry Maher which turned into a full house (4's/K's) by the river. A straight made by Randy Crow was not enough to fend off the Ace high flush of Kia Hamandani, sending Crow to fly off into the sunset. Also among the departed are Andy Fields, John Sweeney and David Daneshgar.

4:15 PM -- Play is still hand to hand for the dreaded 649th place finisher in this tournament. Here are some more current chip counts of players, Nick Schulman 670,000, Tom Schneider 790,000, Nick Binger 610,000, Lou Diamond Phillips 565,000, Phil Ivey 550,000, Blair Rodman 526,000, Andy Black 490,000, Dan Harrington 460,000 and Kevin Saul 450,000.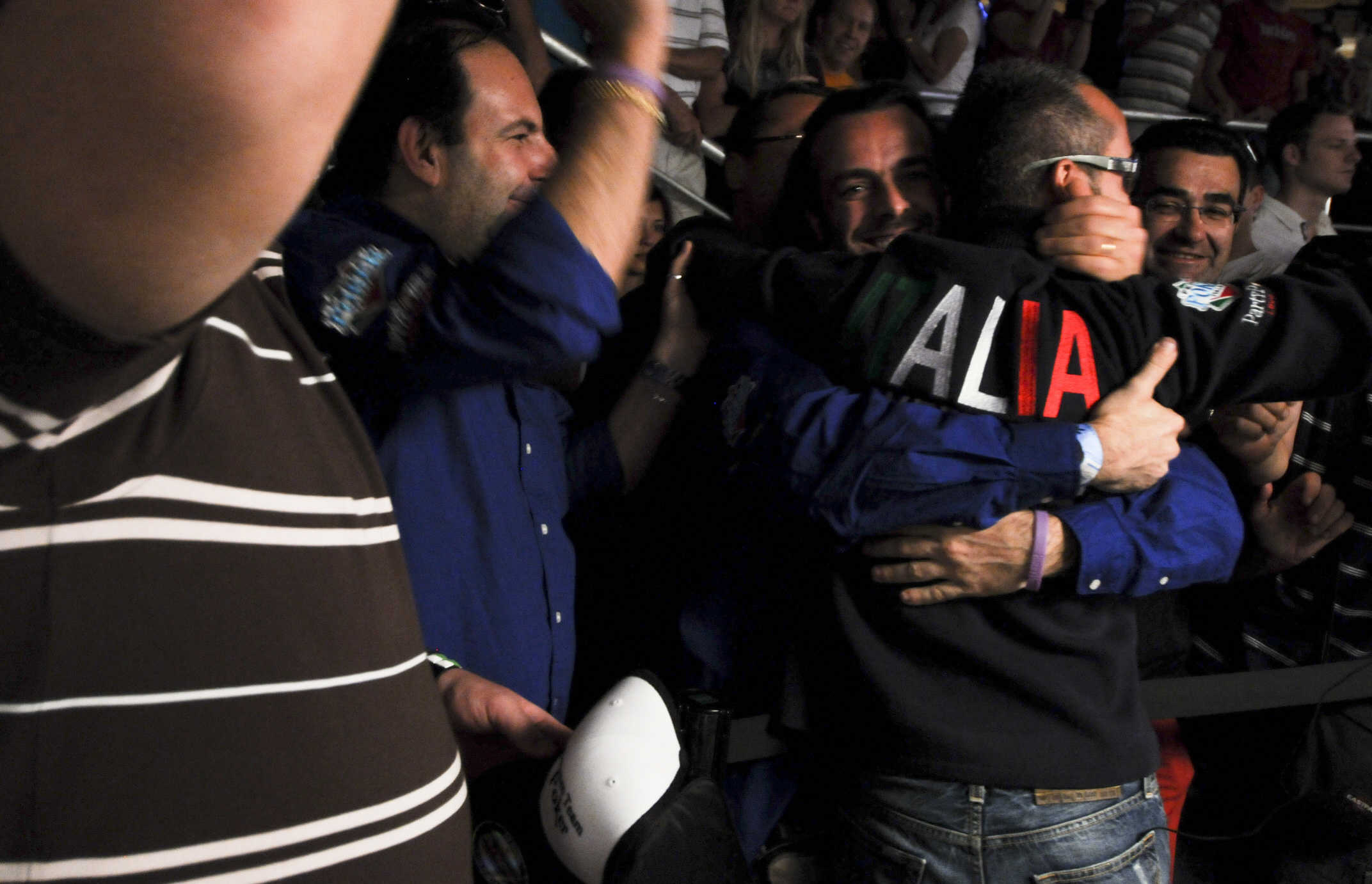 4:43 PM -- The official 2009 WSOP Main Event bubble boy is Kia Hamandani who busted in 649th place. Kia will not go home without some benefit as the World Series of Poker and Jack Link's have said they will pay for his entry into the 2010 Main Event. We are now in the money!!!

5:23 PM -- During hand to hand play, the clock was stopped. Because of that, tournament officials have added 39 minutes back onto the clock. This will keep the field in level 16 for that much longer. And of course the dealers are singing the all-in chorus almost in unison because of the actions of all the short stack players or those who just wanted to make the money. The most popular hand being played is A (anything), as the players going out are headed straight for the cashier's cage.

6:13 PM -- Latest to bust are Ari Levy and Kristy Gazes. Chris Ferguson who is nicknamed 'Jesus' because of his long hair was busted by a player who made a set of 6's. Yep, that is 6 6 6. (As long as this is confined to poker, no one has anything to worry about.) Player count is 571 at this time. The current top 6 players with chip counts are:
Bertrand Grospellier -- 1,720,000
Billy Kopp -- 1,487,000
Blair Hinkle -- 1,450,000
Miika Puumalainen -- 1,440,000
Harry Kazazian -- 1,400,000
Benjamin Jensen -- 1,400,000
6:35 PM -- Action has now moved up to level 17 and plans are to take a dinner break after this one is done. Phil Ivey is on fire again as he made an all-in bet which made his opponent go into deep thought before calling. Ivey turned over pocket A's and now sits on a 900,000+ stack of chips. Pocket A's were also responsible for the dismissal of Daniel Makowsky from the tables. His 9 7 contributed to a lower two pair than the one his opponent made with two Aces.

Ivey continued his aggressive style of playing, placing huge bets to either have the other player give up or pay big when Ivey has a top hand. His elimination of Michael Graydon put him over the 1 million chip mark.

7:40 PM -- Paul Wasicka busted after his A J was outdone by a player making two pair (A's and K's). Last year's champion Peter Eastgate is down to 375,000 but not out. This makes a major achievement by Eastgate just by winning the Main Event one year and cashing the next. Also Phil Hellmuth also can add another cash to his record as he is still at the tables. But he recently lost a big pile of his chips to a player who made a set of Jacks. Phil is down to 100,000 chips.

In a surprise event, Justin Bonomo lost the balance of his chips, (120,000), when his A Q lost to the pocket 8's of another player.

7:43 PM -- The Elimination of Phil "Caesar" Hellmuth
Yes it did happen. He was taken out not by members of the senate, but by two other players named Kevin Jenkins and Kenny Hsiung. After a flop of J 10 5, Jenkins pushed all-in, Hellmuth reraised with the balance of his chips and Hsiung called. Jenkins had 9 8 suited, Hellmuth had pocket A's and Hsiung had J 10. The turn was a 7 followed by a river card of 3. This gave a straight to Jenkins for the main pot, Hsiung got the side pot and Hellmuth will walk off to a corner and stab himself with self depreciating statements as he usually does, finishing in 436th place.

8:57 PM -- Tournament officials said 417 was close enough for one day and everyone left can go to sleep early. Some came very close to making it...but didn't. A few names no longer on the list are Ian Woodley, Kelly Kim of the 2008 November Nine, Jason Adler, Alexander Kostritsyn, Mark Gregorich and Jesper Hougaard.


Main Event Day 4 Recap

Well after the WSOP worked their official counting magic, they said there were 407 players left at the end of Day 4. Here are the top 50 with chip counts:
Matt Affleck -- 1,819,000
Ludovic Lacay -- 1,608,000
Tom Lutz -- 1,600,000
James Akenhead -- 1,572,000
Charlie Elias -- 1,540,000
Miika Puumalainen -- 1,492,000
Jordan Morgan -- 1,489,000
Bernhard Perner -- 1,426,000
Blair Hinkle -- 1,399,000
Benjamin Jensen -- 1,394,000
Billy Kopp -- 1,385,000
Eracles Panayiotou -- 1,299,000
Chuck Clark -- 1,295,000
Abraham Mourshaki -- 1,294,000
Phil Ivey -- 1,276,000
Bertrand Grospelier -- 1,253,000
Kevin Schaffel -- 1,206,000
Keith Lehr -- 1,190,000
Ben Lamb -- 1,183,000
Patterson Tyler -- 1,168,000
Rifat Palevic -- 1,152,000
Joseph Ward -- 1,129,000
Nick Maimone -- 1,104,000
Kasper Cordes -- 1,095,000
Manuel Labandeira -- 1,087,000
Adam Latimer -- 1,082,000
Jason Brice -- 1,069,500
Tian Shou -- 1,042,000
Michael Merichko -- 1,020,000
Christian Tardea -- 1,015,000
Olivier Busquet -- 1,000,000
Mike Linn -- 1,000,000
Theo Tran -- 1,000,000
Greg Thompson -- 999,000
Gabe Walls -- 985,000
Thai Tran -- 968,000
Dan Bilzerian -- 964,000
Steve Sanders -- 949,000
Julien Brecard -- 938,000
Jose Manuel Gomez Rebenaque -- 937,000
Kevin O'Donnell -- 912,000
Hac Dang -- 906,000
Mads Andersen -- 904,000
Joseph Cada -- 878,000
Joey Lawrence -- 878,000
Joseph Baldwin -- 870,000
Nichoel Peppe -- 869,000
Sarne Lightman -- 865,000
Ian Woodley -- 864,000
Mark Ader -- 863,000