Home Online Casino Real Money
2009 WSOP Event Schedule WSOP TV Schedule Free Slot Games Site Map 3 Webmasters

Day 1A | Day 1B | Day 1C | Day 1D | Day 2A | Day 2B | Day 3 | Day 4 | Day 5 | Day 6 | Day 7 | Day 8 | Final Table


Event #57 Main Event Day 7
Number of players entered Day 1A: 1,116, Remaining 821
Number of players entered Day 1B: 873, Remaining 655
Number of players entered Day 1C: 1,696, Remaining 1,106
Number of players entered Day 1D: 2,809, Remaining 1,816
Number of players on Day 2A: 1,476, Remaining 607
Number of players on Day 2B: 2,922, Remaining 1,436
Number of players on Day 3: 2,044, Remaining 789
Number of players on Day 4: 789, Remaining 407
Number of players on Day 5: 407, Remaining 185
Number of players on Day 6: 185, Remaining 64
Number of players on Day 7: 64, Remaining 27
Day 7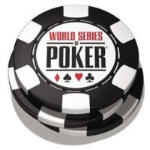 Notes from the WSOP on Day 6 -- Day 6 began with 185 players. The day ended with 64 survivors. All 185 players who started play were already guaranteed $36,626 in prize money. Now, after 11 days and 50 hours of tournament play, all finishers are guaranteed at least $90,344 in prize money. After one more player busts out, survivors are guaranteed at least $108,047. Play continues for two more days, plus the finale to be played in November. There will also be four gold bracelet events played at WSOP-Europe, to be held in London in September. Tomorrow (Tuesday) begins at noon and is expected to include five levels of play.

Players competed for five complete levels. Play ended after Level 25. When play resumes tomorrow at Level 26, blinds will be 25,000-50,000 with a 5,000 ante. The average stack size is currently 3,044,063.
Level 26 $25,000/$50,000 with $5,000 ante
Level 27 $30,000/$60,000 with $10,000 ante
Level 28 $40,000/$80,000 with $10,000 ante
Level 29 $50,000/$100,000 with $10,000 ante
Level 30 $60,000/$120,000 with $15,000 ante
12:12 PM -- Day 7 is off and running with the 64 players who survived from yesterday. But play is at level 26 and those on the short stack will seek immediate action. In the bottom 20% are Joe Sebok with 1,000,000 chips, Prahlad Friedman 840,000, Hung Pham 1,060,000, Michael Jansen 820,000 and Warren Zackey who was chip leader on Day 5 now having 1,400,000.

Tournament officials are looking at 5 levels of play or 27 remaining in the field, whichever comes first.

12:18 -- Wow! just a few minutes into the action and the first bust has taken place. Prahlad Friedman ended his quest for the bracelet in 63rd place. Bradley Craig had A K which was better than the K Q Friedman had. None of the other cards helped so Friedman can go to the cashier's cage and get some fries with that shake.

12:57 -- George Saca who began with 3,020,000 chips has finished in 63rd place. Saca lost to the set of 5's made by Tommy Vedes. Vedes is now up to 8.9 million chips. Additional busts have taken place to where the field is down to 59 players. When we get the names and details, we'll post them.

1:24 PM -- Michael Jansen busted in 62nd place after Jeff Duvall made two pair (J's and 10's) to beat his flush draw. Mark Ader finished in 61st place once Adam York came out victorious with pocket 4's to win the hand. Benjamin Jensen was eliminated in 60th by the larger two pair that James Calderaro made with his pocket K's. That put Calderaro up to 3 million chips. And Miika Puumalainen who started out with 3.2 million has finished in 59th place when Craig Boyd won that hand King high. The good thing is all of the above received $108,047 for their efforts.

1:28 PM -- Now the field is down to 56 players. It seems that many are making moves out of anxiety and panic more than intuition. The common theme for the last few busts is a huge crippling loss to a player, then the final curtain. We may not see 5 levels if this keeps up.

2:13 PM -- Joe Sebok finished in 56th place. It seems he went in with A 9 and was called by Ben Lamb holding A Q. Another Queen came up on the river and that was all she wrote for Sebok. In 55th place was Craig Boyd who also became a casualty of Lamb after the paired K's held by Boyd were beaten by the paired Aces held by Lamb. This pushed Lamb up to 5.5 million chips.

2:45 PM -- The top 6 players with chip counts right now are:
Billy Kopp -- 14,340,000
Darvin Moon -- 10,350,000
Tommy Vedes -- 9,000,000
Phil Ivey -- 7,400,000
Ludovic Lacay -- 6,600,000
Ben Lamb -- 6,350,000
Eugene Katchalov has 4,420,000 chips, Antonio Esfandiari 3,900,000 and James Akenhead is holding onto 3,150,000. Action is taking place at level 27.

3:52 PM -- The field is down to 48 players. Even though Ivey continues to climb with 8.6 million in front of him, so much has been happening. Going back to Steve Saunders who busted in 54th place. Saunders was crippled holding pocket A's when they lost to the Ace high flush of Dennis Phillips, then lost the balance to Ben Lamb who had in his possession pocket A's. Charlie Elias finished in 53rd after his A K could not hold up to the pocket Q's belonging to Luis Nargentino. Tom Schneider had to accept a 52nd place ending when the pocket 9's held by Marc Etienne McLaughlin beat the paired 7's he made by the river.

Thai Tran went to pick up the $138,568 for a 51st place finish after his move with A J could not catch up with the pocket Q's of James Calderaro. Cracking the top 50 players in 50th was Bradley Craig who lost out to the pocket K's of Jonathan Tamayo. And Fabrice Soulier finished his deep field run in 49th place after his pocket 10's went down behind the heart flush made by Tommy Vedes.

4:10 PM -- Hieu Luu ended his bracelet quest in 48th place. He was obviously tired as he said, "I don't care anymore", after going all-in with 10 5 offsuit and was called by Marc Etienne McLaughlin. Marc was able to pair his 9 card and send Luu to the cashier's cage.

4:21 PM -- Sealing the deal for a 47th place payout is Adam Bilzerian. In a hand with Joseph Ward, Bilzerian reraised 2 million chips and was called by Ward. Bilzerian turned over pocket 10's and Ward produced pocket K's which turned into a larger two pair by the river (K's and A's).

5:03 PM -- Light the fires and kick the tires, we are ready to fly now! Almost in succession Hung Pham busted in 46th place, Dennis Phillips gone in 45th, Manuel Labandeira finished in 44th, next Montagna Corrado left in 43rd, Jeff Duval railbound in 42nd place, Adam York had a set of Kings and still finished in 41st and Scott Cook was eliminated in 40th. You will have to catch the play descriptions on ESPN when they show it. The action was way too fast for us to cover.

5:21 PM -- Eugene Katchalov finished in 39th place after losing to the set of Kings made by Darvin Moon. Next, in a 3 way hand between Joseph Ward, Gabriel Vezina and Martin Lapostolle, Vezina and Lapostolle moved all-in and was called by Ward. Millions of chips were in this pile, why you may ask? Well Vezina had pocket J's, Lapostolle had pocket Q's and Ward came in with pocket K's. Luck came to Ward when another King came on the flop. This busted Gabriel Vezina in 38th and Martin Lapostolle in 37th. Ward got a pot worth 9.8 million out of it!

6:52 PM -- Christopher Bach finished in 36th place when the top pair was not enough to beat the Jack high straight made by Steven Begleiter. Grayson Ramage took home the money for a 35th place finish after losing the balance of his 800,000 chips to Kevin Schaffel. And Blair Rodman was rewarded with a $253,941 payout for a 34th place finish here at the Main Event.

7:10 PM -- Jason Brice was awakened from his dream of a bracelet by Jeff Shulman, resulting in a 33rd place finish for Brice. Shulman brought forth pocket Queens verses the A K of Brice which turned into two pair for Shulman by the river (Q's and 10'S). Scott Sitron was left silent in 32nd place by Marco Mattes after Marco turned his Q J suited into two pair by the turn (Q's and 2's). Play is now at level 29 with blinds at $40,000/$80,000 and a $10,000 ante. Things are getting expensive! And the average stack is 6,717,931. Wow!

A few minutes went by and then Ryan Fair was headed to the cashier's cage for the payout on a 31st place finish. Robert Williamson III had some beers and was passing the table to watch the hand, and after he saw Jeff Shulman get a set of Kings to dispose of Fair he said, "That was uneventful." and walked on. What a memory for Fair! Well at least he received $253,941 for his efforts.

7:28 PM -- We are smokin' tonight! On the next hand after Fair left, he was followed by Marc Etienne McLaughlin in 30th. He lost to the two pair of Ian Tavelli (A's and 7's). Players will be on a dinner break for the next 90 minutes.

9:20 PM -- Dinner was basically anything with caffein in it as we need to get 2 more players out of the game to call it a night. Back to the action. Ivey is up to almost 15 million in chips. And the player with a 29th place finish is Luis Nargentino. Nargentino had an Ace high flush draw on the flop with A 5 of spades and that is when he moved in. He was called by Ben Lamb who held A J. By the time the river card was dealt, Lamb got another Jack card for a pair and that was enough to win the hand.

9:40 PM -- The last player to leave the field was Joe Ward in 28th place. Joe will also receive $253,941 for his efforts. Ward with A K lost to the two pair (A's and Q's) of Jamie Robbins.
---
These are the top 50 in the Main Event. Below is the man to keep an eye on:

Darvin Moon
Darvin Moon -- 20,160,000
Billy Kopp -- 15,970,000
Steven Begleiter -- 11,885,000
Phil Ivey -- 11,350,000
Kevin Schaffel -- 11,245,000
Antoine Saout -- 11,135,000
Jeff Shulman -- 10,170,000
Eric Buchman -- 10,005,000
Jamie Robbins -- 9,795,000
Ben Lamb -- 9,410,000
James Akenhead -- 8,615,000
Joseph Cada -- 6,565,000
James Calderaro -- 6,475,000
Andrew Lichtenberger -- 5,625,000
Ludovic Lacay -- 5,610,000
Warren Zackey -- 5,485,000
Marco Mattes -- 5,285,000
Tommy Vedes -- 5,070,000
Jordan Smith -- 4,510,000
Antonio Esfandiari -- 4,470,000
Ian Tavelli -- 4,385,000
Jonathan Tamayo -- 3,300,000
Jesse Habbak -- 2,750,000
George Caragiorgas -- 1,615,000
Nick Maimone -- 1,545,000
Leo Margets -- 1,530,000
Francois Balmigere -- 1,440,000
Joe Ward -- $253,941
Luis Nargentino -- $253,941
Marc Etienne McLaughlin -- $253,941
Ryan Fair -- $253,941
Scott Sitron -- $253,941
Jason Brice -- $253,941
Blair Rodman -- $253,941
Grayson Ramage -- $253,941
Christopher Bach -- $253,941
Martin Lapostolle -- $178,857
Gabriel Vezina -- $178,857
Eugene Katchalov -- $178,857
Scott Cook -- $178,857
Adam York -- $178,857
Jeff Duval -- $178,857
Montagna Corrado -- $178,857
Manuel Labandeira -- $178,857
Dennis Phillips -- $178,857
Hung Pham -- $138,568
Adam Bilzerian -- $138,568
Hieu Luu -- $138,568
Fabrice Soulier -- $138,568
Bradley Craig -- $138,568