Home Online Casino Real Money
2009 WSOP Event Schedule WSOP TV Schedule Free Slot Games Site Map 3 Webmasters

Day 1A | Day 1B | Day 1C | Day 1D | Day 2A | Day 2B | Day 3 | Day 4 | Day 5 | Day 6 | Day 7 | Day 8 | Final Table




All linked player names have free bios, courtesy of FullTiltPoker
Event #57 Main Event Day 1B
Number of players entered Day 1A: 1,116, Remaining 821
Number of players entered Day 1B: 873, Remaining 655
Day 1B

11:26 AM -- The second part of Day 1 is scheduled to begin at 12 noon. As with yesterday, all players will begin with 30,000 in chips and play for 5 levels. Each level will last for 120 minutes. Those who survive will move on to Day 2A. Come back and visit us to learn what is taking place at the Main Event.

11:48 AM -- Day 1A ended with 821 survivors. According to the WSOP, this meant that 73.5% of the starting field made the cut. The top 6 from Day 1A are:
Branson Demes -- 137,075
Redmond Lee -- 134,275
Jean Docquier -- 122,755
Marcucci Gianluca -- 118,000
Peter Buermann -- 117,400
Ebrahim Mourshaki -- 116,025
The Day 1B players will get underway in just a few minutes.

12:00 PM -- At the microphone was Doyle Brunson who said to the dealers, "Shuffle Up and Deal!". And that is how Day 1B got started.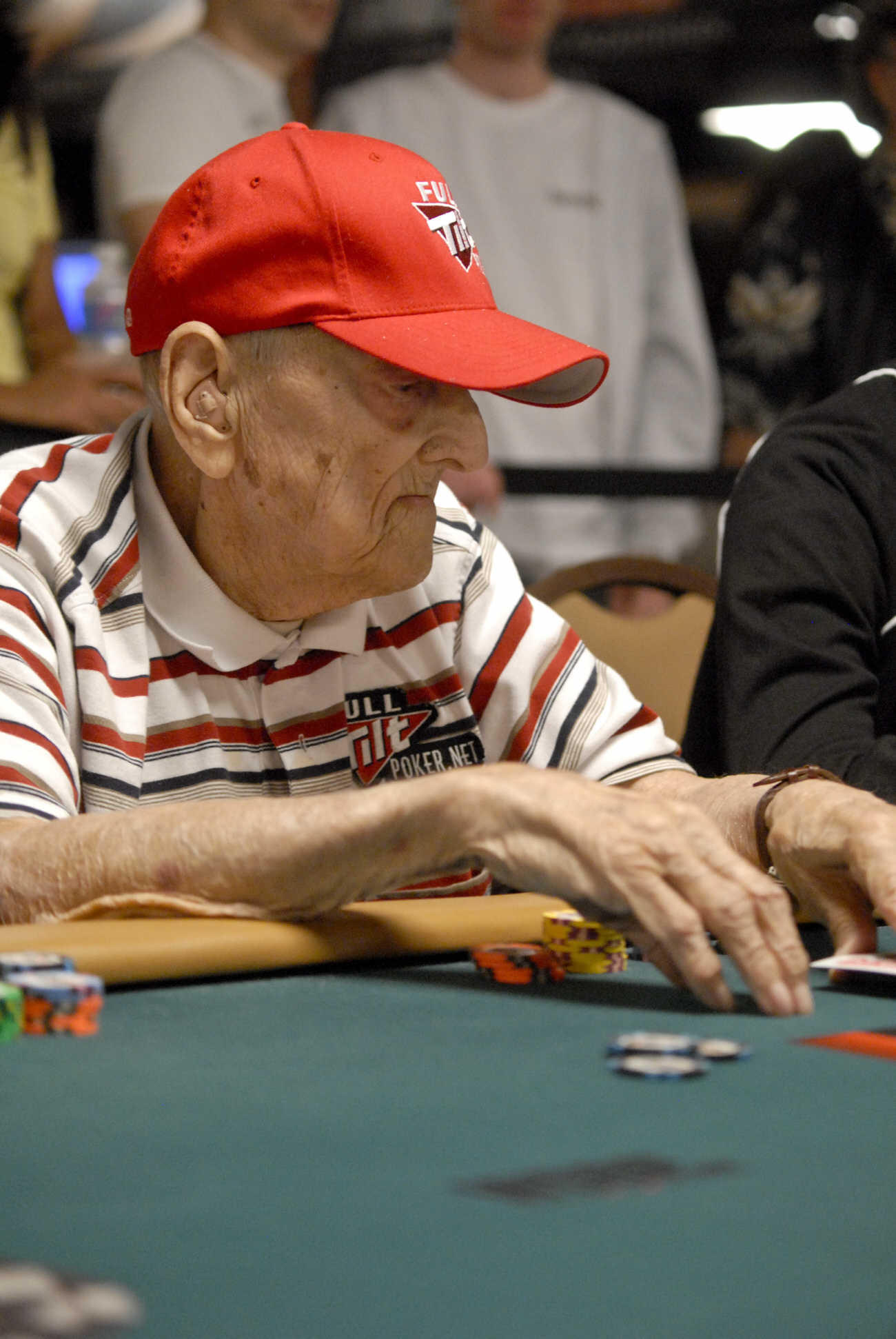 1:15 PM -- So far we know that Chris Moneymaker is in the field as well as Fabrice Soulier, Joe Sebok, Carlos Mortensen, Greg Raymer, Jim Bechtel, Barry Greenstein, Hoyt Corkins, Amarillo Slim, Todd Brunson, Pam Brunson, Doyle Brunson, Shaun Deeb, David "The Dragon" Pham, Mike Caro and Rolf Slotboom. Plus the oldest player still at the tables is Jack Ury. This is his 3rd Main Event in as many years. Quite an accomplishment considering he is in his 90's.

The first bust came in the first 5 minutes of play when a player making two pair lost to the flopped straight of Dave D'Alessandro. Wow, ten grand for five minutes? That's not right. But then again, in Texas Hold'Em somebody usually loses their chips quickly.

2:02 PM -- Also at the tables is David Einhorn, Alex Kravchenko, Mike Matusow, Raymond Davis, Erik Seidel, Juha Helppi, Jonathan Tamayo, Jesse Rios, Dustin Woolf, Chris Ferguson, Barney Boatman, Joe Awada, Brian Rast, Mike Caro, Max Casal, Ali Eslami, Bill Edler, Thor Hansen, Juha Helppi and Grant Levy.

2:45 PM -- A player named Lawrence Grondin has lady luck on his shoulder. Holding onto suited connector cards 10c 9c, the table showed Jc 8c 7c for a flopped straight flush! By the time Lawrence was done the chips grew to 55,000 after that one hand. But David Steicke did not have such good fortune as his all-in with A K was stopped cold by the pocket Queens that grew to a set on the flop by another player, so Steicke could not stick around anymore and is gone.

3:18 PM -- Chris Moneymaker had a hard time getting off the ground today and is currently not a player in the 2009 Main Event anymore. On his last hand, Moneymaker pushed his chips to the middle holding pocket 10's, but was called by a player holding pocket A's. Two more Queens came up by the river meaning the quest for another WSOP gold bracelet was over for Moneymaker.

4:20 PM -- Jesse Rios went above the 100,000 chip mark when he picked up a large pot after making a full house (J's/6's) by the river, busting another player in the process. Next 90 minutes will be dinner break for the field, starting at 4:30 PM.

6:32 PM -- Once dinner was over, everybody dragged themselves back to the tables. Jeremiah Smith is out when his full house (3's/9's) was overcome by the other player holding a bigger full house (A's/9's), sending Jerimiah to the rail.

7:02 PM -- Doyle Brunson was just busted from the Main Event. What happened is that Doyle had a set of 3's on the flop against his opponent holding 4 to a straight. Well the other player got his needed card on the turn and stunted Doyle's effort in acquiring another WSOP gold bracelet.

8:20 PM -- Vicky Coren who had a pretty rough day at the tables, just busted out of the Main Event. Also, yesterday only four levels were played and that means today will be just 4 levels as well. Plus the count of players who entered this year's Day 1B was 873. That is substantially less than yesterday or the Day 1B of 2008 which was 1,158. Pascal Perrault went from 30,000 to 0 in just a few minutes and is no longer at the tables. What happened is that he had pocket A's that were mercilessly cracked.

9:10 PM -- Top 6 players at this time are:
Vadim Gruzglin -- 124,000
Nick Maimone -- 122,000
Samer Rahman -- 117,000
Craig Hopkins -- 113,000
Jim Bookstaff -- 108,000
Jesse Rios -- 101,000
Others who are doing well include Fabrice Soulier 87,000, Raymond Davis 76,000, Sam Khouiss 64,000, Joe Sebok 63,000 and Erik Seidel 59,500. The field is playing the last level of the day which is level four.

9:56 PM -- Dustin Woolf has gone to the rail after his all-in with As Kh was called by another opponent holding Ad Kc. Unfortunately for Dustin, four more diamonds came up by the river and a Ace high flush sent Dustin to the sidelines.

10:30 PM -- Well ladies and gentlemen, that is it for tonight. Come back tomorrow as Day 1C kicks off. Details on Day 1B will be posted when the WSOP releases the data.

There were 655 more players who will move on to Day 2A. Here are the top 50 for Day 1B:
Brandon Demes -- 137,075 (I know, he was on Day1A. I just print what the WSOP stats say.)
Andrew Gaw -- 126,100
Nick Maimone -- 122,500
Samer Rahman -- 122,400
Max Casal -- 121,100
Jim Bookstaff -- 120,750
Craig Hopkins -- 118,850
Aaron Fang -- 118,725
Jesse Rios, -- 117,150
Vadim Gruzglin -- 116,100
Lehoussine Karim -- 104,975
Pollak Benjamin -- 104,775
Patrick Hanoteau -- 104,025
Matthew Milliken -- 99,000
Randy Haddox -- 98,675
Christopher Saleh -- 98,400
Chris McCoy -- 98,325
Fabrice Soulier -- 97,725
Carlos Oliveira -- 96,825
Max Kats -- 96,100
Daniel Didech -- 94,875
David Dalesandro -- 93,775
David Sacks -- 91,425
Brian Roberts -- 91,075
John Santurian -- 90,675
Laurence Grondin -- 88,475
Andre Rodrigues -- 86,575
Jerry Fowler -- 85,525
Mark Burford -- 85,300
Delong Moet -- 84,700
Jonothan Tore -- 83,600
Mike Blockside -- 83,475
Dwight Manley -- 83,050
Jannick Wrang -- 82,350
George Wipf -- 81,000
Edward Holyoke -- 79,800
Joe Sebok -- 78,800
Andrew Gunderson -- 78,650
Scott Dorsch -- 78,625
Andreas Martens -- 76,925
Chad Awerbuch -- 76,875
Stuart Atkin -- 76,725
Richard Lewis -- 76,675
Ryan Fair -- 75,325
Catherine Hearn -- 73,900
Juan Naranjo -- 73,675
Brian Hansen -- 73,400
Torrey Reily -- 73,100
Nick Niergarth -- 72,975
Jeff Duvall -- 72,175