Home 2009 WSOP Event Schedule WSOP TV Schedule Free Slot Games Site Map 3 Webmasters

Day 1A | Day 1B | Day 1C | Day 1D | Day 2A | Day 2B | Day 3 | Day 4 | Day 5 | Day 6 | Day 7 | Day 8 | Final Table




All linked player names have free bios, courtesy of FullTiltPoker
Event #57 Main Event Day 2A (1A + 1B)
Number of players entered Day 1A: 1,116, Remaining 821
Number of players entered Day 1B: 873, Remaining 655
Number of players entered Day 1C: 1,696, Remaining 1,106
Number of players entered Day 1D: 2,809, Remaining 1,816
Number of players on Day 2A: 1,476, Remaining 607
Day 2A

10:19 AM -- A lot of controversy arose because of the huge number of players who were shut out of the Main Event. Here is the explanation as given by the WSOP:

Despite registration being open 24 hours a day/7 days a week during the entire 39-day duration of the WSOP (to date), several players seeking to play in the Main Event were shut out. Day 1-D was technically a "sell-out" due to every available seat and table being used in the tournament. A total of 308 tables were put into use, which is the most of any tournament at this year's WSOP. The "sell out" was due to an overwhelming late rush arriving at registration, on the final day. While the first three starting days had plenty of extra seats available for all players, unfortunately many players waited until it was too late to sign up. The unprecedented situation reduced the field size of the Main Event by at least a few hundred players (estimates vary). Most observers noted that the Main Event total number of entries very likely would have surpassed last year's figure, were it not for the unmanageable imbalance in late registrations. This issue will most certainly be discussed following this year's tournament as the WSOP attempts to accommodate as many players as possible, while encouraging and emphasizing the importance of early registration – particularly into widely-popular events such as the Main Event championship which are in serious danger of reaching full capacity.

At this point there are a total of 4,399 players remaining in the Main Event. Play will begin at noon.

12:24 PM -- Day 2A was underway with a lot of top names in the game competing for a chance to get one step closer to the bracelet.

Just a few minutes ago, ESPN cameras were all over a table where the dealer yelled, "All-in and a call!". And it was worth being there watching from the preflop. Mark Landgraf was holding Ac Qd verses Alexander Yaroshetskiy who held Ah Jh. The board flopped Kh Qh Qs, the turn card was a Qc which gave Landgraf quads and a huge smile on his face until...the river card of a 10h came up. That gave Alexander Yaroshetskiy a heart royal flush and shot him up to 240,000 chips. Mark Landgraf went down to 14,300.

12:46 PM -- Gus Hansen just busted in a bad way. On a flop of K Q 3 and turn card of 10, the other player moved all in and Hanson immediately called as he was holding A J for a Broadway straight. The other player held pocket 3's which turned into a full house when another King came up on the river (3's/K's). Hansen started the day with 38,075 in chips.

1:02 PM -- So who came to the tables today you ask? Here are some of the names with starting chip counts. We have Jesse Rios with 117,150, Fabrice Soulier with 97,725, Jason Riesenberg 93,650, actor Jason Alexander 89,575, Eli Elezra 83,375, Joe Sebok 78,800, John Hennigan 76,250, Vitaly Lunkin 68,300, Jimmy Fricke 63,425, Ted Lawson 60,000 and Raymond Davis 58,000. These are just some of the names of the 1,476 member field. And the size of the field is dropping fast!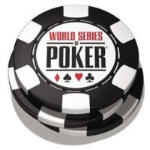 1:17 PM -- All over the place you hear dealer after dealer saying, "All-in and a call!" One of the top names who went to the curb is Johnny Chan. Chan lost to the two pair (Q's and 9's) of Matthew Woodward. But considering the fact that he began Day 2A with just 7,800 chips, we commend him for lasting as long as he did.

2:02 PM -- Others players who have busted are Johannes Strassmann, Jennifer Tilly and Brian Townsend. But on the other end of the scale, the top 6 players at this time for Day 2A are:
Samer Rahman -- 145,000
Nick Maimone -- 142,000
Redmond Lee -- 140,000
Tom Schneider -- 133,000
Fabrice Soulier -- 130,000
Jim Bookstaff -- 120,750
3:02 PM -- Play is now at level 6 with blinds at $250/$500 with an ante of $50. Jerrod Ankenman is out after his opponent paired his Ace card, sending Jerrod to the rail. Bustouts are still happening at a quick pace as the Brasilia room is almost empty of players. That means about 350 are gone so far. Also gone are Katja Thater, Richard Brodie, Jon "PearlJammed" Turner, Barry Schulman and Rene Angelil.

Still in the competition is 93 year old Jack Ury who has about 20K in chips. Jimmy Fricke took his pocket A's, busted an opponent and pushed his stack to over 80,000.

3:52 PM -- Phil Laak went to the rail after losing the last of his chips to the pocket 8's of another player. Sam Khouiss is also gone because his pocket Q's were not enough to overcome the winning hand of his opponent. John Hennigan watched his dreams of a bracelet vanish as his pocket 8's were beaten up by the pocket J's of another player who received another Jack on the flop. And the oldest entrant of the Main Event Jack Ury is now gone from the tables. Jack lost his hand to the 'Jack' kicker of his opponent. (No kidding!) Others who have departed the tournament are Tony G., Matt Woodward and Barry Greenstein.

Dewey Tomko is still in the game after his set of 3's held up to take a nice sized pot, good enough to send his stack up to 34,000. WPT announcer Mike Sexton hit a King high diamond flush to raise his chip count up to 79,300.

4:58 PM -- Latest of the greatest to head towards the door is Raymond Davis who could not beat the set of 3's held by Samer Rahman. Jason Mercier ended his great WSOP run this year after his opponent whipped out an Ace high flush on him. Ravi Raghavan also made an fast exit, losing to the hand of Dragan Galic. At this point about 50% of the 1,476 players are gone. The rest will continue in a few minutes at level 7 with blinds at $300/$600 with a $75 ante.

5:44 PM -- Shaun Deeb disliked his final hand so much that when he saw the flop, he just got up and walked away from the table. Shaun had A 9 and his opponent has pocket A's. Basically the flop showed J J 10 which told the experienced player it was over. Hoyt Corkins saddled up and went to watch the sun set as his Big Slick (As Ks) was not good enough to beat the pocket K's the other player had.

6:44 PM -- Lex Veldhuis who started Day 2A in his chair with 84,000 in chips, is now gone and has been forced to give up his dream of another WSOP bracelet due to elimination. Erik Cajelais followed Lex after his loss to the Queen kicker of Samer Rahman. Rahman was up to 325,000 after busting Cajelais. Mel Judah made a full house (6's /A's) but his opponent ended up with a bigger boat (A's/Q's) sending Judah back to the cash tables.

8:40 PM -- Now that the players are back from dinner break, they are continuing action at level 8 with blinds at $400/$800 and a $100 ante. Player number is 896 with average chip count at 66,595. Top 6 players with chip counts right now are:
Samer Rahman -- 325,000
Greg Mueller -- 223,000
Carter Swidler -- 200,100
Jeffrey Mathis -- 180,000
Coba Cao -- 175,100
Stuart Taylor -- 172,000
9:22 PM -- Joining the list of the departed are Alex Kravchenko, Todd Brunson, Mike Matusow, Gavin Smith and Jamie Pickering. Number of players at the tables: 828.

11:01 PM -- Brad Garrett now walks the streets of Las Vegas after losing over 30,000 chips to the two pair (Q's and 9's) that his opponent made on the flop. Action has been upgraded to level 9 where blinds are $500/$1,000 with a $100 ante. Amarillo Slim also got up from the tables after his all-in move with 8 9 was met with the pocket 9's of another player.

Still at the tables are Bill Edler with 42,000 chips, Andy Black 225,000, Greg Mueller 235,000, Mike Sexton 170,000, Chris Ferguson 155,000, Vitaly Lunkin 132,000, Greg Raymer 118,000, Thor Hansen 130,000, John Myung 115,000 and Sam Farha 72,000.

12:01 AM -- Dewey Tomko just busted. He went all-in with A J suited and ran into a set of 9's made by another player. The average chip stack is now up to 80,600. Sorel Mizzi just won a big pot after firing enough chips to make the other player fold and now sits on 140,000.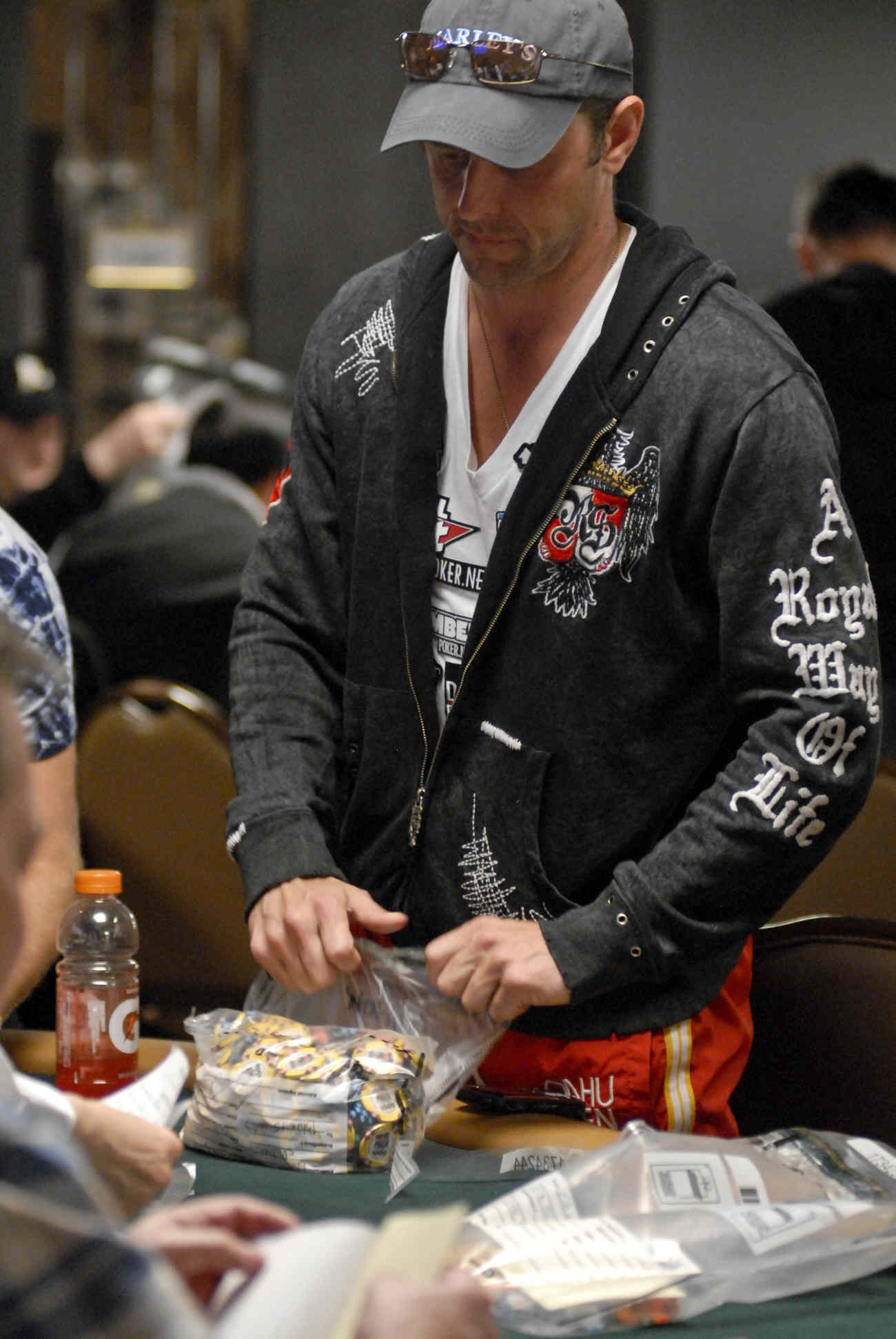 12:28 AM -- Pam Brunson is up to 135,000 chips after she pulled in a good pot with a set of K's. Juha Helppi tried to capitalize on the pocket K's he had but Eric Cloutier put pocket rockets in front of them, so now Juha is out of the game. Play for the night should end about 1:00 AM.

12:55 AM -- The day 2A is over and there are about 630 players remaining in the field. We will post the exact number as soon as the WSOP finishes a head count. Good night and we'll see you tomorrow!





Official body count from the WSOP is 607 for Day 2A. Here are the top 50 from Day 2A:
Andrew Gaw -- 386,800
Eric Cloutier -- 383,500
Ed Perry -- 370,000
Brandon Demes -- 369,800
Miika Puumalainen -- 361,200
Jamie Brown -- 360,400
Jerry Wong -- 348,100
Samer Rahman -- 334,700
Brian Hansen -- 333,500
Kyle Wilson -- 306,000
Rick Barabino -- 301,100
Greg Mueller -- 287,300
Peter Kremenliev -- 281,800
Kevin Schaffel -- 279,600
Mike Bisutti -- 274,000
Mike Brooks -- 273,400
Paren Arzoomanian -- 272,900
Denise Molloy -- 262,000
Carter Swidler -- 257,900
Billy "Patrolman35" Kopp -- 248,700
Karec Terrell -- 240,400
Daniel Carter -- 239,900
Kasper Cordes -- 237,500
Matthew Waxman -- 233,300
Nick Niergarth -- 233,200
Abraham Mourshaki -- 232,700
Carlos Oliveira -- 231,300
Gabriel Vezina -- 228,200
Joey Lovelady -- 226,800
Nicolas Ragot -- 223,000
Bryan Kerr -- 222,900
Steven Van Zadelhoff -- 221,200
Jonas Danielsson -- 218,600
Brandon Garrity -- 216,300
Andrew Black -- 215,700
Kia Hamadani -- 215,100
Clark Curry -- 215,100
Mathieu Clavet -- 213,400
Shawn Silber -- 211,000
Tian Shou -- 209,400
Luis Leyua-Castro -- 207,900
Kyle Brown -- 206,300
Phi Nguyen -- 203,000
Gjorgji Chuchuk -- 202,800
Patrick Hanoteau -- 199,900
Chad Awerbuch -- 199,400
Alexander Roos -- 198,600
Pavel Milanov -- 197,400
Scott Dorsch -- 195,500
Richard Toth -- 193,900