Home 2009 WSOP Event Schedule WSOP TV Schedule Free Slot Games Site Map 3 Webmasters

Day 1A | Day 1B | Day 1C | Day 1D | Day 2A | Day 2B | Day 3 | Day 4 | Day 5 | Day 6 | Day 7 | Day 8 | Final Table




All linked player names have free bios, courtesy of FullTiltPoker
November Nine World Series of Poker Main Event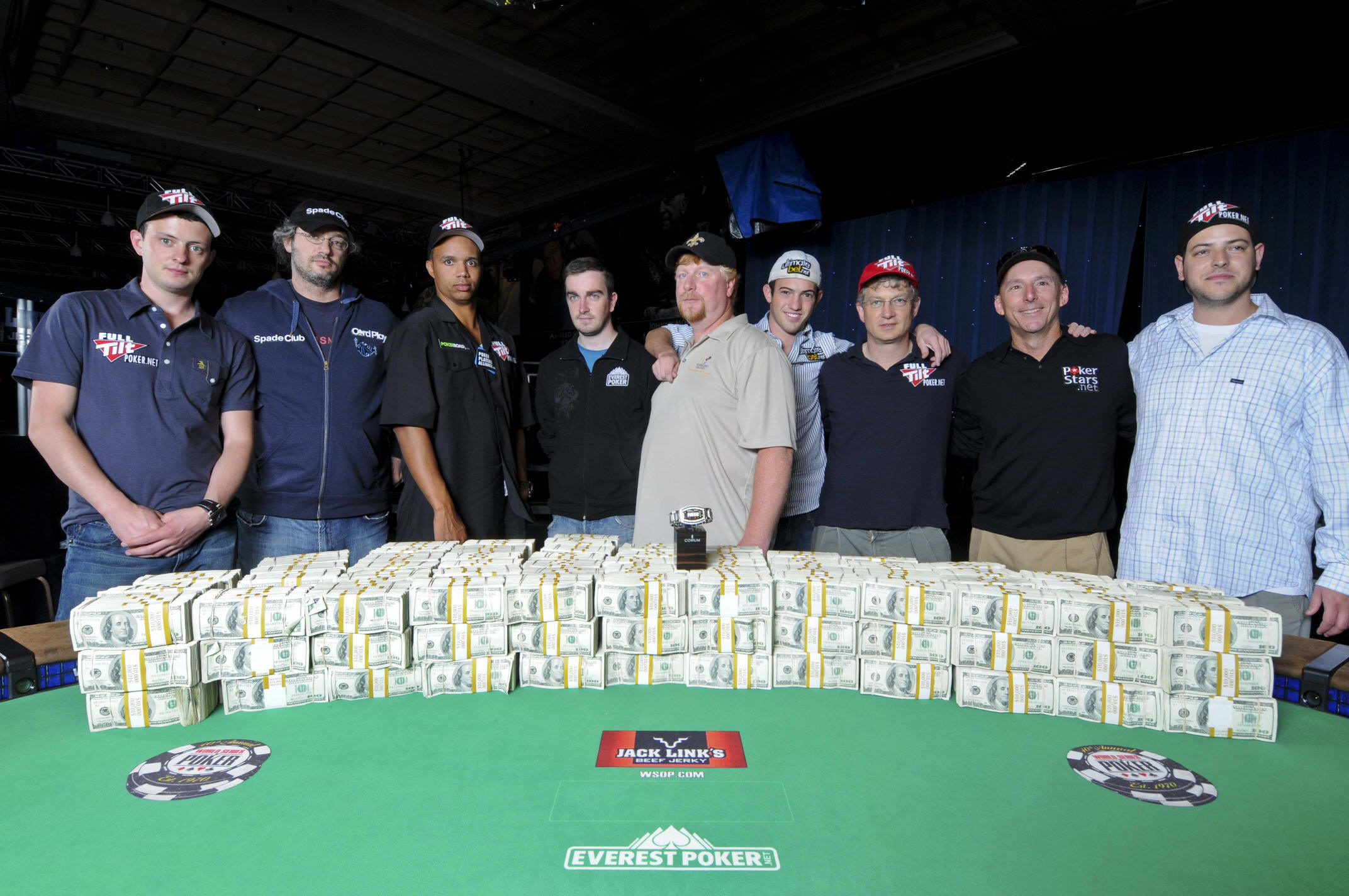 November Nine from the World Series of Poker Main Event left to right: James Akenhead
Jeff Shulman, Phil Ivey, Antoine Saout, Darvin Moon, Joseph Cada, Steven Begleiter
Kevin Schaffel, Eric Buchman
Here are the names of the 9 players with chip counts for the 2009 Main Event final table:
Darvin Moon -- 58,930,000
Eric Buchman -- 34,800,000
Steven Begleiter -- 29,885,000
Jeff Shulman -- 19,580,000
Joseph Cada -- 13,215,000
Kevin Schaffel -- 12,390,000
Phil Ivey -- 9,765,000
Antoine Saout -- 9,500,000
James Akenhead -- 6,800,000
Official Player Bios From the WSOP:
Darvin Moon
Chip Count: 58,930,000
Age: 46
Chip Leader heading into the Main Event Final Table
Holds 30% of the chips in play
First time playing in a World Series of Poker event
Self-employed logger
No documented cashes
Never played online poker; doesn't own a computer nor have an email address
First time on a jet plane was when he came to Las Vegas to play in this tournament
Won his Main Event seat via a live satellite in Wheeling, West Virginia
Almost opted for the cash prize instead of the seat
Learned to play 7-card stud from his grandfather as a child
Began playing Hold'em about three years ago
Never put all his chips at risk en route to the Final Table
Eric Buchman
Chip Count: 34,800,000
Age: 30
Poker pro
Enters Final Table second in chips
More than 20 tournament cashes totaling some $900,000 prior to Main Event
10 in-the-money finishes at the World Series of Poker (including Main Event)
Placed sixth in Event#25 Omaha/Seven-Card Stud Hi-Low during 2009 WSOP
Best WSOP finish: second place in 2006 Limit Hold'em event, paid nearly $175,000
Began playing Atlantic City and Connecticut casinos while in college
Buchman's brother introduced him to Hold'em
Steven Begleiter
Chip Count: 29,885,000
Age: 47
Third in chips entering the Final Table
Principal at private equity group Flexpoint Ford in New York City
24 years at Bear Stearns & Co. on Wall Street
Plans to keep his day job, regardless of Final Table outcome
Won seat in Main Event through a 22-person home game league
Plans to pay out 20% of his winnings to home league members
One previous Main Event appearance: didn't cash in 2008
Finished 9th at LA tournament in August
Has been playing poker most of his life
Married with three children
Jeff Shulman
Chip Count: 19,580,000
Age: 34
Enters the Final Table fourth in chips
Second appearance at a Main Event Final Table
Finished in seventh place at 2000 Main Event, collected nearly $150,000
Only player at this final table with previous Main Event final table experience
Editor of Card Player magazine
More than $2 million in career poker winnings
Married; father of two; daughter was born in September
Made Final Table of $5,000 Limit Hold'em tournament at 2005 WSOP
Two in-the-money finishes at the 38th annual WSOP
Three in-the-money finishes at the 37th annual WSOP
Two in-the-money finishes at the 36th annual WSOP
Three in-the-money finishes at the 34th annual WSOP
Father Barry just won World Series of Poker Europe Main Event in September
A win for Jeff would make them the second father-son duo to win WSOP bracelets (Doyle & Todd Brunson) They would be first WSOP Main Event champions from same family
A vocal WSOP critic, despite his ongoing participation and success
Joseph Cada
Chip Count: 13,215,000
Age: 21
Enters Final Table fifth in chips
Can become youngest-ever champion (Peter Eastgate's record set last year)
Turns 22 on November 18 and could best Eastgate's record by 340 days.
Eastgate was 22 years, 10 months and 28 days old when he won last year
Bought his first house at age 19
Former Macomb Community College student
Significant online poker playing experience
Has played in more than a dozen World Series of Poker events
Nearly $500,000 in career poker winnings prior to 2009 Main Event
Two cashes at 40th annual WSOP prior to Main Event:
64th place in Event 13, a $2,500 No-Limit Hold'em tournament
17th place in Event 34, a $1,500 No-Limit Hold'em tournament
Good friends with Dean Hamrick, who finished 10th in last year's Main Event
Kevin Schaffel
Chip Count: 12,390,000
Age: 52
Enters the Final Table sixth in chips
Oldest member of the November Nine
Been playing poker for 40 years — from family games to big-time tournaments
Considers himself semi-retired
Recently closed the printing company he owned and operated for 30 years
Including guaranteed ninth-place prize money, has some $1.9 million in winnings
Placed 324th in the 2008 Main Event, winning more than $32,000
Finished in-the-money at 35th annual WSOP Main Event: 42nd place for $60,000
Has played the WSOP Main Event each year since 2004
Finished 2nd in LA tournament in August, winning $471,670
In addition to poker, enjoys gin rummy and golf. (Is a scratch golfer)
Credits Serena Williams' use of "calm" and "patience" as inspiration for his style of play
Phil Ivey
Chip Count: 9,765,000
Age: 32
Begins Final Table play seventh in chips
Regarded by many as the world's greatest poker player
Often referred to as the "Tiger Woods of Poker"
Seven World Series of Poker gold bracelets
Youngest player in history to have won seven bracelets
Won two bracelets in 2009 in addition to making Main Event Final Table
Captured title for Event 8: $2,500 No-Limit Deuce-to-Seven Lowball
Captured title for Event 25: $2,500 Omaha/Seven-Card Stud Hi/Lo/8 or Better
Has amassed more than $12 million in career poker winnings; 3rd all-time
Finishing 5th or higher in this Main Event will move him to 1st on the all-time money list
Won three bracelets in 2002, tying him for most WSOP wins in a single year
Seven bracelets tie him for sixth most all-time
A win will move him into a tie for fifth-place on the all-time list with Erik Seidel
A win will make him the youngest-ever player to win 8 WSOP gold bracelets.
Antoine Saout
Chip Count: 9,500,000
Age: 25
Enters Final Table play eighth in chips
Former engineering student
Won Main Event seat via online satellite on Everest Poker
Upon making the November Nine, 50 fellow Everest players each received $19,000
Buy-in for online satellite was $50
Final tabled this year's World Series of Poker Europe Main Event, finishing 7th ($186,039)
Credits math and analytical skills for his success
Regularly plays multiple games simultaneously online
Played much of the Main Event at the same table as Phil Ivey
James Akenhead
Chip Count: 6,800,000
Age: 26
Enters Final Table play as the short stack
Former train conductor
Briefly studied accounting in college
Member of the "Hit Squad", a team of pros who share tips and strategy
Finished 9th at September's World Series of Poker Europe Main Event ($109,687)
Received $520,000 as runner-up in WSOP $1,500 No-Limit Hold'em in 2008
Expects previous prominent cash before ESPN's cameras to give him a Final Table edge
Has incredible 25 tournament cashes in just the past two calendar years
Besides WSOP tournaments, plays exclusively in European events